Cleveland Cavaliers
Cleveland Cavaliers
Cavs down 2-0 again, but facing a different Warriors this time
Published
Jun. 5, 2017 6:08 p.m. ET
OAKLAND, Calif. (AP) -- LeBron James and the Cleveland Cavaliers are headed home in a familiar spot after the first two games of the NBA Finals.

Rather than reach back to last year's championship comeback for a confidence boost, James' focus is on figuring out what Cleveland must do to change its fortunes against a Warriors team that is fresher and far more dangerous this year, thanks to the addition of Kevin Durant.

"They're a different team," James said following a 132-113 loss in Game 2 on Sunday night that put Cleveland in an 0-2 hole.

That's been quite evident through two games. Durant leads all players with 71 points the first two games -- six more than the player he replaced in the lineup, Harrison Barnes, scored in seven games a year ago.

Durant's scoring has taken pressure off Stephen Curry and allowed the Warriors to withstand Cleveland runs so well that they haven't trailed after the first quarter in either game.

A healthy Curry followed up a 28-point Game 1 with his first postseason triple-double on Sunday with 32 points, 11 assists and 10 rebounds. He looks more like a two-time MVP than the hobbled player he was in last year's Finals.

Klay Thompson shook off a shooting slump to score 22 points and the Warriors pulled away late for another lopsided win.

"They play well at home," Cavs coach Tyronn Lue said. "They won their first two games like they're supposed to. Coming to a tough environment, we knew it was going to be tough, but they won the first two games. We get a chance to go home now to our home crowd where we play well, also."

The Cavs began to turn things around last year after being outscored by 48 points in the first two losses in Oakland -- seven more than this year. They split the two games at home before reeling off three straight wins to become the fourth team to win the title after losing the first two games.

"They're going keep to coming, man," Curry said. "There is a lot of work for us left to do. And you got to expect them to play, obviously, better at home. And we're going to need to play better to win on the road."

What was so discouraging for the Cavs is that they played better in Game 2 but the result didn't really change. They went to a smaller lineup that contributed to Golden State committing 20 turnovers a game after tying a Finals record with four.

The offense picked up thanks to 27 points from Kevin Love and the Cavs scored 22 more points than in the opener in a faster-paced game, but that also helped the Warriors improve their shooting from 43 percent to 52 percent as Cleveland had a weaker defensive on the floor.

"We definitely have a sense of what they're capable of, and we felt like a lot of times tonight we played better basketball," Love said. "But they're a team you cannot -- you can't let them go on runs."

The key one came late in the third quarter after Cleveland cut the deficit to four points. The Warriors followed with a 16-4 run that included 3-pointers from Curry and Thompson, a three-point play from Durant in transition and four points from Shaun Livingston.

"That's what they do," James said. "That's what Golden State does. If you make a mistake -- like I said, we had a turnover, it came from me, and then we had a miscue and the floods opened again."

The first two games have shown a stark difference in depth. While James has thrived so far and had 29 points, 11 rebounds and 14 assists to tie Magic Johnson's record with his eighth career Finals triple-double Sunday, he hasn't gotten nearly enough help.

Kyrie Irving scored 24 points in the opener and Love had a big day in Game 2, but starters Tristan Thompson and J.R. Smith have been nearly invisible and the bench has offered little help.

The Warriors, on the other hand, have gotten key contributions from their four All-Stars: Curry, Durant, Klay Thompson and Draymond Green, as well as from players like Livingston, Andre Iguodala and Zaza Pachulia at times to set an NBA record with 14 straight postseason wins.

But after being so close last year and falling short, the Warriors know how difficult the next two will be.

"It's human nature to let your guard down, human nature, 2-0, everybody in the world `It's over, it's over,'" Livingston said. "No, it's not over. We saw what happened last year. We've been here. The guys that were here last year understand it's the hardest thing to do is to try to close out a series and we've got two more games to go. We need to take that mentality to Cleveland."
---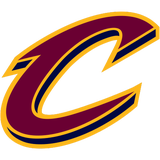 Get more from Cleveland Cavaliers
Follow your favorites to get information about games, news and more
---