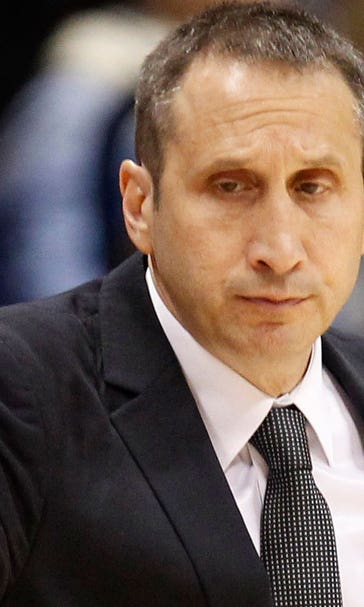 Cavs coach says predictions of title "unfair"
October 28, 2014

INDEPENDENCE, Ohio (AP) -- They have the game's best player, back on his home turf. They have two other All-Stars, each capable of dominating any game. And the Cavaliers have sky-high expectations.
This is supposed to be Cleveland's year.
However, Cavs coach David Blatt thinks all that talk is awfully premature.
"Anybody talking about us winning it all, I think they're being unfair to those great NBA teams that are out there that have either won it or have been there to win it, and also to us as a team that's talented but new," Blatt said Tuesday following practice. "We have a lot of work to do before we can start claiming anything before it's time."
The Cavs, re-shaped this summer by the return of LeBron James, the re-signing of guard Kyrie Irving and a blockbuster trade that brought them power forward supreme Kevin Love, are predicted to win their first NBA championship this season. Las Vegas sports books have picked the Cavs as the 3-1 favorite to win the title -- ahead of the defending champion San Antonio Spurs, who are 7-2 to repeat.
Cleveland opens the season at home on Thursday night against the New York Knicks. It promises to be an emotional night for James, who left the Cavaliers four years ago for Miami but decided to come home after winning two titles with the Heat.
Like Blatt, James has preached patience amid the lofty outlook for a team that hasn't played one regular-season game together. While the four-time MVP has plenty of postseason experience, Irving and Love, two-thirds of the league's newest power trio, have not logged one playoff minute.
The key for the Cavs is how the James-Irving-Love triumvirate meshes, and even if all goes well there's no guarantee they'll be able to get by the Spurs or whichever team emerges from the powerful Western Conference.
Blatt has deep admiration for the Spurs, who throttled James and the Heat in last year's finals, and coach Gregg Popovich.
"They played beautiful, winning basketball and that's been a team that over the years has not only been successful but has contributed to the style of play that I think is becoming more and more prevalent NBA-wide," Blatt said. "I give coach Pop and the players of San Antonio a lot of credit for the style that they play, and for the willingness on the part of the players to be non-ball-dominant and to play together."
Blatt, a wildly successful international coach, has spent the past few days "cleaning up" small things with his new team.
On Tuesday, Love took a shot in the ribs and was pulled from practice as a precaution. Blatt insisted the 6-foot-10, 260-pounder is fine, but any bump or bruise this season will be watched as closely as the Cavs.
Blatt feels his team is ready to go, but until the season begins everything is just speculation.
"We're going to see," Blatt said. "Obviously now that the real games are getting started, we're going to find out. I thought we showed in preseason that we're a pretty good, competitive group and we played some good teams. But there's a big difference between preseason and regular season for everyone.
"But we got the right kind of personalities and the right kind of character guys to certainly get out there and make an effort every night."
One of them is guard Dion Waiters, who could find himself with more scoring chances with teams focused on Cleveland's higher-profile players.
Although he admitted to "freelancing" and not watching much film to prepare for games during his first two seasons, Waiters has been listening to his new coach.
The Cavs are only one of the contenders.
"We haven't done anything yet," Waiters said. "You got to look at the Spurs, teams like that, who won the championship last year and got every guy back. We got to look at teams like that. We can't just come into the game thinking everything is going to be easy. We know everybody is going to be gunning for us. That's what makes it fun though, just to go out there and we know we're going to get everybody's best shot."
---