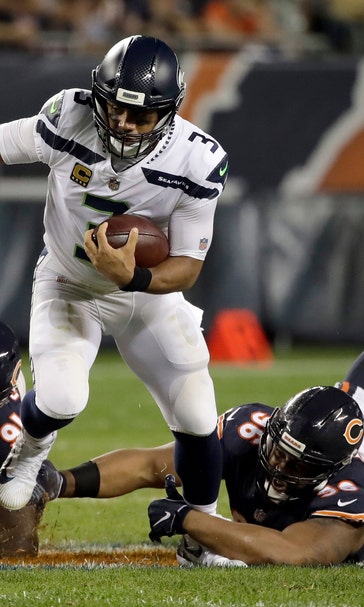 Carroll says Wilson trying too hard during Seahawks' 0-2 start with Cowboys up next
September 19, 2018
RENTON, Wash. (AP) — Pete Carroll believes Russell Wilson is trying too hard to create opportunities during Seattle's winless start and in the process is making the kinds of fourth-quarter mistakes that have largely been absent during his career.

"I'm finding Russ over-trying a little bit," Carroll said during his radio show on KIRO-AM in Seattle on Tuesday, a day after the Seahawks dropped to 0-2 with a 24-17 loss at Chicago. "He's pressing in difficult situations to try and see if he can come up with a way to make something happen instead of just getting rid of the football."

The latest example came in front of a national audience Monday night. With a chance to lead a potential late comeback against the Bears, Wilson threw an interception that was returned for a touchdown. He fumbled on Seattle's next drive while trying to escape pressure. They were the kinds of costly mistakes Wilson has mostly avoided in the past.

Wilson's final numbers in the fourth quarter against the Bears looked great — 13 of 16 for 157 yards, two touchdowns and two of the incompletions being spikes to stop the clock — but it was completely overshadowed by the mistakes.

"We've had a lot of fourth-quarter comebacks and I believe those are going to happen. I believe those are going to happen when we need them to happen," Wilson said afterward. "We've been successful a lot and I've been successful a lot in the fourth quarters and everything else. You have some failure every once in a while, but I believe the next time is going to be successful and I think that's the mentality."

It would help Wilson if Seattle's offense could do anything in the first three quarters to reduce the late-game pressure and urgency.

Wilson was sacked five times in the first half by the Bears, a few of those after he didn't get rid of the ball soon enough. Offensive coordinator Brian Schottenheimer also had some questionable play calling in the third quarter when the Seahawks ran just six plays, had zero first downs and gained one yard total.

There was also the baffling disappearance of running back Chris Carson from the offense. Carson didn't have a carry in the second half after averaging 4 yards per carry on six attempts in the first half. The running load went to rookie Rashaad Penny in the second half as Carson watched from the sideline.

Carroll initially said after the game that Carson was "a little gassed" after also helping out on special teams. Carson was in for just 21 total plays — 19 on offense, two on special teams. Carroll attempted to clarify the situation Tuesday.

 




 

"I misread a little bit of something happening. I was off on the thing I said about Chris. ... I thought that was what happened and I misread him on the sideline a little bit," Carroll said. "I didn't clearly understand. I just wanted to give Rashaad a chance to go play and Chris never gets back in the game."

The Seahawks are now 1-5 in their past six regular-season games dating to last season, the only win coming against this week's opponent, Dallas, in Week 16 of last season. Seattle at least has that going for it, along with some optimism over healing injuries.

The Seahawks are hoping to get linebackers Bobby Wagner and K.J. Wright back this week against the Cowboys. Wagner was out with a groin injury and Wright still hasn't fully recovered from preseason knee surgery. They were two of three defensive starters the Seahawks were missing, including rookie cornerback Tre Flowers, who has a shot at returning against Dallas as well.

But aside from getting a minimal pass rush, the defensive effort wasn't the problem against Chicago.

Wide receiver Doug Baldwin, who could help the offense, sounds unlikely to be ready for Week 3 due to a knee injury.

There is also uncertainty about center Justin Britt, who injured his shoulder trying to recover Wilson's fumble in the fourth quarter. X-rays were negative, Carroll said, but Britt was having an MRI to determine the extent of the damage.

 


---
---