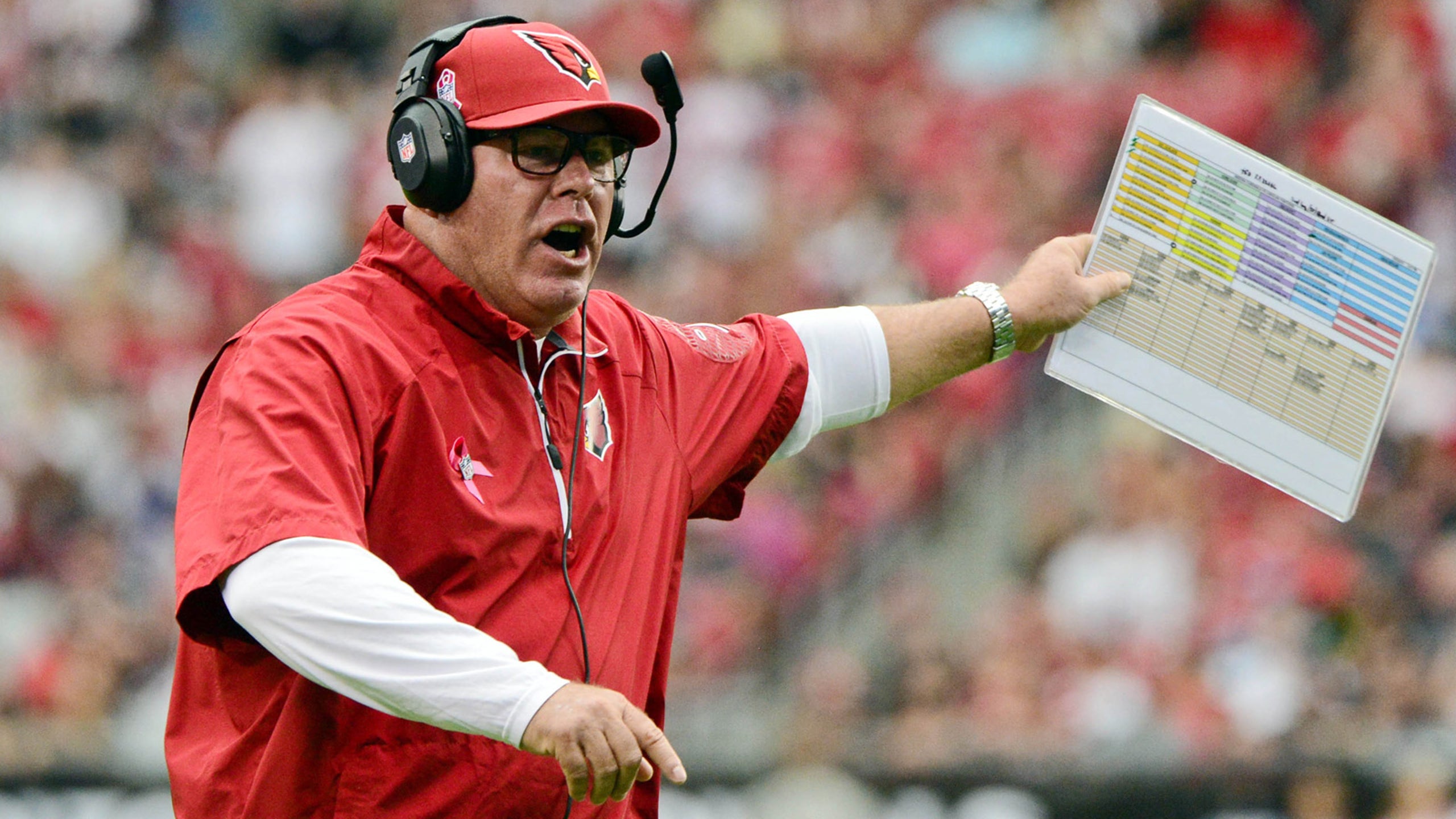 Cardinals rewind: Playoffs aside, turnaround means something
BY foxsports • December 23, 2013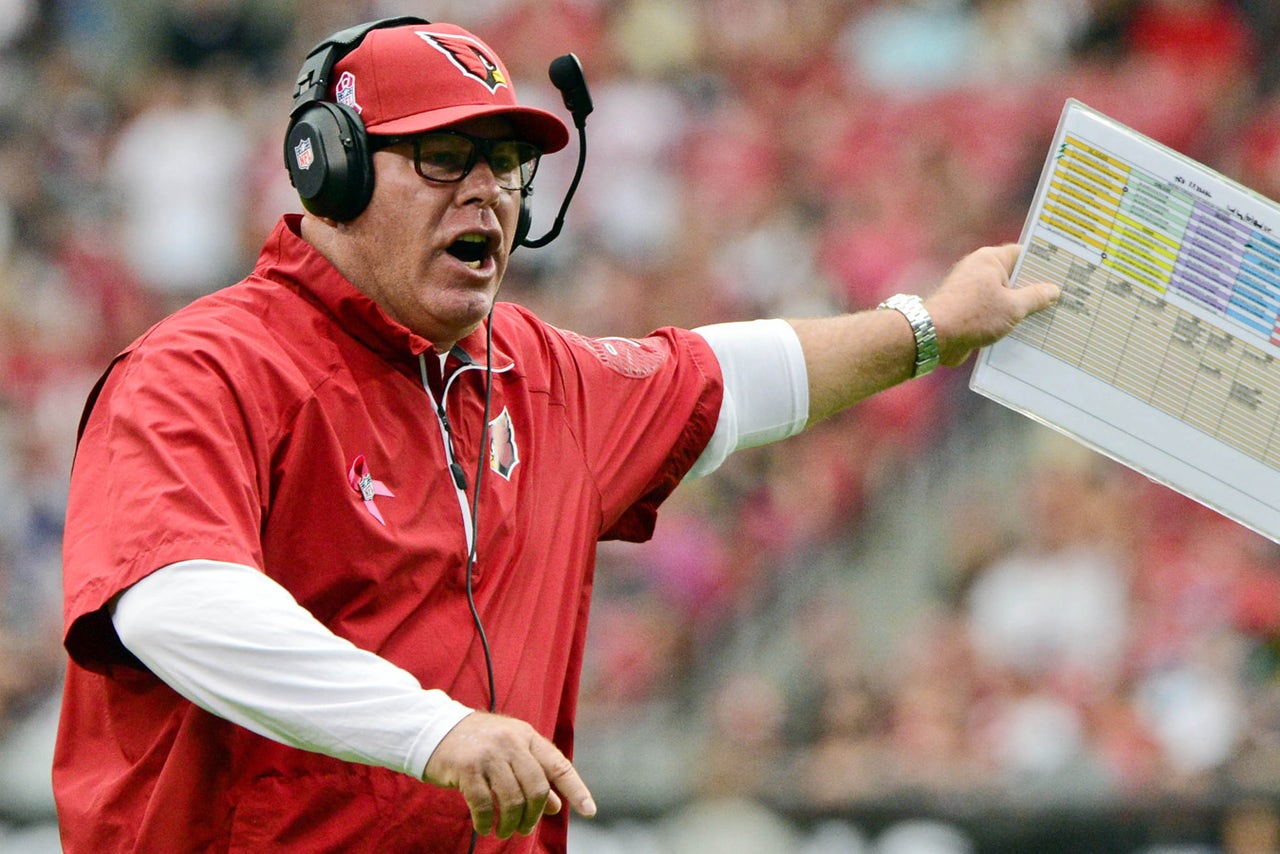 TEMPE, Ariz. -- There are no consolation prizes in the NFL. If the Cardinals miss the playoffs with an 11-5 or 10-6 record, the mood will be glum when the team cleans out its lockers next week.
There are also no guarantees that success can be replicated. Just because the Cardinals have won seven of their last eight games and look every bit the playoff-worthy team, that doesn't mean they will follow up with another good campaign next season. Fortunes can change quickly in the NFL, turning on critical injuries, plays or decisions.
But that's all food for later thought. On the heels of the most impressive win in the 15-game Bruce Arians era, and just two days before Christmas, it's worthwhile to take stock of what this team has accomplished and given fans.
Sunday's win means the Cardinals have posted just their second 10-win season since arriving in the Valley in 1988 (it's their fourth winning season in that same span) and just their third since the NFL went to the 16-game schedule in 1978. One more win would represent a high-water mark for their Valley tenure and tie a franchise high.
And, for a welcome change, Week 17's game will matter.
"It's a nice foundation," Arians said. "But I'm really not about that stuff. We play to get into the playoffs and win a championship."
Nonetheless, it's a stunning feat to go from 5-11 to 10-5 in one season. It's all the more stunning when you have a new GM (Steve Keim), a new coaching staff and a roster that has turned over more than 50 percent of its personnel.
"Steve did a great job of bringing guys in," Arians said. "I want to say this publicly. If he doesn't win executive of the year, something's wrong."
Arians had downplayed last season's 58-0 loss in Seattle all week, reminding everyone of those rampant changes at the management, coaching and player levels. But he couldn't resist a quick quip (given his talent in this area, we wouldn't want him to) regarding that game, even if his math was a shade off.
"I guess we are 66 points better than last year," he said.
If the Cards beat the 49ers, they will finish the season with a crescendo, having won eight of their final nine games. It may not be playoff-worthy, but it's more than enough for a coach's first season. And it's more than anyone outside the team's Tempe headquarters expected.
Now for a look back at that monumental win in Seattle.
Midway through the fourth quarter, Russell Wilson hit tight end Zach Miller with an 11-yard touchdown pass, and Steven Hauschka's second PAT try (after a questionable penalty on Daryl Washington negated his miss) gave Seattle a 10-9 lead. It looked like all the Cardinals' blown opportunities (four interceptions, most notably) would come back to bite them. Instead, the offense shook off its previous missteps and rattled off a 10-play, 80-yard touchdown drive capped by Michael Floyd's 31-yard grab down the left sideline and Rashard Mendenhall's two-point conversion.
RB Rashard Mendenhall: Mendenhall matched a season high with 21 carries. He only gained 63 yards against Seattle's top-ranked defense, but he had some big runs and ran hard in difficult areas, giving the Cards a consistent threat on the ground. He also scored on a key two-point conversion.
The defensive line: The Cardinals turned in a dominating performance unit-wide. It should not be overlooked how well cornerback Jerraud Powers (five tackles, three passes defensed) played against an admittedly depleted Seahawks receiving corps, but this game was won at the line of scrimmage, and for that, the Cardinals can credit Darnell Dockett, Calais Campbell, Dan Williams and the reserves.
Karlos Dansby believes he should be NFL Defensive Player of the Year: Here's what the always-quotable linebacker had to say after the game in which he had six tackles and a huge interception in the final minutes (his fourth of the season). "I am putting my name in the hat. Defensive Player of the Year. You are looking at him. No one is playing better. That is how I feel. I am going to hang my hat on that. I am going to go out there and make my statements, and I put one out today."
Washington state Rep. Joe Fitzgibbon (D-Burien) has some 'splainin' to do: Fitzgibbon, an admitted Seahawks, fan took to Twitter to vent his disappointment in Sunday's loss. Now he'll likely have to explain his exceedingly poor choice of words.
"Losing a football game sucks," Fitzgibbon wrote. "Losing to a desert racist wasteland sucks a lot."
The Democratic representative deleted the tweet shortly after, sending out the following message:
Yet another lesson in the think-before-you-tweet social media class.
The Cardinals' predicament will increase cries for an expanded playoff format: The Cardinals have a good chance to become just the second 11-5 team in the 12-team playoff format (the 2008 Patriots were the first) to miss the playoffs. Some Cardinals fans have been griping on Twitter that it's unfair that either the Bears (8-7) or Packers (7-7-1) will make the playoffs with a worse record, but it's not uncommon, even if the vast majority of teams still have to do better than that. Remember, the Cardinals went to the Super Bowl on the heels of a 9-7 season in which they lost three road games by three touchdowns or more. The four-division-per-conference format sometimes creates these scenarios. As the sports cliche goes, it is what it is. But in a revenue-driven league, an expanded playoff could be just around the corner, with the Cardinals serving as a convenient excuse.
Arians said the team came out of Sunday's game "basically injury-free" with only bumps and bruises. Safety Rashad Johnson missed the game with an ankle injury, but Arians hopes to have him back for the regular-season finale. Receiver Larry Fitzgerald (concussion) played but wasn't terribly effective. He caught three balls (five targets) for 18 yards, but Arians said that was a product of the Seahawks' secondary and the Cardinals' run-focused game plan, not Fitzgerald's health. Linebacker John Abraham suffered a stinger but is expected to be available this week.
-- Of the Seahawks' 14 possessions, 12 were for four plays or fewer. Nine gained nine yards or fewer.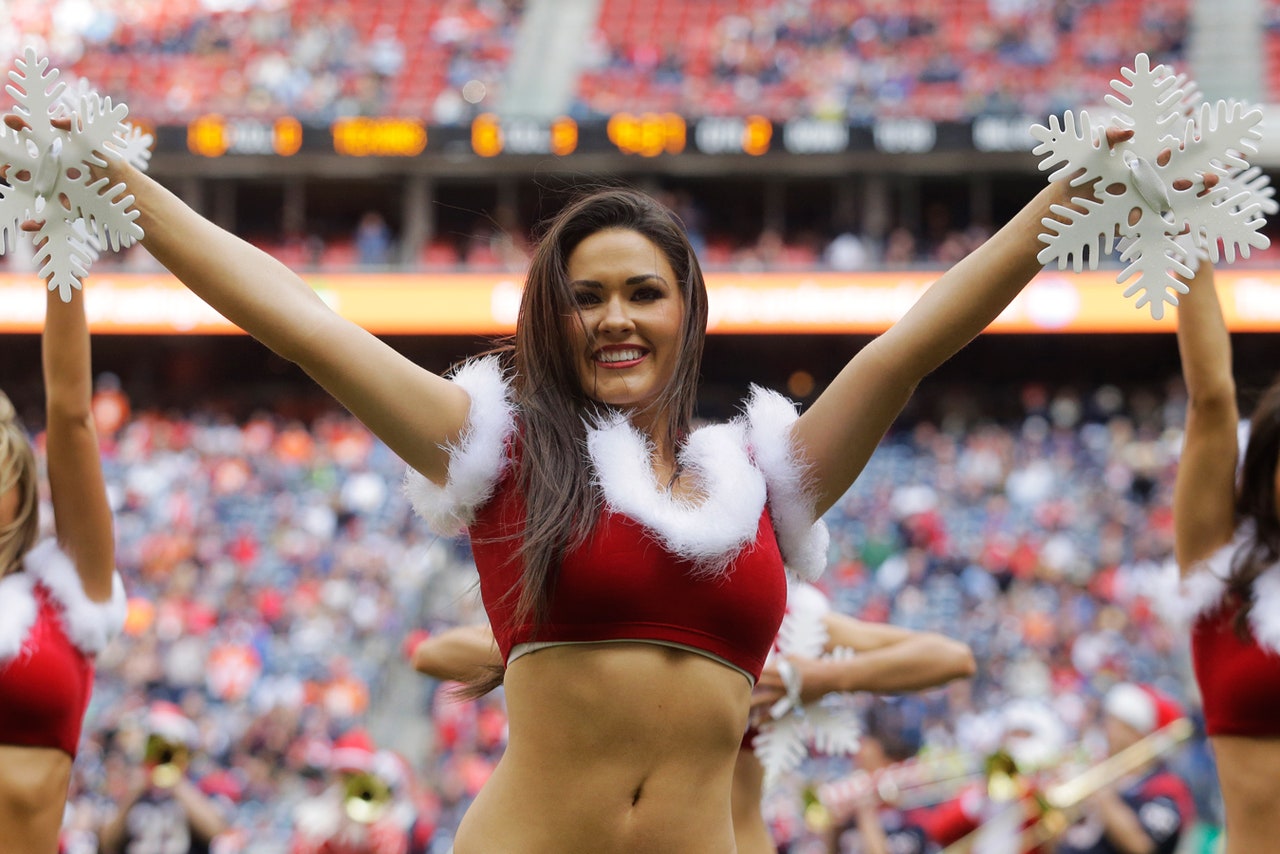 There was plenty to cheer about around the NFL over the weekend. VIEW CHEER GALLERY >>

-- The Seahawks had won 26 straight games (since 2001) when they forced at least four turnovers -- before Sunday.
-- No one has ever won NFL Coach of the Year in consecutive seasons with different teams, and just three have ever won back-to-back honors overall (Allie Sherman, Giants 1961-62; Don Shula, Colts 1967-68, sharing the '67 award with George Allen; Joe Gibbs, Redskins 1982-83). Arians will have a tough time beating out Chiefs coach Andy Reid, who has taken a 2-14 team last season to an 11-4 record and a postseason spot.
-- Seattle QB Russell Wilson's 108 passing yards and four yards per attempt Sunday both ranked as the lowest totals of his career. His 40.7 completion percentage was the second-lowest mark of his career (39.1 on Oct. 18, 2012, at San Francisco).
San Francisco, Sunday, 2:25 p.m.: The 49ers can clinch a playoff berth Monday night with a win at home over the Falcons. Not that the Cardinals need any help on the field lately, but clinching might lead the Niners to rest some of their players in the finale. Arizona needs a win over San Francisco next week and either a loss by the Niners on Monday or a New Orleans loss to Tampa Bay next week to make the playoffs.
Follow Craig Morgan on Twitter
---