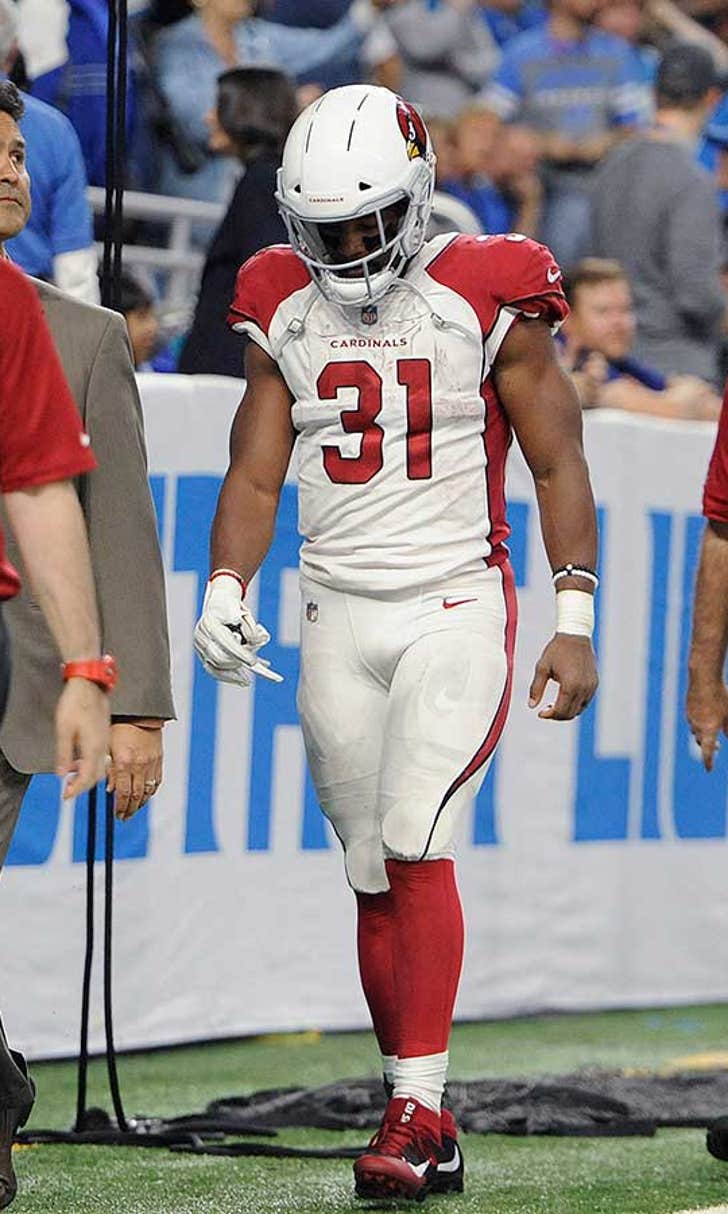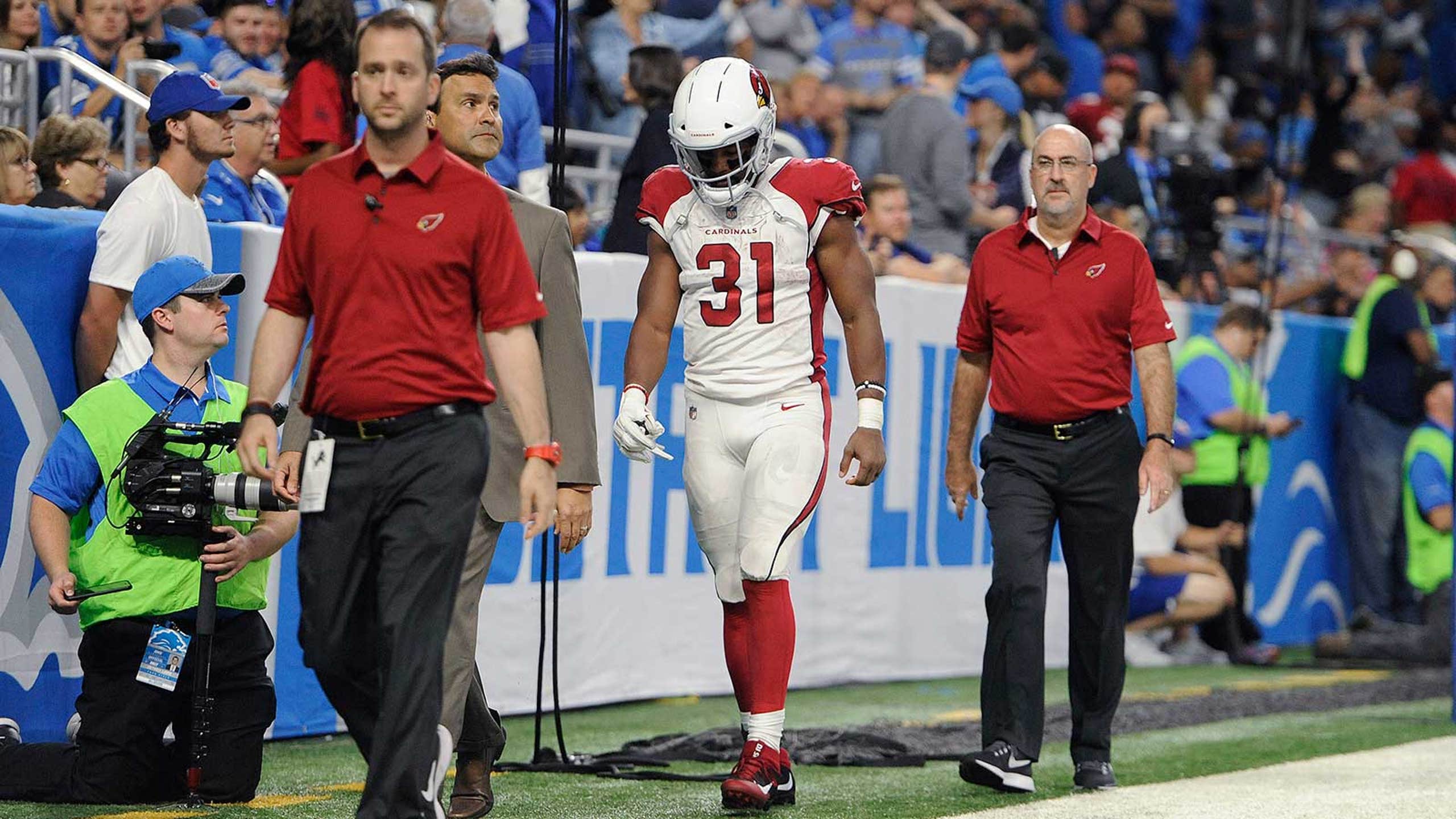 Cardinals' opening loss compounded by David Johnson's dislocated wrist
BY Bob Baum • September 11, 2017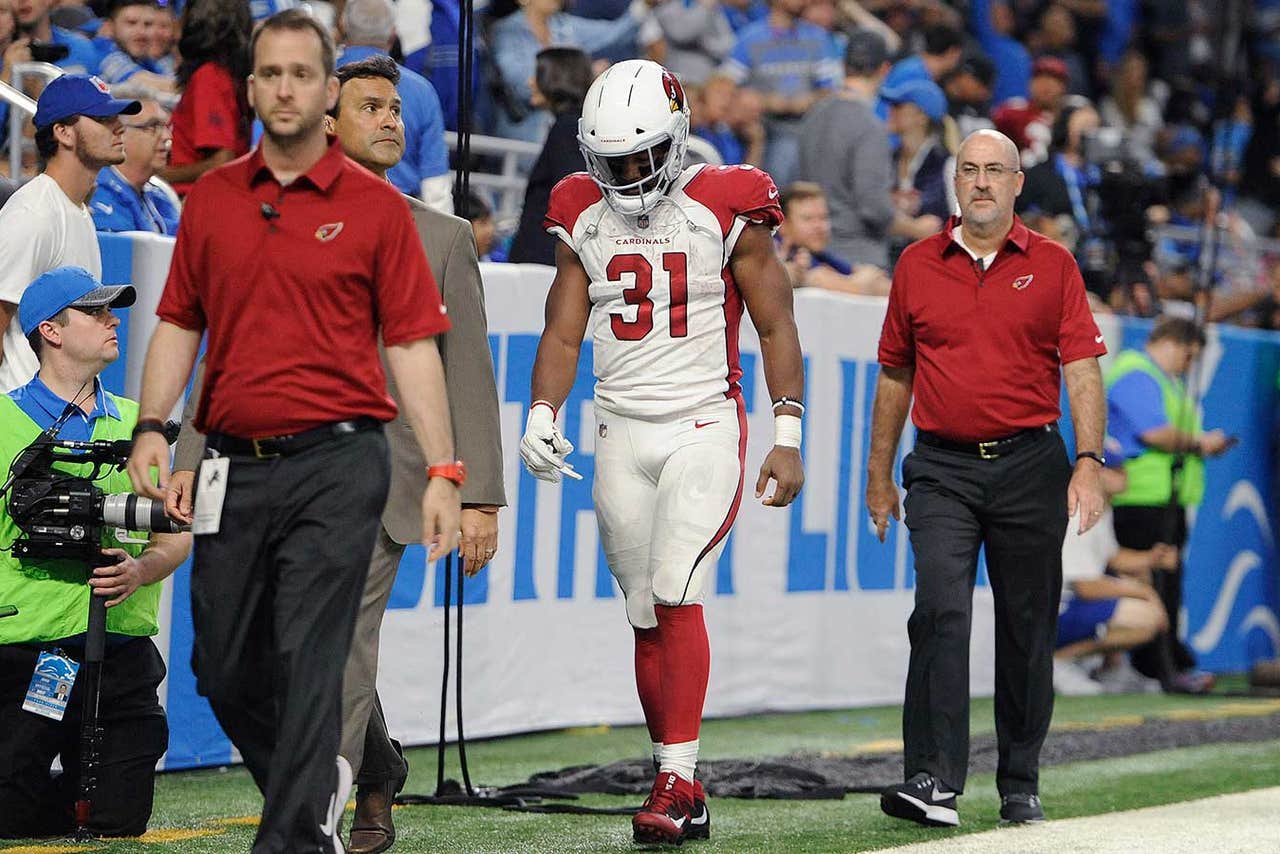 David Johnson walks off the field with the Cardinals medical staff on Sunday after injuring his wrist.
TEMPE, Ariz. -- The Arizona Cardinals lost way more than a game in their season opener in Detroit.

Star running back David Johnson dislocated a wrist, Cardinals coach Bruce Arians said, and probably will require surgery.

Arians said Johnson is seeking a second opinion. If the original prognosis is confirmed, the injury is the same as the one that sidelined rookie T.J. Logan in the preseason.

While he didn't give a timetable for Johnson, Arians said Logan is expected to be out eight to 12 weeks.

"It's always a huge blow to lose a top player but it's not the end of the world," Arians said at his Monday news conference. "We've got quality guys on our team. It's an opportunity for somebody to step up. David Johnson became David Johnson because of somebody's injury."

Arians was referring to Johnson's rookie season, when David took over as starter when Chris Johnson went down with a knee injury.

David Johnson likely is headed for injured reserve, not necessarily for the season but maybe for most of it. NFL rules allow up to two players to be brought back from IR.

"There's some big shoes for somebody to step into," right tackle Jared Veldheer said. "We need good running backs in our system, so we need somebody to step up."

Arians said Monday that the injury occurred late in the third quarter of Sunday's 35-23 loss at Detroit, when Johnson was hit hard after a catch at the Lions' 3-yard line. The next and final time Johnson touched the ball, he fumbled at the Cardinals' 10-yard line.

Kerwynn Williams and Andre Ellington are the primary running backs in Johnson's absence. Ellington said the team didn't know Johnson hurt his wrist on the big catch.

"We thought he had the wind knocked out of him, but we could tell something was wrong because he wasn't really holding the ball the same," Ellington said. "Later I found out it was his wrist, didn't think it was that bad. Still don't really know exactly what's going on but it looks like I have to step up, Kerwynn has to step up."

Williams scored on a 3-yard run on Sunday. Arians said re-signing Chris Johnson "would be an option." Chris Johnson was released in the Cardinals' final roster cuts. The Cardinals also were looking at practice squad players on other teams.

David Johnson was All-Pro at the newly created "flex" position last season and was second-team All-Pro at running back.

So big things were expected of him in this, his third, NFL season. He was on the cover of Sports Illustrated's season preview after leading the league in yards from scrimmage and touchdowns last season. Johnson was a favorite No. 1 pick for fantasy football fans.

He had set a goal of becoming the third player in NFL history with 1,000 yards rushing and 1,000 yards receiving in the same season. Johnson set an NFL record last season with 100 yards from scrimmage in each of the first 15 games of a season.

The injury news was a little better on starting left tackle D.J. Humphries, out one to two weeks with a strained knee.

John Wetzel will replace Humphries at left tackle. If Humphries' injury was more long term, the team might consider moving Veldheer back to left tackle from the right side. But Wetzel is better at left tackle than at right, Arians said.

As far the game goes, Arians blamed the loss on his best players.

"The way I told the players, our five-star players didn't play well enough to beat a team on the road," the coach said. "Our young players, on the positive side, played very, very well. ... I really expect our five-star players to bounce back pretty quick."

Chief among the disappointments was quarterback Carson Palmer, who threw three interceptions and took responsibility for the loss after the game.

Arians said Palmer placed "super pressure on himself to be perfect instead of just play."

"He didn't play very well. He knows he didn't play very well," Arians said. "I'm sure he'll bounce back."

Arians said the team's first-round draft pick, Haason Reddick, was outstanding in his start at inside linebacker. Reddick had six tackles, two assists, including a tackle for loss.

Arians noted that Arizona led 17-15 entering the fourth quarter.

"To have the lead going into the fourth quarter," he said, "we should win the game."

Detroit outscored Arizona 20-6 in the final period.

Notes: The Cardinals re-signed OLB Philip Wheeler and released ILB Scooby Wright.
---
---