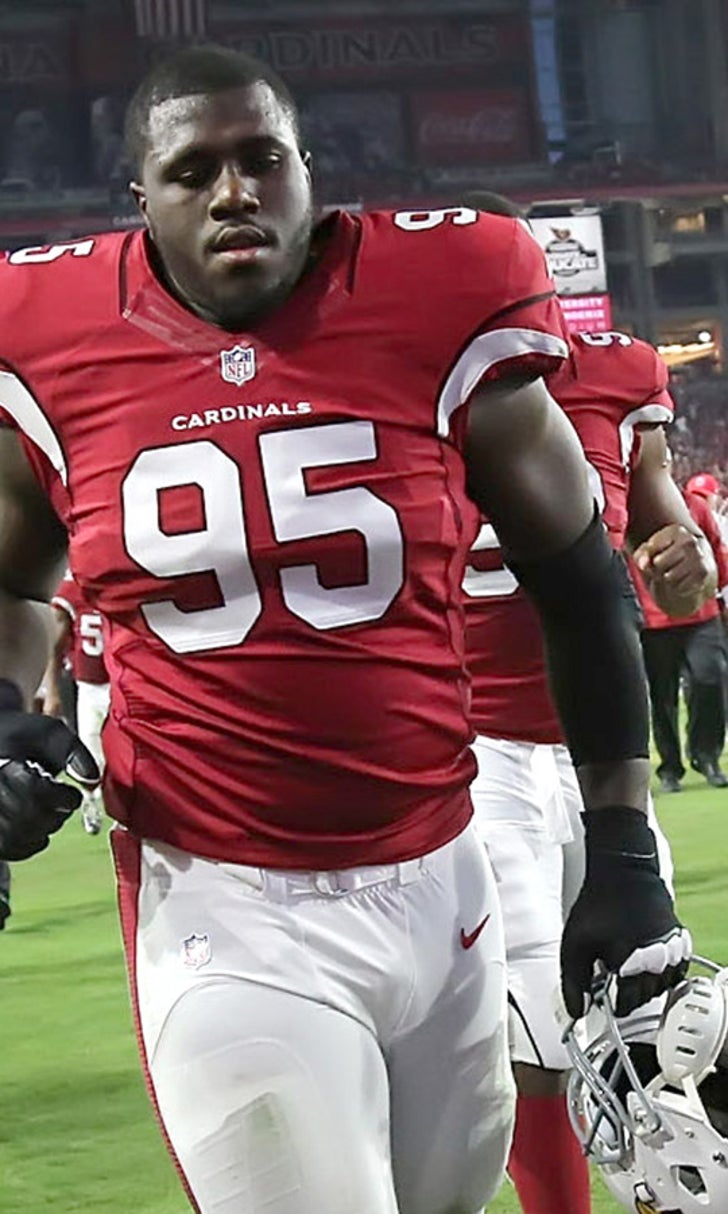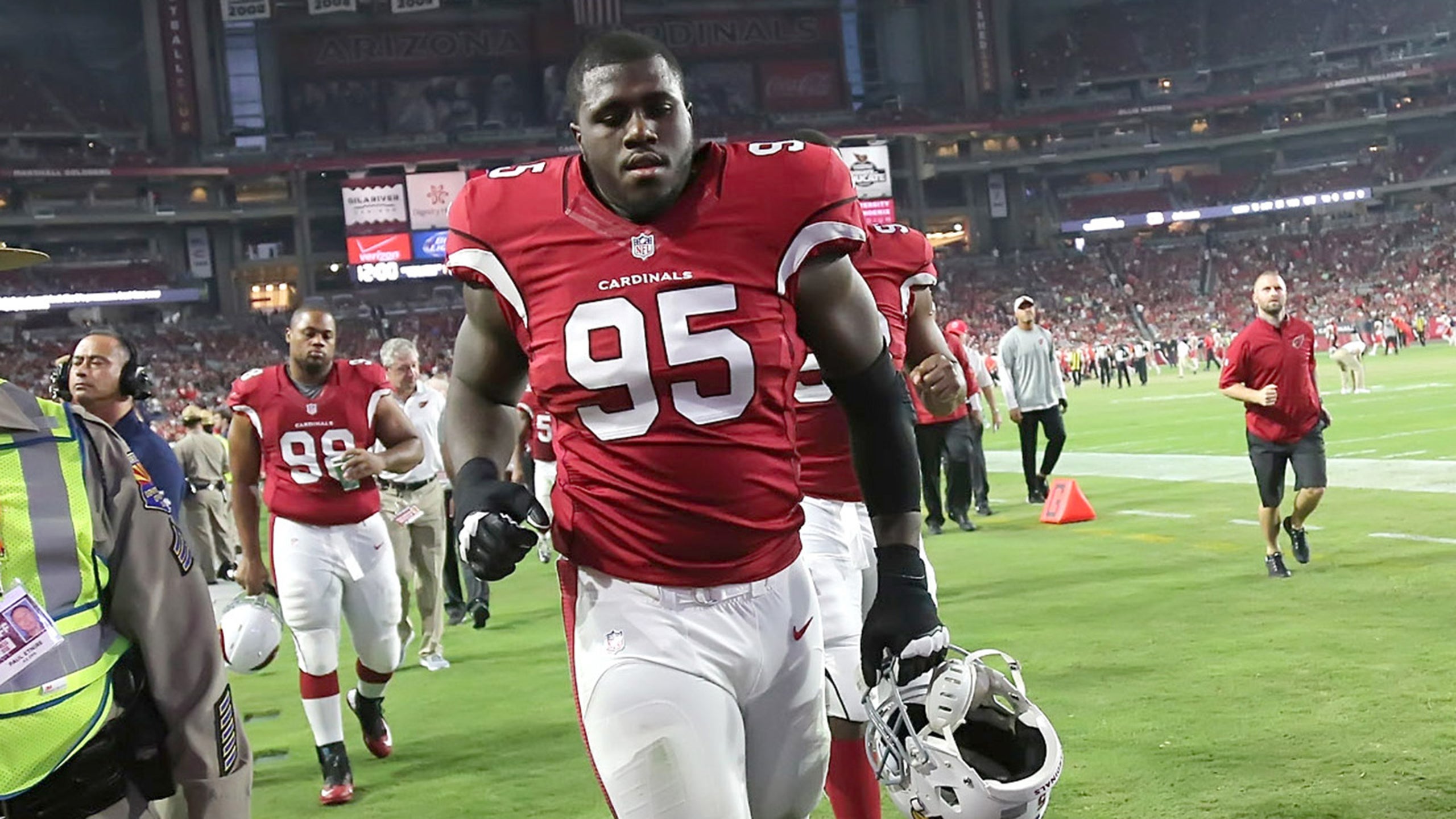 Cardinals lose NT Peters for season; Iaputi out 3 to 8 weeks
BY foxsports • August 20, 2015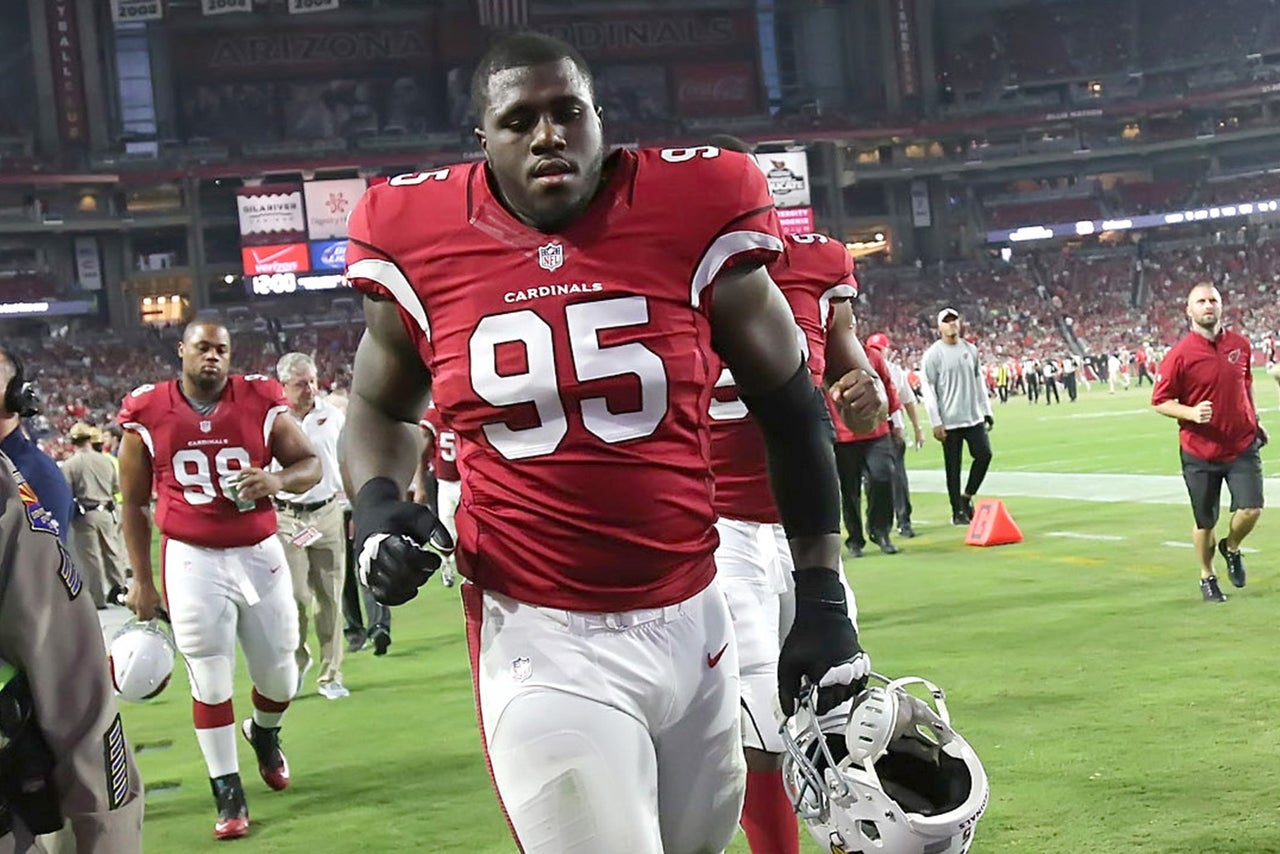 GLENDALE, Ariz. -- Two of the Arizona Cardinals' most significant offseason acquisitions are injured; one of them -- starting nose tackle Corey Peters -- is lost for the season.
Peters tore his left Achilles tendon in practice Wednesday. Starting left guard Mike Iupati will undergo surgery for a torn left meniscus. Iupati was hurt in Tuesday's practice.
Coach Bruce Arians said Iupati is out three to eight weeks, meaning he could miss the first five games of the season.
Peters tore an Achilles for the second time in three seasons. He tore his right Achilles tendon late in the 2013 campaign.
"The second time around it's really devastating," Arians said before Thursday's practice, "because he was having such a great camp."
Peters was hurt without any contact.
"He was just running toward the ball," Arians said. "Nobody touched him."
Arians said rookie Rodney Gunter, a fourth-round pick from Delaware State, will move into the starting nose tackle role.
Ted Larsen will be the new left guard. Larsen started at the position for Arizona all of last season. But Arians said Earl Watford "will fight for that left guard spot because he's had such a good camp. He's also in the fight for right guard, right tackle."
Iupati, a three-time Pro Bowl selection with San Francisco and a member of The Associated Press all-pro team in 2012 , was Arizona's biggest free agent acquisition. He signed a five-year, $40 million contract with $22.5 million guaranteed.
Iupati is considered one of the best run blockers in the league; the Cardinals ranked last in the NFL at 3.3 yards per carry last season.
"It's obviously a little bit of a drop-off," Arians said of the injury's impact, "but we will be better than we were (last year)."
Peters signed a three-year, $10.5 million deal with $3.75 million guaranteed.
He played all five of his pro seasons with Atlanta, starting all 15 games before he was hurt in 2013. He appeared in 14 games with the Falcons last season.
Gunter, a massive 6-foot-5 and 305 pounds, has been impressive throughout camp.
"He's got all over the quarterback a bunch of times," Arians said. "The centers have had a really, really rough time with his length and strength."
Gunter said Arians told him Wednesday night that he would be the starter.
"It's time for the rookie to step up," Gunter said, "time to go to work, time to grow up fast."
He said he wasn't surprised Arians turned to him as Peters' replacement.
"I've been working hard," Gunter said. "I've been improving since OTAs, rookie minicamp. A lot of vets believe in me. I'm ready to do my job."
Gunter burst through to tackle Kansas City backup quarterback Aaron Murray for a safety in the preseason opener Saturday night.
"He's one of those country boys that you wouldn't want to fight in a bar fight," cornerback Jerraud Powers said. "He's had a hell of a camp."
Defensive end Calais Campbell said Gunter "is very physically blessed and he's got good instinct."
"He's made plays in camp against our ones that are like `Wow. This guy could be special,'" Campbell said. "We've just got to figure out how to get it out of him consistently."
Gunter agreed with Campbell's assessment that he was "born to play football." He said he will lean on veterans Campbell and defensive tackle Frostee Rucker for help.
"I'm surrounded by greatness," Gunter said, "so I have no other choice but to be great."
EXTRA POINTS
Arians said he would like to get new signee Chris Johnson five or six carries against San Diego on Saturday night. Arians said he expects rookie running back David Johnson to play most of the second quarter and the entire third. ... With a suspension of as many as three games looming for Bobby Massie, Bradley Sowell has been practicing with the first string, ahead of first-round draft pick D.J. Humphries. "Bradley's a pro, he shows up every day. D.J.'s a rookie, he shows up once every week." ... Arians was told 'Bird Gang' fans want to know about the status of inside linebacker Daryl Washington, who sat out all of last season due to violating the league's substance-abuse policy and has not been reinstated. "The league hasn't notified me of anything, so I would ask the Bird Gang to please call Daryl," Arians said. 
---
---