Cardinals host Seahawks with huge implications riding on outcome
BY foxsports • December 19, 2014
TEMPE, Ariz. -- The significance of Sunday night's Seahawks-Cardinals game is clear to everyone. If the Cardinals win, they will clinch the NFC West title, the No. 1 overall seed in the NFC, a first-round bye and home-field advantage throughout the playoffs, including the Super Bowl.
If the Seahawks win, they have an opportunity to clinch many of the same things (minus Super Bowl home-field advantage) with a victory the following week in Seattle against the Rams.
But there are two other milestones the Cardinals can achieve with a win. No Cardinals team has ever won 12 games in a season, and no Cardinals team in the Super Bowl era has ever gone undefeated at home.
Arizona has 11 wins and Arizona is 7-0 at University of Phoenix Stadium, which is already the franchise's highest home win total since teams started playing a balanced home/away slate in 1948 (the 1925 team played 13 of 14 games at home and went 11-2 in those games).
"We want to be undefeated at home," coach Bruce Arians said. "Obviously, this is the best way to do it, is play for the NFC West here."
The challenge couldn't be bigger. The Seahawks enter the game on a four-game winning streak in which their defense has allowed just 27 total points in those games. The defense is ranked No. 1 overall in the NFL (272.4 yards per game), No. 1 against the pass (184.3), No. 5 against the run (88.1) and No. 2 in points allowed per game (17.3).
And Ryan Lindley, who was cut by the Cardinals during training camp, is expected start at quarterback, with rookie Logan Thomas potentially playing on a limited basis.
Arians seemed to understand just how much of a role home field could play on Sunday, given the Cards' success there and the underrated volume of University of Phoenix Stadium crowds.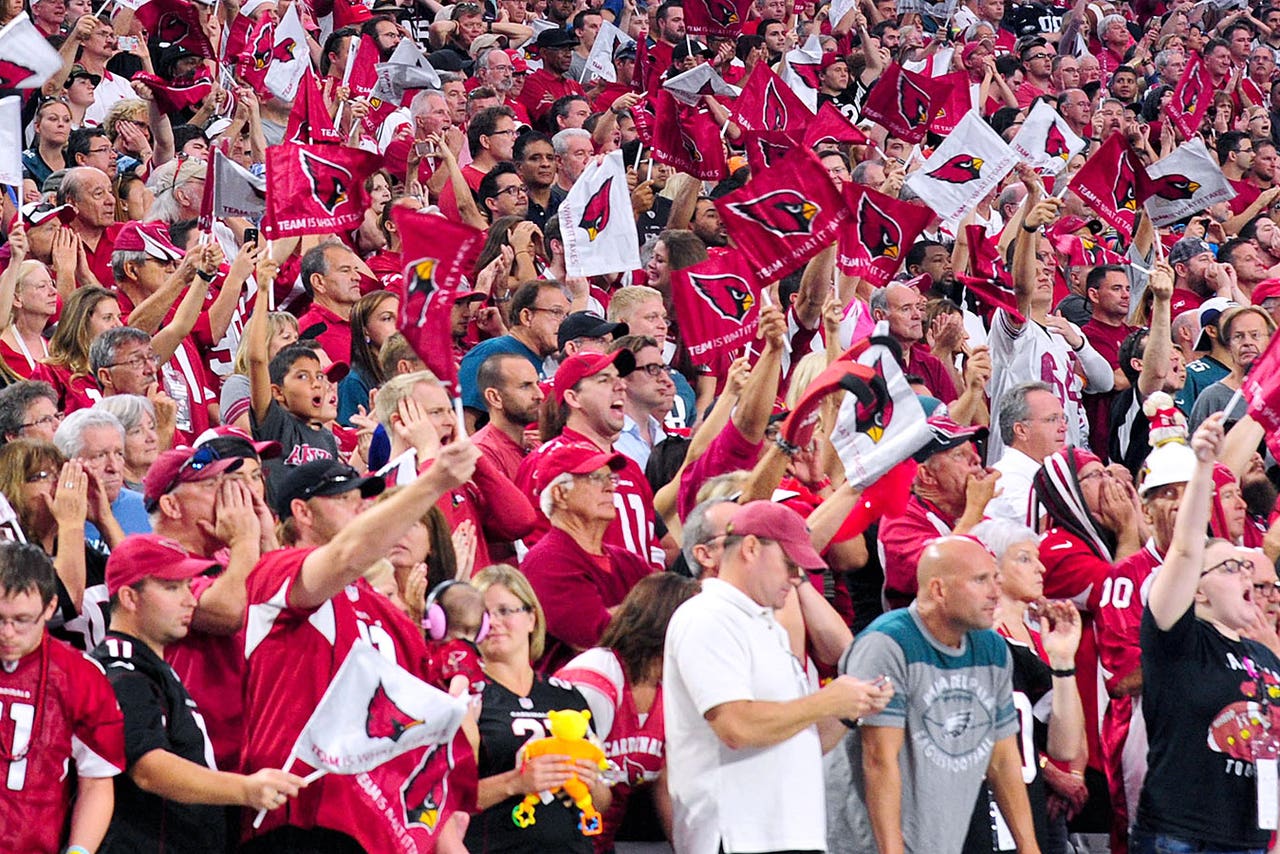 Best home records in Cardinals franchise history
2014: 7-0 (one game remaining)
1976: 6-1 (10-4)
1975: 6-1 (11-3)
1970: 6-1 (8-5-1)
1948: 5-1 (11-1)
*1947: 5-0 (9-3)
1931: 4-0 (5-4)
* -- NFL champions
Most wins in a Cardinals single season 
2014: 11-3
1975: 11-3
1948: 11-1
1925: 11-2-1
Seahawks (10-4) at Cardinals (11-3)
When: 6:30 p.m., Sunday
Where: University of Phoenix Stadium, Glendale
TV: NBC Ch. 15 (Al Michaels, Cris Collinsworth, Michele Tafoya)  
2013 Offensive rankings: The Seahawks are 11th overall at 361.6 yards per game (31st passing, 192.8 yards; 1st rushing, 168.8 yards, 11th scoring, 24.2 points). The Cardinals are 24th overall at 321.6 yards per game (15th passing, 237.3 yards; 28th rushing, 84.4 yards, 22nd scoring, 20.5 points).
2013 Defensive rankings: The Seahawks are 1st overall at 272.4 yards per game (1st in passing, 184.3 yards; 5th rushing, 88.1 yards, 2nd scoring, 17.3 points). The Cardinals are 14th overall at 350 yards per game (29th passing, 259.6 yards; 6th rushing, 90.4 yards, 3rd scoring, 17.4 points). 
INJURY REPORT
Cardinals: LG Jonathan Cooper (wrist) is out. QB Drew Stanton (knee) is doubtful. WR Jaron Brown (toe) is questionable. DE Calais Campbell (hip), RG Paul Fanaika (knee), WR Larry Fitzgerald (knee), S Tyrann Mathieu (thumb), LB Lorenzo Alexander (knee), LB Larry Foote (knee) and RB Kerwynn Williams (knee) and LT Jared Veldheer (ankle) are probable.
Seahawks: T Russell Okung (chest) is out. DE Demarcus Dobbs (ankle) and C Max Unger (ankle/knee) are doubtful. WR Chris Matthews (hamstring) and TE Tony Moeaki (shoulder) are questionable. RB Marshawn Lynch (back), G J.R. Sweezy (ankle), WR Paul Richardson (hamstring) and TE Cooper Helfet (ankle) are probable.
WHAT'S AT STATE?
If the Cardinals win, they clinch the NFC West title and the No. 1 overall seed in the conference.
OUTLOOK
It cannot be stated enough how miraculous this Cardinals season has been, so a win would not surprise us any more. It seems cruel that with one loss, however, all they have worked for could be lost, but is it too much to ask a third-string QB (really a fourth-string QB since he lost a training camp battle to Logan Thomas and would again if it were held today) to beat the hottest team in the league, the best defense in the league and the defending Super Bowl champs? 
PREDICTION
Seattle 17, Arizona 13
RELATED: As expected, Stanton doubtful for Sunday's game.
"I'm sure there will be blue and green out there -- there always is," he said in a subtle call-out to the home fans. "But our stadium has been rocking since Day 1. I know this: We keep the game where it needs to be in the fourth quarter, they'll take the stadium over.
"We feed off that energy," he added. "We make mistakes, but we're able to overcome them."
Overcoming is what the injury-ravaged Cardinals have done all season. If they can do it one more time, you can make a strong argument that this would be the best season in franchise history, even eclipsing the Super Bowl run in 2008-09.
That team was mediocre during the regular season and got on a playoff roll. It also benefitted from good fortune in the playoffs when the top-seeded New York Giants fell in the divisional round, giving fifth-seeded Arizona home field against the sixth-seeded Eagles in the NFC Championship.
This season's team has been anything but fortunate with the rash of injuries it has sustained to impact players on both sides of the ball and yet, it would boast the best record in franchise history with a win on Sunday while silencing a wide range of voices predicting a Seattle win.
"Any time you don't get the respect you think you deserve you're going to have a little chip on your shoulder; that's natural," defensive end Calais Campbell said. "We do get respect, but not the respect that the guys in here work hard for, week-in, week-out.
"Everybody's focused and everybody's ready. I wouldn't as for a better group of guys to play football with."
Russell Wilson outside the pocket: The Cardinals have done an effective job of limiting Seahawks rushing bell cow Marshawn Lynch, holding him to 201 total yards on 54 carries (3.72 yards per carry) and one TD in the last three meetings (67 yards per game). That must continue, but they also have to pay attention to QB Russell Wilson when he gets outside the pocket. He has 20 carries for 133 yards in the last three meetings, but he hurt the Cardinals with a 40-yard scramble in the Seahawks' 19-3 win in Seattle earlier this season. Seattle has the fewest passing attempts in the NFL (397). Stop the run, stop the Seahawks offense.
The Cardinals QB carousel: Ryan Lindley is supposed to start, with a package added for Logan Thomas that takes advantage of his mobility and arm strength. Bruce Arians threw another curveball by leaving Drew Stanton's status in doubt, but it is still unlikely he will be active. Whoever plays, look for the Cardinals to take their deep shots and hope for some defensive penalties. Referee Walt Anderson's crew averages 17.1 penalties per game, which is tied for the fifth-highest total among the NFL's 17 crews.
Field position: The last time these teams played, Seattle started six of its 11 drives from its 40-yard line or better (one was actually just outside its 39), including four in Arizona territory. In a game where points will be at a premium, punter Drew Butler must change field position and the coverage teams must be sound. The Cardinals' offense and defense will need all the help they can get.
-- Seahawks linebacker Bobby Wagner (2008-12) and Cardinals running back Kerwynn Williams (2009-12) both played at Utah State. When asked about this on a conference call, Wagner joked: "I'm looking forward to hitting him again."
-- Seahawks offensive coordinator Darrell Bevell is a native of Yuma and played football at Chaparral High School in Scottsdale.
-- Cardinals defensive lineman Frostee Rucker played for Seahawks coach Pete Carroll at USC.
-- The Cardinals have an 18-5 record over their last 23 games dating back to Week 8 of the 2013 season. Arizona's .783 win percentage in that span is tied with New England and Denver for the best mark in the NFL. 
Follow Craig Morgan on Twitter
---