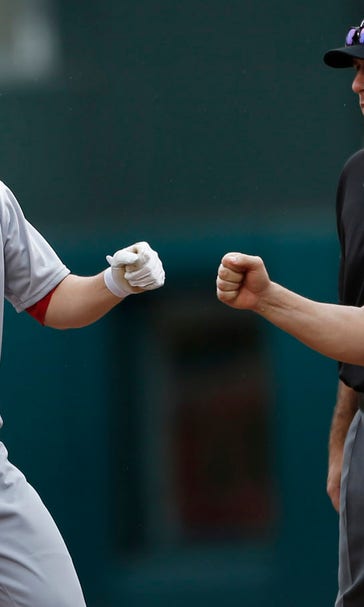 Cardinals hit four homers, shut out Phillies in 9-0 win
BY foxsports • August 21, 2016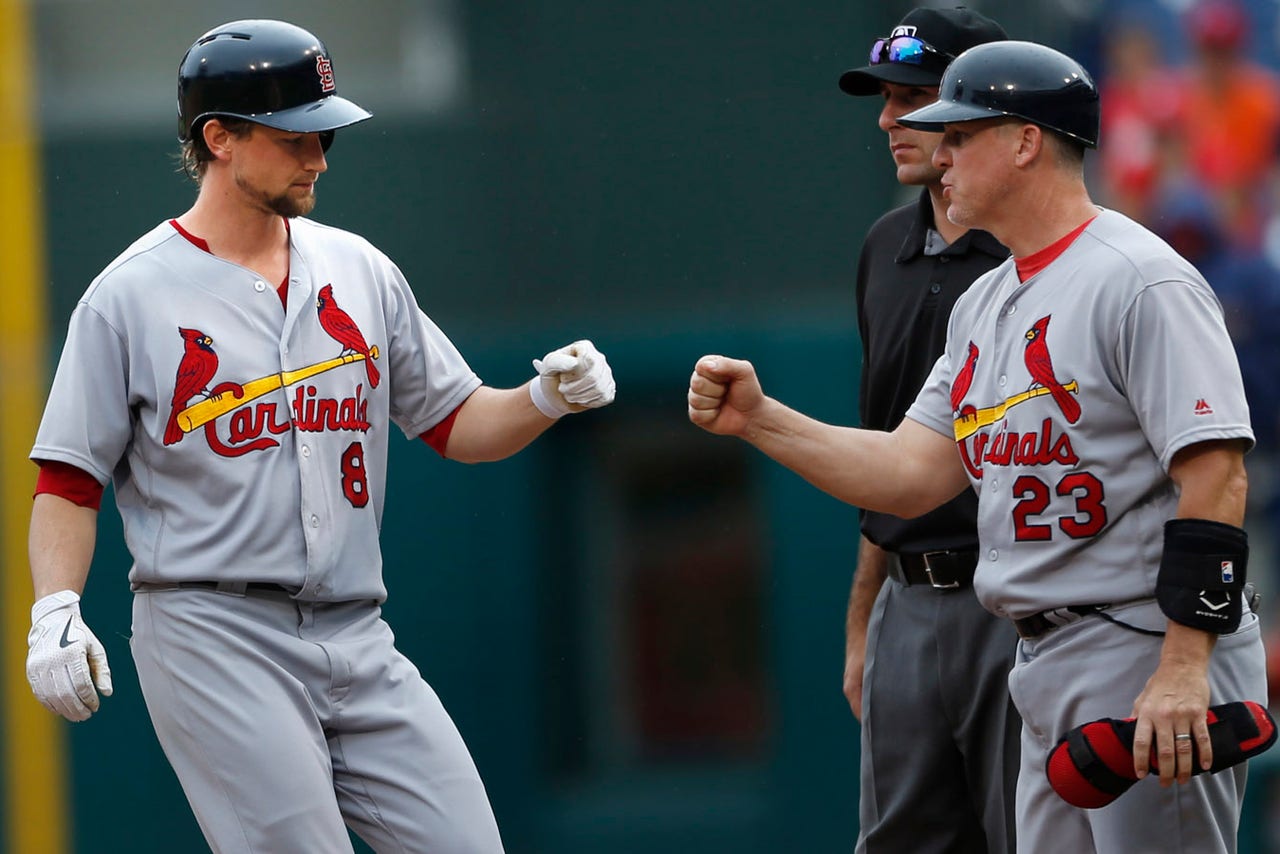 PHILADELPHIA -- Next to all of that St. Louis power, Mike Leake's single might've looked puny.
But it scored two runs and those helped, too.
Leake pitched seven strong innings and contributed at the plate, and the Cardinals homered four times Sunday to beat the Philadelphia Phillies 9-0.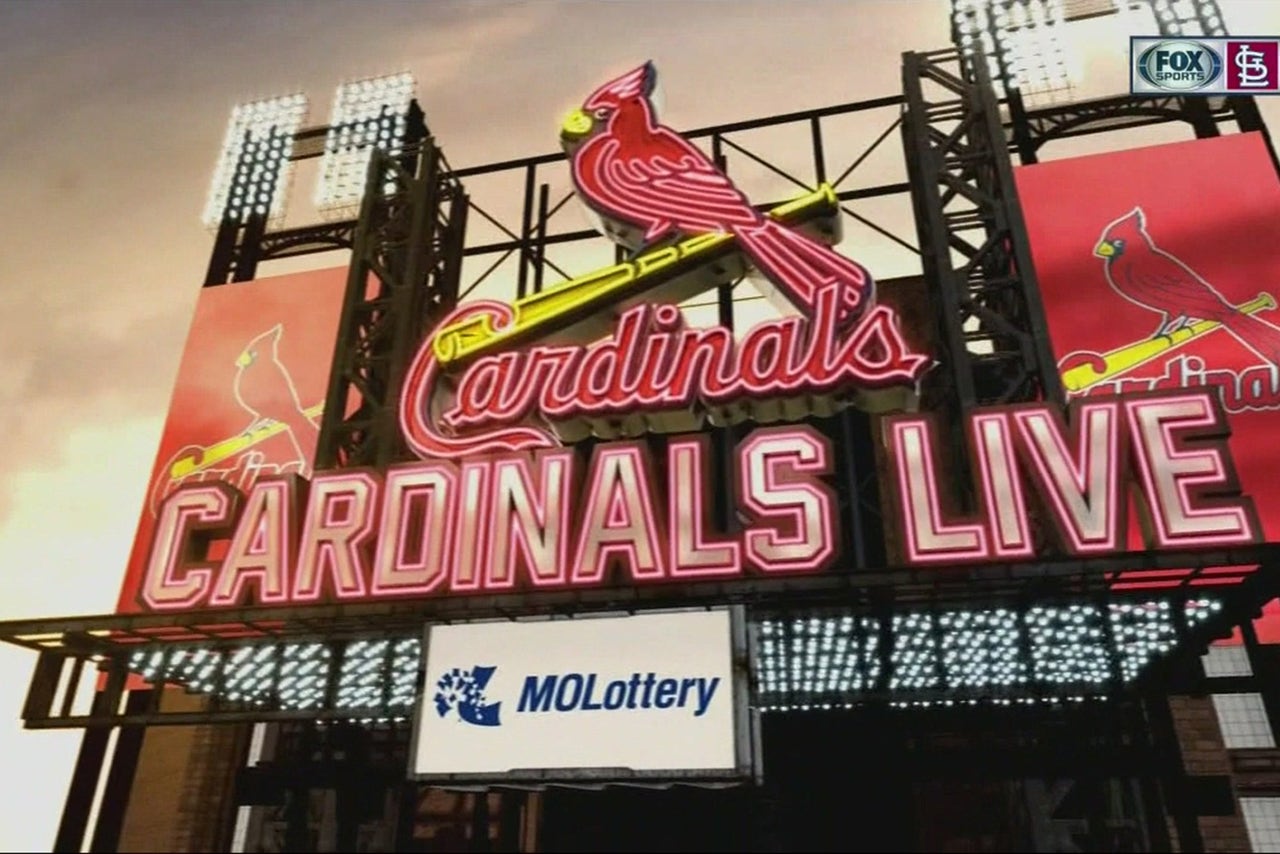 Watch the Cardinals Live pregame and postgame shows before and after every St. Louis Cardinals game on FOX Sports Midwest.

Jedd Gyorko, Stephen Piscotty, Brandon Moss and Jeremy Hazelbaker went deep.
"It's not the only way we can score runs, but it's our main way," Moss said. "We've got a lot of guys in the lineup that can do a lot of damage. It's nice to have guys in the lineup who can change a game like that."
The Cardinals had hit multiple home runs in nine straight games, tying a major league record, before failing to connect twice Saturday night in a 4-2 loss. Manager Mike Matheny was happy to see the bats get going again.
"We needed that to continue to watch these guys stay in a good rhythm," he said.
Jhonny Peralta added three hits as the Cardinals finished a 6-3 road trip. They remained 1 1/2 games ahead of Miami for the final wild-card spot in the National League.
The Cardinals got six extra-base hits to set a club record of 14 straight games with at least three extra-base hits.
Leake (9-9) gave up seven hits and struck out eight. Philadelphia had homered in 14 straight games before getting blanked by Leake and two relievers.
"He needed that, we needed that," Matheny said. "It was a great outing for him. You're seeing some strange swings because the ball was moving a lot for him today, and I thought he used his changeup well. And the breaking ball was there for strikes when he wanted it."
Vince Velasquez (8-6) fell to 0-4 with a 6.23 ERA in his last seven starts.
"He wasn't locating his secondary pitches," Phillies manager Pete Mackanin said. "He's going to be real good at one point. He's got to keep working on it."
Moss hit his 23rd homer and Leake added his single later in the fourth for a 4-0 lead.
Piscotty connected in the fifth, the eighth home run Velasquez has allowed in three games.
"I'm trying to figure it out," Velasquez said. "I can't give a solid answer because I don't know what it is."
Velasquez struck out 16 in a game earlier this season, but big-league hitters have caught on to his fastball.
"I didn't have electric stuff early and next thing you know everything goes south when you don't have your secondary pitches," he said. "I'm not figuring it out and haven't found that turning point yet."
In the eighth, Gyorko hit his 20th homer and Hazelbaker had a pinch-hit drive.
FOULS HIT FANS
A day after a young girl was taken to the hospital when she was struck by a foul ball behind the Cardinals' dugout, a young woman was hit in the face by Leake's foul in the sixth. She held an ice pack as she was helped to the concourse from her seat about 10 rows behind the dugout.
Phillies shortstop Freddy Galvis, who hit the foul that injured the fan Saturday night, said before the game that the team should extend the netting from behind home plate all the way to left field.
"The fans give you the money, so you should protect them, right?" Galvis said. "We're worried about speeding up the game. Why don't you put up a net and protect all the fans?"
FORE!
Asked how he was going to fix things, Velasquez said he was going to take some swings -- with his clubs.
"I'm going to play a round of golf and take my mind off baseball," he said. "I think a round of golf is going to solve it."
IN A PINCH
The Cardinals tied a big-league record with their 14th pinch-hit homer of the season. Hazelbaker matched a club mark for pinch-hit homers in a season with his fourth.
UP NEXT
After Monday's day off, the Cardinals begin a six-game homestand with the Mets. St. Louis RHP Jaime Garcia (10-8, 4.11) opposes LHP Jonathon Niese (8-7, 5.30). Garcia has won three straight games and is 2-2 with a 1.58 ERA in six career starts against the Mets.
---
---