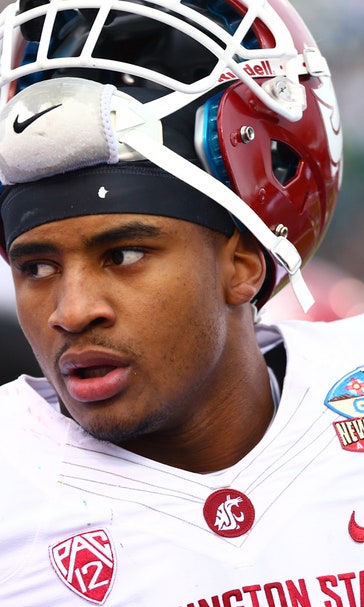 Cardinals get good (very early) marks for Bucannon pick
May 9, 2014

The first-round grades are in -- yes, even though there are six rounds yet to be held -- and the internet consensus on the Cardinals' selection of safety Deone Bucannon at No. 27 seems to be "good player, decent pick."
While not a sexy, big-name pick, Bucannon fills a need for the Cardinals, who have not appeared interested in bringing back last year's starter at strong safety, Yeremiah Bell. Coach Bruce Arians made it clear what the team wants and expects out of Bucannon, a notoriously big hitter, when he said at Thursday night's media gathering that the Cardinals will "give him opportunities to knock the crap out of people." What would be just as helpful is if he can cover tight ends, something Arizona struggled with throughout last season, but that's a bit more of a question mark.
Anyway, of five prominent sites that have published first-round draft grades, four give the Cardinals a mark in the B range. SB Nation, CBS Sports and Sports Illustrated all have the Cards with a B+ or B, while NFL.com puts them in the second tier of best selections, labeled "General managers gets a sticker." All the sites agree that Arizona needed a safety and that Bucannon was one of the best on the board, albeit perhaps a bit of a reach at No. 27 and perhaps a riskier pick than Northern Illinois safety Jimmie Ward, who went three picks later to the 49ers.
The only site with an overall negative assessment of the pick is Bleacher Report, which likes Bucannon's hitting ability but questions his coverage skills, calling him "an old-school strong safety in a new-school league" and giving the selection a C-.
The full breakdowns of each pick are as follows:
NFL.com: General manager gets a sticker
The skinny: A few folks will consider this a reach, but Bucannon was going to be the third safety off the board, anyway, and he goes to a spot where he could start from Day 1. Plus, in the NFC West, you need a hard-hitting defense, and Bucannon is a thumper.
They had to get a safety to upgrade the back end. He's a good football player who will hit you. I like Jimmie Ward more, but that's nitpicking.
Not really a poor pick here, but an early one. Bucannon almost certainly would have been around into Friday, so the Cardinals may wonder down the road if they could have addressed another need here -- like the offensive line -- and then circled back on Bucannon in Round 2.
The risk: The Cardinals decided to pass on Jimmie Ward. That's the riskiest part of this pick.
The reward: Deone Bucannon is a well-rounded safety prospect who most expected to come off the board in the second round. He's worth the pick here, though, and the Cardinals were able to collect picks while moving down to make the pick.
How this pick goes right: Bucannon can play. He passes the look test and brings plenty of hits to the highlight reel. Almost missile-like in how he attacks both ball-carriers and pass-catchers, he will be the "footsteps" that offensive skill players hear whenever the Cardinals defense is on the field.
How this pick could go terribly wrong: In coverage, he's lost -- often. He's not as smooth an athlete as you like in the deep middle-third, nor does he have the elite straight-line speed to catch up to a receiver who's gotten behind him. Worst of all, I question whether he'll be able to cover the pass-catching tight ends (like Vernon Davis) that are catching on in the league. This is an old-school strong safety in a new-school league. There's a place for that, but maybe not in the first round.
---