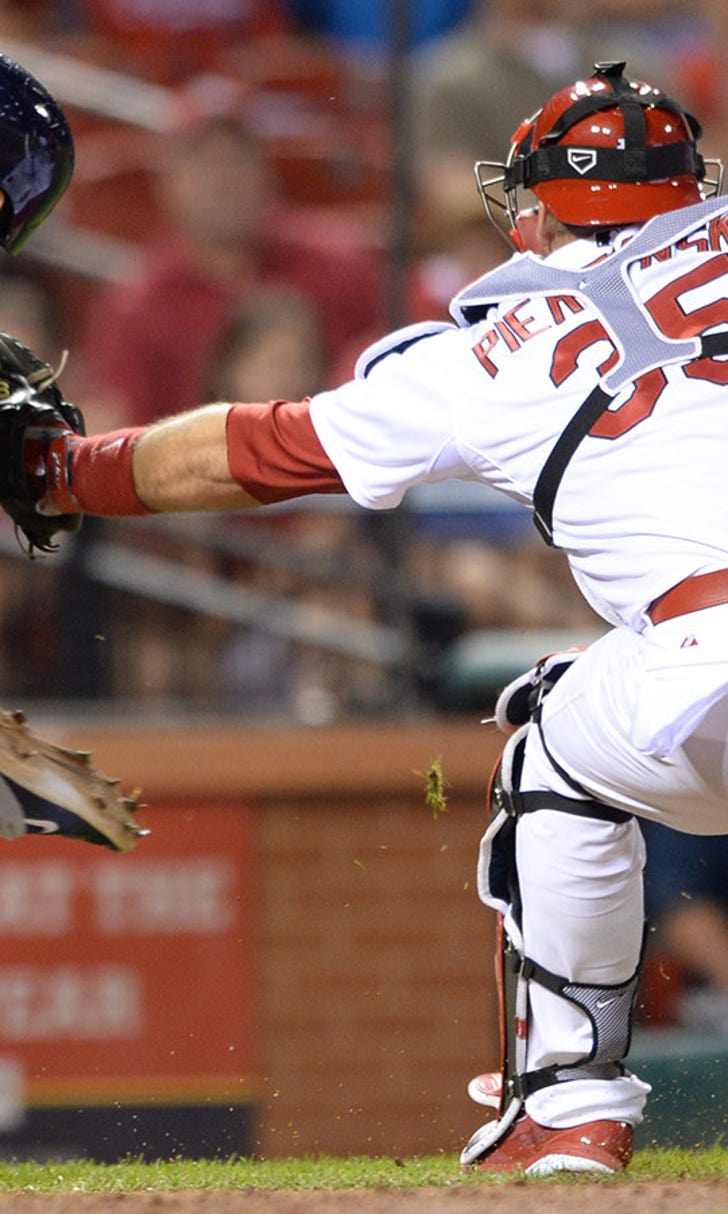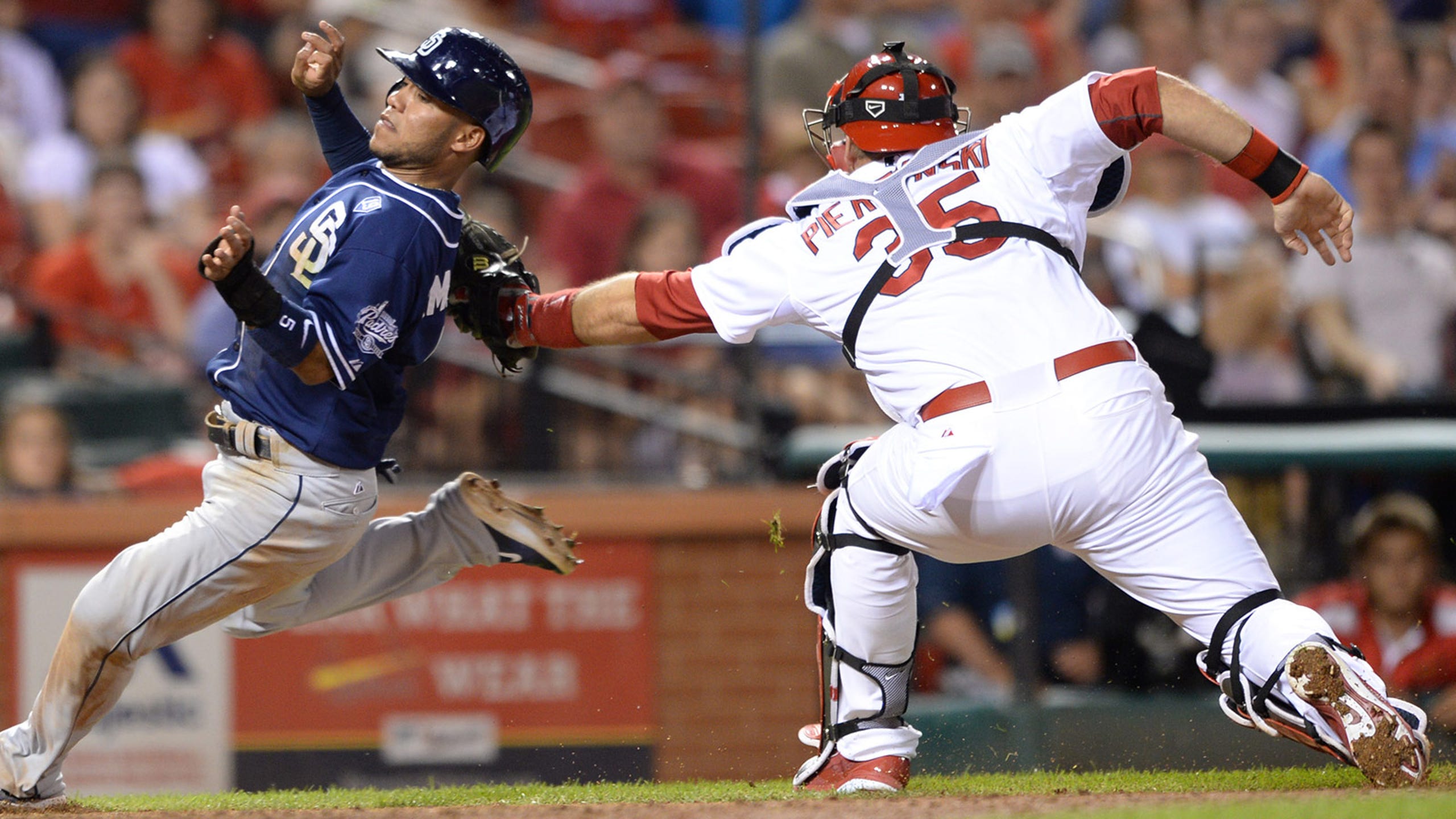 Cardinals finally get to sit back, relax and let replay work in their favor
BY foxsports • August 15, 2014
ST. LOUIS  -- Replay has not worked in the Cardinals' favor very often this season, but it sure did Thursday night in what turned out to be a game-saving play in a 4-3 victory over the Padres.
Here was the situation: The Cardinals led 4-2 and the Padres were batting with one out in the top of the ninth with the bases loaded.
Pinch-hitter Jake Goebbert singled sharply to right field to easily score the runner on third, Yasmani Grandal. But when the runner on second, Alexi Amarista, tried to tie the game, he was tagged out by A.J. Pierzynski.
Or was he?
Pierzynski: "I thought I got his arm and I haven't seen anything yet to prove me wrong."
Padres manager Bud Black disagreed. His point: If Pierzynski made the tag, he would not have chased down Amarista to try to tag him a second time.
Pierzynski's point: "Whenever you don't hear an umpire or see an umpire, you just go because that's what you're always taught as a catcher."
According to Pierzynski, umpire Bob Davidson told him he was yelling, "tag, tag," and pointing as if the tag had been made. But Pierzynski was in front of Davidson and could not see him and the catcher said the place was too loud that he couldn't hear him, either.
Not until Amarista dove at the plate -- clearly ahead of Pierzynski's second tag -- did Davidson signal out. As soon as he did, Black was on the field making sure there would be a replay review.
After a four-minute, 10-second review, the out call stood. Black came out to argue and was quickly ejected.
What did Cardinals manager Mike Matheny see?
"I see Shane (Robinson) coming up very aggressive and making a good strong throw. It short-hopped A.J. a little bit, which did take him into the line. There wasn't a whole lot he could do. (He did) a great job of coming up with the ball, (making) a sweeping tag and getting a piece of him.
"It was a great play and I think what slowed things down is that A.J. did go back after him. I get that. I've been in that position before, too. (Amarista) obviously missed the plate the first time through. It caused a little more confusion."
Indeed, Pierzynski did what he was supposed to do when he didn't know a call had been made.
Black also did the right thing by questioning why Pierzynski made a second tag.
The replay crew in New York ruled properly, too, based on the replays seen at Busch Stadium and on the FOX Sports Midwest telecast. No angle that was shown offered enough evidence to reverse the call that Pierzynski made the tag.
"It ended up working out all right for us," said Matheny, who has not been able to say that often about replay.
3 UP
-- Jhonny Peralta. With a 414-foot, second-inning blast into the center-field bleachers, Peralta tied Edgar Renteria's single-season record for homers by a Cardinals shortstop, at 16. The homer also gave the Cardinals a 2-0 lead. Peralta had homered only once since the break but still holds the club lead by four over Matt Holliday and Matt Adams.
Watch the Cardinals Live pregame and postgame shows before and after every St. Louis Cardinals game on FOX Sports Midwest.
-- Jon Jay. Though he is dealing with a sore wrist and did not start the game, he stepped in as a pinch-hitter in the bottom of the eighth and smoked a two-run double to the fence in right-center that gave the Cardinals their winning runs.
-- Suga Shane. Starting in right field ahead of Oscar Taveras, Robinson did not take long to make a difference. In the top of the first, he chased down what appeared to be a sure extra-base hit off the bat of Tommy Medica. No other St. Louis outfielder except Peter Bourjos would have been able to chase down the long fly, which Robinson caught just in front of the wall in right-center field. Bourjos was not going to get there from center, either. Robinson made another nice catch in addition to his strong throw in the ninth that prevented the Padres from tying the game.
3 DOWN
-- Trevor Rosenthal. You can blame him for the ninth-inning drama. Rosenthal picked up his majors-leading 36th save, but it wasn't exactly smooth. He gave up three hits, two walks and a run and left the bases loaded before ending the game with a strikeout of Medica on a 98-mph fastball that wasn't close to being a strike. Rosenthal also was helped when Padres third-base coach Glenn Hoffman sent Amarista home on the disputed play at the plate. With Rosenthal struggling, only one out at the time and the top of the order coming up, the Padres would have been better off keeping Amarista at third.
-- Right-handed thumpers. With Molina out, Allen Craig gone and David Freese long gone, the Cardinals' lineup leans toward the lefties these days. The only regulars to hit from the right side are Holliday and Peralta. When the Cardinals want to go heavy with right-handed bats like they did for this one, they don't have much that will put fear into opposing hitters. Their lineup included Robinson (.140 coming into the game), Mark Ellis (.192), Tony Cruz (.214) and Bourjos (.222), and they combined to go 2 for 12. One of those hits, however, was by Cruz to start the eighth-inning rally.
-- Oscar Taveras. He wasn't in the lineup because the Padres started a lefty, but he also might not be against a right-hander Friday, Matheny said. It was clear listening to the manager that he wasn't thrilled with Taveras' baserunning Wednesday when the rookie didn't score from first on a two-out double and almost grounded into a double play because he was slow out of the box. Matheny said Taveras checked out fine physically and there had "been plenty of conversations" about his lack of aggressiveness on the bases. He added that Taveras was proving to be a good listener. 
You can follow Stan McNeal on Twitter at @StanMcNeal or email him at stanmcneal@gmail.com.
---