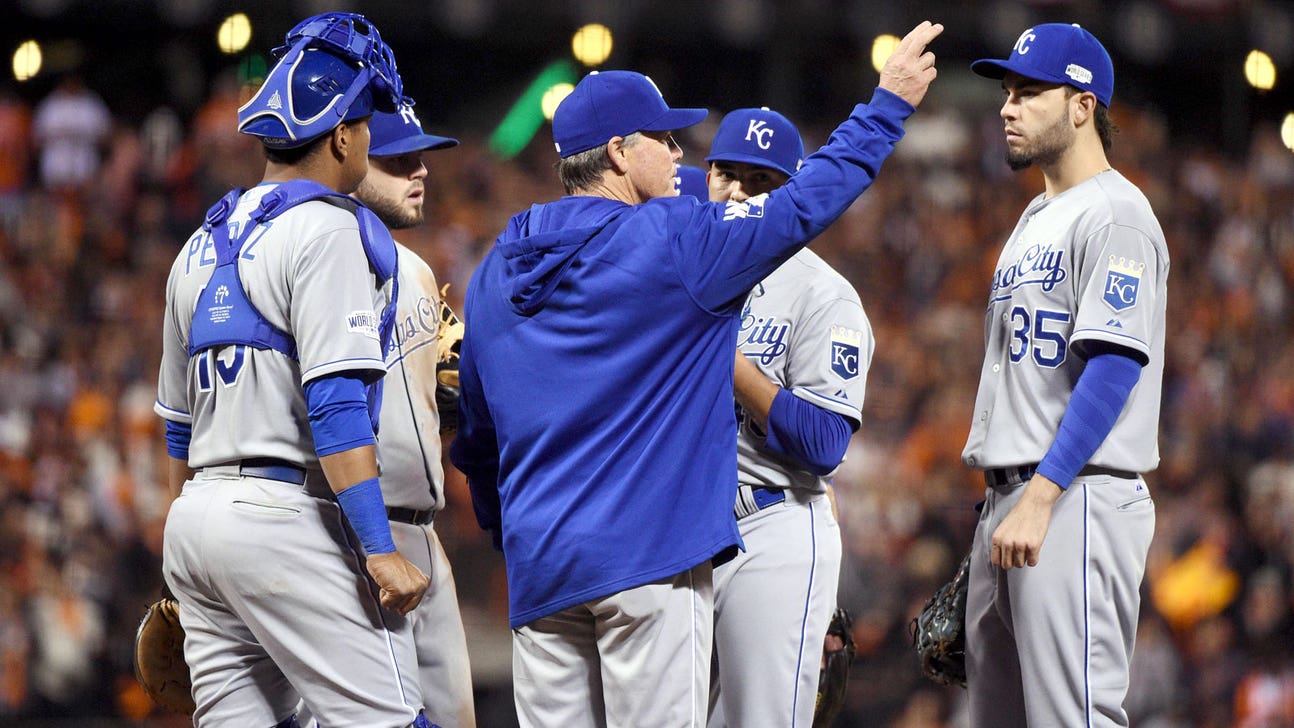 Can't blame Ned Yost for this one
Updated
Mar. 4, 2020 7:58 p.m. ET

Sunday night in San Francisco, the only real story was Madison Bumgarner, who's now pitched 31 innings in three World Series – one start in 2010, one in 2012, and now two in 2014 – and has allowed exactly one run. In Game 5, he didn't walk anyone, and gave up just four hits while K'ing eight Royals.
On those rare occasions when the Royals did make solid contact, their drives went straight to the Giants' well-positioned fielders. Thanks to both pluck (mostly) and luck (nominally), the Royals never really seemed a part of Game 5.
Well, maybe they did, but for just a couple of moments.
In the top of the fifth inning, Omar Infante stroked a one-out double. Due next: Lefty-hitting Jarrod Dyson and non-hitting James Shields. Dyson, putting things quite kindly, is not an excellent hitter. He's got a .294 career wOBA, and at 30 isn't likely to improve. Of course, facing Madison Bumgarner is a tough assignment for anyone, but most especially for a weak left-handed hitter.
Somewhat predictably, Dyson struck out. Even more predictably, so did Shields.
And yes, some Twits were wondering why Ned Yost didn't use one of his right-handed bench hitters – Billy Butler or Josh Willingham, both of them big, strapping fellows – to pinch hit for Dyson, when one swing of the bat could tie the contest.
Ah, but there were so many good reasons for letting Dyson hit for himself. One, his defense. If Dyson exited, the outfield would have been seriously weakened with Lorenzo Cain shifting to center field, and Nori Aoki taking over in right field. And two, if (say) Butler had pinch hit for Dyson with Shields on deck, Bruce Bochy would almost certainly have ordered an intentional walk, leaving Shields and leadoff man Alcides Escobar to perhaps drive home a runner or two.
Granted, Yost might also have pinch hit for Shields with Willingham. But that would have left at least four innings to the Kansas City bullpen. And if we learned anything in Game 4, it's that four innings is too many for the Kansas City bullpen. Yost learned his lesson, and learned it well.
What's more, Yost must have felt pretty damn smart later, when a) Cain made a big play in right field that Aoki quite probably would not have made, and b) Shields kept the Giants off the board in the fifth and sixth.
In the top of the seventh, the Royals mounted another mini-rally when Eric Hosmer led off with a well-struck grounder into right field. Salvador Pérez followed with a drive to deep left field, which was flagged down by Juan Perez but it seemed that Bumgarner might, just might be weakening. The score was still 2-0, so the Royals remained just one big swing away from tying the game. Up next: Mike Moustakas, who's been one of baseball's worst hitters against left-handed pitching over the last two seasons. But you know, that's what people were saying about Matt Adams a few weeks ago, too. And all he did was rock Clayton Kershaw not once, but twice. Also, removing Moustakas would have left Jayson Nix to play third base for a couple of innings. And nobody wants to see that.
Moustakas did fly out, and Infante did follow with a groundout, ending the mini-rally. But Yost still had his best third baseman at third base, and he still had those two righty bats on the bench, available for just exactly the right spot.
After Infante's grounder ended the top of the seventh, Kelvin Herrera replaced Shields on the mound. Here, Yost made a curious sort of move. With the pitcher's spot due second in the top of the eighth, Yost pulled the ol' double-switch: Herrera into the seventh slot, Nix into the ninth slot and (presumably) taking over at second base. Now, this move would make a great deal of sense if Herrera were going to pitch not just the seventh inning, but also in the eighth. This way, he wouldn't have to bat for himself (as he did, so memorably, in Game 3). Now, it should be said that Yost's double-switch was not unanimously applauded ... 
... but we're all getting tired of this, aren't we? It's easy to think of these things when you're watching on television, or from your cozy, laptop-equipped seat in the press box. It's not as easy when you're down there in the dugout, with only a bench coach for help. Everything just happens so much faster down there. And, you know, it's lonely at the top.
Anyway, Herrera did pitch in the eighth, if not for too long. For the third straight outing, Herrera just didn't seem to have his best stuff. Maybe we shouldn't have been too surprised, considering he'd thrown 32 pitches in Game 2 and 27 more in Game 3, and then 18 more in the top of the seventh. These days, 77 pitches in five days for a relief pitcher is, in some quarters, considered a lot of pitches. But in Game 1 of the ALCS, Herrera was just so good when he pitched two whole innings ... and if the Royals did somehow manage to score a couple of runs, forge a tie, Wade Davis would be needed for the ninth inning, maybe even the 10th. With Greg Holland reserved for the save situation that would arrive eventually. This is the formula, and so far it's worked pretty well.
Of course, Herrera gave up a couple of hits and Davis had to pitch in the eighth anyway, and the Giants wound up scoring a few more runs to put the game seriously out of reach. The good news is that with the teams off Monday, Davis and Holland will be exceptionally well-rested for Game 6. The other good news is that Butler, who batted once in the three San Francisco games – coincidentally, the same as Herrera, the relief pitcher; oddly, half as often as Nix, still looking for his first hit as a Royal – will also be exceptionally well-rested for his return to DH duties.
So again, let's not waste any more time worrying about what Yost might have done, or should have done. The Royals lost 5-0 because Madison Bumgarner is the best World Series pitcher in history, and because Juan Perez very nearly hit a home run off Davis. The Royals didn't lose because of Yost's moves, however sharp or dull they might have been. Game 5 is no sort of referendum, and all but Bumgarner should be forgotten immediately. Sure, we are all agreed that Yost's moves in Game 5 were crazy. The question that divides us is whether they are crazy enough to be worth mentioning. And as a group, my colleagues and I have collectively decided that they are not.
---