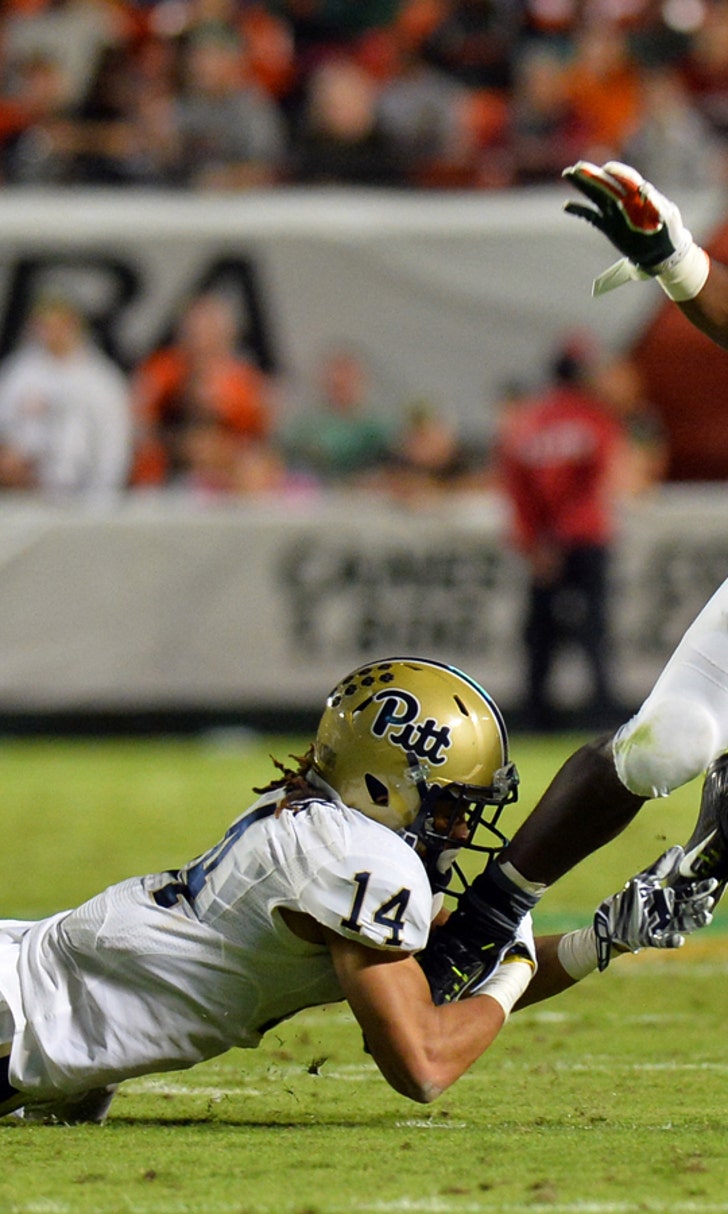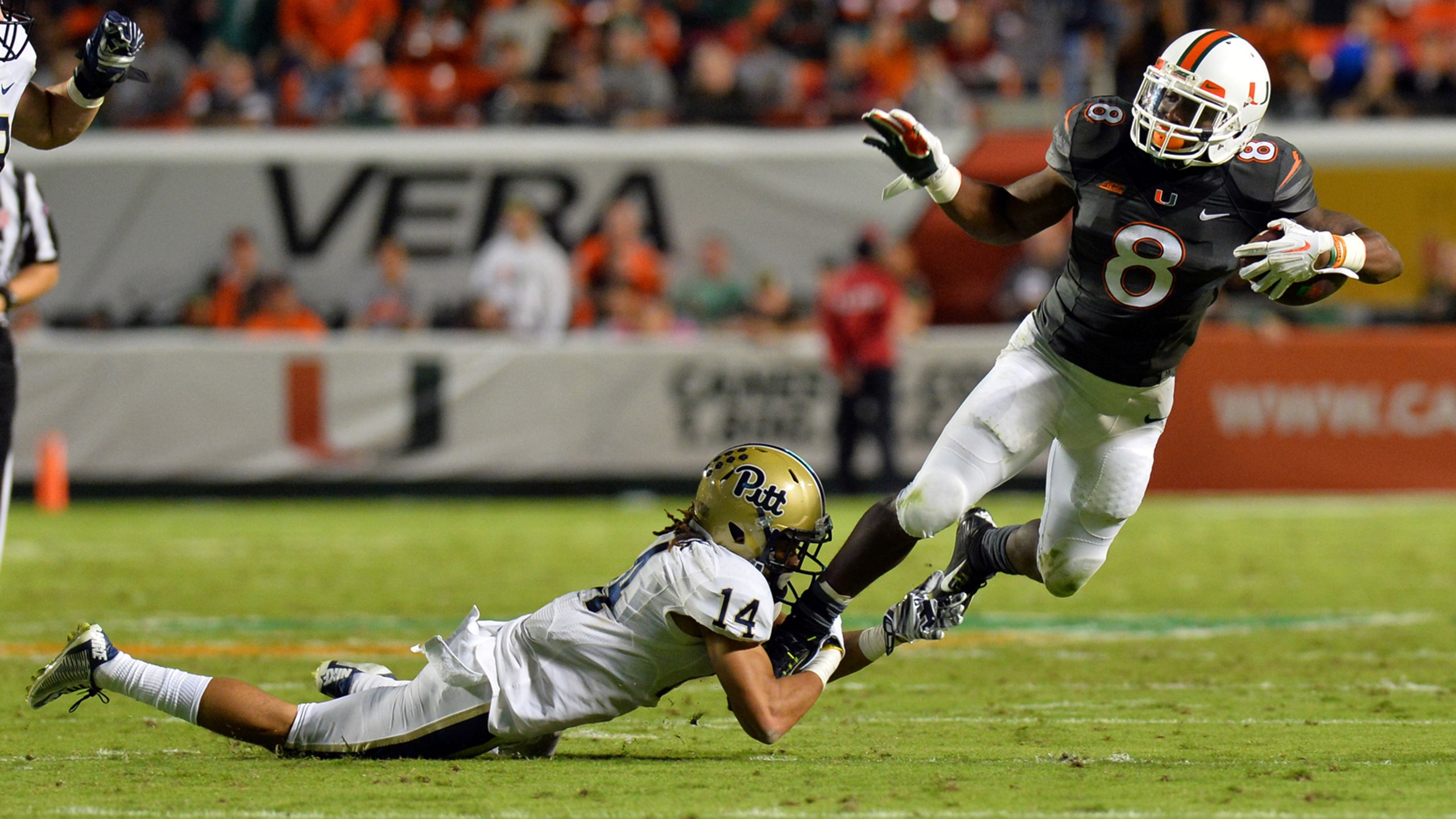 'Canes notes: Miami back at practice, RB Duke Johnson NFL decision upcoming
BY foxsports • December 12, 2014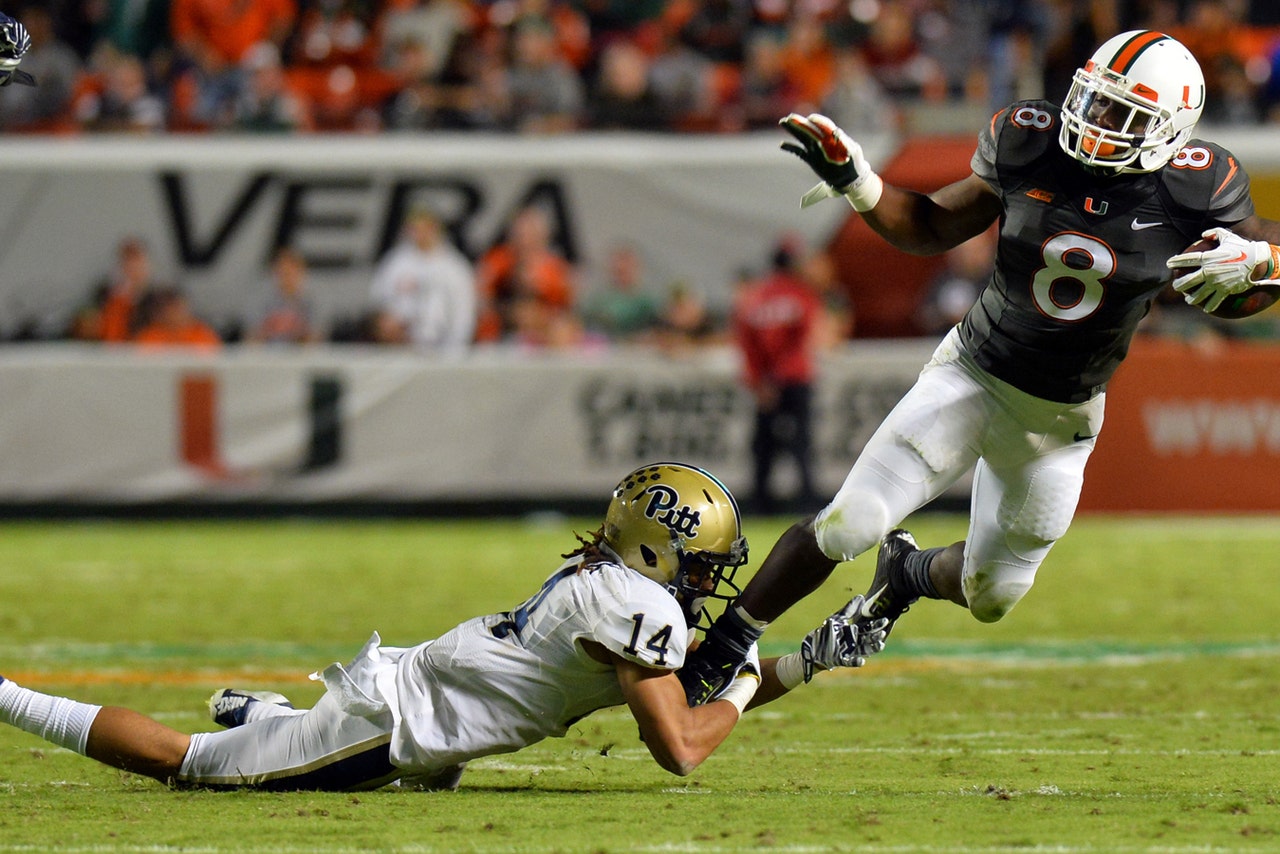 CORAL GABLES, Fla. -- For the first time in two weeks, the University of Miami football team practiced. Players donned helmets rather than lifting weights and opening books. Former UM and NFL great Willis McGahee looked on.
When the Hurricanes last took the field, they dropped their third consecutive game in forgettable fashion against the Pittsburgh Panthers in the regular-season finale. But on Friday morning, there was energy on the Greentree Practice Fields that had been missing since the loss against Florida State.
"The disappointment is over," head coach Al Golden said. "It's a new season. It's a one-game season and it's a bowl season. They're excited about practicing and moving forward and taking on a challenge like South Carolina. There's nothing we can do about the past, and I think today they did a good job of seizing what they need to do and looking forward."
The 12-game schedule took a toll both mentally and physically on the players, "especially when you're not winning," as senior wideout Phillip Dorsett put it.
After two weeks of focusing on schoolwork and following a strength-and-conditioning routine, the guys feel reinvigorated.
"I felt refreshed and a lot of other guys felt refreshed," freshman quarterback Brad Kaaya said. "My arm felt brand new. I was throwing the ball real good. It was coming out a lot better than it was two weeks ago. My arm was able to recuperate and refresh itself."
Although the sting of a 6-6 record doesn't wear off, the time away made the heart grow fonder.
While Golden and his staff traveled to visit recruits, being away from the game brought the "love" back for the players. Dorsett said he and his teammates had grown anxious and wanted to get back on the field.
"These two weeks off you can't forget about what happened during the season but you've got to be able to throw it all away," Dorsett said. "Having two weeks off is like going back to camp just starting. We're 0-0 right now. We've got South Carolina and we've got to give it our all and come out on top."
DECISION DATE SET
Junior running back Duke Johnson will announce whether he will forego his final year for the NFL Draft on Dec. 28, the day after the Hurricanes play the Gamecocks in the Duck Commander Independence Bowl.
Johnson, who said he hasn't gotten his draft grade back, has yet to make the decision. And neither has his mother, whom will be an influential voice in the process.
The 5-foot-9, 206-pounder, a first-team All-ACC member, has rushed for 1,520 yards and 10 touchdowns in 2014. He has also added 370 yards and three scores via receptions. Johnson is already the program's all-time leader in rushing yards and all-purpose yards.
Asked whether he seemed concern about such a big decision in his life, Johnson brushed it off.
"Is it that big?" Johnson said. "I don't really look at it as a big deal. Just a regular decision to me."
Junior safety Deon Bush, meanwhile, said he is 100 percent coming back, "not even a question." He did submit his name for draft guidance, but hasn't received feedback yet.
"I feel like another year will be good because we haven't won anything yet, we haven't won yet, I feel we should win," Bush said. "I just want to come back with the guys. It's a great place to be at. I'm not trying to rush to go to the NFL because it's a great place being at the University of Miami, being with my teammates and my coaches. I just love being here."
INJURY UPDATES
Two key offensive contributors will miss the bowl game.
Senior Clive Walford, who finished as the runner-up for the John Mackey Award given to the nation's top tight end, underwent knee surgery on Dec. 3. He led the Hurricanes with 44 catches that went for 676 yards and seven touchdowns. Junior wideout Herb Waters wore a neck brace during Friday morning's practice and is also out. Waters had 20 catches for 277 yards and one touchdown.
"That's a tough way to go out like that," Kaaya said of Walford. "I'm just praying for a speedy recovery for Clive. He had an awesome season. He will be missed because he was an essential target in our offense."
A trio of players, however, returned to practice.
Senior receiver Rashawn Scott (shoulder/clavicle) and junior defensive back Rayshawn Jenkins (back) worked back into the mix. Neither appeared in 2014 and both were granted medical redshirts.
Scott has 39 catches for 552 yards and three touchdowns in his career. The coaching staff is keeping a close watch on Jenkins' movements after he had back surgery before the season. In 2013, he recorded 46 tackles and three interceptions in 12 starts.
"Good to see Jenks back and Rashawn back," Golden said. "Part of the group that we missed this year. Both of those guys will be ready to go. Obviously we're able to redshirt both of them."
Bush, who missed the final two games with a hamstring injury, practiced.
"I'm real close, I'm real close," Bush said of being 100 percent. "I was feeling real good out there today. It feels good, got a couple reps out there. No further problems with it. It's headed in the right direction."
As for sophomore defensive end Al-Quadin Muhammad, who was suspended this semester for an altercation with another student in the spring, he can return to the team in January. Muhammad was Miami's top recruit in the 2013 class.
You can follow Christina De Nicola on Twitter @CDeNicola13 or email her at cdenicola13@gmail.com.
---