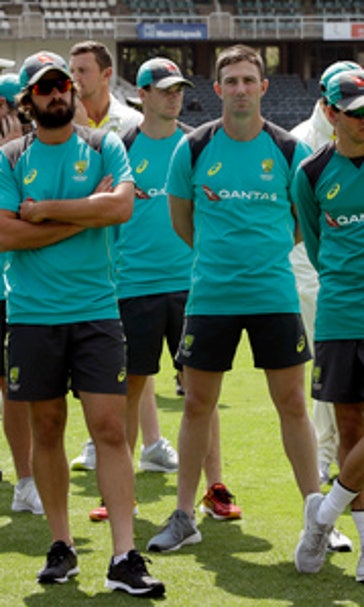 Can hard-nosed Australia soften and still be successful?
April 3, 2018
JOHANNESBURG (AP) Can a leopard change its spots? Or, put another way, can Australia soften its hard-nosed approach to cricket? And by doing so, can it still be successful?
Australia's disastrous - there is no other word for it - tour of South Africa, which came to an embarrassing end on Tuesday, has raised deep-reaching questions for the Aussies. And the scrutiny has gone way beyond just why they lost.
The bigger question has been: Why did the rest of the cricket world revel in the fact that a cheating scandal ripped the Australia team apart - and left its reputation in pieces - before the overall defeat by South Africa was even confirmed?
Why does everyone else hate them so much, the Aussies are suddenly asking.
Sledging.
The answer to the question, from many angles, is that the Australian way of sledging, or trash-talking on the field, was not received the way the Aussies thought it was being. For years, Australian players believed they could sledge away at opponents and still be admired as the best team in the world. They believed they could say things to a ''line'' of their own making to set up victory. And, afterward, opponents were expected to shake hands and accept it all.
Not so.
''We've potentially had our head in the sand a little bit,'' new Australia captain Tim Paine said.
As a now meek Australia began its self-examination, Paine spoke of the need to ''respect the opposition.'' By saying that, he accepted Australia had not done so previously.
Asked if he had sometimes regarded the Australians as bullies, and as arrogant, South Africa captain Faf du Plessis maybe spoke for other teams when he said: ''Yes. But it's expected.''
Expected, maybe, but not accepted anymore.
''The line has been pushed too many times,'' du Plessis continued.
The ball-tampering plan concocted by captain Steve Smith, vice-captain David Warner and Cameron Bancroft in the third test in South Africa over a week ago was the catalyst that destroyed the reputation of Australian cricket. It was aggravated by lies.
But, the initial spark was a moment of sledging three weeks earlier.
Warner's decision to taunt South Africa's Quinton de Kock repeatedly in the first test in Durban ultimately provoked an unsavory retort from de Kock about Warner's wife. Angered, Warner carried his resentment through the abrasive second test in Port Elizabeth and finally unleashed it in a stunning attempt to cheat to get back at South Africa in Cape Town.
That was the moment that might have brought down the Australian way of sledging.
''We need to change,'' Australia coach Darren Lehmann said during the fallout from the ball-tampering episode and a day before he quit.
But there's another conundrum.
Does binning sledging also throw away some of the competitive edge that has undoubtedly contributed to Australia's success for so long?
''We've now got to find the fine line that is between really respectful of the opposition in a game but also being at a level that is really competitive, as you should be in test match cricket,'' Paine said.
Interestingly, South Africa batsman Dean Elgar doesn't see Australia abandoning the trash talking, especially after they decided to drop it in the final test in South Africa and lost by a huge 492 runs.
''It's odd. I've played quite a few tests against Australia and it's definitely been the most docile test since I have played Australia,'' Elgar said. ''I don't think it's going to last very long. You need to have a tenacious approach in test cricket. Nice guys come second, that's my saying.''
And so, under pressure to change but not quite sure how and by how much, Australian cricket will enter a period of much deeper soul-searching while looking for a new permanent captain and a new coach.
With so many questions, and so much uncertainty, answers won't appear overnight. Paine said he knew where Australia should start, though.
''It's pretty simple,'' Paine said. ''We have to listen (to the criticism). We have to take it onboard.''
That might have started on Tuesday when the Australians accepted an invitation from the South Africans to share beers in the home team's dressing room after the game. It happens often at the end of cricket series, players blowing off some steam after a tough on-field battle.
Taking Paine's advice to heart, the Aussies - the team that likes talking more than anyone else in cricket - might have used the social meeting with the opposition to just listen.
---
Gerald Imray is on Twitter: https://twitter.com/GeraldImrayAP
---