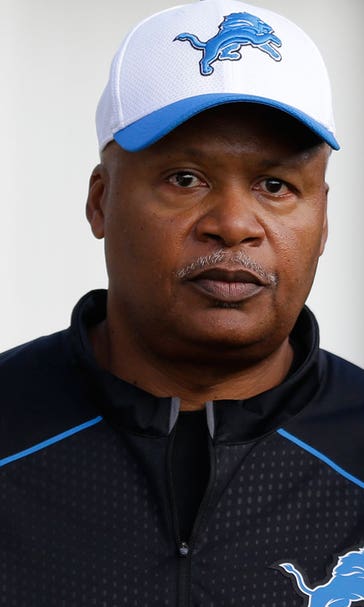 Caldwell looking to turn Lions' season around in London
October 30, 2015

WATFORD, England (AP) -- After a 1-6 start, Jim Caldwell still thinks the Detroit Lions have a chance to salvage their season.
The next step in that epic quest, with a new offensive coordinator calling the plays, will be on Sunday when the Lions face the Kansas City Chiefs (2-5) at Wembley Stadium -- Detroit's second straight year playing a regular-season game on the east side of the Atlantic.
"It's been done before, where teams turned around," Caldwell said Friday at the team's practice facility. "It certainly is possible."
But it's not very likely, especially for a team going through big coaching changes after a 28-19 loss to the Minnesota Vikings.
The Lions fired offensive coordinator Joe Lombardi, the grandson of Hall of Fame coach Vince Lombardi, on Monday and promoted quarterbacks coach Jim Bob Cooter into his role. Caldwell, however, said the offense won't look too different against the Chiefs.
"It's not like you're going to make a whole lot of structural changes in a few days. It doesn't make sense, and functionally it's not great," Caldwell said of the new offensive setup. "So you have to make small tweaks here and there."
Cooter, who is 31, wouldn't go into specifics on what he will do with the offense. But he said he didn't plan to do anything drastic, while at the same time hoping to put more points on the scoreboard.
"Try not to put too much on their plate," Cooter said of this week's practices. "Ideally, our offense is going to score a lot of points."
Last year, the Lions came to London and beat the Atlanta Falcons 22-21. They went on to reach the playoffs, thanks largely to its Ndamukong Suh-led defense. Now Suh is gone, and it's been harder for the Lions to compete while struggling to score.
Against the Chiefs and their strong pass rush, Lions quarterback Matthew Stafford may again find it hard to get the offense moving.
"They got inside pass rushers and outside pass rushers, which is an issue," Caldwell said. "We have to be able to do multiple things in order to keep those guys at bay.
"They're similar to what we faced at Denver, in terms of just exceptional pass rushers on the edge and guys inside that can give you some problems as well."
The game at Denver didn't end well, with the Broncos winning 24-12 as the Lions lost their third straight game to open the season. They then lost two more before beating the Chicago Bears 37-34 on Oct. 18, the team's only win.
If there is any chance to turn things around, playing the Chiefs in London instead of in Kansas City is about as good a place as any to get started.
Caldwell is expecting it.
"When you work extremely hard, typically success follows. These guys work," Caldwell said. "We just haven't been able to carry over our work that we've done really well during the week into the game, and that's what we have to do."
---
---