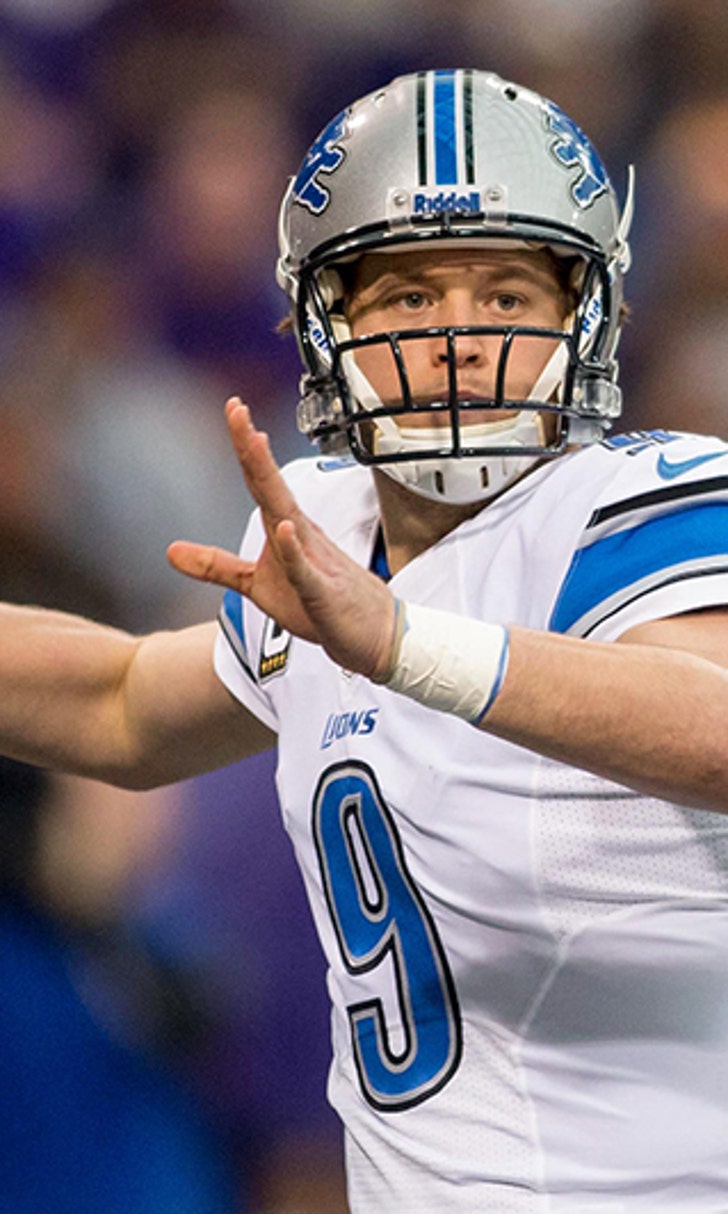 Caldwell believes Stafford can be a championship QB
BY foxsports • February 20, 2014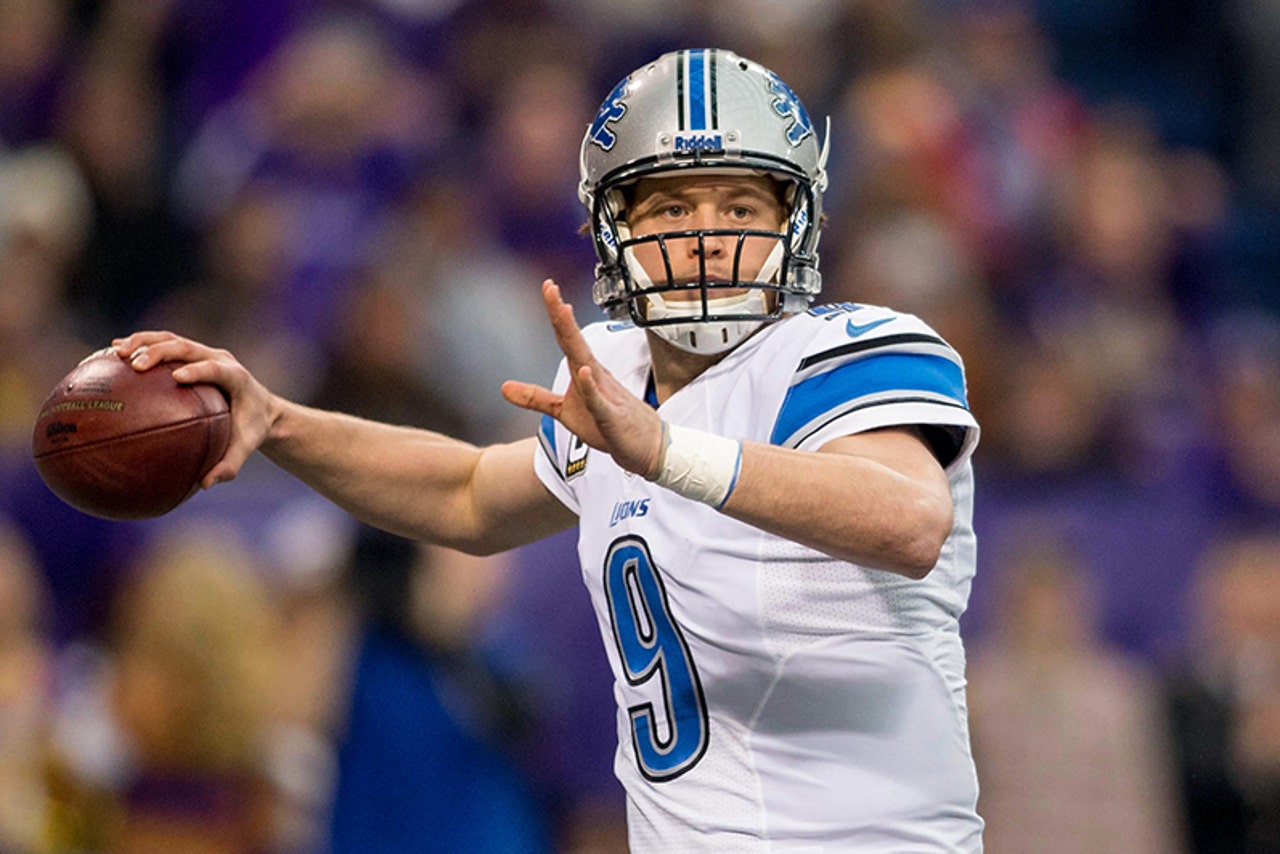 Matthew Stafford of the Detroit Lions has been one of the most scrutinized players in the NFL this offseason, but to new coach Jim Caldwell it all comes down to this:
Can Stafford be a championship quarterback?
Caldwell says he can.
"He's hungry to improve, I've noticed that about him," Caldwell said Thursday during a news conference at the NFL Scouting Combine in Indianapolis. "He's eager. He's a willing worker. He's smart and he has tools.
"When you find that combination, typically you're going to find a guy that does everything it takes to get him in position where he's a championship quarterback.
"A lot of people want to talk about so many other things that really aren't that important - whether or not he's elite or this or that. That doesn't matter.
"We want a championship quarterback. That's what we're looking for. I think we have the makings of that. I think you're going to see Matthew take the bull by the horns and do all the little things that are necessary to get us to keep moving forward as a team."
Stafford has been highly criticized after throwing 15 interceptions in the final nine games last season. The Lions collapsed at the end of the year, losing six of their last seven games to miss the playoffs after a 6-3 start had put them in first place in their division.
The Lions placed a high priority on putting together a coaching staff to help Stafford return to his 2011 form when he completed 63.5 percent for 5,038 yards, with 41 touchdowns to 16 interceptions, in a 10-win, playoff season.
Not only is Caldwell a former quarterback coach, but so is offensive coordinator Joe Lombardi. Caldwell also added Jim Bob Cooter, 29, as the new QB coach.
"We have a very fine player at that position so we wanted to make certain we had the right people around him," Caldwell said.
Cooter, a former reserve quarterback at the University of Tennessee, was Peyton Manning's position coach last year with the Denver Broncos. Cooter also was an offensive assistant in Indianapolis when Caldwell was the head coach.
 "Jim Bob and I go back a little ways," Caldwell said. "He really developed a real good feel for the system, how it works, fundamentals of the game. Very bright guy. Young but very, very bright. He gained a lot of experience working with Peyton.
"I felt I needed a guy who had a real good sense of fundamentals, a real good sense of how to put it all together.
"I thought he'd be a great fit for Matthew."
DELMAS UPDATE
Despite releasing him last week for salary-cap reasons, there's been speculation the Lions still could bring back safety Louis Delmas at a reduced price if he doesn't get a better offer.
Caldwell didn't rule a return by Delmas out, but he also didn't leave the impression that there's a strong likelihood of it happening.
"I think in this business you never say never, but we'll see what happens," Caldwell said.
Delmas, who played the last five seasons with Detroit, is now a free agent and made a recent visit to Pittsburgh to meet with the Steelers.
Caldwell called Delmas and receiver Nate Burleson, who also was released last week, "two good men just in terms of leadership."
"But we have to evaluate everything just in terms of our personnel office, our coaching, etc., and see where things fit," Caldwell said.  "We have to make some adjustments along the way. Not all of them are going to be pretty."
EXTRA POINTS
--- The Lions' chances of improving their roster this offseason apparently are going to get a boost following reports that the NFL's salary cap is expected to get a bigger bump than previously projected, from $123 million last season to $130 million in 2014.
If so, it puts the Lions close to $7 million under the new cap limit.
Some of that will be needed to sign their draft picks, but it creates enough flexibility that the Lions should be able to find a way to get involved in the free-agent market to some extent even if Ndamukong Suh doesn't sign a contract extension to reduce his current $22.4 million cap hit.
--- Caldwell, on finding a quality receiver to complement Calvin Johnson: "It's something we have to take a real strong look at. We have to find a way to make certain whoever is on the other side - they're maybe getting singled in some situations - that we can do some damage. That's extremely important.  That's something we're taking a good hard look at. One way or another we're going to come up with a guy to give us some balance in that area. "
--- Caldwell, on inconsistent defensive tackle Nick Fairley: "This guy has an immeasurable amount of talent. It's my job to get it out of him. That's the key. I think he's capable. I also think he's willing."
--- Carlin Isles reportedly has decided to pursue his rugby career for now rather than try to win a roster spot as a receiver/return specialist with the Lions. Isles, dubbed "the fastest man in rugby," signed with the Lions as a practice-squad player late last season.
---
---