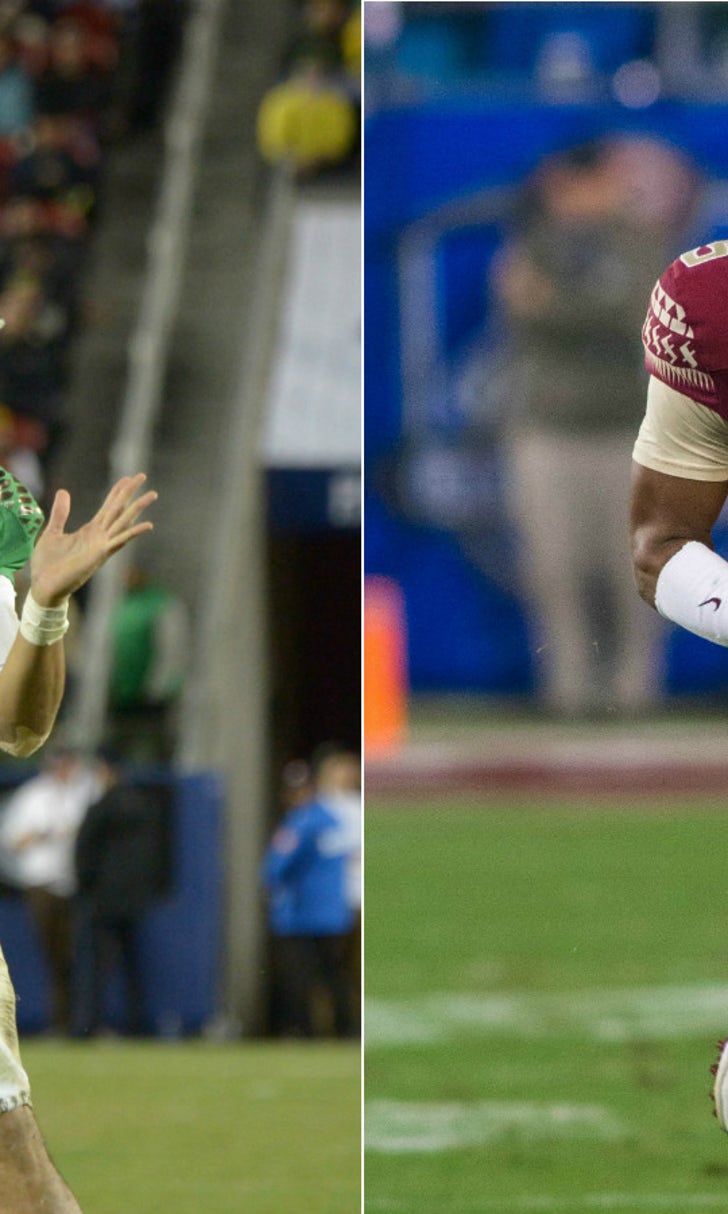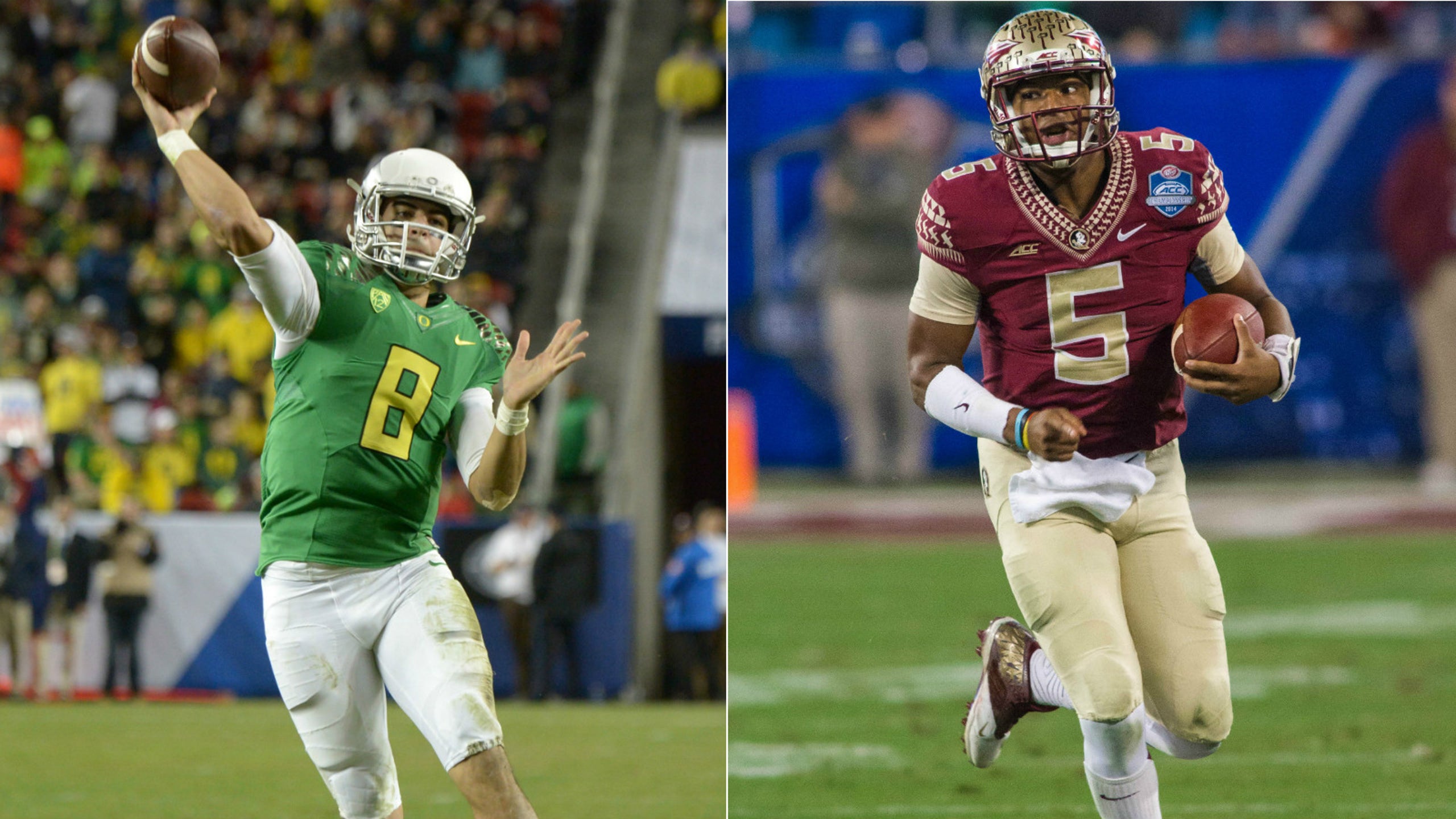 Burning Questions: Oregon Ducks vs. Florida State Seminoles
BY foxsports • December 12, 2014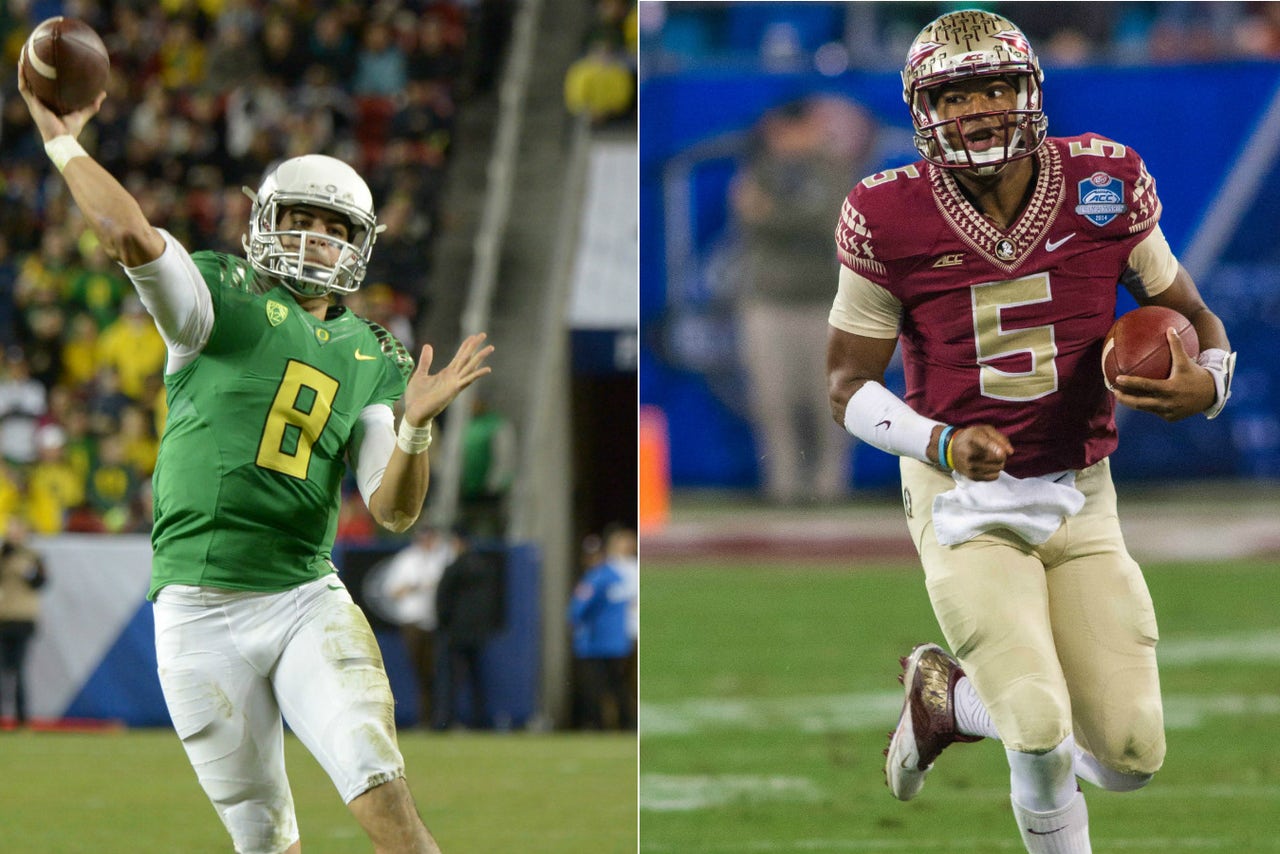 Florida State versus Oregon. Jameis Winston versus Marcus Mariota.
A matchup showcasing two of college football's perennial powerhouses played out in "The Granddaddy of Them All," The Rose Bowl Game in Pasadena, California.
The second-ranked Ducks enter the New Year's Day game with one of the nation's best offenses and only one blemish on their record, an early October loss to Arizona. They ran through the rest of their schedule and now prepare to take on the only undefeated team in America.
The Seminoles haven't lost a game in over two years and finished off their second straight undefeated regular season last week with a win over Georgia Tech in the Atlantic Coast Conference Championship. They'll enter the contest No. 3 in the nation because the College Football Playoff committee didn't think their season, although perfect, was as impressive as that of Alabama or Oregon.
There are many interesting matchups within this year's Rose Bowl as well as tons of questions to go along with them. Here's FOX Sports Florida's answers to some of those burning questions:
1. Can Florida State's defense stop Oregon's explosive offense?
Led by Heisman Trophy front-runner Mariota, the Ducks offense ranks third in the nation in both total offense (546.2 yards per game) and scoring offense (46.3 points per game). Mariota moves his team up and down the field quickly, averaging 74.3 plays per game -- making Oregon's offensive attack a lot to handle.
However, in their lone loss of the season, a 31-24 defeat at the hands of Arizona, the Ducks were "held" to 446 yards of offense and 15 points under their season average. The Wildcats were able to do this by possessing the ball for over 33 minutes and outrushing Oregon by 64 yards (208-144).
The task is difficult, but the recipe for successful is there. If the Seminoles want to slow down this high-powered attack, the best defense might be a possession-conscious, balanced offense -- led by Winston and freshman running back Dalvin Cook.
Florida State's defense ranks 51st in the nation. It is athletic enough to keep up with Mariota and his talented group of backs and receivers, but the Seminoles would be wise to limit the amount of time the D is exposed to the Ducks' attack.
2. Which quarterback will be more important to his team's success in this game: Winston or Mariota?
Short Answer: Mariota.
Long Answer: The outcome of a football game is never determined by one player. However, when two quarterbacks of this magnitude get together, an elite performance out of one of them can greatly sway the odds of victory towards his team.
Mariota is having a historic season as he leads his Ducks into the new year. The redshirt junior has scored 53 total touchdowns -- 38 through the air, 14 on the ground and one receiving -- which is more than 92 FBS teams have scored the entire season. Mariota also leads the nation in passing efficiency at 186.3.
He's an elusive runner and gifted passer who feels comfortable both inside and outside of the pocket. Florida State hasn't fared well against dual-threat quarterbacks (see Everett Golson, Jacoby Brissett and Deshaun Watson), which could mean a monster game for Mariota.
Winston did not produce the same stellar statistics of a year ago with his touchdown totals decreasing from 40 to 24 and his interceptions up from 10 to 17. The reigning Heisman Trophy winner did, however, exhibit an ability to produce in the clutch like few players have ever shown before.
Last year, the Seminoles found themselves trailing at halftime just once (vs. Auburn in the national title game). This season, FSU has trailed at the half five times. The redshirt sophomore's second-half passer rating was 158.3 this season and in the fourth quarter of games it jumped to an astonishing 167.1.
The Seminoles have shown the ability to win games when Winston doesn't perform well. The defense stepped up in wins over Wake Forest and Boston College, while the running game featuring senior Karlos Williams and Cook performed well in a victory over Florida that saw Winston throw a career-high four interceptions. Oregon, on the other hand, hasn't been put in that position very often, but in its loss to Arizona the defense showed incapable of stopping the run and the team as whole was unable to overcome two Mariota fumbles.
Both quarterbacks must play well, and most likely will, but a great performance by Mariota is more vital to Oregon's success.
3. With Oregon's campus being so much closer to Pasadena than Florida State's, how much of a home-field advantage will that give the team?
It is unknown the exact advantage the Ducks will have, but it can be almost a certainty that there will be more green and yellow in the stands than garnet and gold. The Seminoles have to travel almost 2,000 miles to reach Pasadena, while the Ducks are only around 850 miles away from the Rose Bowl.
FSU fans do travel well, but another cross-country voyage to California won't be in the cards for many of the Seminoles faithful, who'd rather save up for a hoped-for trip to Dallas. Expect noise levels to be low when Mariota and his offense have the ball and raucous when Winston and his crew take over. The Seminoles have faced this type of scenario before in Pasadena. Auburn fans outnumbered FSU fans at last year's title game, but the Seminoles still came out on top.
4. With the emergence of Dalvin Cook over the past six games (105.8 ypg, 6.6 ypc) how does this new, more explosive rushing attack compare to offenses that Oregon has faced?
Cook rushed for only 270 yards in FSU's first seven games. Williams received most of the hand-offs up to that point and, in turn, the offense became more and more one-dimensional.
That all changed during a come-from-behind victory over Louisville when Cook had a breakout game and rushed for 110 yards on nine carries, finding the end zone twice. Since the win over the Cardinals, he has averaged 105.8 yards per game, including a 177-yard MVP performance against the Yellow Jackets in the ACC Championship Game.
This new Seminoles offense has opened up lanes in the passing game and slowed opponents' pass rush, allowing Winston to become more effective through the air.
Oregon faced a running back averaging over 100 yards per game four times this season: Utah's Devonte Parker, UCLA's Paul Perkins and Arizona's Nick Wilson (twice). Perkins was the only back to break the century mark, rushing for 187 yards on 21 carries in an Oct. 11 loss to the Ducks. Many teams had to abandon the run after falling behind early.
It is unknown whether Cook's emergence into a major rushing threat will give the Seminoles an edge, but it is certainly better than what they had before and only improves their chances.
---