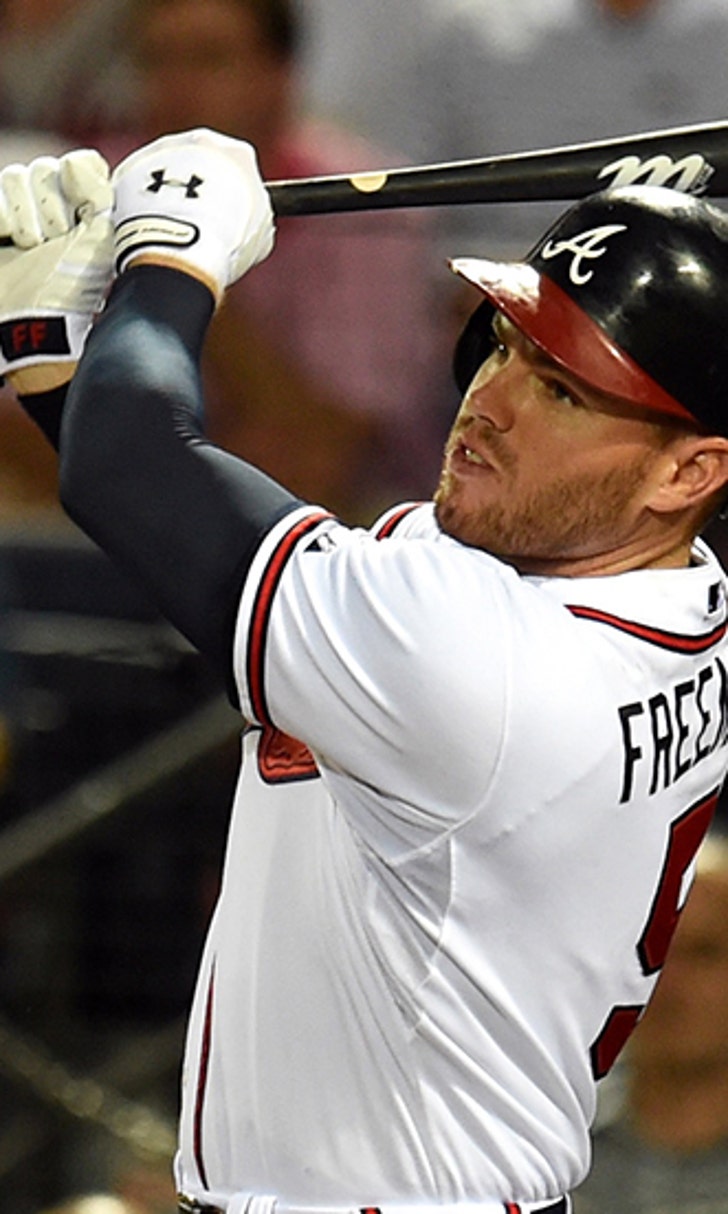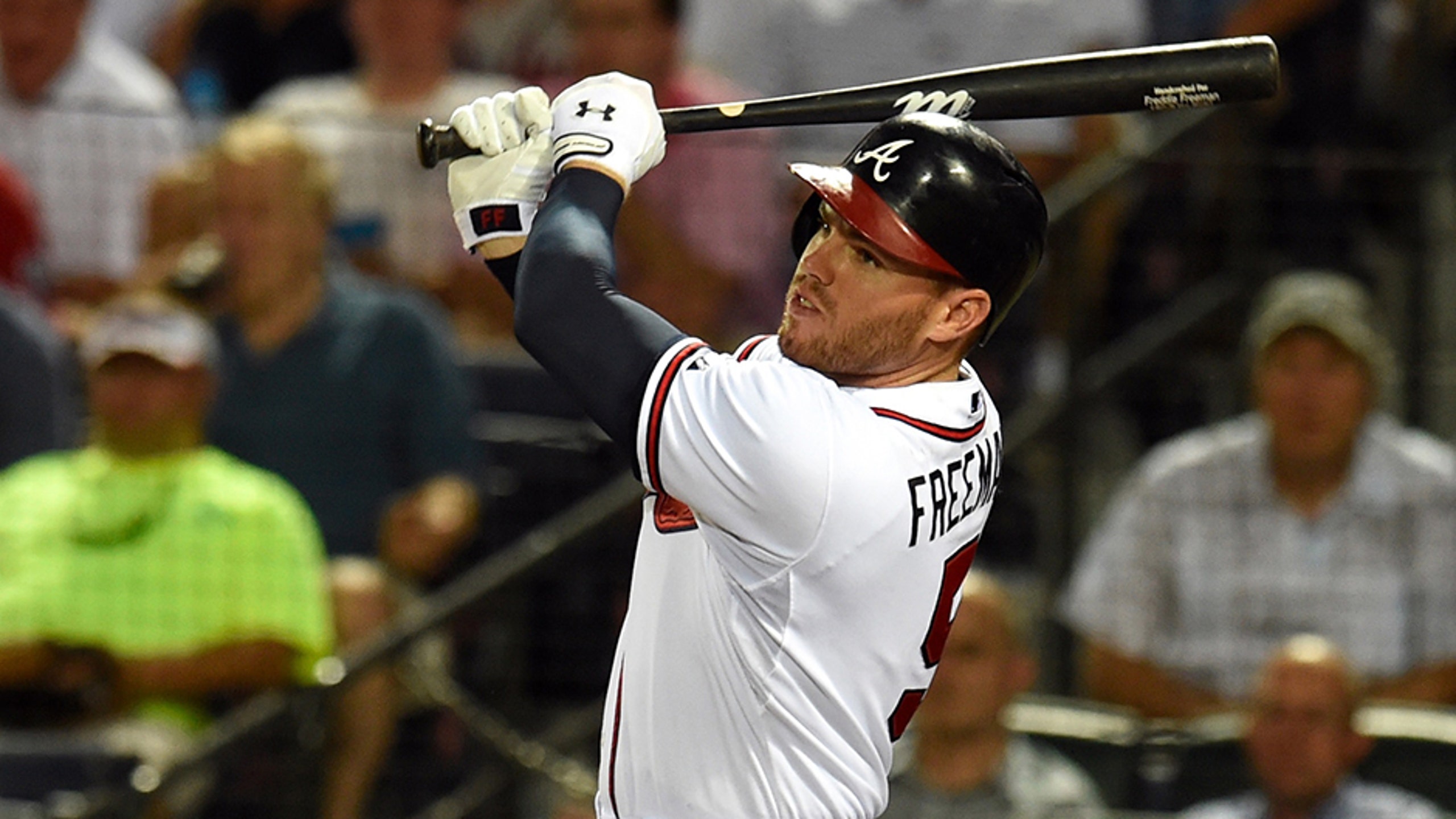 Burning questions for Braves at first base in 2015
BY foxsports • February 11, 2015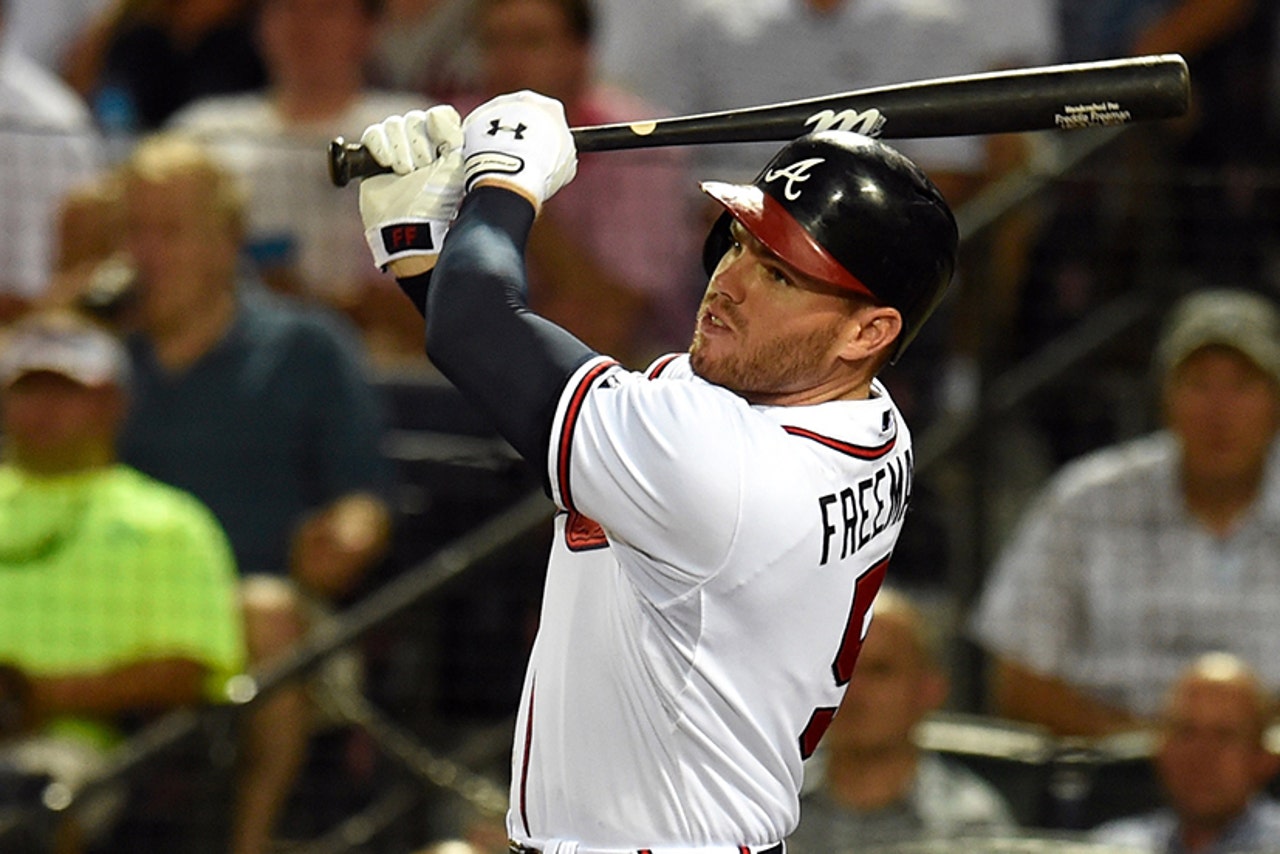 There were four players around Major League Baseball that played in 162 games last season. Atlanta Braves first baseman Freddie Freeman was one of the four.
Since arriving as a full-time player in Atlanta in 2011, Freeman hasn't missed more than 15 games in a season (twice he logged 147 games; the 2012 and 2013 seasons), and only took five games off in 2011. That means with perfect attendance last year, Freeman averages just fewer than nine missed games per season.
That's good news for the Braves because they're going to need to squeeze every at-bat out of Freeman that they can get.
Gone from Atlanta are the top two home-run hitters in Justin Upton (29) and Evan Gattis (22). The Braves are going to miss Jason Heyward's .271 batting average and 20 stolen bases, and replacing Upton's 102 RBI will be, let's face it, impossible.
Freeman is going to be called upon to anchor Atlanta's lineup. He's used to putting up better numbers than just about everyone else, but now it's going to be absolutely necessary.
The Braves finished next to last in the league with only 573 runs scored, and the hitters Atlanta trots out to the plate every game may find it difficult to even match that total in 2015. The Braves are going to have to have someone step up in a big way, and truthfully, Freeman is the only real candidate.
Of course Freeman will be the best hitter in the lineup. He's only a year removed from a 2013 season where he hit .319, posted an OPS of .897 and drove in 109 runs. At just 25 years old, Freeman still has those kinds of numbers in him.
Apologies to Nick Markakis, who drove in 112 runs in 2007, or posted an .897 OPS in 2008. Or B.J. Upton, whose magical 2007 season where he hit 24 home runs, stole 22 bases and hit .300 set the bar amazingly, and possibly unreachably high. Freeman is the only hitter in this lineup that has both put up MVP-caliber numbers and can reach that plateau again.
To do so, Freeman's going to have to make some adjustments thought.
From 2013 to 2014, Freeman's line drive rate went up while his ground ball rate dropped. This is typically a good thing for a hitter. The problem for Freeman, however, is that his batting average dropped dramatically on ground balls, according to the baseball metrics site FanGraphs.
Not only did Freeman's batting average on grounders fall from .235 to .194 in 2014, he began pulling many more toward the right side. He hit 45 percent of his balls on the ground to the right in 2013, but 68 percent last season.
In a new era of baseball where the defensive shift is previlant, Freeman is going to have to do something to get his ground-ball spray chart back toward 2013 levels.
Freeman is also going to have to make better contact with the baseball. Improving contact rate is somewhat of a relative term. Freeman only had a 77.5 percent contact rate during his 2013 season wherehis finished fifth in the MVP race. But last season his contact rate was at a four-year low of 75.8 percent, which ranked him 161st among hitters that notched at least 400 plate appearances.
Putting the ball in play is going to become extremely important to Freeman in 2015.
With being the best hitter on the team comes the inevitable outcome of avoidance. Why would opposing pitchers give Freeman anything to hit?
With Freeman in the three hole, and the Braves facing a difficult question about who to hit in the cleanup spot, FOX Sports South's Cory McCartney raised one of the most important questions about Freeman in 2015:
Who's actually going to pitch to the two-time All-Star first baseman now?
Whether it's Chris Johnson, B.J. Upton or some other Braves' hitter stepping in to bat behind Freeman, no one in this lineup has given pitchers a whole lot to be afraid of with their bat.
That means Freeman is going to get walked ... a lot. He's going to be intentionally walked more than the career-high 10 times he was in 2013. And without a doubt he's going to be pitched around frequently. Call it an unintentional, intentional walk, but Freeman isn't going to see many great pitches in 2015.
Freeman did a great job in 2014 of improving his patience at the plate. He swung at a career low 50.1 percent of the pitches he saw, down from 55.2 percent in 2013. That plate discipline was partly the reason why Freeman walked a career high 12.7 percent of the time last year.
With fewer pitches to hit coming his way, Freeman is going to have to remain disciplined at the plate. If he starts to press for base hits after seeing all the bad pitches he's going to see, things could get ugly.
Freeman lowered his swing rate on pitches outside the strike zone last season to 31.1 percent. That was good because his contact rate on pitches outside the strike zone was a terrible 63.6 percent. If he continues to lay off those bad pitches, his walk rate could skyrocket, and his strikeout rate won't climb with it.
But if he tries too hard to put the ball in play by swinging at pitches the pitcher wants him to, Freeman is going to be sent back to the dugout with more 'K's' on his scorecard than ever before.
In his four full seasons, Freeman has launched 85 home runs. He's never hit more than the 23 he blasted in 2012 and 2013, but never fewer than the 18 last season.
The 6-foot-5, 225-pound first baseman just oozes with power potential however.
In young hitters -- don't forget that Freeman has been around the majors since 2010, but he's only 25 -- future pop can be predicted by looking at the number of doubles he hits. Freeman has 136 doubles in his career, and finished fifth in the league last year with a career high 43.
One of the reasons why Freeman's been a doubles machine of late is because of an ever-improving line-drive rate. In each of his four full seasons, his line-drive rate has improved. From 23 percent in 2011 all the way to 31 percent last season. His fly ball rate has been dropping, however.
Without a big fly ball rate, home runs just don't happen with regularity. Freeman posted a fly ball rate of 36.9 percent in 2012, but that figure dropped all the way to 32.5 percent (a career low) last season. His HR/F (home run to fly ball ratio) rate also hit a career low in 2014. Only 11.9 percent of his fly balls became home runs.
Freeman may just be the type of hitter that laces line drives all over the field. He'll enjoy a decent average and drive in a good amount of runs, but he'll never be the big-time home run hitter than many expected unless he brings his fly ball rate way up.
With the way pitchers are going to pitch around him on 2015, don't expect an increase in home runs from Freeman. In fact, be happy if he gets back to his four-year average of 21.25.
---
---