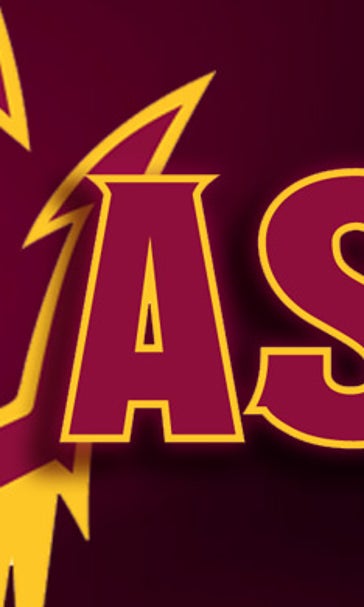 Burke's big day leads ASU women to fourth straight win
February 2, 2014

TEMPE, Ariz. -- Joy Burke posted career highs in points (22), field goals (11) and rebounds (15) to help lead the No. 15 Arizona State women's basketball team to a 97-94 win over Oregon on Sunday.
Also posting double-digit scoring totals for the Sun Devils (19-3, 8-2 Pac-12), who shot 51 percent from the field, were Promise Amukamara with 19 points, Katie Hempen with 16 and Elisha Davis with 11. Deja Mann added a career-high nine assists while Adrianne Thomas scored chipped in with nine points, all of whicm came at the free-throw line.
Burke, Hempen and Davis combined for 49 of the 53 points the Sun Devils received from their bench.
Chrishae Rowe scored 23 of her game-high 39 points in the final 20 minutes to lead the Ducks (12-9, 3-7), who led by as many as eight points in the early stages of the second half.
With the score tied at 59-59 and 10:55 remaining, Thomas hit two free throws to give ASU its first lead since it was up 33-32 at the 3:46 mark of the first half.
It would be a see-saw affair over the next few minutes until the Ducks used a 10-2 run to take a 75-69 lead with just under seven minutes remaining.
The Sun Devils, who overcame a seven point deficit in the final two minutes of their win over Oregon State on Friday, would answer with a run of their own as they reeled off the next nine points to take a 78-75 lead with 4:28 left. Mann started the burst with five straight points and Burke finished it with consecutive layups.
ASU would eventually extend its lead to four, but the Ducks would come back to once again knot the score at 83-83 after Rowe's 3-pointer with 3:25 left.
Burke (5-5 FGs, 10 points) and Amukamara (2-2 FGs, 3-4 FTs, seven points), who combined to score 17 of ASU's 23 points in the last five minutes, would team up to score ASU's next 11 points to help the Sun Devils lead by as many as five in the final minute.
Oregon would get as close as two, but ASU would hit 3-4 free throws in the last 15 seconds to clinch the win.
ASU's 97 points represented a season high in scoring as the Sun Devils scored 80 or more points for the ninth time this season. It was also the eighth time the Sun Devils shot 50 percent or higher. With the three-point victory, ASU improved to 10-0 in games decided by five points or less or overtime.
The Sun Devils are now in sole possession of second place in the Pac-12. They lead USC (14-9, 7-4), Cal (14-7, 6-4) and Washington State (12-10, 6-4) by two games in the loss column and trail only fourth-ranked Stanford (21-1, 10-0), which has an unblemished record in league play.
---