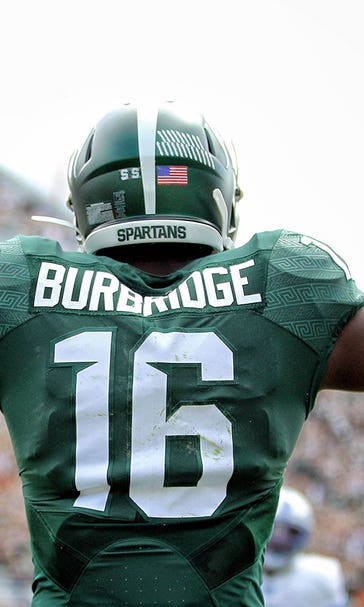 Burbridge catches on as Michigan State's go-to receiver
December 28, 2015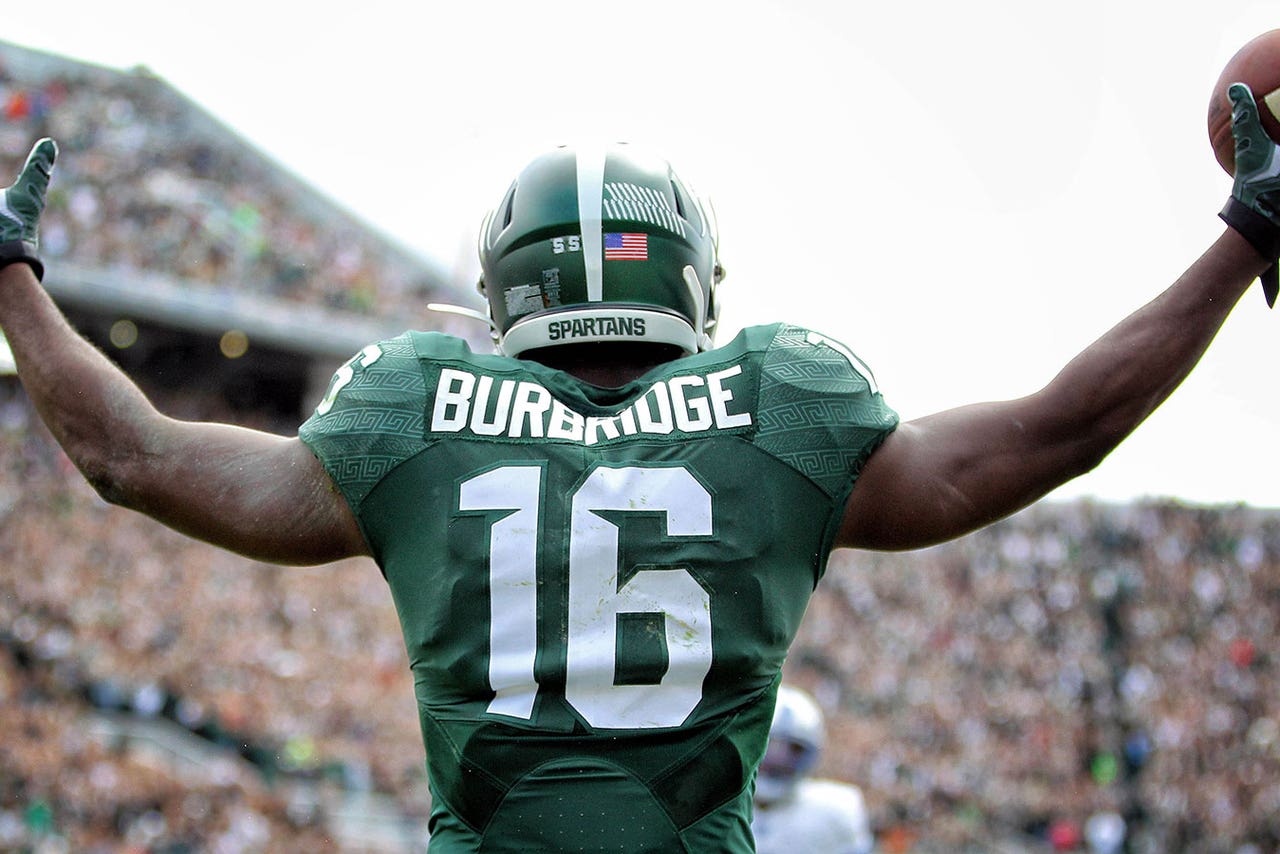 DALLAS (AP) -- Rarely does a Michigan State practice or game end without quarterback Connor Cook being awed by Aaron Burbridge making a spectacular catch.
Already during practice this week for the Spartans' national semifinal game against No. 2 Alabama, Cook was rolling left when he zipped a hard, high throw toward the receiver.
"He goes up and snags it with one hand, and just brings it in," Cook said Monday, holding his right arm over his head and then pulling it to his chest to demonstrate. "Doesn't even use the other hand."
The No. 3 Spartans (12-1) knew they were in good shape at quarterback coming into the season with Cook. But they needed Burbridge to emerge as a go-to receiver after the graduation of the two starters in their pro-style set -- leading receiver Tony Lippert and Keith Mumphery, who caught the winning touchdown to cap a big fourth-quarter comeback in last year's Cotton Bowl.
Michigan State coaches sat down with Burbridge in January to talk with the 6-foot-1 senior about their expectations.
"It was my opportunity and I told myself I'm not going to let it slip away," Burbridge said. "It wasn't a long conversation because they knew what I could do, and I knew what I could do."
Burbridge is now an All-Big Ten receiver after leading the league with a school-record 80 catches, matching his combined total from his first three seasons. His 1,219 yards also led the league, and he scored seven touchdowns.
"We've needed him to come on and he's done it," co-offensive coordinator Dave Warner said. "When we talked to him, he knew right away. ... He's such a low-key quiet type of guy that until he actually performed that way, you didn't know. But we're not surprised."
The 80th catch this season by Burbridge converted a third-and-8 on the Spartans' game-winning 22-play drive for the Big Ten championship that set up their return to the Cotton Bowl to play the Crimson Tide (12-1) on New Year's Eve for a spot in the national championship game.
All of Burbridge's TD catches have been thrown by Cook, who said his right shoulder is feeling great after a late-season injury.
Cook missed the Ohio State game because of a sore right shoulder, and the pain still lingered through the regular-season finale against Penn State and the Big Ten title game. Having some down time and nearly a month between games was a huge benefit for the quarterback, who is 34-4 as Michigan State's starter.
"The time off, being home, rehabbing it was great," said Cook, who has thrown for 2,921 yards and 24 TDs. "That was crucial."
In only his fourth game with the Spartans, Burbridge had eight catches for 134 yards as a freshman against Indiana in 2012. He didn't have another 100-yard game until this season, when he has seven, one short of B.J. Cunningham's school record.
Against Michigan this season, while being covered primarily by second-team All-America cornerback Jourdan Lewis, Burbridge had nine catches for 132 yards.
"He's fast, he runs good routes, he's going to get the ball, he can break tackles if you don't wrap him up," Alabama safety Eddie Jackson said.
Cunningham, who had 218 catches from 2008-11, is also the only player with more than Burbridge at Michigan State.
"When I first came in, my football IQ and my understanding of the game, of the offense, wasn't there completely," said Burbridge, who also developed quite a connection with Cook. "Early in our careers, we built that chemistry. Coming into this season, we knew I had to be the go-to guy, we amped it up."
Cook described Burbridge as confident and having fun, with the ability to snag a ball no matter where it's thrown even without really big hands.
"He can catch in any circumstance, if it's too low or too high," running back Gerald Holmes said. "Having him as a threat is what we need."
---
---