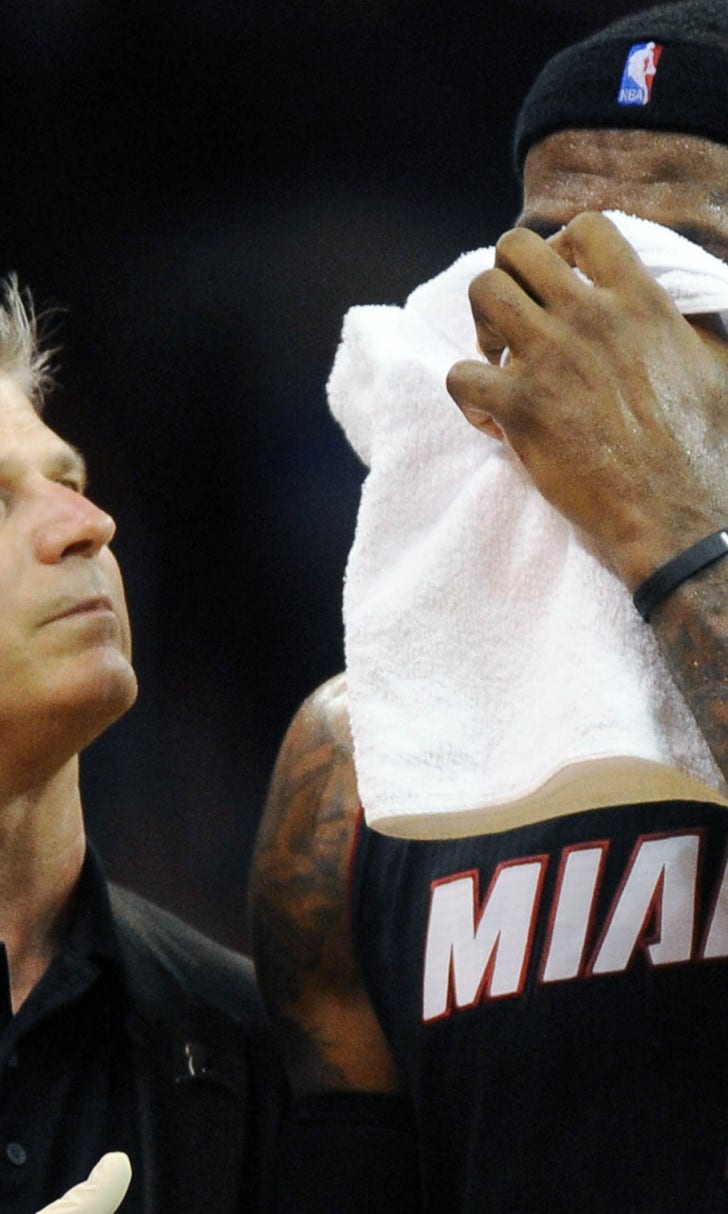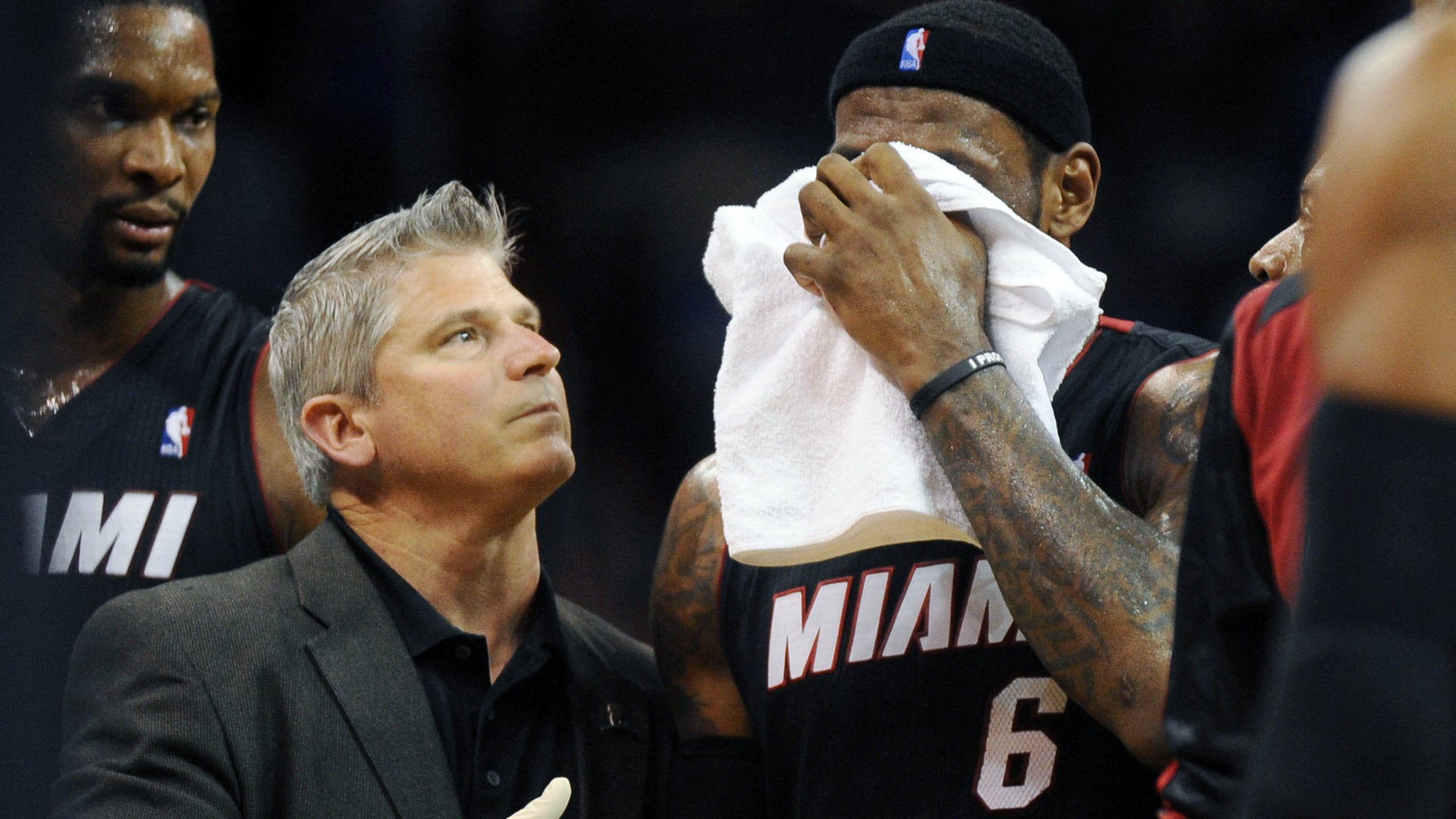 Bulls at Heat game preview
BY foxsports • February 22, 2014
TIME: Sunday at 3:30 p.m.
TV: ABC.
Several years ago, an injury to LeBron James' right elbow spawned a parity Twitter account dubbed 'LeBronsElbow' that still exists.
Something similar regarding James' nose could be in the works considering the good-natured ribbing the four-time league MVP is enduring now.
James will sit out Sunday's marquee home matchup against a Chicago Bulls team searching for a season-high sixth straight victory.
During the 2009-10 season, James' right elbow injury resulted in a phony Twitter account that currently has nearly 23,000 followers and demonstrates the popularity of the NBA's brightest star.
Now it's another body part that is in the spotlight after James' nose was bloodied by Oklahoma City's Serge Ibaka on a drive in Thursday's 103-81 road win. James sat out the final six minutes, finishing with 33 points, seven rebounds and matching a season high with eight turnovers.
He looked groggy and wore a large bandage over the bridge of his swollen, broken nose Saturday as he sat out practice.
"It has been better," James said. "It's a little bit of everything - pain, headaches, whatever. I have to get past it and hopefully get better in the next day. I'm definitely not going to rush it."
James was to be fitted for a protective mask but won't get a chance to wear it against the Bulls. That would likely result in more teasing from the Heat (39-14), who had fun at his expense Saturday.
Coach Erik Spoelstra said a doctor fixed James' nose Friday to "make it look prettier."
"You can't be sensitive in this locker room," forward Chris Bosh said. "He's still a good-looking guy. He's still married. I don't think his wife is going anywhere."
Miami has won 10 of 12 as it faces a club it has eliminated in two of the last three postseasons that is also feeling confident. The Bulls (29-25) have been a thorn in the Heat's side in the past, and they would like to see Miami at full strength.
"Of course we want LeBron to play," Bulls center Joakim Noah said. "We hope his nose is OK. It's going to be a good game on Sunday."
These teams have split two meetings, with each winning at home. The Bulls are a different team now, having traded away Luol Deng since those matchups, but their belief remains high.
"We feel like we can compete against them; we've beaten them before," Noah said. "They're playing at a high level right now, they're playing really good basketball. They're locked in but we're locked in too so we're confident we can go out there and get it done."
James is shooting 42.9 percent against Chicago this year for his lowest mark against any team, with only two others holding him under 50.0. He has totaled only 38 points in the two meetings.
Chicago has limited foes to 85.6 points per game during this win streak capped by Friday's 117-89 home rout of Denver.
"We feel like we're playing at a high level," forward Taj Gibson said. "Our defense is phenomenal, I think."
Chicago's defense faces the ultimate test against a Miami team leading the NBA at 51.0 percent from the field. That mark is the league's highest since the 1994-95 Utah team shot 51.2 percent.
"The important thing is to not look backwards and to stay locked into getting ready for Miami," coach Tom Thibodeau said. "We gotta know them well. Obviously they're a great team, they're the defending champion, everybody's chasing them. So just be ready for Sunday, nothing more than that."
The Bulls are unsure of the status of starting guard Jimmy Butler, who left in the first quarter Friday with a rib injury.
---