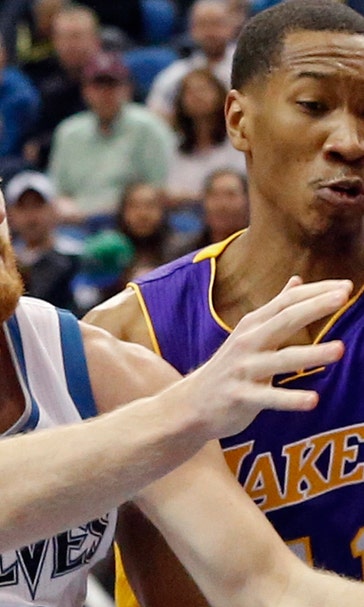 Budinger continues personal surge in narrow Wolves loss
BY foxsports • March 26, 2015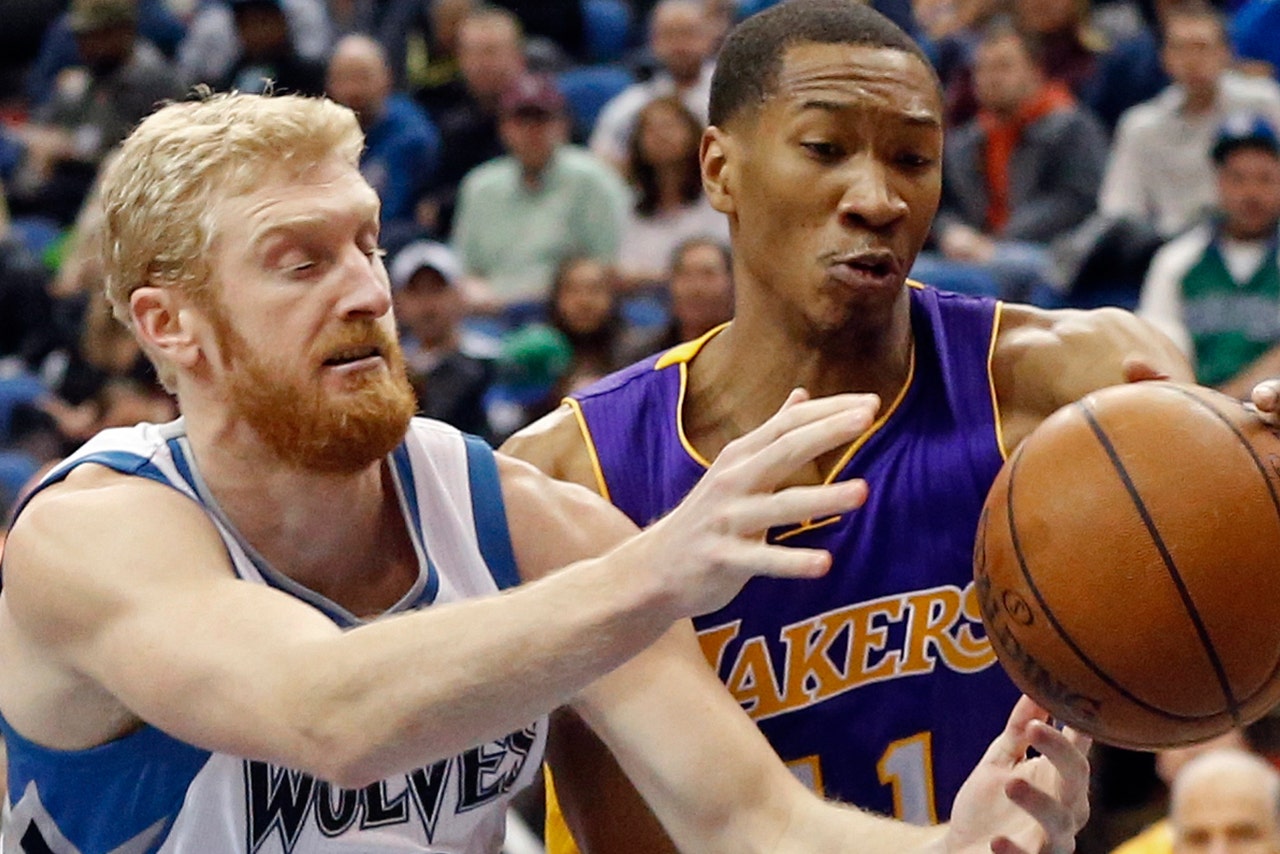 MINNEAPOLIS -- Chase Budinger found an opening at the top of the key. Simultaneously, he found 7-foot, 263-pound, tattooed and nasty Robert Sacre switching to defend him.
Last year, Budinger might've hesitated. Slightly favored that left knee he's had sliced open twice to repair, then remove part of, his meniscus.
They tell rookies "let the game come to you." For a sixth-year veteran, though, it's more about coming at the game.
So Budinger did, faking left, crossing over to his right, gaining a step on the bulkier, half-second slower Sacre and gliding to the rim for a two-handed flush with 12 seconds left in the third quarter of the Timberwolves' overtime loss to the Lakers. Those two points weren't even the most important of his season-high, 22-point effort; Budinger's left-corner 3 with 6.6 seconds to go tied the contest at 90 and sent it to an extra frame.
"I'm just trying to be more involved in moving around instead of just standing on the perimeter and waiting for the ball to get to me," Budinger said. "I'm taking the initiative of trying to get the ball and I'm making cuts and getting some rebounds and things like that."
Frequent activity. Little passivity.
Combined with more consistent minutes due to Minnesota's latest injury rash, Budinger's used it all to average 14.9 points on 52.6 percent shooting (36.4 percent from 3-point range) in his past seven games. Wednesday night, he shot 9 for 14 and 3 for 6 from beyond the arc for his most points since April 4 of last season.
That night, he scored 24 in a victory over eventual Eastern Conference champion Miami. The next, he hurt his ankle in Orlando and missed the rest of the season.
All that after two surgeries on the same knee cost him 100 games during the 2012-13 and 2013-14 seasons -- his first two in the Twin Cities following a trade from Houston.
"It's a little bit that he was able to stay with it and be able to keep on fighting through," said Wolves coach and president of basketball operations Flip Saunders, whose team fell to 16-55 and retained the league's second-worst record. "Some guys, especially veterans, might have given up on it, saying 'this is kind of a lost season.' He didn't do that. He kept on shooting, kept on working on his game, and when an opportunity came, he took advantage of it. He's extremely professional."
Playing sporadically when the Wolves were more healthy, Budinger (averaging a career-low 5.3 points per game for the entire season) spent a lot of time rebuilding his confidence -- both in his shot and in his knee -- with coach Mike Penberthy during and after practices. Now that Minnesota is routinely playing just eight players -- it did again Wednesday night -- Budinger has been a top option off the bench, even playing some power forward with his team so short-handed.
"You've got to do that to stay alive in this league," Budinger said in regard to his gumption, "because if you don't, it goes by in a flash, and the next thing you know, you're out of the league."
Budinger's heroics nearly carried Minnesota to victory during its third overtime game in the past week. But Zach LaVine's loose-ball foul at the bonus period's 0.3 second mark sent Jordan Clarkson to the line, and the Lakers (19-51) shooting guard sunk both free throws.
Budinger, meanwhile, has 11 more games to keep his mojo increasing, then comes decision time. The 26-year-old Arizona product possesses a $5 million player option on his contract for next season.
If he keeps it, he's guaranteed a substantial salary relative to his production, plus he has another year to increase his free-agent value when the salary cap rises dramatically in 2016. But if he thinks he can find a better situation outside of rebuilding Minnesota this summer, Budinger's able to walk away. "That's up to him," Saunders said.
But for now, with the Wolves continuing to develop what young, healthy talent they have and clinging to any possible positivity moving into the offseason, Budinger's recent surge has been a tangible sign of life.
"I've been in this league long enough to show that I'm an NBA player," Budinger said, "so I've just been able to prove it these last couple games."
"He's playing huge for us," said rookie Andrew Wiggins, who had a game-high 27 points, six rebounds and four assists Wednesday night. "He's playing aggressive, and it's a matchup challenge for the other team, too."
Follow Phil Ervin on Twitter
---