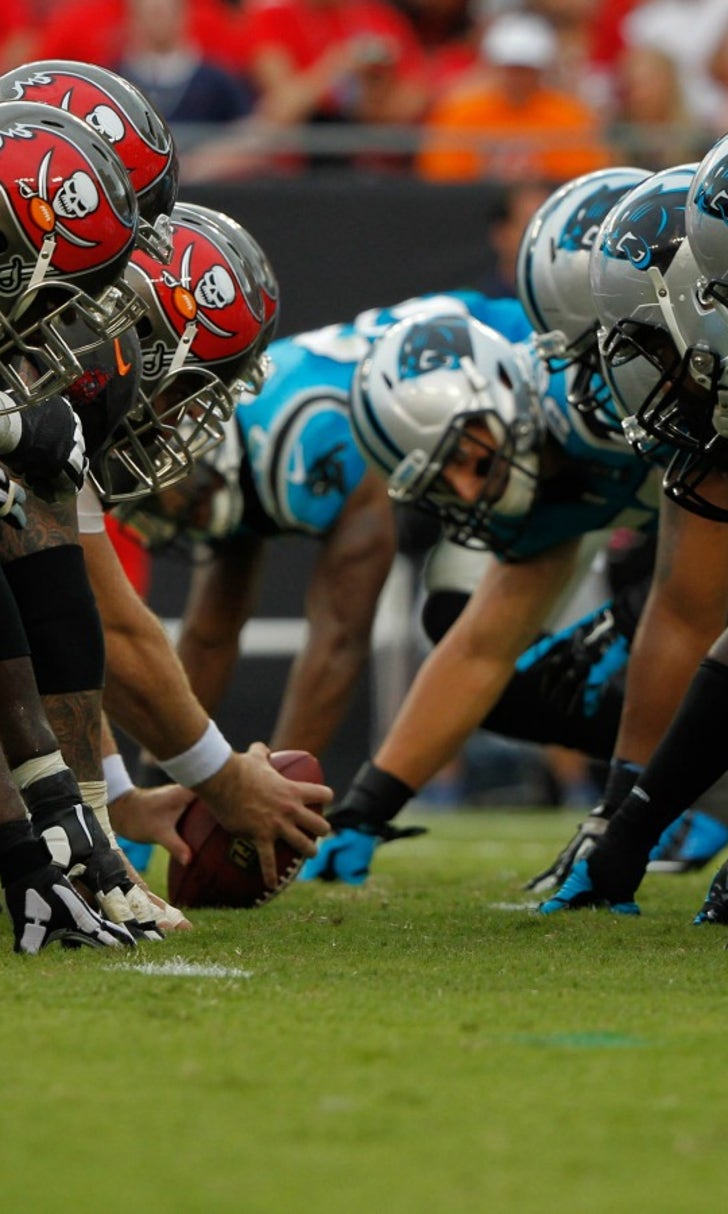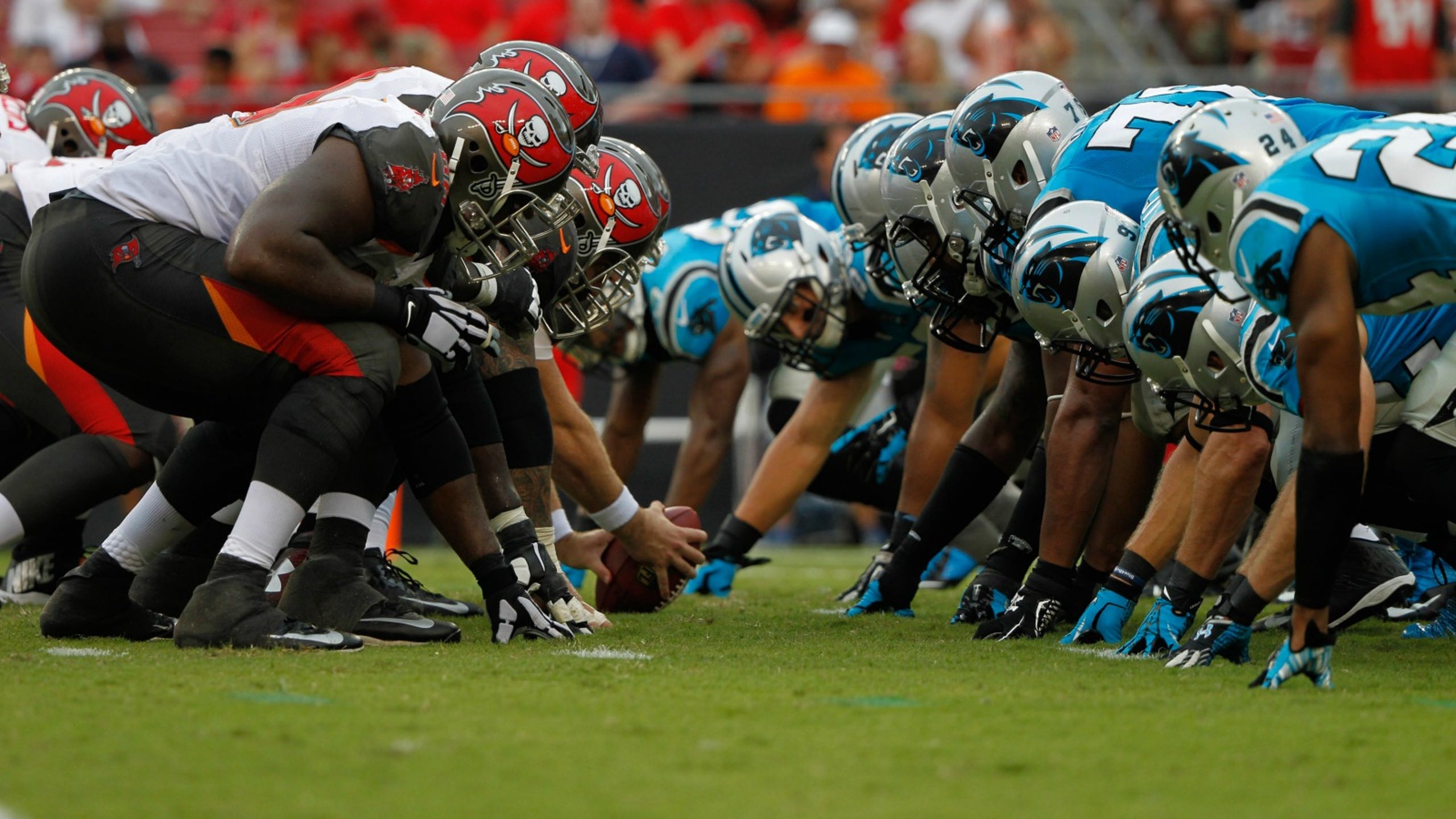 Bucs take on Panthers backup QB Derek Anderson just as they did in Week 1
BY foxsports • December 13, 2014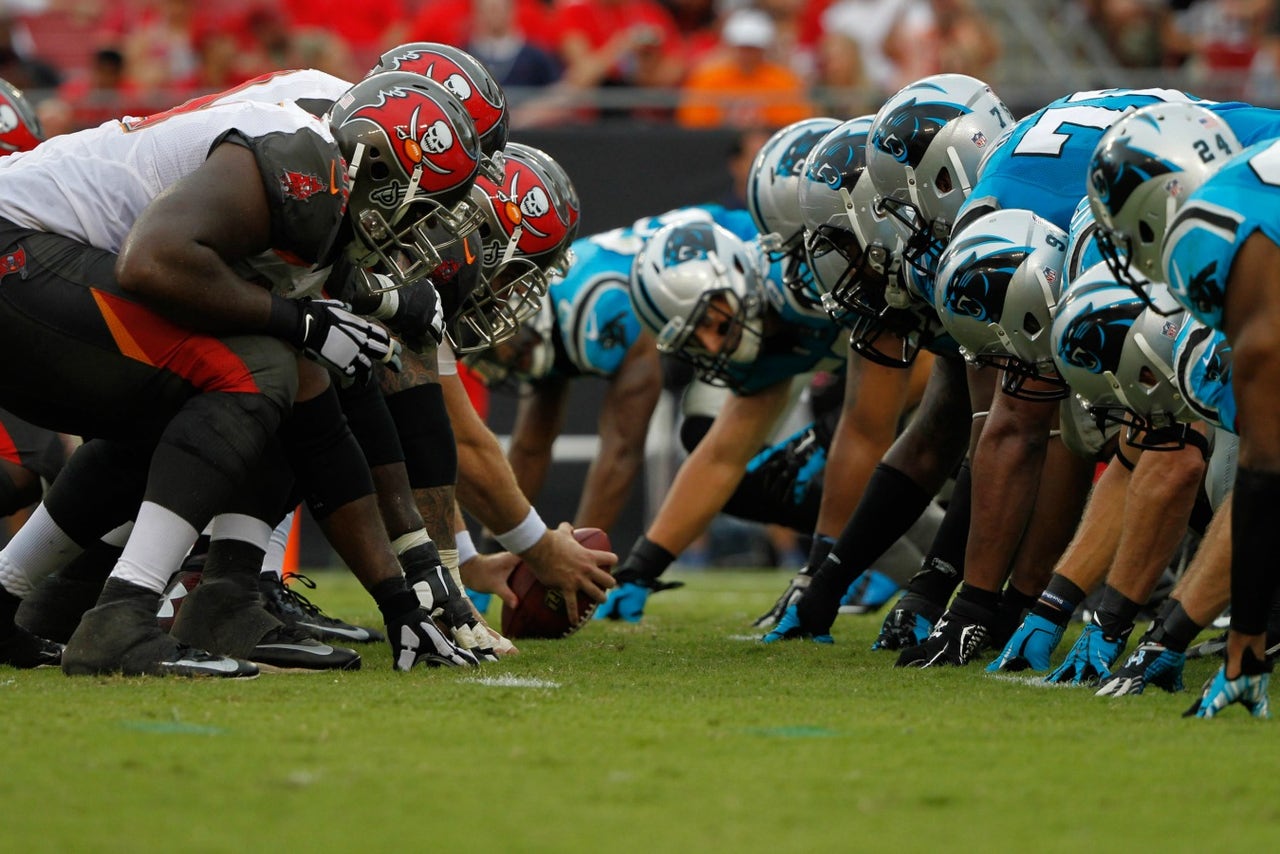 TAMPA, Fla. -- Yes, Cam Newton is out. 
Yes, Superman has been grounded, perhaps providing a sliver of hope that the Tampa Bay Buccaneers can spring an upset and earn their third victory. 
Yes, the Carolina Panthers' top quarterback won't play at Bank of America Stadium, sidelined with two transverse process fractures in his lower back after his truck flipped four times in a scary crash Tuesday in Charlotte. 
Still, there's that backup, Derek Anderson. Remember him? With Newton healing from a rib injury in Week 1, Anderson started against the Bucs and began Tampa Bay's season in a bad way with the first of 11 losses to come.  
Who knows what to expect when kickoff happens at 1 p.m. Sunday?
Anderson has attempted just 23 passes in three games outside that victory at Raymond James Stadium. Mostly, he has served as a spectator as the Panthers have stumbled and bumbled while falling to 4-8-1. Mostly, he has blended into the background. 
Still, the Bucs know better than to underestimate what Anderson can do. 
"He performed well against us Week 1, and I think people forget just because he's the backup now, they forget that he has made a Pro Bowl before, so he knows how to play the game," Bucs defensive tackle Gerald McCoy said. "He can pick a part a defense because he's played at the highest level before. We just have to get on him."
Here's a closer look at the Bucs' Week 15 matchup against the Panthers ...
MATCHUP TO WATCH
Anderson vs. Bucs' defense
Anderson performed well in his first start against the Bucs this season, completing 24 of 34 passes for 230 yards with two touchdowns. But that was a different unit, and Anderson will see an improved defense compared to the one that began the year for Tampa Bay. Expect a better pass rush, with Jacquies Smith serving as a recent upgrade at end. Still, it's not out of the question to think that Anderson could have another successful day. The Bucs allowed Detroit Lions quarterback Matthew Stafford to throw for 311 yards and three touchdowns last Sunday. 
TRENDING UP
Panthers: Was last Sunday for real? The Panthers torched the New Orleans Saints at the Mercedes-Benz Superdome for 41 points and 497 yards in a 31-point rout. Believe it or not, the blowout marked Carolina's first victory since beating the Chicago Bears in Week 5. Like most of the NFC South, the defending division champions have been a large disappointment. But for the first time, the Panthers showed firepower last Sunday. Even half the output produced against the Saints would likely be enough against the woeful Bucs. 
Buccaneers: Vincent Jackson had a season-high 159 yards receiving in the loss to the Lions. It marked his second 100-plus-yard receiving game in his last three contests and his third such output this season. The formula is simple, but it's easier said than practiced: If Jackson is given the ball, good things happen. He had 10 catches last Sunday, his first double-digit reception game this season. He had no more than eight catches in a single game this year before the trip to Detroit.
TRENDING DOWN
Panthers: The good news is that Newton didn't face life-threatening injuries with his accident. But his absence is unfortunate for Carolina, especially after his performance last Sunday, when he completed 21 of 33 passes for 226 yards with a season-high three touchdowns. He also ran for 83 yards on 12 carries with another touchdown. Anderson has proven himself capable against the Bucs this season, but the Panthers would be in better shape with Newton behind center. 
Buccaneers: Tampa Bay's offensive line has been a consistent weakness throughout the year, but last Sunday, the difference in ability between the group and Detroit's defensive line was particularly obvious. In addition to being sacked six times, Josh McCown was hit on 14 other occasions. Credit McCown for showing toughness after being leveled so often. But his line has done him few favors.  
DID YOU KNOW?
With 8 1/2 sacks, McCoy is the first Bucs player to post at least eight sacks in consecutive seasons since former defensive end Simeon Rice did so in 2004 (12) and 2005 (14). 
QUOTEBOARD
"This week's a little bit different for us. There's no 'Destination: Phoenix' or anything like that. I know last week it was pretty much the same situation, but again, different mindset as far as all that being off the table. Now it's about (a) three-game season for us, and a one-game season as far as playing better football against the defending champions in our division." -- Coach Lovie Smith, when speaking Monday about the end of the Bucs' playoff prospects with a loss to the Lions. Tampa Bay is at the bottom of the NFC South at 2-11.
"I don't know. I'd have to go back through a lot of games. But that's part of it. You're unprotected as a quarterback when you get hit a lot of times, because you're throwing. So the shots look different, but a lot of these guys take poundings week-in and week-out when they get hit." -- McCown, when speaking Wednesday about the level of punishment he received in the loss to the Lions. He said he woke up Monday sore from the hits received.
"We're not looking at guys. Just like every other week, the guys that start are the guys that I think give us the best chance to win. That's not going to change. Week 16, it will be the same way. We may tweak here and there on some of the things but, you know, I won't be announcing it, obviously, until we get to the game. But Josh as our quarterback gives us the best chance to win." -- Smith, when speaking Wednesday about the decision to stick with McCown as his starting quarterback instead of going to Mike Glennon. McCown is 1-7 as the Bucs' starter. 
"Because I love my team and I feel my team needs me, not just every Sunday, but every day. There is no room for error with me and I feel like regardless of what happens my team needs me." -- McCoy, when speaking Thursday about his decision to stay in the game after sustaining a bruised knee early in the loss to the Lions. Initially, he was considered questionable to return, but he returned a brief time later after collecting himself on the sideline.
LOOKING AHEAD
The Bucs host the Green Bay Packers at 1 p.m. Dec. 21 at Raymond James Stadium. Tampa Bay is 21-31-1 all-time against Green Bay, the most recent result a 35-26 Packers victory on Nov. 20, 2011, at Lambeau Field. 
You can follow Andrew Astleford on Twitter @aastleford or email him at aastleford@gmail.com.
---
---