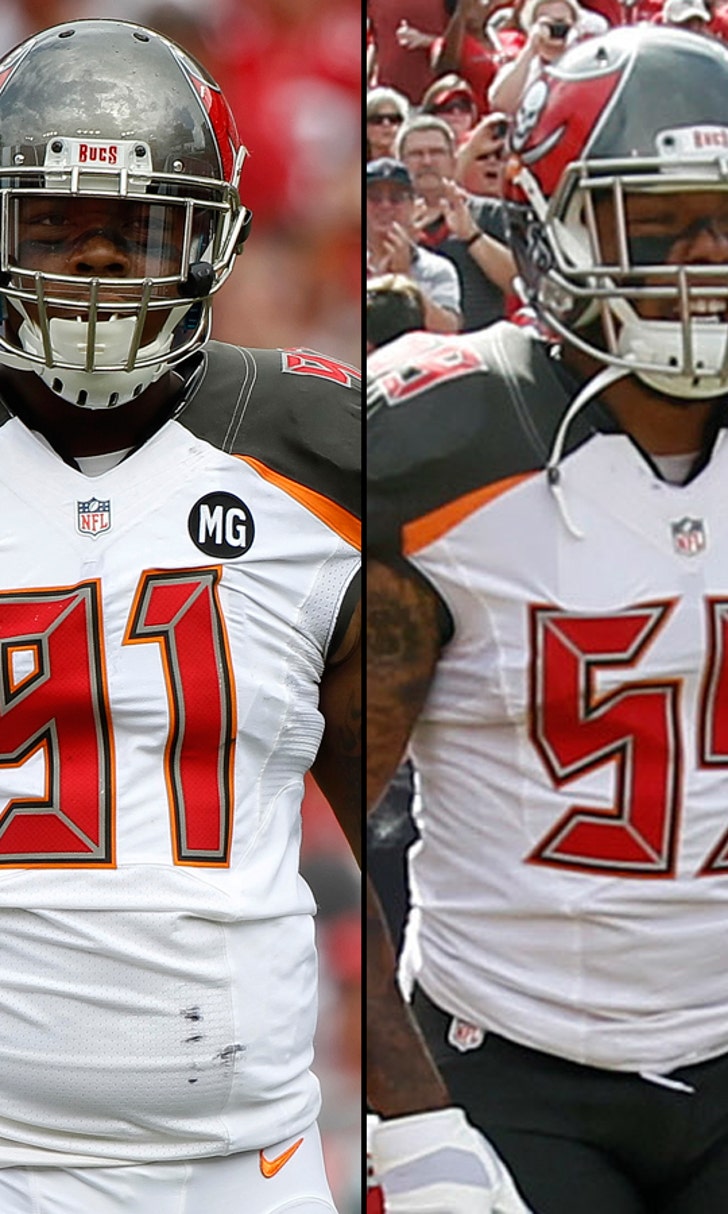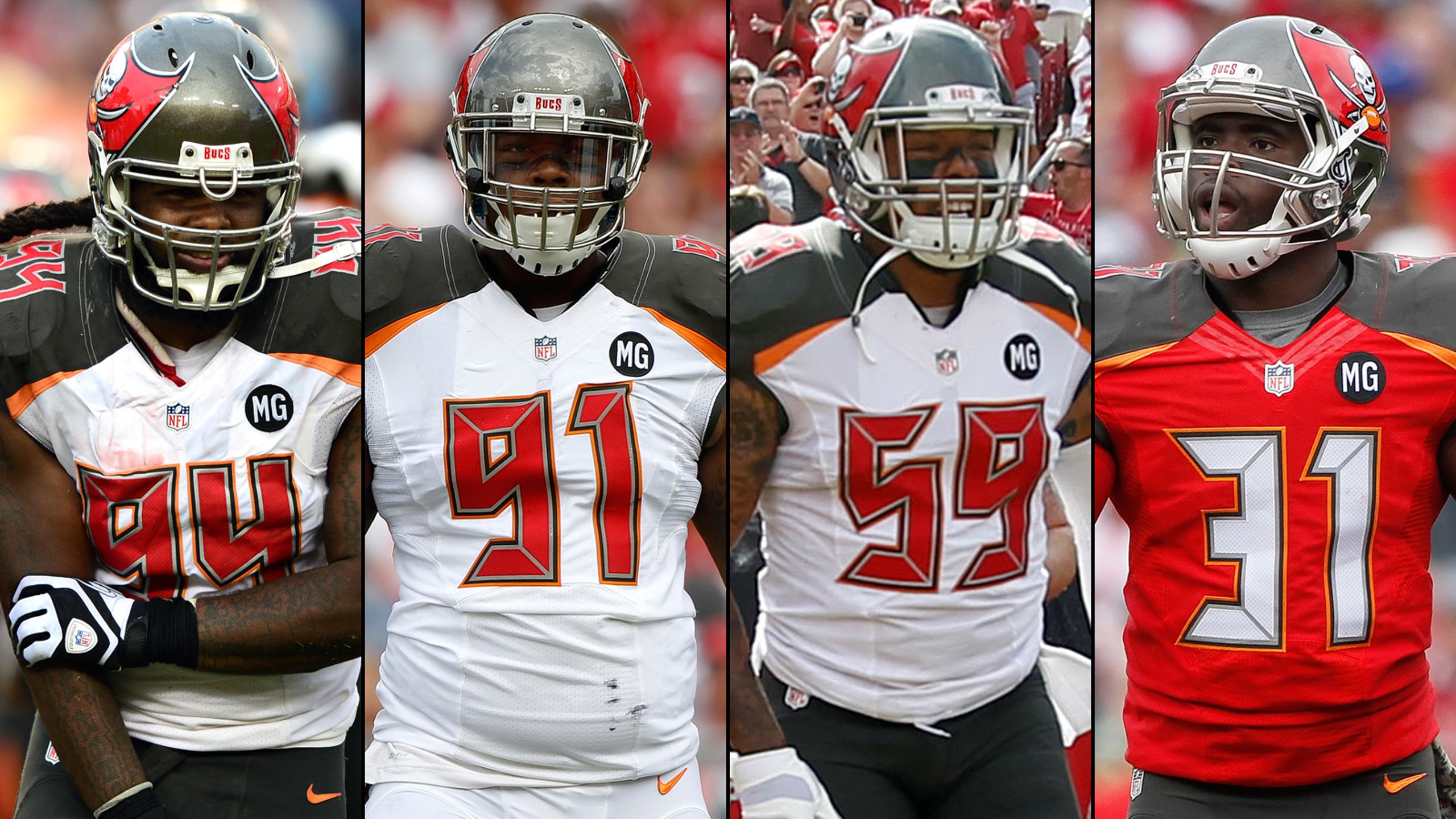 Bucs likely to retool again rather than retain too many free agents
BY foxsports • March 7, 2015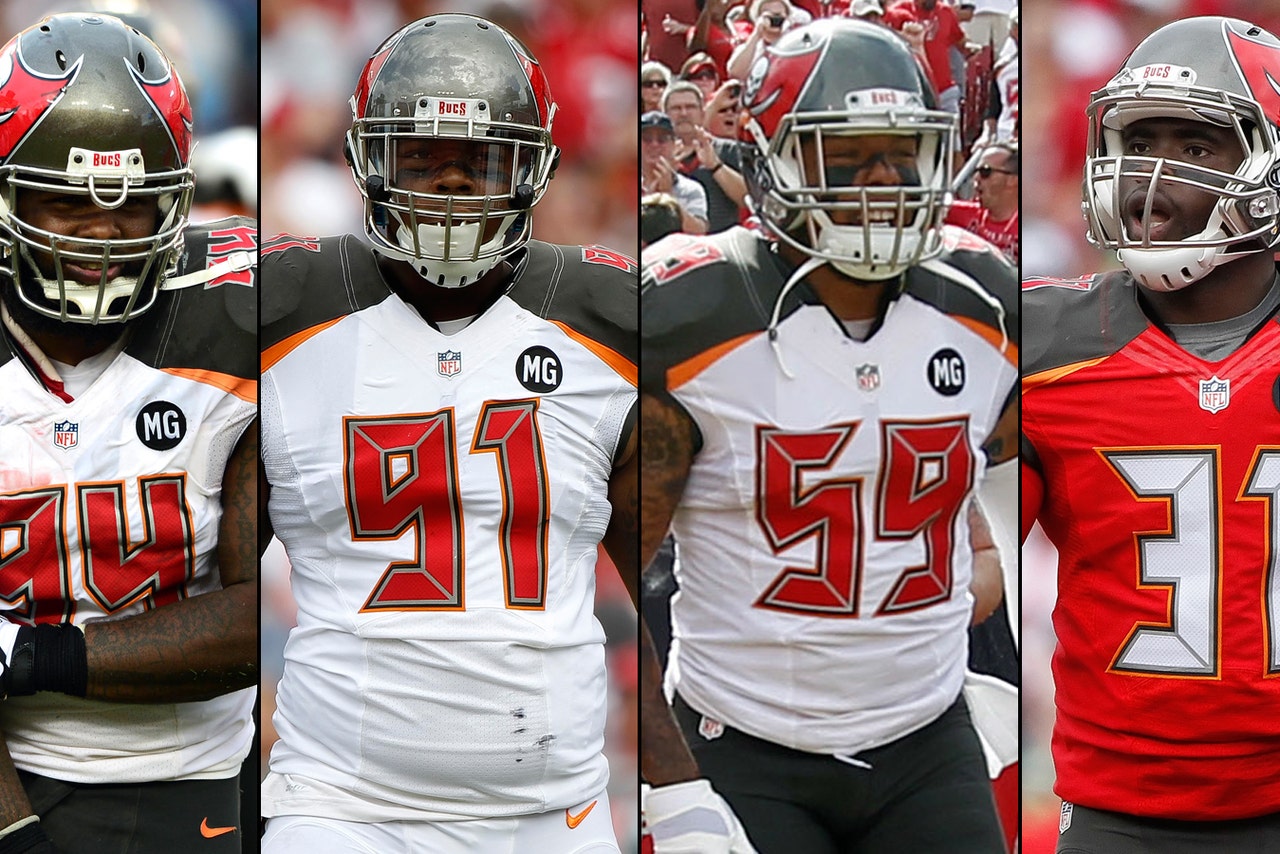 TAMPA, Fla. -- Don't blame the Tampa Bay Buccaneers if their eyes wander elsewhere next week.
NFL free agency is the league's version of Black Friday, and when considering the Bucs' unrestricted free agents, most are worthy of the clearance shelf. Or a Goodwill pile. Shinier items will receive closer looks as Tampa Bay will attempt to retool ... again.
After all, doesn't it make sense that most pieces from a 2-14 team would be viewed as expendable?  
Da'Quan Bowers. Adrian Clayborn. Oniel Cousins. Larry English. The list goes on and on, the whole thing filled with tales of unrealized hope and underwhelming play.
Nine players from the Bucs' 2014 roster are scheduled to be unrestricted free agents. Linebacker Mason Foster is the largest name, but even he is anything but a sure bet to return. A player like Major Wright could be a tough call. But would Lovie Smith and Jason Licht shed a tear if they parted ways with any of these faces?
Likely not. 
Here's a closer look at the potential unrestricted free agents with Bucs ties who could enter the market when the new league year begins Tuesday ...
DE/DT DA'QUAN BOWERS
Probably the most frustrating player of the list, he has the physical tools to be a factor with his 6-foot-4, 288-pound frame. But Bowers has never lived up to his promise. He had 21 tackles in 11 games last season.
Reason to keep: His versatility, maybe. Even then, here's not very good. Remember when he was all but handed a starting job after the Bucs let Michael Bennett walk in free agency before the 2013 season? That strategy didn't work out well. A second-round pick in 2011, Bowers has 66 tackles and just 10 sacks.
Reason to let walk: This should be a no-brainer. With Jacquies Smith's discovery at defensive end, and with plenty of depth at defensive tackle, Bowers is expendable. He was a bubble player to make the roster at the end of last preseason. This year, it's time to part ways.
Prediction: Bowers never lived up to his potential with the Bucs. Perhaps he'll revive his career elsewhere, but it's best if both parties move on.
DE ADRIAN CLAYBORN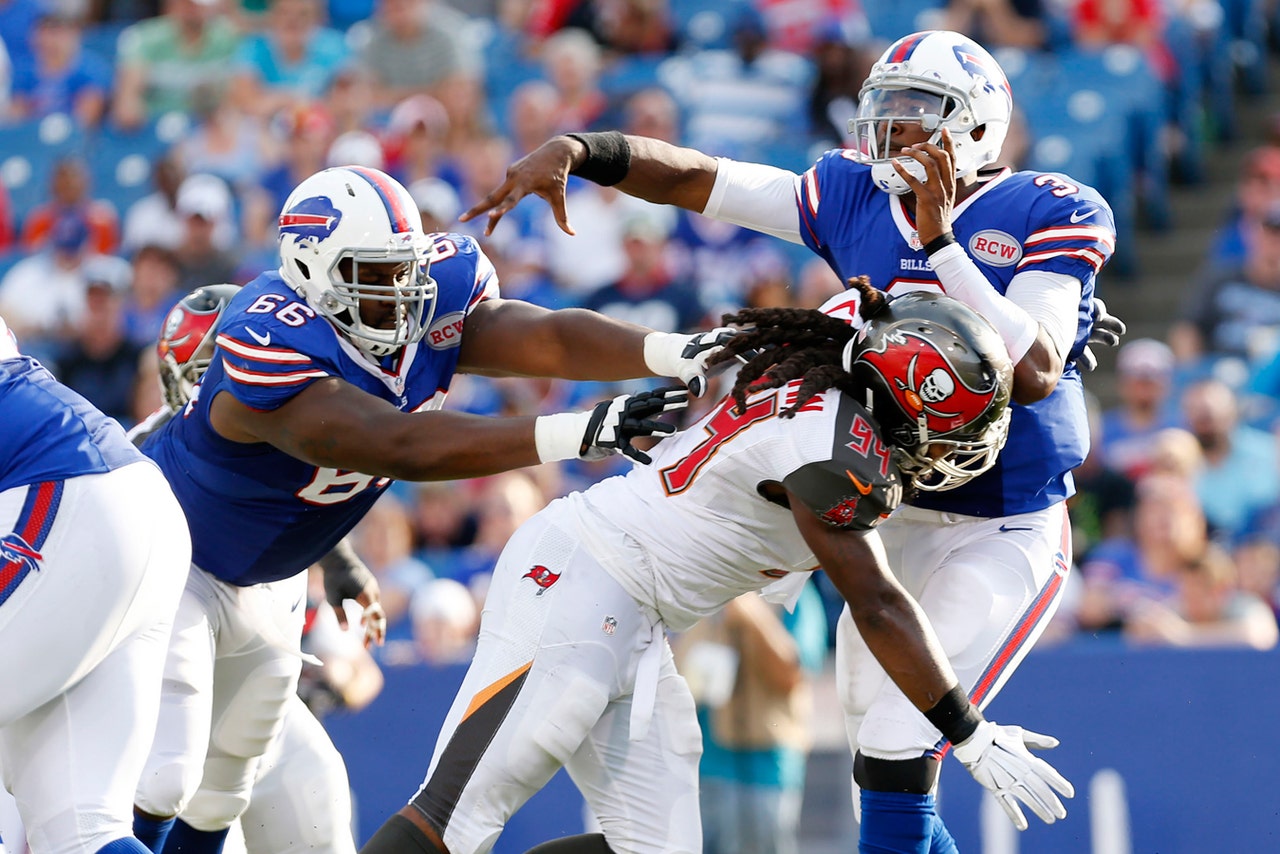 Health has never been kind to the former first-round pick, and that could mean the end of his time with the Bucs. Because of his stop-and-start NFL career, Clayborn has never developed into the dynamic edge rusher that some envisioned when he entered the league as a touted prospect from Iowa.
Reason to keep: If Clayborn can stay healthy, there's talent there. Last season was supposed to be an anticipated year for the 20th overall pick from 2011, but he played in just one game before being placed on injured reserve with a biceps injury. He has 13 sacks in 36 games.  
Reason to let walk: Last year figured to be a do-the-job-or-leave season for Clayborn. Clearly, the biceps injury was another setback for him. He appeared in all 16 games in the 2011 and '13 seasons, but he played in just four combined contests in the 2012 and '14 campaigns, with his absence in 2012 because of a torn ACL in his right knee. Plain and simple, he's a liability because of his shaky health. 
Prediction: Clayborn has been a victim of unlucky health developments in his short NFL career. Still, the Bucs have developed a new plan at defensive end with different faces. He's not needed anymore.
OT ONIEL COUSINS
He was signed to provide depth on the offensive line before last season, but he became a face of a major problem as Josh McCown was leveled all fall. The fact that Cousins started a career-high seven games said more about the Bucs' situation than his ability.
Reason to keep: No argument can be made here. Cousins was among the worst players on a terrible offensive line.
Reason to let walk: The offensive line needs better depth. Cousins isn't anything special, and the Bucs can do better by shopping for someone else in free agency.
Prediction: Expect the Bucs to address their tackle situation in either free agency and/or the draft. Cousins was a marginal player at best and can be replaced. 
DE LARRY ENGLISH
He arrived during training camp last August for depth on the defensive line. But English made little impact, and he could be looking for his third team in as many years.
Reason to keep: If the Bucs see a fit for English as a depth piece, then maybe he hangs on for another season. Otherwise, it's difficult to envision someone who had just 12 tackles and one sack in 12 games return.
Reason to let walk: English has never lived up to his first-round draft status since entering the NFL as the 16th overall pick by the San Diego Chargers in 2009. He didn't do much for the Bucs. 
Prediction: English will search for another team this offseason. The Bucs can find rotational players of similar ability elsewhere.
LB DANE FLETCHER
He played more than expected because of injuries within the linebacker corps. Fletcher was also a staple on special teams. Still, he's not viewed as a high priority to bring back.
Reason to keep: Fletcher had a career-high 39 tackles with a half sack and one pass defensed last season. He was OK in his first season with the Bucs after arriving from the New England Patriots as a free agent, but he was nothing special. Perhaps he can be viewed as serviceable depth.
Reason to let walk: He's primarily a special teams player, but other than that, he offers little value at linebacker. The Bucs can replace him easily.
Prediction: The Bucs will let Fletcher walk.
LB MASON FOSTER
He could be a tough call for the Bucs. Foster has played in 57 games throughout the past four seasons, and he was a mainstay among starters during that time. But the emergence of others and injury problems could mean he'll be searching for a job elsewhere.
Reason to keep: Foster is the most recognizable name on this list going into free agency. He had 343 tackles with five interceptions, six sacks and 12 passes defensed in four seasons. He has value if he can stay healthy.  
Reason to let walk: Foster was OK last season but nothing special in earning 62 tackles with two passes defensed in 10 games. He never seemed like a snug fit within Lovie Smith's defensive scheme. An Achilles injury hampered Foster late in the season, and Danny Lansanah's emergence made the Washington product look replaceable.
Prediction: It's a tough call, but with Lansanah proving capable last year, the Bucs will stick with him and let Foster walk. They could look to the draft or free agency to enhance their situation at middle linebacker.
DE LAWRENCE SIDBURY
He was signed as a late-season depth piece, but he made little impact in his first NFL action since 2012. Sidbury spent the previous three seasons of his career with the Atlanta Falcons.
Reason to keep: No argument can be made. He played in just one game with one tackle in the season finale against the New Orleans Saints. There's little reason to keep him.
Reason to let walk: See above.
Prediction: The Bucs will let Sidbury walk.
LB JASON WILLIAMS
Signed as a late-season depth piece, he made little impact in three games with the Bucs. He began the season with the Carolina Panthers.
Reason to keep: Little reason to do so. Williams was a late-season pickup and played in just three games with seven tackles after he spent 11 contests with the Panthers. He was used primarily on special teams.
Reason to let walk: Williams was a late-season depth piece and little more. The Bucs can part ways with him without much trouble.
Prediction: The Bucs will let him walk.
S MAJOR WRIGHT
He played under Smith as part of the Chicago Bears, so Wright is close with an important voice that matters. The veteran was decent with the Bucs last season in his fifth NFL campaign.
Reason to keep: He's a Smith addition from free agency last year, and he wasn't bad after arriving from the Bears. He had 51 tackles and one pass defensed in 12 games.
Reason to let walk: He was solid but not outstanding last year. The 2014 season broke a streak of three consecutive campaigns with at least two interceptions earned each year.
Prediction: He'll return because of his connection to Smith. His veteran presence can help the younger members of the secondary.
You can follow Andrew Astleford on Twitter @aastleford or email him at aastleford@gmail.com.
---