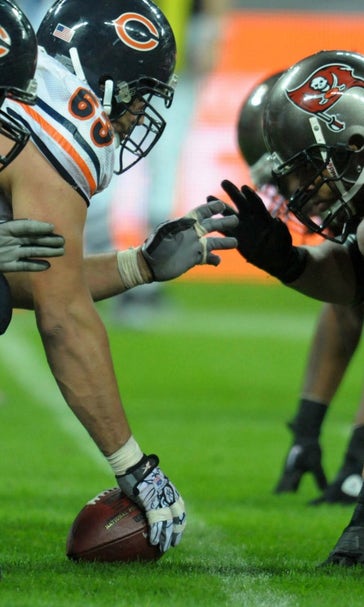 Bucs coach Smith, QB McCown return to Chicago to take on former team
November 22, 2014

TAMPA, Fla. -- Chicago ... still their kind of town?
It's Chicago Bears Week, which means the anticipated return to Soldier Field for coach Lovie Smith and quarterback Josh McCown has arrived. What looked like little more than a sentimental trip two weeks ago has taken on extra value with the Tampa Bay Buccaneers' rout of the Washington Redskins last Sunday at FedEx Field. 
Chicago ... the sight of continued momentum?
Both Smith and McCown hope so. At 2-8, the Bucs are two games behind the NFC South leaders, the Atlanta Falcons and New Orleans Saints. At 2-8, playoff talk still seems somewhat far-fetched, but it's not as much of a fantasy anymore.
The Bears, meanwhile, earned a much-needed victory last week by beating the Minnesota Vikings. The result snapped a three-game losing streak and served as just their second victory in the past seven games. 
"My memories of my time in Chicago are all great memories," Smith said. "I have lifetime friends from Chicago that will always be a part of our family. You talk about the opportunity I was given by the McCaskey family. It was all good memories. I don't have many bad memories on any place I've ever been. We spent a lot of time there."
Buy the kind talk at your own risk. Likely, a victory for Smith and McCown would mean more than a chance to improve to 3-8. Likely, a victory for Smith and McCown would mean sweet satisfaction before leaving a site of many positive memories for them. 
Chicago ... where one victory turns to two straight for the first time this season?
We'll see.
Here's a closer look at the Bucs' Week 12 matchup against the Bears ...
MATCHUP TO WATCH
Smith vs. Chicago fans
The outcome of this matchup won't determine the game's result, but it will be curious to follow. Will Smith be received warmly? How is he remembered? To little surprise, Smith downplayed the notion of wanting this game more than the 10 others his Bucs have played this year. But deep down, you have to wonder if beating the team that fired him for being 10-6 wouldn't satisfy more than usual. Why not?
TRENDING UP
Bears: After a miserable stretch that included five losses in six games, Chicago put everything together in beating Minnesota. The offense produced 468 yards. Jay Cutler threw for 330. The Bears went 10 for 17 on third down, and they held the Vikings to a 2-for-11 clip in the same situations. Overall, this has been a major letdown of a year under Marc Trestman. But maybe, just maybe, Chicago found something to build on last Sunday. 
Buccaneers: How about those playoff chances? Once a far-fetched fantasy before last Sunday, the prospect of postseason play doesn't seem as crazy. At 2-8, the Bucs are two games out of first place in the NFC South. How many teams would beg to be in such a spot with six games left? Try anyone at the cellar of a division in which the leader has a 6-4 record or better. The Bucs' playoff odds remain slim -- PredictionMachine.com gives them a 0.3 percent chance -- but there's a glimmer of hope after routing the Redskins. 
TRENDING DOWN
Bears: Monsters of the Midway? Try major mistakes instead. The Bears' defense ranks 32nd in the NFL in scoring defense by allowing an average of 29 points per game. Opponents have produced some grisly numbers against them: Try 31 points by the Carolina Panthers, 27 by the Miami Dolphins, 51 by the New England Patriots, plus 38 and 55 by the Green Bay Packers. The Bucs aren't exactly dynamite on offense with an average of 19.4 points per game. Still, the Bears' defense has been awful often. Too often.  
Buccaneers: That running game remains invisible. As good as Tampa Bay was in Washington, the Bucs' running game made little impact. They finished with 48 yards on 21 carries, and Charles Sims led the effort with 36 yards on 13 carries. Doug Martin's return from an ankle injury could provide depth, though he has suffered a stunning decline this season. Tampa Bay's rush offense ranks 25th in the NFL by averaging 85.8 yards per game. 
DID YOU KNOW?
Johnthan Banks' six career interceptions are tied with the Patriots' Logan Ryan for the most of any player who entered the NFL in 2013. 
QUOTEBOARD
"Right after a big game like that, there's a lot of sleeping going on and I caught most of it -- I don't know a few minutes, 15 minutes or so, I don't really know exactly how long, but we were right at the gate getting ready to get on the airplane." -- Smith, when speaking Monday about a surprise DEA inspection at Baltimore-Washington International Airport last Sunday following the Bucs' victory over the Redskins. Nothing out of the ordinary was found.
"I've been a lot of places -- different places. I got paid by four schools in one calendar year, so I have a lot of former places I've been to. And it's always fun playing people that you know, but no more than that. I'm sure Josh, Major Wright, Isaiah Frey, all the guys will say the same thing. We're trying to get a win against an opponent on the other side." -- Smith, when speaking Wednesday about Chicago. He downplayed the possible revenge storyline all week.
"It's been so good for me as a man more than anything because my faith has grown tremendously and just sometimes when you think you have a handle on life and the way things are going, you get put in different situations and you realize you can be stretched and grown further. For me, I think that's what the last 12 months has shown me more than anything and I'm thankful for that." -- McCown, when speaking Wednesday about how the past year has shaped him. Along with Smith, he returns to Chicago to play his former team.
"You never get it figured out, but he's starting to understand -- I don't know if he understands yet that he's special. And when I say special, you have those player who when they play sometimes, it's like, 'Man, that guy is playing really hard,' then sometimes, you're like, 'Man, that guy is unstoppable,' but then you have those special players where they just kind of make it look easy." -- Defensive tackle Gerald McCoy, when speaking Thursday about Mike Evans' recent emergence. Evans was named the NFC's Offensive Player of the Week for his 209-yard, two touchdown receiving day against Washington. 
LOOKING AHEAD
The Bucs host the Cincinnati Bengals at 1 p.m. Nov. 30 at Raymond James Stadium. Tampa Bay is 7-3 all-time against Cincinnati, the last meeting a 24-21 victory by the Bucs on Oct. 10, 2010, at Paul Brown Stadium. 
You can follow Andrew Astleford on Twitter @aastleford or email him at aastleford@gmail.com.
---