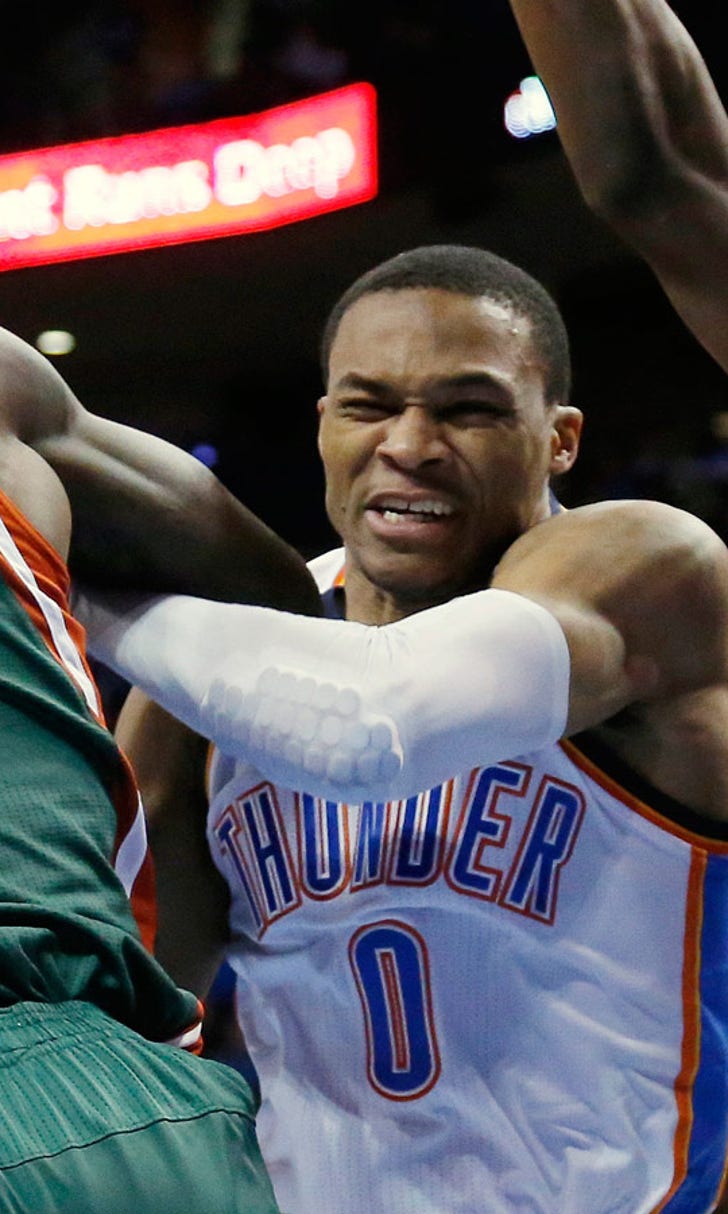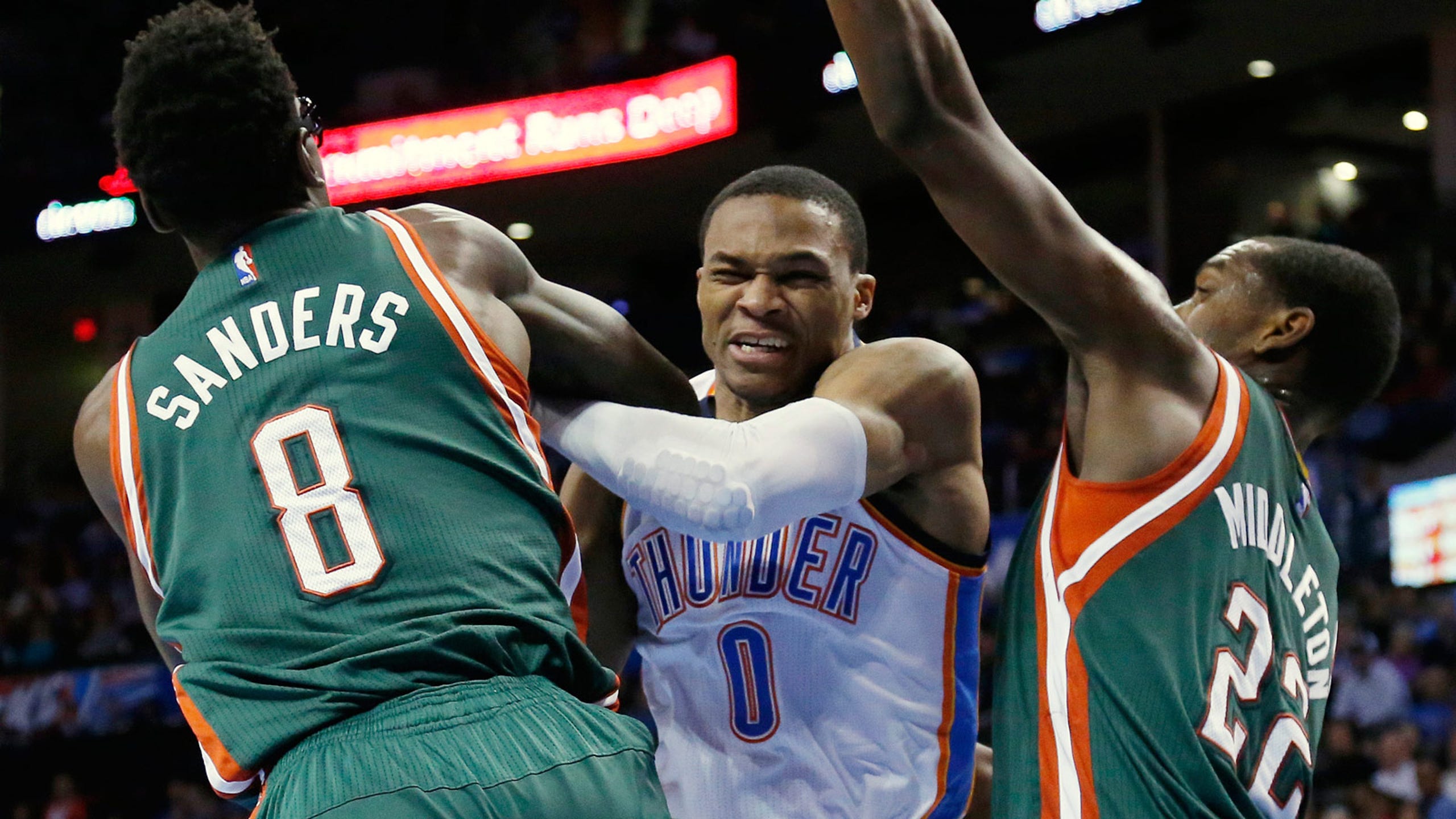 Bucks work in practice to improve defense, rebounding
BY foxsports • December 11, 2014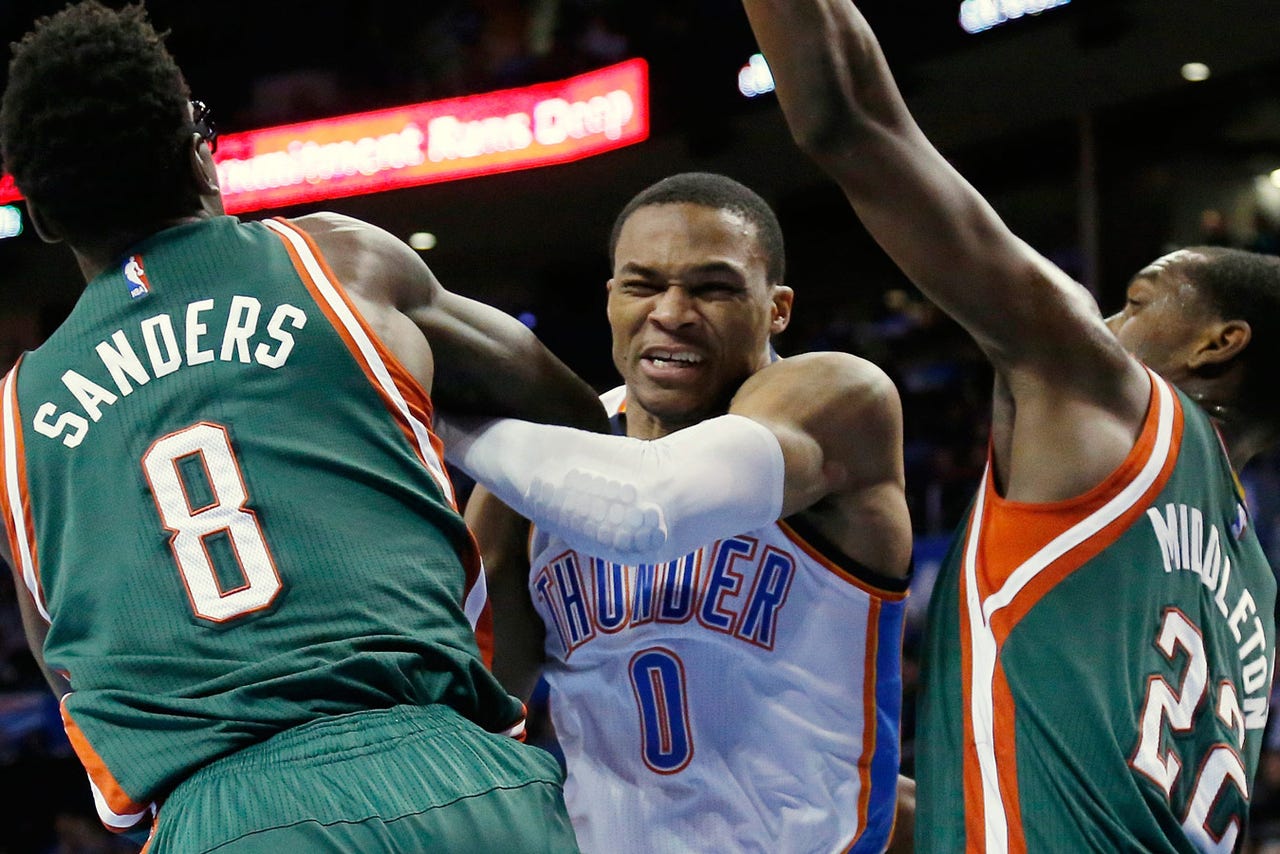 ST. FRANCIS, Wis. -- Provided a rare stretch of three nights between games, the Milwaukee Bucks came back from Wednesday's day off with a spirited practice at the Cousins Center.
Instead of immediately preparing for their next opponent, the Los Angeles Clippers, Milwaukee got back to the basics Thursday in what Jared Dudley called "a training camp-like practice."
"We tried to get back to what we started with," Bucks coach Jason Kidd said. "Defense was all we focused on. For him to feel it was a training-camp practice, that's good. When we came out of training camp we felt that we understood what we were trying to do defensively."
For most of the first month of the season, the Bucks were a top-10 defensive team by multiple metrics. Milwaukee has now allowed at least 100 points in five of its last six games, including 125 to Dallas on Sunday and 114 to Oklahoma City on Tuesday.
The Bucks are now 21st in the NBA with a defensive rating (points allowed per 100 possessions) of 102.1. Milwaukee has slipped to 19th in scoring defense, giving up 100.5 points per game.
Some of Milwaukee's defensive regression has been due to mistakes made by the Bucks, but it is no secret that the level of competition has increased in December.
"When you play Philly and Detroit, it is different than when you play the Mavs and OKC," Dudley said. "When you have a mistake against the (lesser) teams, they don't capitalize like the (better) teams. It is like a good baseball player, you pitch it down the plate and they are usually going to crush it.
"We see how we have to play if we want to be the next tier. We're not the next tier. We're in the middle. Until we get to the next tier, we'll keep losing those games."
When the Bucks are getting defensive stops, opponents often get second and third opportunities off of offensive rebounds. Milwaukee has struggled to rebound all year, as it is 28th in the league in opponent offensive rebounding percentage (27.9 percent).
"Just finishing plays," Kidd said of what the focus of Thursday's practice was. "Not just the (defensive) principles, but finishing plays. Rebounding the ball has been something we've struggled to do. Also, transition defense and being able to get back. Those are the things we worked on today."
Milwaukee's defensive system oftentimes forces big men to be out of position when the shot goes up because they are caught providing help to guards who may be gambling for a steal.
The defensive system isn't likely to change, but Dudley feels there are things the Bucks can do to improve on the glass.
"If you watch the film, we're not really good at finding a man when the shot goes up," Dudley said. "We rely on our athletic ability and jump high. You can't do that when you play against the bigger teams because those guys put bodies on you.
"(We also have to) shut down penetration. When (Russell) Westbrook and those guys get in the lane and our bigs have to help and the ball goes up, it is a big versus a guard and the big is going to win 75 or 80 percent of the time."
Injury update: Bucks rookie forward Johnny O'Bryant practiced Thursday for the first time since suffering a sprained right medial collateral ligament during the preseason.
"First time," Kidd said of O'Bryant. "He looked good. We'll see how he feels tomorrow. Hopefully he can get some more work done (Friday). He looked good today."
Kidd said O'Bryant, the 36th-overall pick out of LSU in last June's draft, did half-court contact work Thursday. O'Bryant injured his right knee while committing a foul on Pistons guard Kentavious Caldwell-Pope during a preseason game on Oct. 8.
The sprained right MCL did not require surgery, but O'Bryant was sidelined for nine weeks.
Milwaukee's banged up frontcourt could use a few healthy bodies back, as Ersan Ilyasova, John Henson and O'Bryant are sidelined. O'Bryant played just 14 minutes in the preseason before getting hurt, meaning there will be an adjustment period to the NBA even when he's physically ready to play in a game.
"Being a rookie, we have to see him in action," Kidd said. "Coming back from an injury, it is going to take some time. The process might be a little bit longer with him, but I'm just happy to see him back out on the court."
Ilyasova, who suffered a nasal fracture Dec. 2 in Cleveland, was not at practice Thursday. He is still considered to be out indefinitely.
"Once the swelling goes down, he can get fitted for his mask," Kidd said. "It is going to be a little bit."
Henson set Milwaukee's upcoming road trip as his goal to return from a sprained left foot, but there's a chance he may not be ready by next week. Injured when coming down on the foot of Detroit's Greg Monroe on Nov. 25, Henson has missed eight games.
"I'm coming along and progressing," Henson said. "I'm still trying to make sure all the swelling is out and make sure I'm pain free."
Henson is no longer wearing a walking boot and has begun doing some light conditioning and set shooting. He wants to be able to make it through at least one full practice before playing in a game. The Bucks will practice Monday in Milwaukee before leaving for Phoenix.
"It is tough, especially because there were some prime opportunities for me to play, especially these last few games," Henson said. "It hurts a little bit, but I just have to stay patient."
Follow Andrew Gruman on Twitter
---