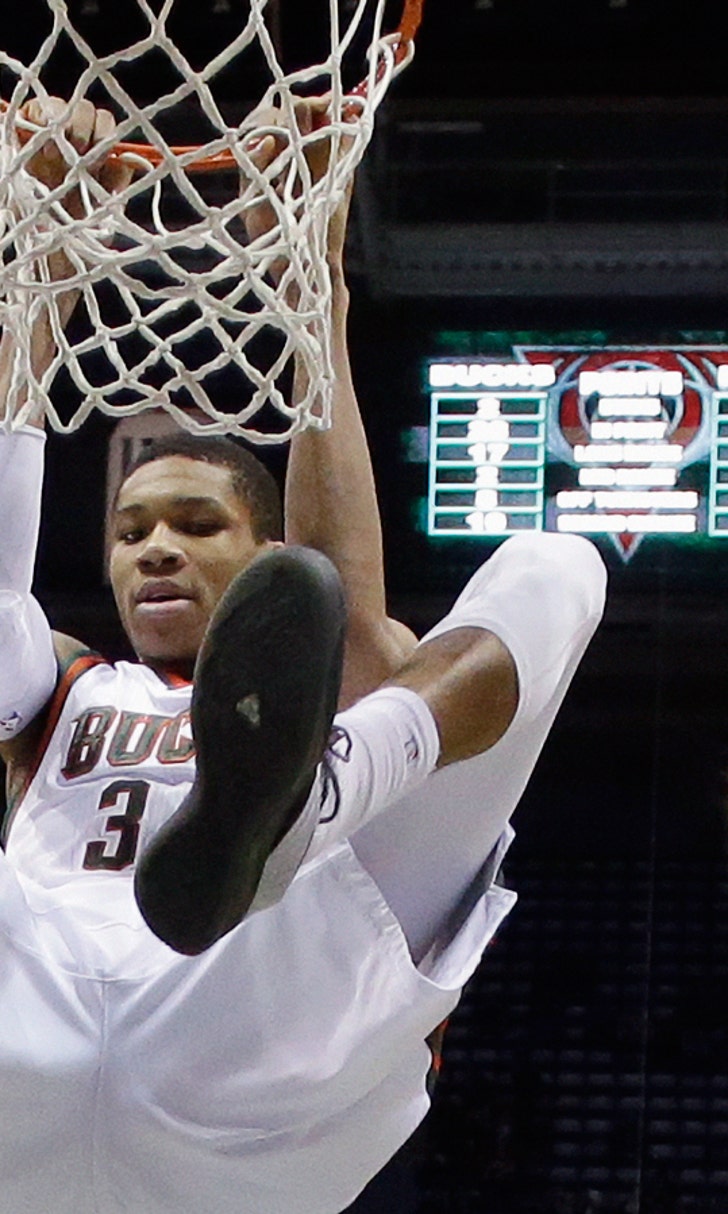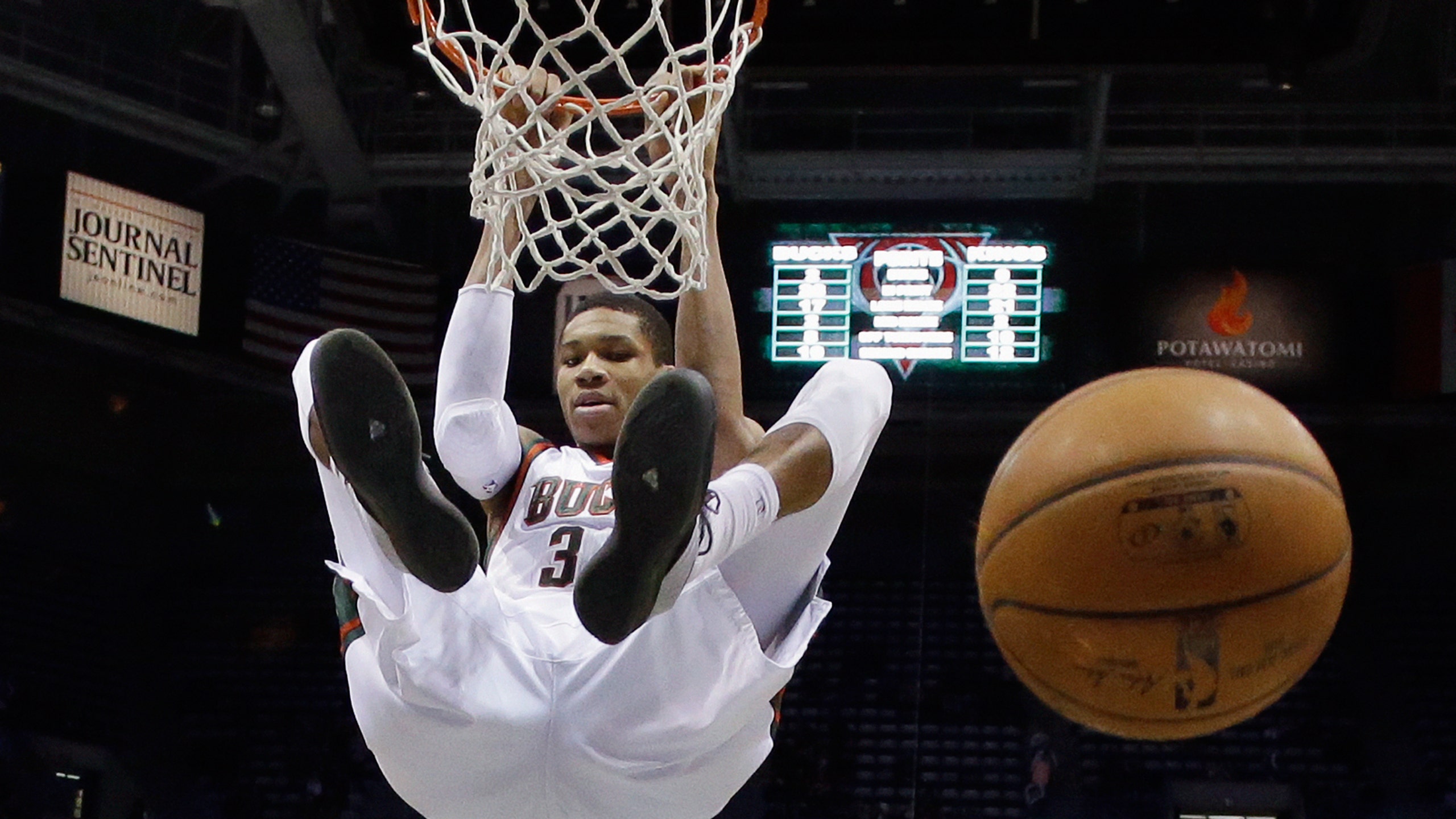 Bucks surge into All-Star break with noteworthy win
BY foxsports • February 12, 2015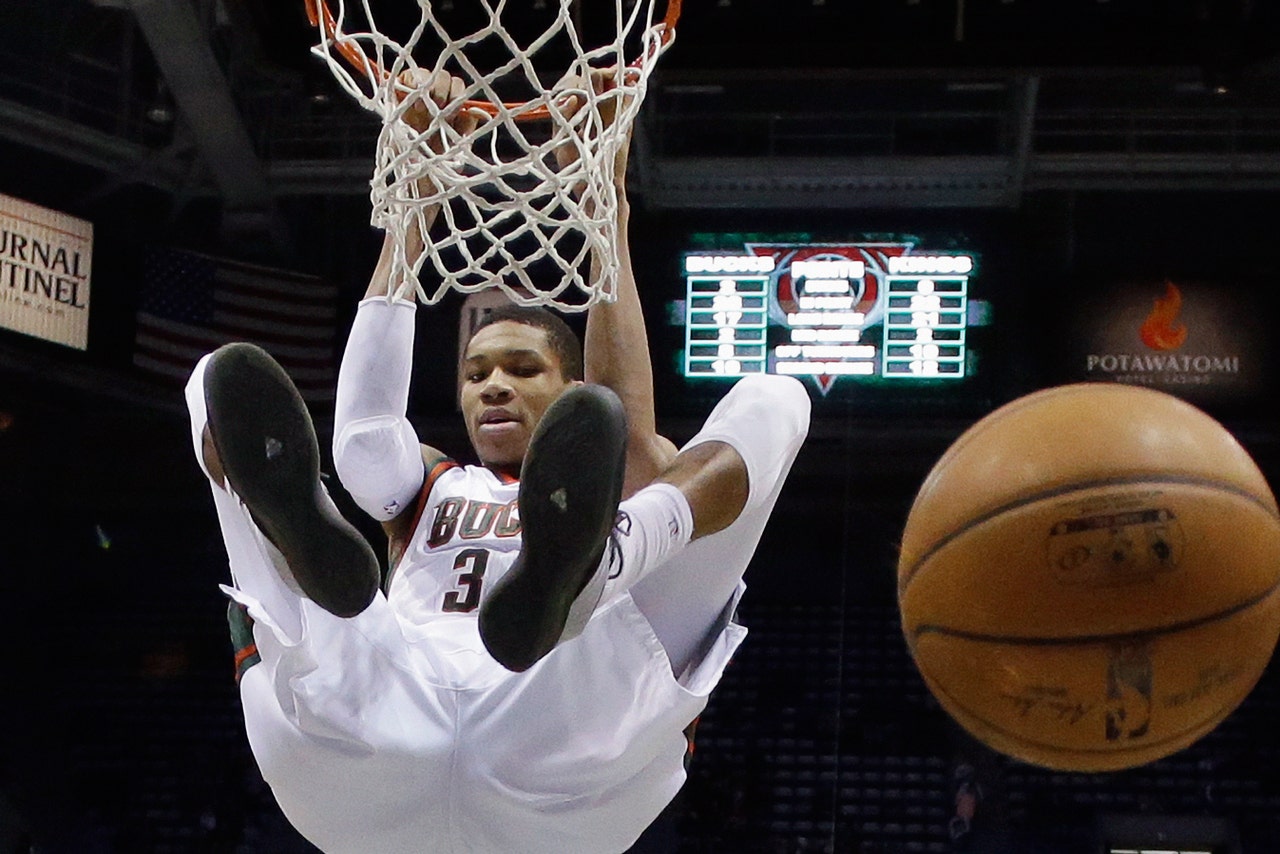 MILWAUKEE -- After beating the Toronto Raptors on Feb. 2 with just eight available players during the second half, the Milwaukee Bucks set their sights on reaching 30 wins by the All-Star break.
Getting to 30 wins meant winning five of six heading into the eight-day layoff.
The Bucks became the first team in NBA history to double their previous season's win total by the next All-Star break with a 111-103 victory over the Sacramento Kings at the BMO Harris Bradley Center on Wednesday.
Milwaukee has won eight of its last nine games and heads into the All-Star break with 30 wins for the first time since the 1990-91 season.
"I don't like to say 'gratifying,' but I'm happy right now with what we're doing as a team and how we're playing," Bucks point guard Brandon Knight said. "We just want to continue to do that. We did a great job of finishing off the break.
"Now we need to get some rest and be able to do the same thing once we get back here to Milwaukee."
The challenge facing the Bucks on Wednesday was ignoring the distraction of looking ahead to looming vacations, especially with the Sacramento Kings (18-34) as their opponent.
The Kings had everything stacked against them, as the coaching drama of the past few weeks is expected to end in the coming days with interim coach Tyrone Corbin being replaced by former Bucks coach George Karl.
Sacramento could have laid down, while Milwaukee could have overlooked an inferior team. Neither happened. The Bucks led by nine points at halftime only to watch the Kings pull to within 66-64 midway through the third quarter.
Milwaukee closed the third on a 17-2 run, as Brandon Knight scored the final 10 points of the quarter to give the Bucks an 87-69 lead.
On their way to a franchise-worst 15-67 mark, the Bucks were 9-43 at the All-Star break last season. They have now won eight games over the last 15 days and are on a six-game home winning streak.
"It means a lot, man," Bucks center John Henson said. "It means a lot for the city, for the team, organization, owners, coaches. I was here for (Scott) Skiles and coach (Larry) Drew, and it's nice to kind of be on the winning side, to kind of see things change and see the culture change. Other guys haven't seen as much as I have."
Seven players on Milwaukee's current roster -- Giannis Antetokounmpo, Khris Middleton, Brandon Knight, Damien Inglis, Kendall Marshall, Johnny O'Bryant and Jabari Parker -- weren't born the last time the Bucks had 30 wins at the All-Star break.
"It is a great feeling," Bucks guard O.J. Mayo said. "A lot of hard work went into that, obviously. We're not content. We still have business to handle during the second part of the season, but it is a pretty cool half of the season celebration.
"Thirty wins is great. It is good for our fans and good for the community to see that we've picked up things around here. But we want to get better."
The Bucks have found a way to win 30 games despite a combined 201 games lost by players due to injury, illness or suspension.
No. 2 overall pick Jabari Parker tore his ACL on Dec. 15, while starting center Larry Sanders hasn't played since Dec. 23. Milwaukee hasn't missed a beat, despite sometimes playing with as few as eight available players and often times needing to use an undersized lineup.
"It goes to the guys in the locker room who put on the uniform every day," Bucks coach Jason Kidd said. "They believe in one another, they believe in the coaches, they believe in management and ownership. You get the vibe that there's a lot of positive stuff going on in the locker room and the arena. Those guys truly believe in one another.
"You can see in the stat line, there are always five or six guys in double figures. The guys are sharing the ball. I think they really believe in team. It isn't just one guy we count on, we count on everybody and I think they really believe that."
Bayless injured: Milwaukee played most of Wednesday night's game without backup point guard Jerryd Bayless, who suffered a strained right hip flexor during the second quarter.
Bayless played just five minutes before he was forced to commit a personal foul to stop play in order to leave the game with 7:05 to play in the first half.
"He was chasing the ball down and felt like he strained his hip flexor," Kidd said.
With Bayless out, Jorge Gutierrez played 15 minutes and finished with five points and three assists.
Follow Andrew Gruman on Twitter
---