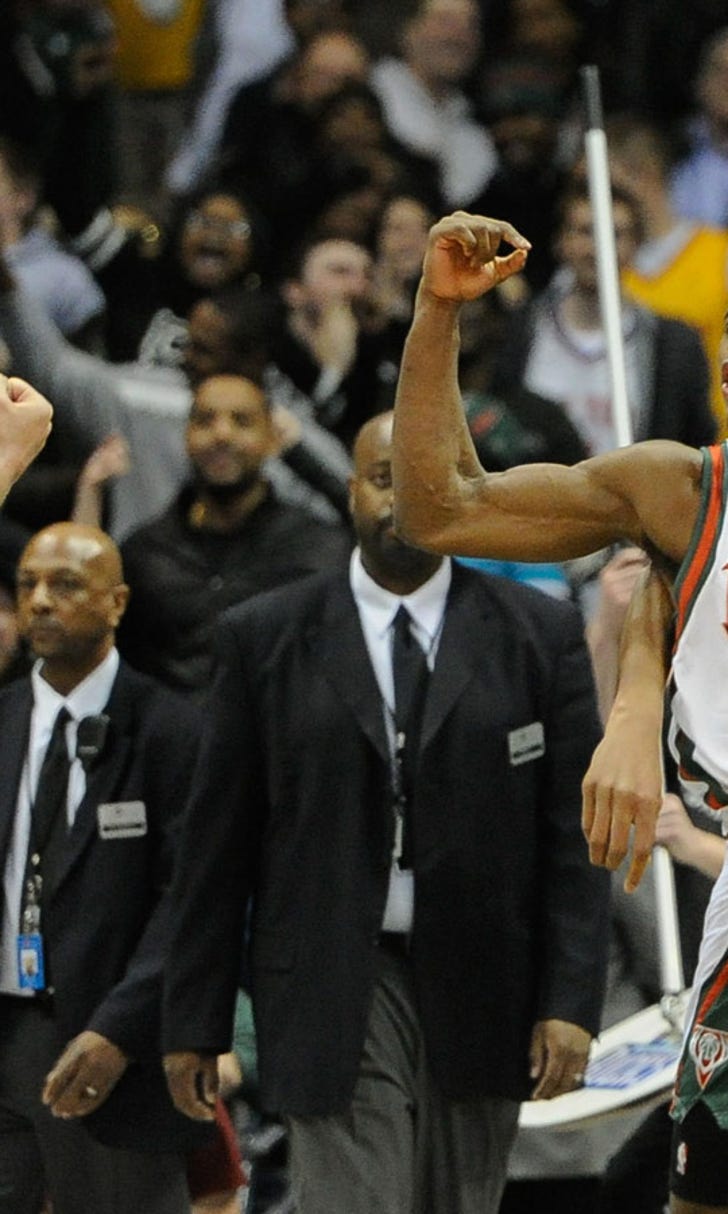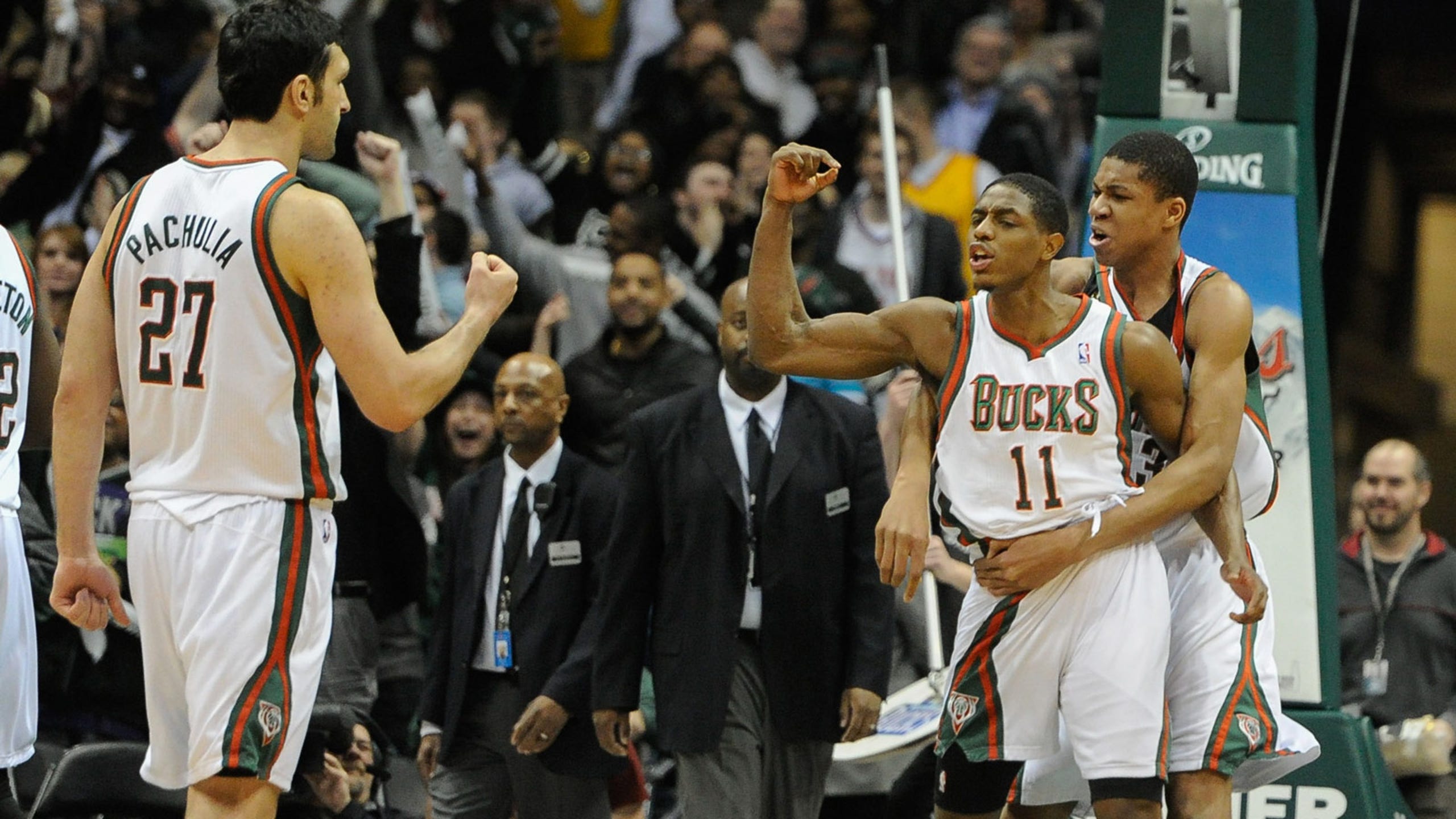 Bucks display rare poise in last seconds of win
BY foxsports • February 4, 2014
MILWAUKEE -- Late-game situations have haunted the Milwaukee Bucks in the close games they have been in this season. Poor execution and costly mistakes have been standard.
Maybe not having any timeouts is the answer.
Having to use their last one up as a mandatory timeout with 2:59 to play, the Bucks scored on six of their last seven possessions, including a Brandon Knight 3-pointer with 2.3 seconds left to put Milwaukee ahead.
Carmelo Anthony's desperation 3-point attempt at the buzzer was no good, snapping the Bucks' six-game losing streak with a 101-98 victory over the New York Knicks at the BMO Harris Bradley Center.
"That's his shot," Bucks forward Khris Middleton said of Knight's game-winner. "He loves that little step-back, half-dribble 3. We all have confidence that he's going to make the shot in that situation and he did."
The Bucks couldn't call timeout after Anthony tied the game on a 3-pointer with 19.4 seconds remaining. Knight slowly brought the ball up the floor, used a couple of dribbles to get to the right wing and drilled the triple over Raymond Felton.
"They had been switching pick-and-rolls all night and the shot clock was winding down so I just didn't want to get into a situation where they could trap me or just switch," Knight said. "I walked it down, got into a rhythm and was able to knock down the shot."
There have been times this year where both of those things have happened to Knight and poor possessions were the result. This time he decided to take the jumper.
"It's happened a couple times in late-game situations where I'll call a screen and they either trap it or switch it and it puts our team in a bad situation," Knight said. "I remembered that and I think that's why the play was successful tonight."
Starting with a Giannis Antetokounmpo reverse layup around Tyson Chandler off an offensive rebound, the Bucks were able to average 2.0 points per possession over their final seven times with the ball. New York tied the game four times in the last 3:44 of the game only to watch Milwaukee tie the game on its next possession.
The Bucks had to use two timeouts in the third quarter because players were trapped, leaving Bucks coach Larry Drew essentially with none left, as his final one had to be used as the mandatory fourth quarter stoppage.
"To be honest with you, as a coach, that's a situation that you don't like to be in," Drew said. "But I just really felt that I had to use our timeouts the way I used them to try and keep the game where we would be in a good position."
Milwaukee entered Monday just 1-4 in games decided by three points or less, with those four losses coming down to the standard lack of execution late. One late-game possession broke down so bad earlier this year that Larry Sanders ended up taking the tying 3-point attempt.
But things were different against the Knicks. The Bucks moved the ball well and were on the attack down the stretch.
"I think my teammates did a great job tonight just persevering," Knight said. "They made a lot of big shots down the stretch and our habits in the past have been to hang our head and think 'here we go again' but we did a great job tonight fighting through it and seeing it through to the end."
From Antetokounmpo's parents watching him play in the NBA for the first time to the arena hitting decibels it hadn't previously reached this season when Knight's shot went in, Milwaukee had a feel-good night for the first time in quite some time.
"We were able to fight tonight," Knight said. "We haven't seen it much but if you can see it at this point of the season -- especially against a team that's been playing well themselves -- we're taking a step in the right direction.
"You can see the progression that our team is taking steps forward and doing a better job in late-game situations."
Butler injured: Bucks forward Caron Butler left the game in the fourth quarter with a sprained left ankle and did not return.
Butler came down awkwardly after taking a jumper after the shot clock had expired with 8:44 to play. He stayed on the ground for a few moments before needing to be helped to the locker room by his teammates.
The veteran forward was walking gingerly on the ankle in the locker room after the game, but he was seen leaving the arena in a wheelchair.
Pumping up the crowd: Nobody fouls out like Larry Sanders. The Bucks center was called for three fouls in 58 seconds during the fourth quarter and made sure everyone knew he was leaving the game after the sixth.
Sanders emphatically waved his hands in the air to try to get the crowd into the game, including high-fiving a few people sitting in the front row. The officials seemed close to whistling a technical foul but instead told Drew to calm his player down.
A technical foul would have been huge in that situation, as Milwaukee led 89-87 with 2:59 left.
"I understood what he was trying to do, but I don't think in that situation that's a smart thing to do," Drew said. "I had a conversation with the official afterward and we can't do that. We can't allow that to happen.
"I'll talk to (Sanders) about it. We had a delay and I don't know what the official could have done in that situation, but they did inform me not to allow that to happen."
Follow Andrew Gruman on Twitter
---