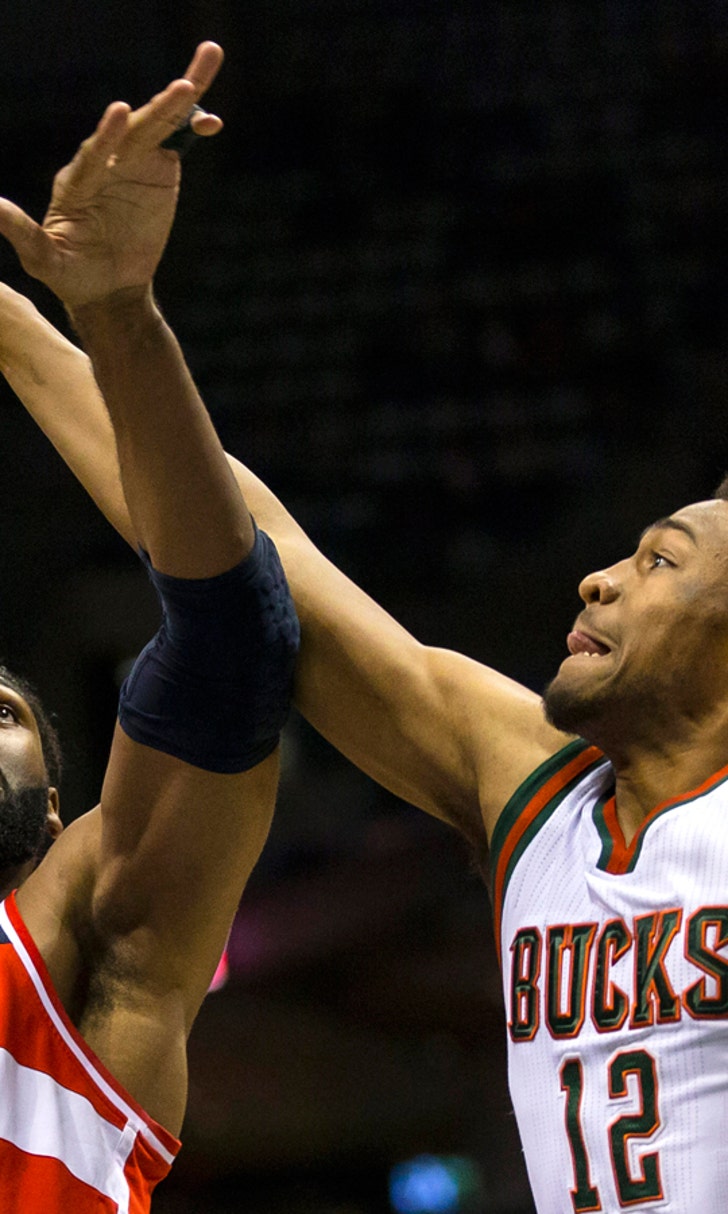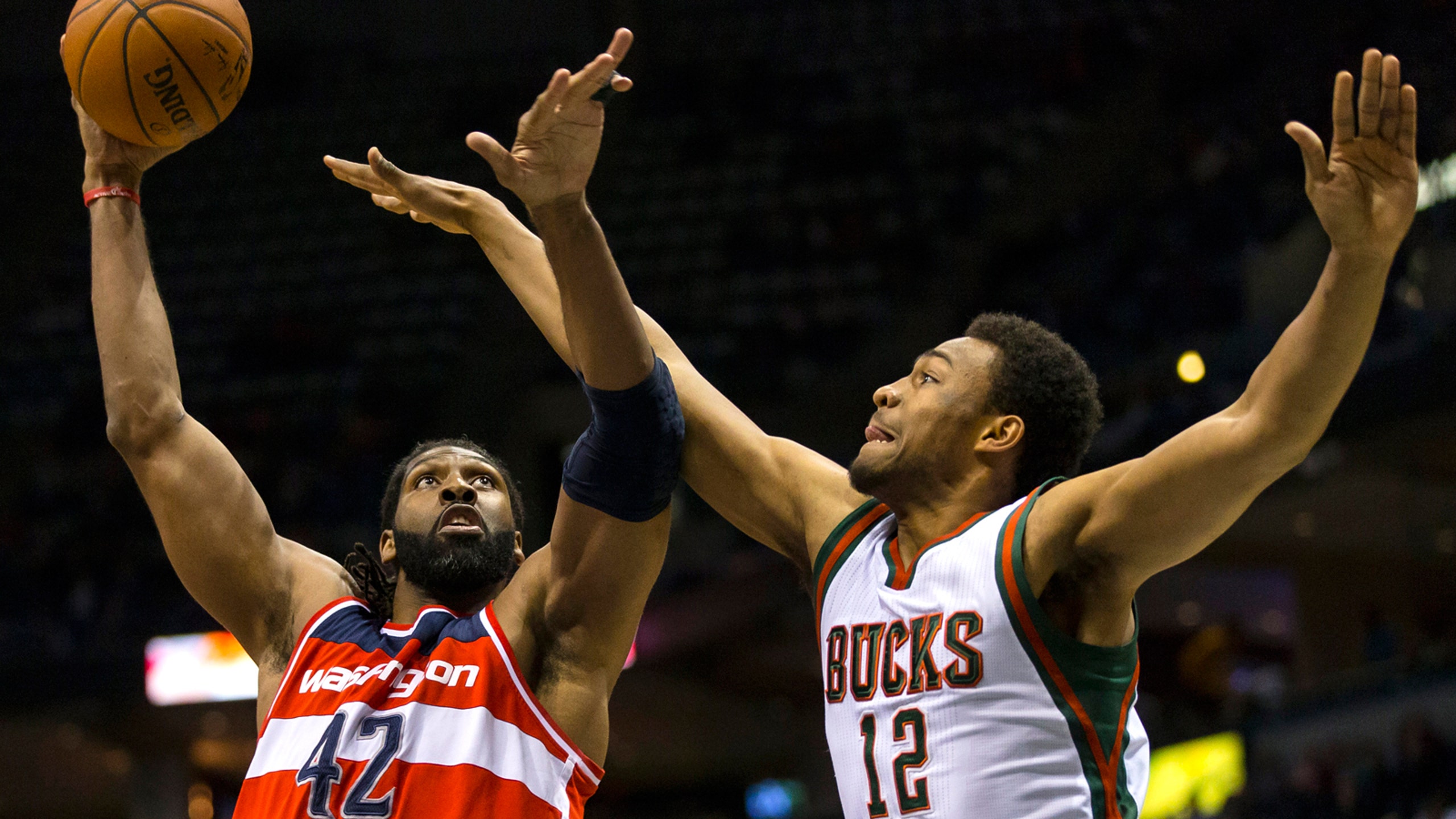 Bucks bullied around on boards in loss
BY foxsports • November 23, 2014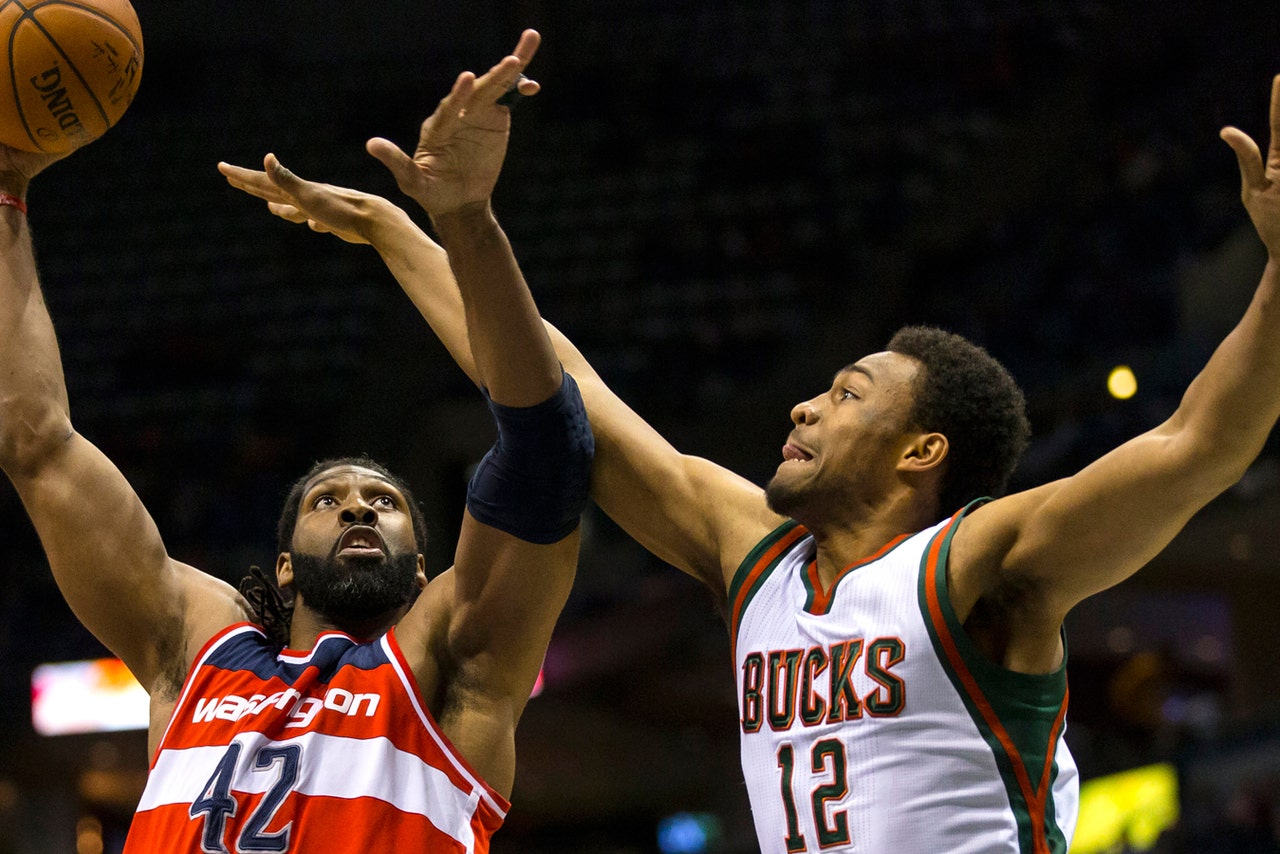 MILWAUKEE -- For a quarter and a half Saturday night, the Milwaukee Bucks appeared ready to put Friday night's 42-point loss behind them in a hurry.
But one of the contributing factors to the debacle in Toronto eventually bit the Bucks against another one of the Eastern Conference's top teams.
The Bucks couldn't keep the Raptors off the glass Friday and let the Wizards turn Saturday's game around thanks in part to 29 second-chance points.
Washington outrebounded Milwaukee, 53-36, to rally from a 15-point deficit to run away with a 111-100 victory at the BMO Harris Bradley Center.
"Yeah, I think effort," Bucks coach Jason Kidd said when asked if he saw similar things cause the rebounding issues both Friday and Saturday. "Last night we got outrebounded on both ends, both offensively and defensively. Tonight was the same way.
"They just kind of bullied us under the boards and got second and third opportunities, which I thought turned the game around in their favor."
Sparked by a strong first quarter from Giannis Antetokounmpo, the Bucks led by seven after one. Milwaukee turned seven first-quarter turnovers committed by Washington into eight points and were active in the passing lanes.
A three-point play from Ersan Ilyasova extended Milwaukee's lead to 40-25 with 7:09 to play in the first half. Trailing 50-40 with 1:27 left in the half, Washington was able to trim the deficit to 52-47 at the break.
The Bucks missed their first 10 shots in the third quarter, and the Wizards capitalized to rattle of a 16-2 run to lead 63-54. Washington's spurt was 23-4 from the end of the second quarter to the 6:29 mark of the third quarter.
"We started with a lot of energy at the beginning of the game and we didn't carry those things into the second half," Ilyasova said. "They did make a run on us in the second half, and we got away from what we did in the first half. They made a lot of tough shots. But each and every night, you have to be ready. It's 48 minutes. We should have come out with more energy in the second half, been smarter.
"You can't make the excuse of back-to-back games, but it is what it is, you know? It comes with experience, and we just have to learn from it. Moving forward, we have to know what we need to do to win the games."
Milwaukee was able to stay within four points heading to the fourth quarter, but the game completely swung in Washington's favor following a delay of game technical foul on the Bucks.
The Bucks received their delay of game warning for being late to take the court following pregame introductions. That came back to bite them when Antetokounmpo was called for a delay of game when he grabbed the basketball after his dunk cut Washington's lead to 79-74 with 10:15 to play.
Including Bradley Beal hitting the technical free throw, Washington scored six points in 48 seconds to turn a five-point lead into an 85-74 advantage. The Bucks wouldn't get closer than to within seven the rest of the way.
"We weren't able to sustain the energy," Bucks center Larry Sanders said. "It came in spurts. But this is a very good team. The last two games have been against the best two teams in the Eastern Conference. It was to good to see where we are at with it and what it really takes to win."
A better rebounding effort will be required for the Bucks to beat the top teams in the league. Milwaukee was crushed on the glass, 57-30, by Toronto on Friday, leaving the Bucks outrebounded, 110-66, over their last two games.
After Jonas Valanciunas collected four offensive rebounds himself Friday, Wizards center Marcin Gortat had six offensive rebounds Saturday.
"These are pick-and-roll teams," Sanders said of the Raptors and Wizards. "A lot of times that can cause mismatches on the boards, especially on the weak side. The ball comes off the weak side a lot. It is kind of hard for the guards to get down and get those big guys out of there.
"We've played against a lot of good offensive rebounding big guys the last two nights. We just have to keep chipping at it to help that handicap, maybe get more guys to load up on that side. It is definitely an issue."
The Bucks allowed an alarming 59 second-chance points in two games, recording only 18 themselves. Milwaukee entered 22nd in the league in allowing offensive rebounds at 11.3 per game, a number that will go up after Washington collected 20.
"Can't win," Kidd said. "You can't win when you give up that many second-chance points."
Taken away: Bucks forward John Henson knew something was wrong following the game Friday when he glanced at the final box score and saw he was credited with a made 3-pointer.
It turns out he was right.
The NBA issued a correction to the statistics from Friday night's game in Toronto, as Henson was incorrectly credited with a 3-pointer on a shot made in the paint. That meant Milwaukee really lost 124-82, but Henson also lost his first and only career made 3-pointer.
"I was looking at the box score and I saw they gave me a 3-pointer," Henson said with a smile. "I thought they were just going to let it go. But it's all good.
"I think they would have figured it out, though."
Sitting a locker over, Bucks center Zaza Pachulia chimed in to jokingly praise Henson for his honesty.
"I have to give credit to him," Pachulia said. "He said, 'It's not me.' He's an honest guy. He could have been quiet, but he said, 'You know what? It wasn't me.'"
Follow Andrew Gruman on Twitter
---