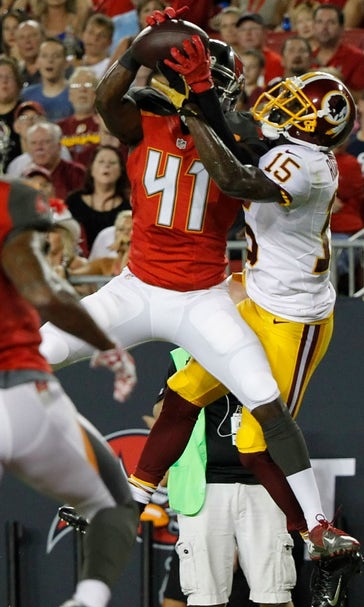 Buccaneers hope to snap five-game losing streak in Washington
November 15, 2014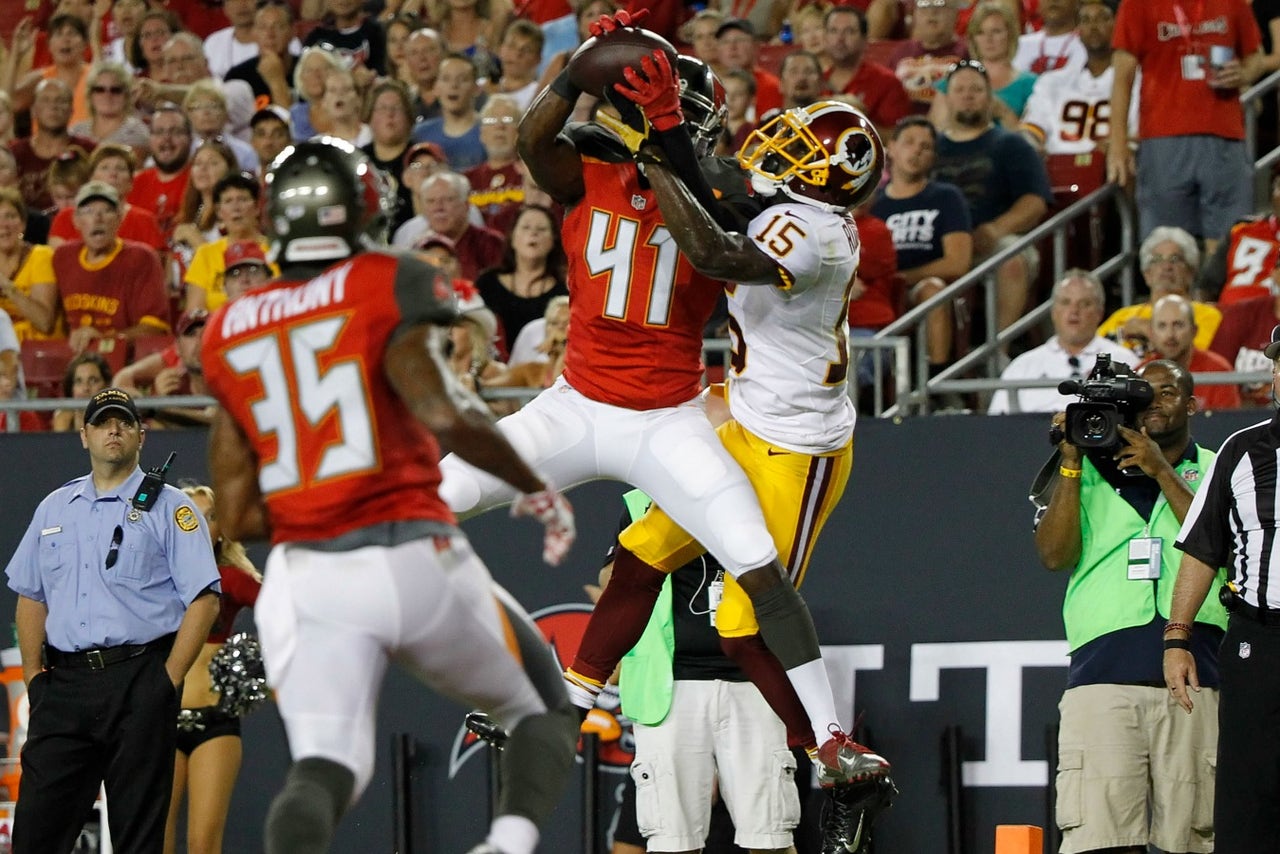 TAMPA, Fla. -- Six games, six losses?
The Tampa Bay Buccaneers carry a five-game losing streak to FedEx Field in a matchup between underwhelming teams and struggling first-year coaches. Lovie Smith's Bucs had higher ambitions than 1-8 before a host of problems contributed to their slide, and Jay Gruden's Redskins have suffered from inconsistent quarterback play and reports of locker-room dissension on their way to 3-6 in a top-heavy NFC East. 
Smith insists progress has been made, but about the only consistent thing about his team is that it is sloppy. A switch to Josh McCown last Sunday failed to lead to a victory over the Atlanta Falcons at Raymond James Stadium. As each week passes without victory No. 2, a 1-15 finish looks more possible. 
"I know a 1-8 team is supposed to be really down and just -- it is hurting that we're there, but guys are showing up," Smith said. "It's one thing to be getting blown out, (but) we see that we're close, and I think that that helps. Every man is just trying to do a little bit more. You've seen the guys in the locker room, they're staying the course is what they're doing, and eventually, it will change."
The sooner, the better.
Here's a closer look at the Bucs' Week 11 matchup against the Redskins ...
MATCHUP TO WATCH
Robert Griffin III vs. Tampa Bay's defense
Which RG3 will the Bucs see? His return against the Minnesota Vikings in Week 9 left plenty to be desired. He completed 18 of 28 passes for 251 yards with one touchdown and one interception. He's 1-2 for the season after missing significant time with a dislocated left ankle, and questions remain if he's a proper fit for the offensive scheme run under Gruden. The Bucs' pass defense is terrible -- it ranks 31st in the NFL by allowing an average of 277.1 yards per game -- so Griffin will have opportunities to exploit weaknesses in the secondary. If he doesn't, prepare for more grumbling in the District. 
TRENDING UP
Redskins: As much as Washington has struggled this season, the Redskins pose the potential for a productive offense. DeSean Jackson is 10th in the NFL with 784 yards receiving on 36 catches. Washington ranks sixth in the NFL in passing offense (282.3 yards per game) and seventh in total offense (386.9 ypg), but most of those numbers were produced without Griffin. Tampa Bay's defense will bend. Will it break?
Buccaneers: Another week, another chance for wide receiver Mike Evans to shine. The rookie has emerged as one of the few bright spots for Tampa Bay's offense this season. The Texas A&M product leads the Bucs in receiving with 585 yards and five touchdowns on 39 catches. He has combined for 249 yards receiving the past two weeks. The issue of whether McCown can connect with him is another matter, though. The Redskins rank seventh in the NFL in pass defense by allowing an average of 222.9 yards per game. 
TRENDING DOWN
Redskins: Are locker-room politics a real problem at Washington's facility? Few quarterbacks have been dissected as closely as Griffin since he entered the league, and it has reached a point where only winning can dial back the talk of dissension. Washington has a prime chance Sunday to receive a rare dose of good news in what has become a disappointing season. Griffin, more than anyone, can use a victory to earn some trust. 
Buccaneers: How about showing an ability to hold a lead? Tampa Bay squandered another fourth-quarter edge in losing to the Falcons last Sunday. Washington is vulnerable, so there's a chance that the Bucs will enjoy a cushion in the final quarter. Too often, Tampa Bay has failed to make the stops necessary late. Sunday could prove to be the exception to an all-too-familiar rule. 
DID YOU KNOW?
Evans is the Bucs' first rookie to post consecutive games with at least 100 yards receiving (he had 124 against the Cleveland Browns in Week 9 and 125 against the Falcons in Week 10). 
QUOTEBOARD
"Discouraged? Disappointed, very disappointed. Discouraged? Again, I'll go back to disappointed in where we are right now." -- Smith, when speaking Monday about his thoughts on where his team stands following its 1-8 start. Tampa Bay started 0-8 last season before closing 4-12.
"I shouldn't have posted it. We're in the middle of a 1-8 season. I can see why people were upset with it for multiple reasons, and the last thing I want to do is put myself in front of the team in any way. I want to let my play do the talking." -- Tight end Austin Seferian-Jenkins, when speaking Monday about his decision to post a picture of him doing the Captain Morgan pose in the end zone Sunday on Instagram. Smith called the unsportsmanlike penalty a "teaching moment."
"I don't think we need to say that, there's no need for that. You've got three good ones and you get guys in third-and-one situations who can carry the flag and you've got a guy who can carry it in certain situations, that's a great thing to have. I think a lot of teams wish they had that kind of flexibility." -- Quarterbacks coach Marcus Arroyo, when speaking Wednesday about how there's no need to place a "bell cow"label on any of the Bucs' running-back options. Smith had dubbed Martin as the Bucs' bell-cow running in September. 
"I've gotten a few texts and stuff like that. You don't think about it, but people, I think -- it was just, in that moment, you guys were there. For me, after the fact, to have people reach out is cool. For people to get it, to understand, that they feel where you're coming from and how bad it hurts. So, yeah, people have reached out." -- McCown, when speaking Wednesday about reaction he received to crying at the podium after the Bucs' loss to the Atlanta Falcons last Sunday. He wept after dropping to 0-4 as a starter with Tampa Bay.
LOOKING AHEAD
The Bucs play at the Chicago Bears at 1 p.m. Nov. 23. Tampa Bay is 18-36 all-time against Chicago, the last meeting a 24-18 victory by the Bears on Oct. 23, 2011 in London.  
You can follow Andrew Astleford on Twitter @aastleford or email him at aastleford@gmail.com.
---
---