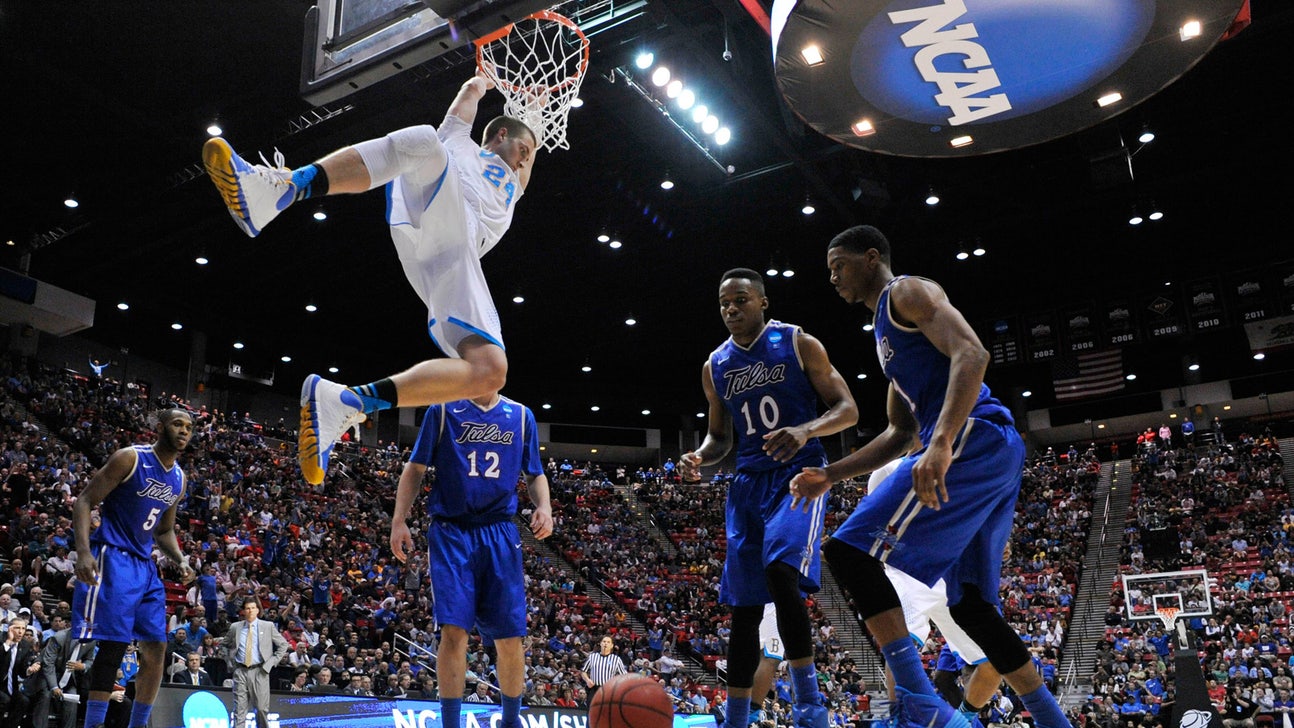 Bruins dodge upset, aim toward prominence
Updated
Mar. 4, 2020 3:40 p.m. ET

SAN DIEGO -- The Bruins were forced to wait for every game in the first two rounds to end for them to finally play their first of the NCAA Tournament Friday night.
UCLA, the No. 4 seed in the South Region, saw Dayton upset its in-state foe in Ohio State, third-seeded Duke get toppled by little-known 14 seed Mercer, and just minutes before taking the court at Viejas Arena, they waited in the locker room as just outside postseason darling 5 seed VCU was taken down in overtime by No. 12 Stephen F. Austin.
They made sure their opponent didn't get the chance to do the same.
The 20th-ranked Bruins (26-8) secured their position in the third round with a 76-59 win over Tulsa in the final game of the second round in San Diego. It was their first NCAA Tournament win since 2011, a big step in the direction of returning the program to postseason prominence.
"This is the hardest one, in my opinion," said guard Kyle Anderson. "You see a lot of higher seeds go down in the first game just because of the jitters of being in the NCAA Tournament and being on national TV. So I think we came out a little stagnant, but once we picked up our level and got it together we were good."
UCLA's NCAA 3rd Rd. game vs. Stephen F. Austin will tip at 4:10pm PT Sunday. TV: TBS. #marchmadness

— UCLA Basketball (@UCLAMBB) March 22, 2014
It wasn't a flashy, high-scoring blowout - although local product Norman Powell put on a show for his hometown with a few dynamic dunks - but the Bruins stayed focused and pushed the Golden Hurricane (21-13) away every time an attempt was made to go on a run. 
"I thought Tulsa did a great job in the first half, in particular, and we got out of rhythm," said head coach Steve Alford. "We didn't make shots we normally had been making but for forty minutes, our defense was really consistent, I thought."
The defense held Tulsa to less than 40 percent shooting mark from the field in the first half and an even lower 36.8 for the game and effectively took the ball away from their leading scorer in James Woodard after his hot start.
"In transition he got away from us in the first half and we talked about that he was on pace for a 28-point night," Alford said. "We felt like we wanted to somebody else to have to score."
It was Powell that made a key play to end Tulsa's upset bid.
The Hurricane chipped away at UCLA's lead, closing the gap to seven, then six and finally five before a jumper by Bryce Alford extended their lead again.
But with 4:11 left and UCLA up by seven, Powell saved a wild outlet pass from going out of bounds, lowered his shoulder into defender while driving the baseline and laying it in on the contact. He hit a free throw to convert the three-point play and increase the lead back up to 10.
It was the dagger for the for Golden Hurricane, who couldn't lock down the Bruins defensively in the final minutes. 
Powell finished with 15 points and four rebounds. 
"I thought it was a great energy boost for our team being able to make that play," he said. "Coach emphasized getting out-of-bounds stops and that's what we did and I was able just to make a good play and the and-one and and lift our team."
Another team capable of toppling a giant awaits them Sunday in the third round, when they will meet with the underdogs from Stephen F. Austin.
"I remember that we could hear the crowd (from the locker room) and we had no idea what was going on," said guard Bryce Alford. "So it's going to be a really fun atmosphere but we'll be ready."
---