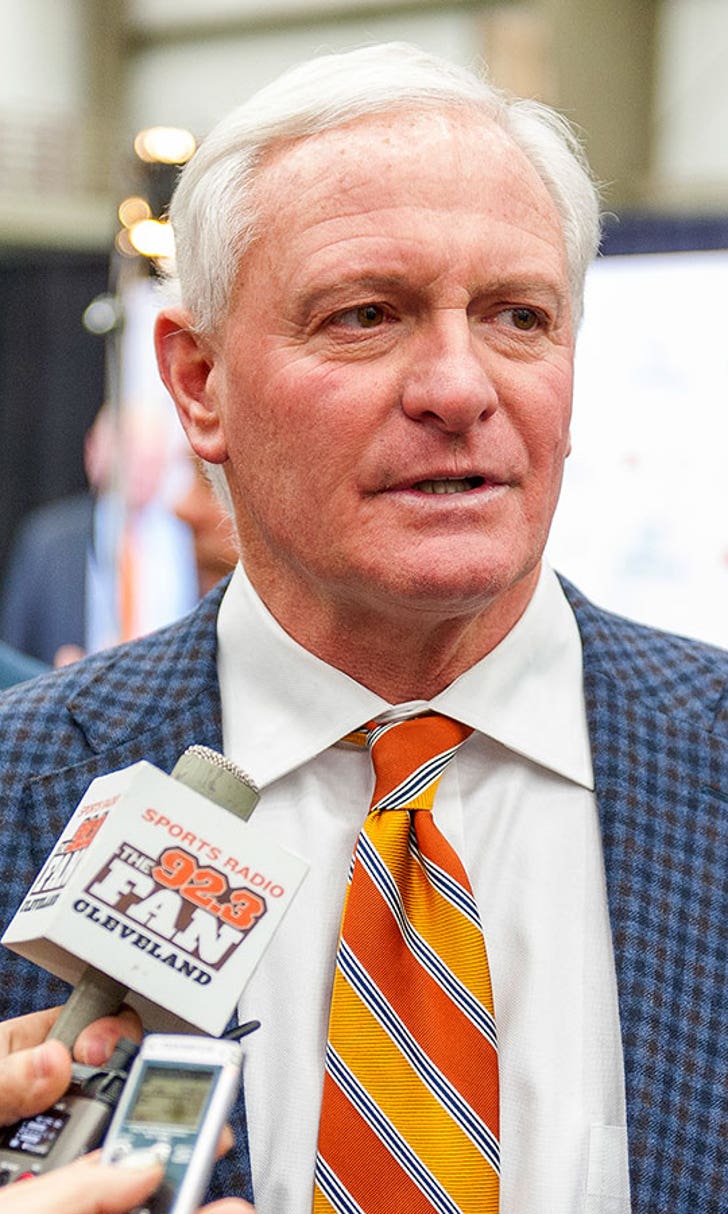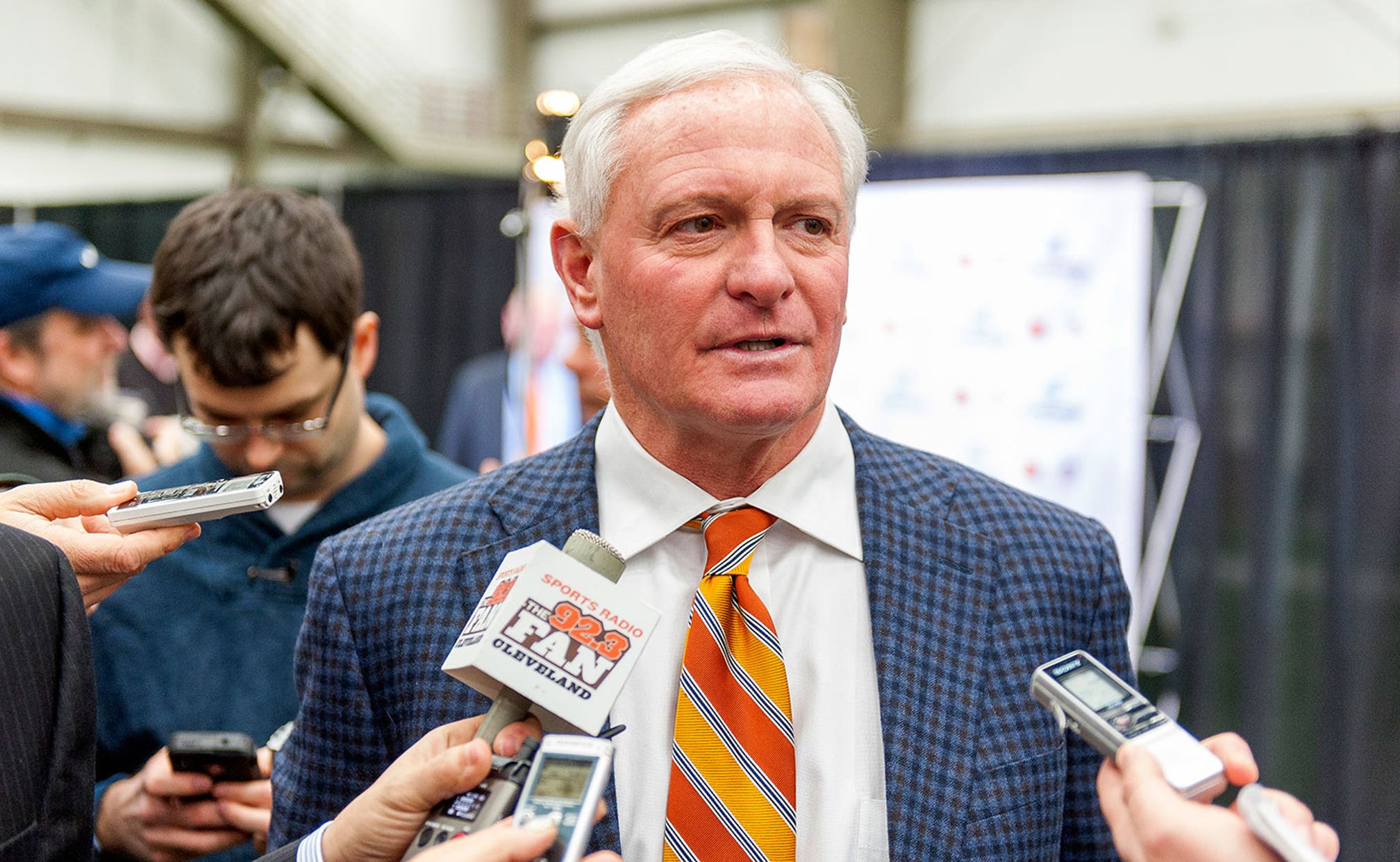 Browns owner Haslam: GM Farmer has 'my full support'
BY foxsports • February 11, 2015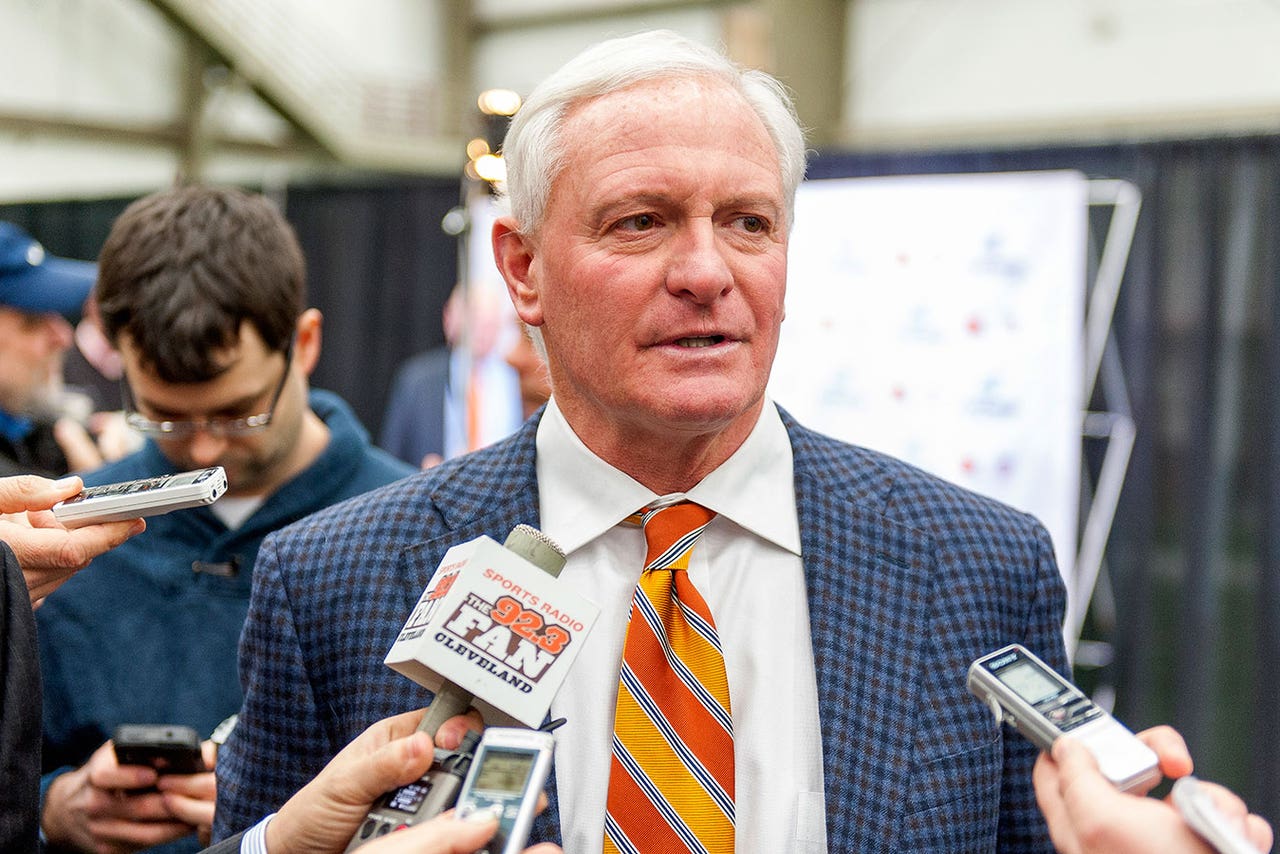 BEREA, Ohio -- Browns owner Jimmy Haslam made it abundantly clear in a 50-minute session with local beat writers that GM Ray Farmer is going nowhere.
"There's obviously an NFL investigation going on and contrary to a lot of rumors out there the NFL has told us they haven't made any decisions," Haslam said. "So I think it would be inappropriate for me to comment on the investigation, except to say this: I think Ray Farmer knows and has said he's made a mistake sending those texts.
"Ray feels terrible about it," Haslam said. "Ray's a guy . . . and I've known a lot of people, and Ray has utmost integrity. I think it's important for you all to know that Ray has the organization's and my full support and despite he made a mistake here, it doesn't affect his standing with the Browns -- and he is totally focused on doing what we're going to do in free agency and more importantly, getting our organization ready for the draft."
Haslam was asked if anything were to come out about the text investigation that could change his mind about firing Farmer. He said it would have to be "extraordinary".
Haslam was asked why he is standing behind Farmer.
"At the end of the day, it's my decision," he said. "I think you have to look at the individual's body of work and we're comfortable with Ray's body of work. Very comfortable.
"Ray's smart," he said. "He works hard. I think he understands football. He's been in football all his life. He relates extremely well to players. He knows it not only from a personnel standpoint but how a game should be managed. I think he's an exceptional human being. As bad as I hate this (text situation) for the organization, I hate it more for Ray Farmer. I can tell you it eats him up every day. I'm very comfortable with the job he's doing."
In the session, Haslam was asked about the story last week from CBS' Jason La Canfora saying the Browns were "dysfunctional".
Haslam refuted the story.
"What was depicted in that article that it's dysfunctional, that people wanted out of here, couldn't be further from the truth," Haslam said. "I don't know everyone that works here, but those I know enjoy coming to work.
"Unfortunately some people, as far as I know, that haven't been in the building depicted a far different situation than what we feel every day when we come here to come to work," he said. "We feel great about what we've assembled and Ray and Mike work extremely well together."
Haslam pointed out that just a year ago on Feb. 12 is when the Browns changed their hierarchy by letting Joe Banner and Mike Lombardi go and placing Farmer as general manager.
Haslam said the "dysfunctional" story took him by surprise.
"I feel very good about where the organization is headed," Haslam said. "That's why we felt sucker-punched (by the article). That's not what we're seeing. I also accept until we win we don't have any credibility, any equity with you. Until we can prove that we can win and win consistently, we accept that."
Haslam said he was most concerned that the story could affect Farmer and head coach Mike Pettine.
"I think all of us don't like stories like that," Haslam said. "My main concern is it would distract people from their jobs. My big concern is it would distract (Pettine) from time with (offensive coordinator) John DeFilippo and Ray getting ready for the combine. It doesn't depict at all, at all what goes on here."
Other topics discussed by Haslam in the session:
Q: Is the learning curve of being an NFL owner bigger than you expected?
Haslam: "I think I've said on a lot of occasions it's a learning curve and it has been for me. Yes, we had an association with the Steelers, but we weren't in the building every day. Here's how I view my role for the organization. It's a steep learning curve. My job is to hire the right people and hold them accountable and that's what I spend my time doing."
Q: Are you happy with last year's draft?
Haslam: "I encouraged Ray before his first draft to be aggressive in his first draft. Don't be afraid. We're in this for the long haul and I get why you'd roll your eyes, but I feel really good about the people we've put in place."
Q: Did the business side have any affect of the drafting of Johnny Manziel?
Haslam: "That's crazy, that's crazy."
Q: Is Brian Hoyer returning a possibility?
Haslam: "I think we said we're going to look at every option at quarterback. Brian's a potential option at quarterback."
Q. Is there a possibility that you would bring in someone between you and Farmer?
Haslam: "That's a great question and we're comfortable the way we're set up. I like having the direct dealing with Mike, with Ray and with Alec (Scheier, team President) and we're comfortable with the structure. I think we've grown a tremendous amount in this last year and we have more growth to do, but I get it that we have to win to convince (the media) and the fans. We've solely committed to winning."
Q: Can you afford to draft players with questionable character issues after last year's draft?
Haslam: "I think every year you have to have a heightened awareness of what kind of character guys have. These are big assets to the organization, particularly your early round picks. We're going to do everything we can to check these people out. I would say the same things if our first two picks last year were (Joel) Bitonio and (Chris) Kirksey. We're going to spend a lot of time checking out their backgrounds."
Q: The CBS story said that you and President Alec Scheiner watched film with Mike Pettine every week. Is that true?
Haslam: "I think it's important, despite what was reported, that it was Alec sitting in with Ray. You have to understand that. I've never sat in on the meetings, but it's not Alec critiquing Ray, but Alec asking Ray what was good and bad, who played well and who played poor, the same things I ask Mike and Ray."
Q: Are you as committed to winning as you said your were when you first became the owner of the Browns?
Haslam: "I can assure you that nobody wants to win in this whole Northeastern Ohio more than me, and that's saying a lot because we have some phenomenal fans, phenomenal fans. I'll say this: We do a lot of polling of our fans and their fan experience -- there was a substantial increase (this year), but we had some great responses from our fans for the eight home games."
---
---