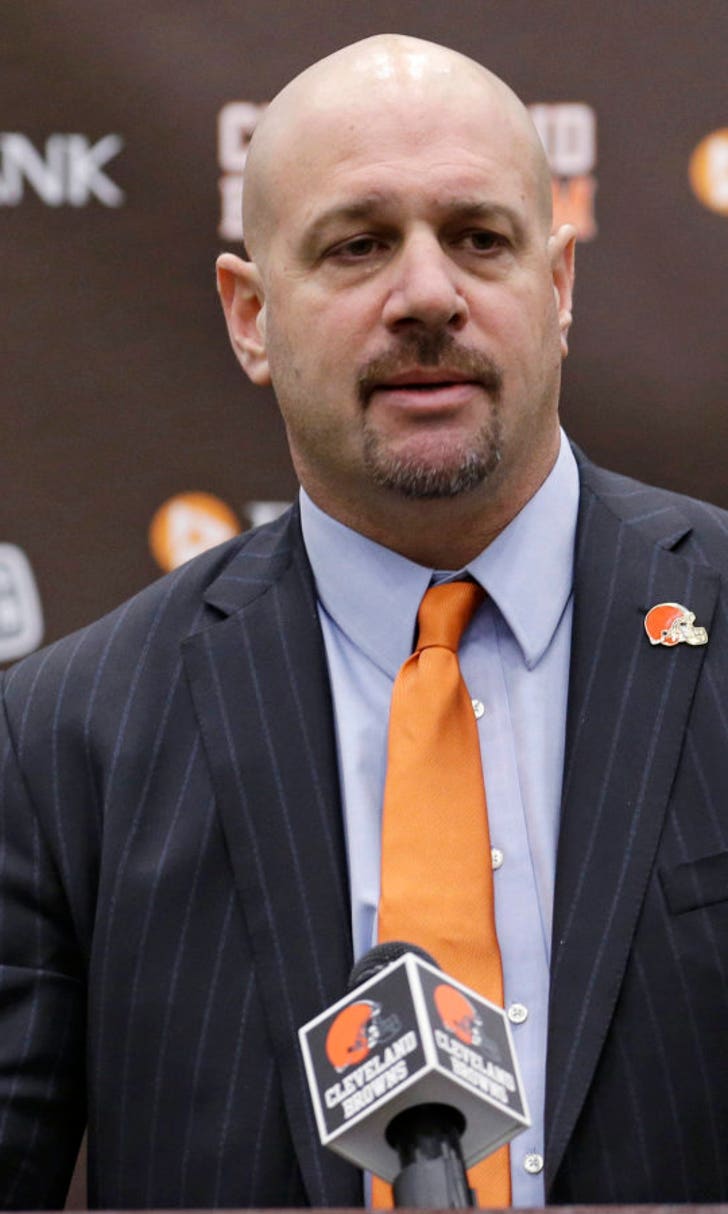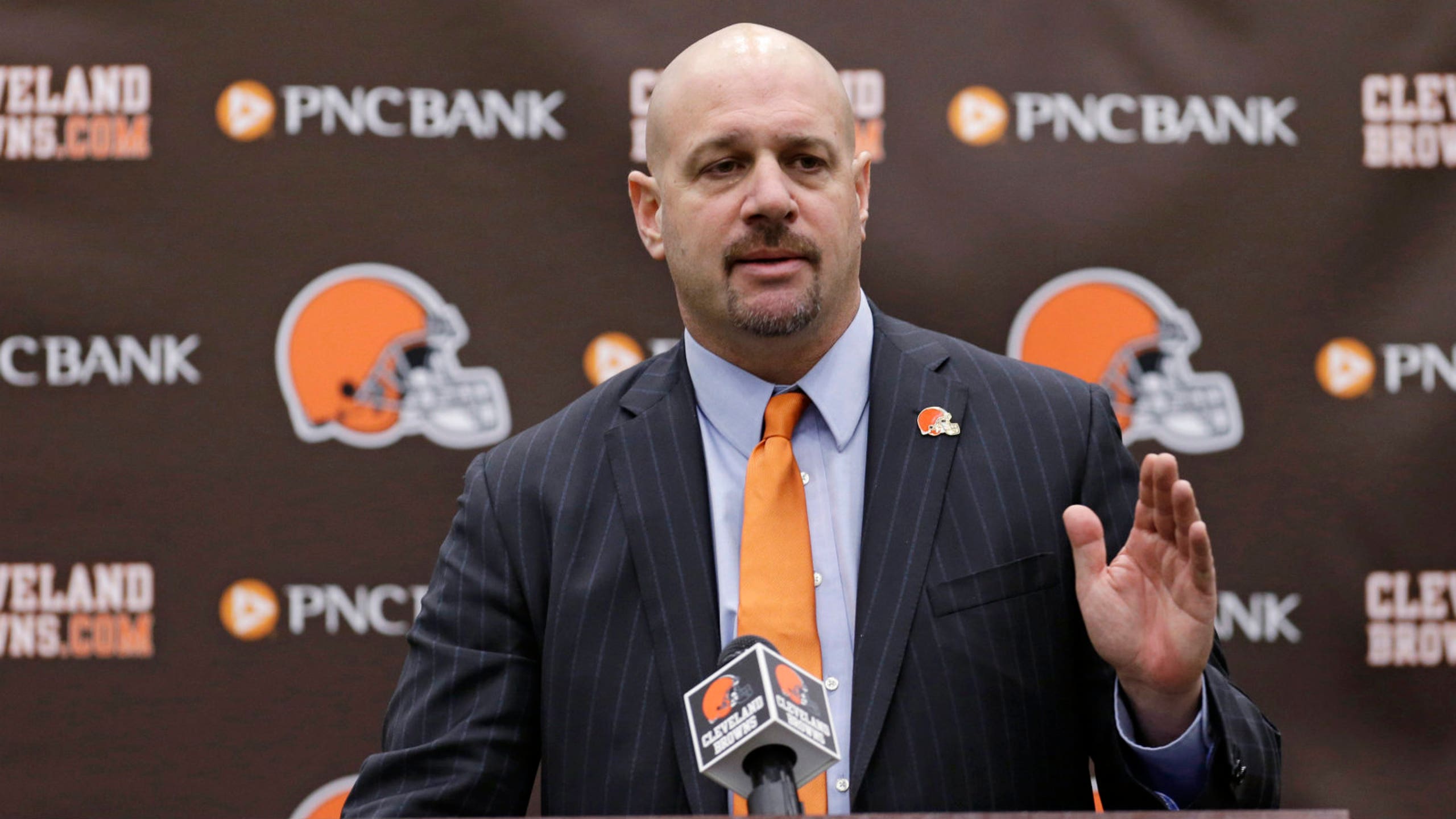 Browns have a new general in town
BY foxsports • January 23, 2014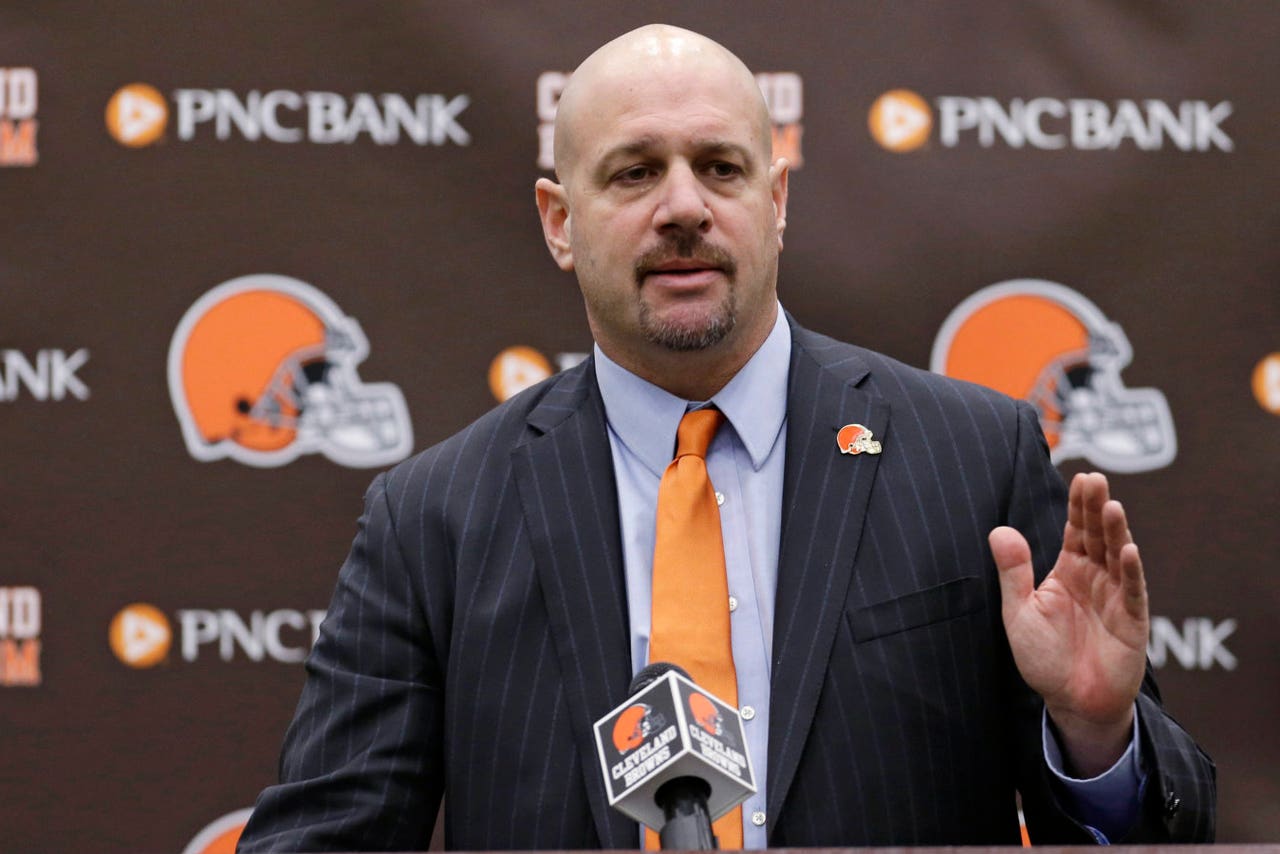 BEREA, Ohio--Obviously, Browns fans will judge the hiring of Mike Pettine with wins and losses.
However, his first impression should make Browns fans take notice.
He was asked to describe his style as a coach.
"I would say no nonsense," Pettine said when asked to describe himself. "Some people understand my sense of humor. I have been nicknamed BFT -- Blunt Force Trauma.
"The days are too short to dance around subjects some time and I think guys appreciate that . . . You can't be that military type model. You have to understand we're all in it together and they have to see it as much as their defense and their team as yours. You have to find ways of being critical without being demeaning and that's a skill coaches have to have."
Jimmy Haslam said he thinks Browns fans will love him.
"I think he's perfect," Haslam said. "He's tough, he's hard-nosed, he's got that lunch pail mentality. But let's face it, you've got to win games. He gets that. I get that. Everybody in the organization gets that.
"This is a very exciting day for the Cleveland Browns organization, for our players, and for the unbelievable fans we have throughout Northeastern Ohio and Cleveland and, really, the entire country," Haslam said in his opening remarks. "Mike Pettine is the product of a football family. His father is a legendary coach in Pennsylvania. His record was 326-32-4. I think the most important statistic is five of those 326 wins came against his son and none of the 32 losses came against his son. He was 5-0 against his son. Mike is a graduate of Virginia, played football there, was a two-year letterman, graduated with a degree in economics, began his pro career in 2002 with the Baltimore Ravens and then moved on to the New York Jets, and this past year was defensive coordinator at the Buffalo Bills.
"Mike brings exactly what we think we need for our organization," he said. "He's smart, he's innovative, he's demanding, he's tough. He brings what we consider to be a blue-collar work ethic to the Cleveland Browns organization. I think he will be a perfect fit for our team and our fans. I think we'll make very god progress under Mike's leadership and once again, I can't tell you how excited we are to have Mike be the 15th head coach of the Cleveland Browns."
Banner agreed with a little humor added in.
"I don't know if you had a chance to meet Mike, but since Mike Lombardi and I are Moe and Larry, we went and set out to find Curly and we succeeded," Banner said. "That's why it took so long; there aren't a lot of Curly's running around the country.
"More seriously, though, this is a really exciting day. I know we were exhaustive to the point that we caused people to question and wonder, but we think that was the right way to do it. It's a very, very important decision to make sure we met as many people as we possibly could. We spent as much time as we could with Mike, who we had the chance to interview three different times and spent quite a bit of time with, in our minds, maximize the chances that he knew us, we knew him. Everybody had a good understanding of the vision, which was very, very important. I think Jimmy said it well; we're very attracted by his intelligence, his aggressiveness, his toughness and the type of discipline I think he's going to bring to the team. I think we're very conscious of the way the team is at now: its evolution, its strengths, its weaknesses, its character. We think he's an outstanding fit."
Most observers felt the Browns would target an offensive minded coach, but Joe Banner said it didn't matter.
"It was important to make sure we hired somebody who understood how important it was to be aggressive about trying to score points on offense," Banner said. "Some people think, and in most cases it's probably true, that's more likely to be an offensive-minded guy.
"But here, and you heard him speak about it, we have a defensive coach who's actually got a very aggressive mindset about how you run offense, how you play offense, and how you try to score as many points as you can. You're not into a shortening-the-game mindset and all of that. For us to hire a defensive coach, he had to have that mindset. But as long as they did, we were open to either."
Pettine, who played quarterback in high school for his father, said coming from the defensive side in the NFL will help him.
"Again, I've seen defensive coaches that become head coaches make that mistake," Pettine said. "We want to play great defense, but at the same time, I don't want to feel like it's the AFC North, it's going to be low scoring, bad weather. The object of the game is to score points and outscore your opponent. I think you want to build as high-powered offense as you can and if you have the lead have the ability to throttle it back.
"Again, (Bill) Belichick has taken that and is the model for that philosophy," he said. "A defensive head coach one of the greatest defensive minds this league has seen yet he is known more for his high scoring offenses. He's known more for his expertise and he's used his expertise in helping the other side of the ball."
Pettine was asked what the biggest difference between being a coordinator and head coach will be for him.
"I think having the ability to pull it all together," he said. "I think coordinators that step up to be head coaches, the common mistakes that they made is staying in their comfort zone. I'm not going to spend an inordinate amount of time in the defensive room. I think I can use my defensive expertise to help our offense. I think I can do that to help our special teams. I think that's important.
"I think too many times on NFL staffs, offensive coaches don't truly know how defenses work. Defensive coaches don't truly know how offenses work and that's where you fall short. There's truly not enough sharing of information back and forth and you really end up as offense, defense and special teams as three independent sub contractors. I think you're doing yourself a disservice that way and I feel that's my responsibility as the head coach to be able to be a bridge for information to be able to flow back and forth."
Banner said Pettine was on the Browns radar from the beginning.
"To be honest, he was somebody we pursued as our defensive coordinator last year, so we've been aware of him and following him for a long time," he said. "Actually he was very interested in coming here, but Buffalo presented itself first. He wasn't sure what was going to happen so he decided to go there first."
The Browns didn't first interview him until Jan. 16, several weeks after Rob Chudzinski was fired.
"We knew we were going to wait to see what happened in their interest and our interest in certain people that were still playing," he said. "I know everybody else was in a rush, but we knew it would take two to three weeks at least, so whether we interviewed somebody on Day Three or Day 12 really became a logistical issue., who was free when, where we were geographically, so we weren't worried about who we got to first or when because we knew we had that period of time no matter what, and depending who won or lost it could have been even longer, so there was no there was no urgency in terms of order in our minds as long as we got to the people we got to before some of the people could come free that we wanted to see."
Banner is confident Pettine will be able to bring in a solid offensive coordinator and staff.
"He comes here and we've discussed his ideas and philosophically how he wants to play the game, what coaches there are that are out there that play the game that way, who you may want to mesh together, in terms of who's the quarterback coach, who's your line coach, so I think he's in pretty good shape on that," Banner said. "I think we feel good about his plan. If he asks for suggestions we'd probably make them, but I think he's in good shape, and he's got a good plan."
Pettine was asked about giving up 37 points to the Browns this season, even though 14 were through special teams and an interception return.
"Some games you shut out, they go to dark places in your brain and you don't want to retrieve them and the Browns game is one of them," Pettine said. "A lot of things went wrong in all three phases.
---