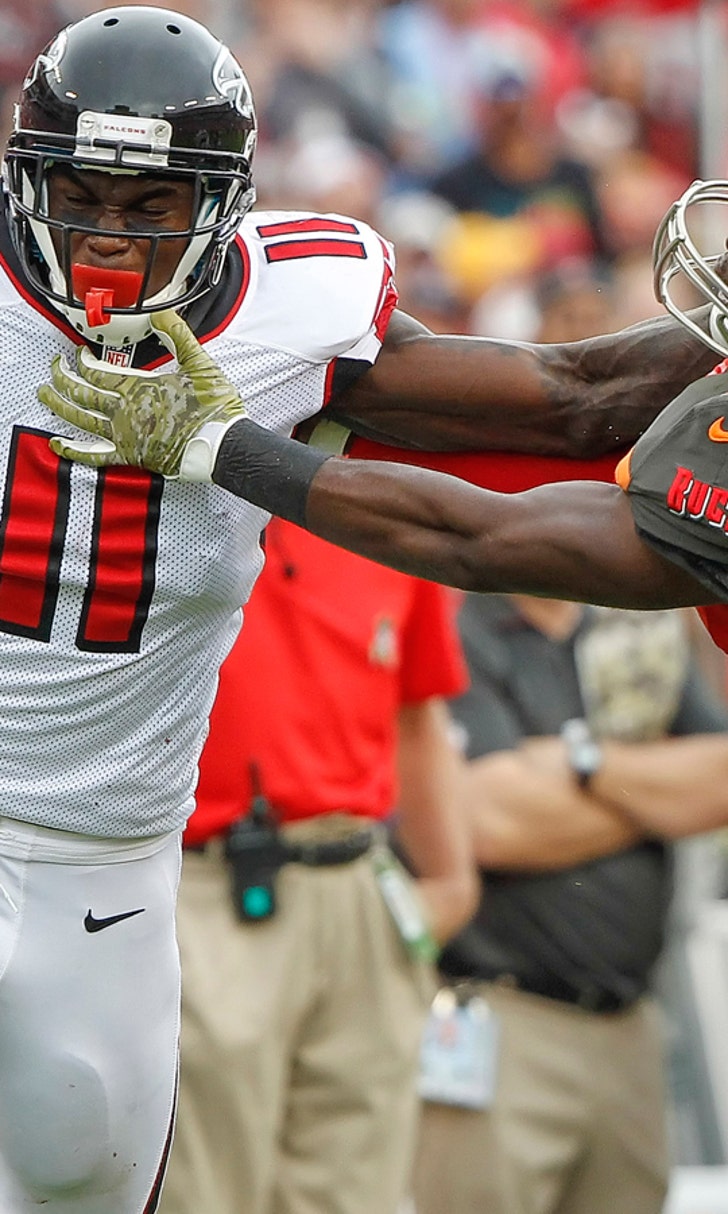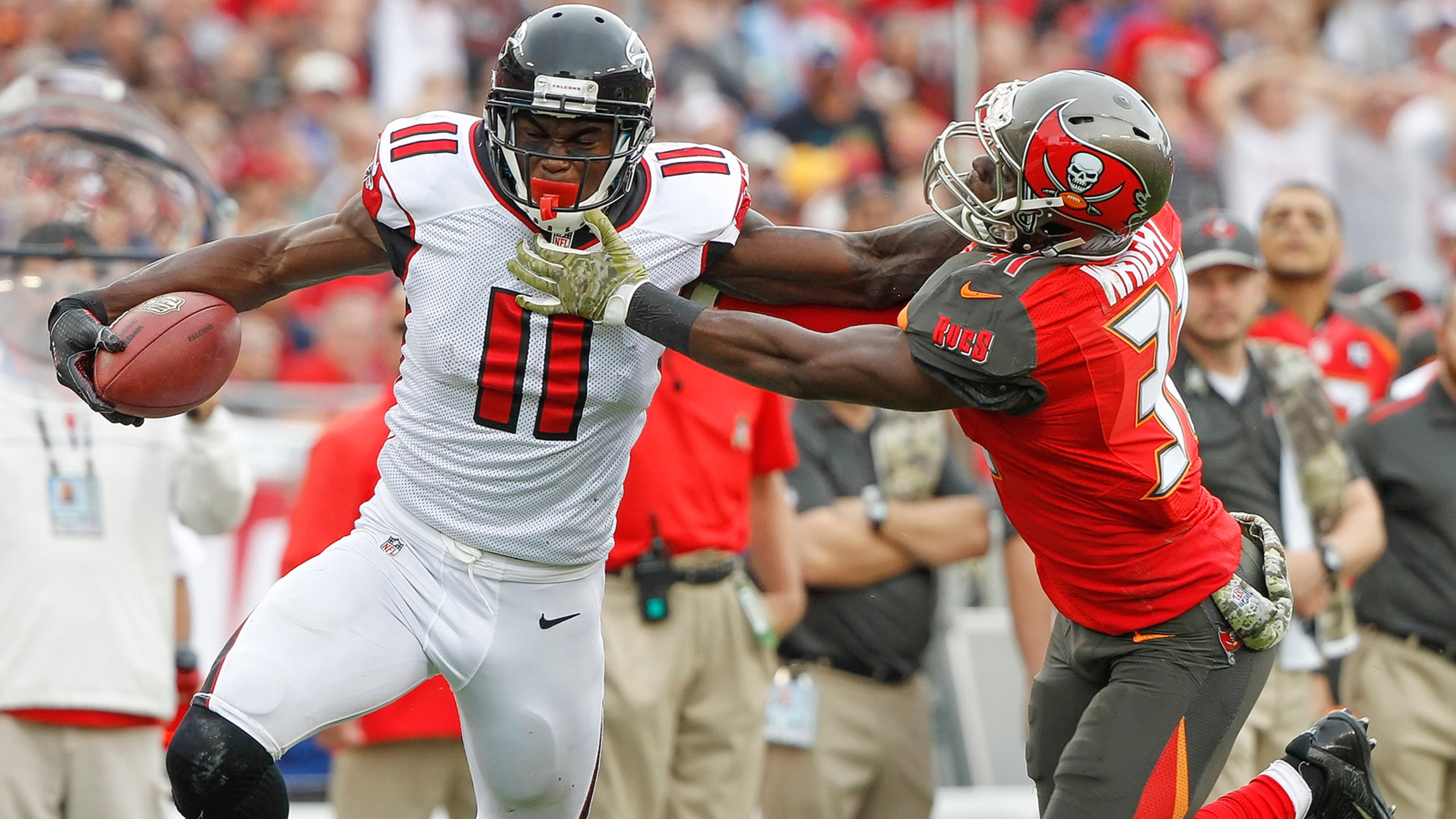 Browns face another one who got away
BY foxsports • November 19, 2014
BEREA, Ohio - The Browns have been reminded in the past two weeks about the mistakes they made in the 2011 NFL Draft.
Last week, the Browns faced J.J. Watt, who they had a chance to draft, but chose to trade with Atlanta.  This week, they will face the Falcon's Julio Jones, who Atlanta drafted with the pick they received from the Browns.
Watt was a big factor, both on offense and defense in the 23-7 win over the Browns by the Texans.
The Browns hope that Jones doesn't hurt the Browns this Sunday, the way Watt did last week.
The Browns had the sixth pick in the draft in 2011 and when the Browns turn came they traded with the Falcons so they could pick Jones. All and all, The Browns received five picks in the trade and after other trades ensued, the Browns came away with defensive lineman Phil Taylor, wide receiver Greg Little and fullback Owen Marecic in the 2011 draft and used the first-round pick in 2012 they received to select quarterback Brandon Weeden.
Taylor is the only player left from the trade and he is out for the season on injured reserve after suffering a knee injury against the Bengals on Nov. 6.
Falcons coach Mike Smith said he lost track of what the Browns got in the deal, but knows the Falcons are a much better team after the trade.
"When you start talking about trades, trades are made by both teams in a situation which they feel makes their football team a lot better, and we got a whole lot better," Smith said in a conference call with Cleveland media Wednesday. "I'm not sure what's happened – that was so many years ago – I don't know what happened with the Cleveland Browns, but we got better as a football team when we acquired Julio Jones. He's an elite wide receiver that demands resources from the defense that, in turn, is going to make everybody else around him better."
Falcons' quarterback Matt Ryan is ecstatic to have a player like Jones to throw the ball to. Ryan was asked on a conference call with the Cleveland media on Wednesday what he felt like when the Falcons made the trade with the Browns.
"I was excited," Ryan said. "I had a backup quarterback at the time, a third string quarterback in John Parker Wilson, who played with Julio at Alabama. He didn't shut up about him the entire time he was here, and so I got to watch him a little bit in college because one of my good buddies was a huge fan.
"When he got here and we picked him up, I was fired up," Ryan said. "I had heard a lot about him, the kind of work ethic that he had, the skillset that he had so when that trade got pulled off, I don't think there was anybody in the city of Atlanta or the state of Georgia that was more fired up than me."
Jones is currently fourth in the NFL with 67 receptions for 912 yards (13.6 avg.), including three touchdowns. White has 47 catches for 566 yards (12.0 avg.) with five touchdowns. Jones earned Pro Bowl honors in just his second season.
The Falcons paired Jones with four-time Pro Bowl receiver in Roddy White and the duo have been tough to stop for opposing cornerbacks.
"Certainly, Julio has top-end speed that I think is elite," Ryan said. "Maybe a handful of guys, one or two or three, have the same type of top-end speed that he has. He's extremely physical. He's a big guy, and he's got great hands.
"Roddy certainly is a strong receiver, very physical," Ryan said. "(White) does a great job versus bump-and-run of using his strength to create separation and is very crafty. He's played for a long time and understands how to use his body to get open. I think they complement each other very nicely."
The Browns have a Pro Bowl cornerback in Joe Haden, who usually draws the assignment of the best receiver.
"(The Browns) have shown to match," Ryan said. "They've shown to match in different games this year against certain receivers so we'll be prepared for whether they match or whether they don't match. We'll have a game plan for both, and we'll be ready."
The problem is whomever the Browns don't have Haden on will be a handful for Buster Skrine (5-9), K'Waun Williams (5-9) or whoever they deem to put on the other receivers. Both Jones (6-3) and White (6-0) are tall and physical receivers. Rookie Justin Gilbert (6-0) was limited to special teams play last week dealing with a heel injury, according to Mike Pettine.
"Yeah, Joe Haden is one of the top cornerbacks in the NFL," Ryan said. "He's got great ball skills. He's got great instincts. He sees the field very well. He plays physical in his press coverage and has the ability to cover and close about as good as anybody. He's a guy that we've got to be aware of where he's at. Then he creates opportunities for the other guys, too.
"He really does. I think that the rest of the secondary is very talented, as well, and very opportunistic," Ryan said. "I think that (Tashaun) Gipson leads the league in picks, and they do a great job at safety of being ball hawks. When those guys have pretty good coverage on both sides, those safeties can fill over the top and make plays. It's a very good defense, very good back end of that defense."
---