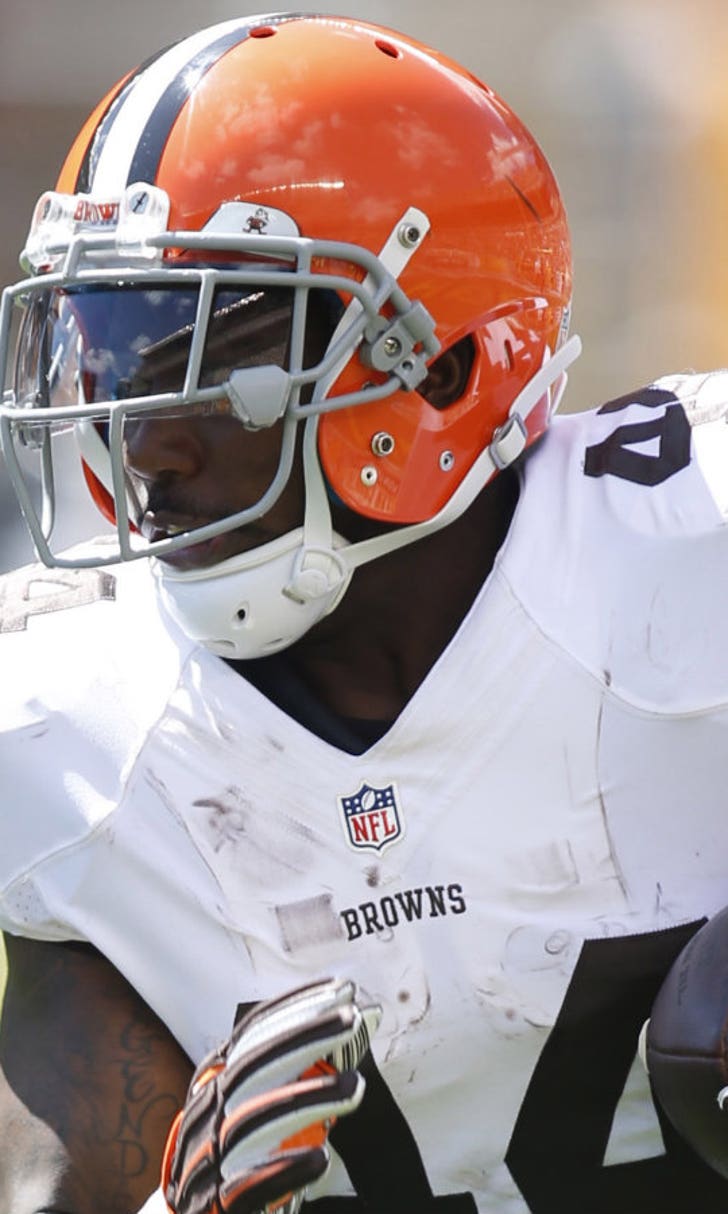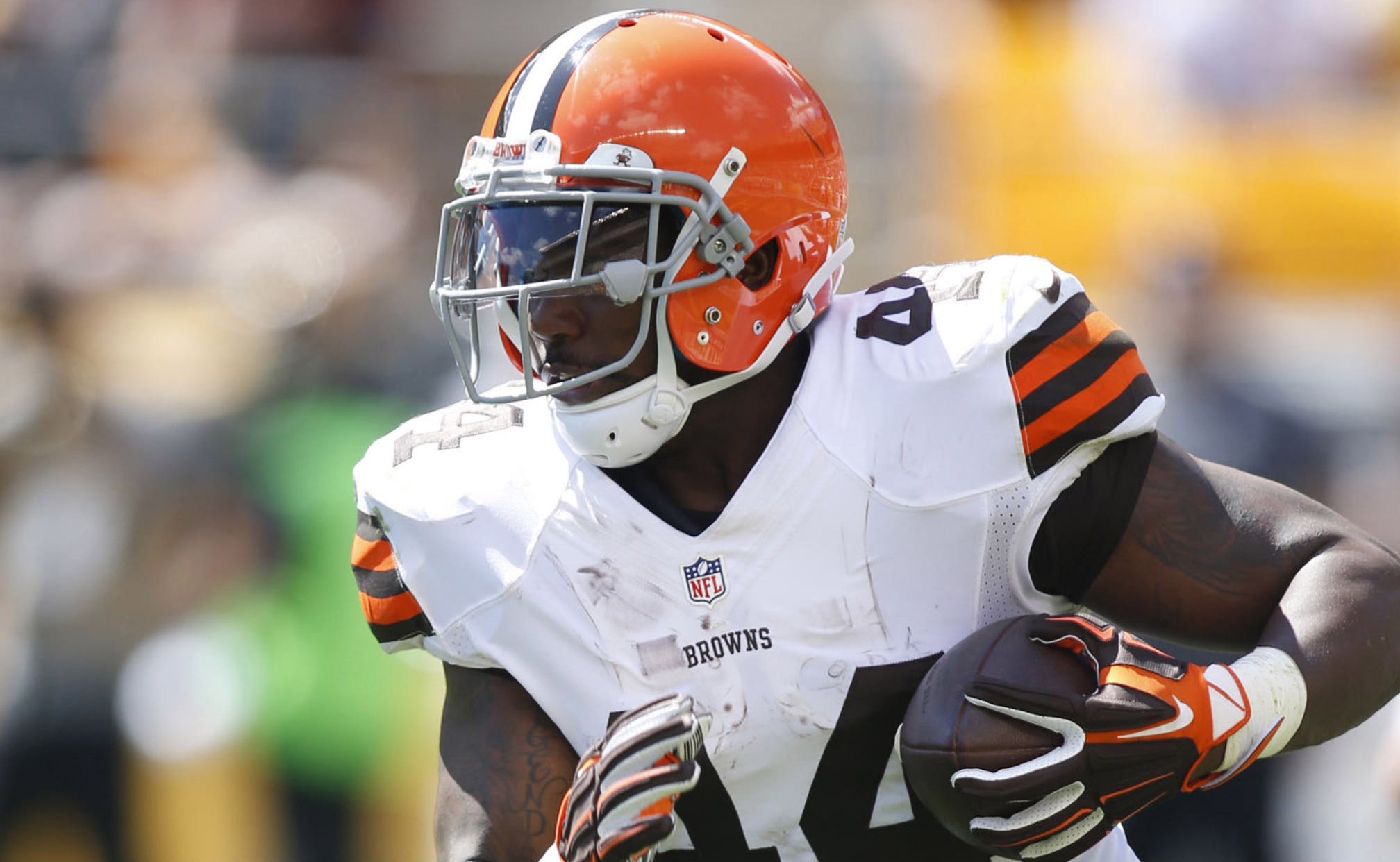 Browns Extra Points: Tate returns, Gordon update, preparing for Locker
BY foxsports • October 2, 2014
Tate Still Set to Start: During the portion of practice open to the media, all 53 players on the active roster were on the field, including WR Marlon Moore, who missed Wednesday due to illness.
DL Desmond Bryant (glute/wrist) and RB Ben Tate (knee) were the only players listed as limited on the official injury report Thursday. TE Jordan Cameron (shoulder), LB Barkevious Mingo (shoulder), WR Marlon Moore (illness), DB Buster Skrine (thumb) were on the official injury report Wednesday, but only Bryant, Tate and Skrine were listed as limited.
Pettine said that Skrine didn't suffer a setback with his thumb, but thought he might've been listed because he had a less restrictive cast put on his thumb.
Pettine said Tate is still on pace to start this week.
"Ben (Tate) will start, but that's all we have at this point, and that's assuming that he comes out of this week as we expect with the knee," Pettine said. "Then, the other repetitions will be based on how the week went."
Pettine said Tate has not had any setbacks in practice.
"Yeah, he's on course to play," he said. "I haven't heard on any issue. I think he'll be...I don't know if we'll give him the full rack today. I think he'll probably be... I would guess he'd be still limited, but he's going to take a pretty good chunk of the team reps."
Gordon Update: Suspended WR Josh Gordon is in the building every day and Pettine said he's doing well.
"Yes. I don't see him much just because our paths don't cross," Pettine said. "He's been in the team meetings, but I do know that we have him on a separate schedule because he can't be out at practice. He's not in the weight room when all our guys are. He's kind of on the opposite schedule of everybody else, but he has been here."
Pettine said that Gordon is not permitted on the practice field or in the weight room at the same time as other players.
"He has a schedule because we just have to make sure the weight room if staffed for when he's going to be there and the other things that we're doing with them, that we make sure that it is scheduled for him."
Pettine said the best part is the structure of Gordon being allowed to be in the building.
"Yeah, we talked about that before," he said. "Having that structure and being able to still have that interaction with his teammates and be here in the building and get his meals here and -- like I said -- a set workout for him. Just compare that to just kind of being off on your own. I'm sure that would get very lonely very quick. I would think anybody under suspension would welcome the ability to be in the building."
Gordon was selling cars at Sarchione Auto Group near Rootstown before he was allowed back at the facility. Pettine was asked if Gordon still was working his day job.
"That I don't know."
Expecting Locker: Titans QB Jake Locker has been practicing and is expected to start against the Browns Sunday after missing last week's game with a wrist injury. Locker was listed as a full participant in practice Thursday.
"It's doing great," Locker said about his wrist on a conference call with the Cleveland media Wednesday. "It's doing really good, able to participate in practice fully today. I felt good."
Pettine said the Browns are preparing for Locker.
"Offensively, I'm very impressed with their skill set," he said. "They can throw four different running backs at you. The quarterback we're expecting to play, (Jake) Locker, can make all the throws but has the added element of the scramble -- something we haven't been mindful of.
"They invested a lot in that offensive line," he said. "That's a group that on paper is impressive. "
Familiar D: The Browns will take on the Titans this week and they're under the direction of former Browns defensive coordinator Ray Horton.
"Ray did a nice job when we were together in Arizona," Titans coach Ken Whisenhunt said when asked why he brought him to Tennessee. "To me, he was a known entity. He had a lot of interest from other people, but he was a known entity for me, for somebody who knows the defensive scheme that he runs as well as how he works. That was an attractive thing for me."
Pettine said that by retaining defensive assistant coach Bobby Babich, it helped the Browns make the transition from last year to this year's system.
"There are a lot of very similar concepts, and what helped was us retaining Bobby Babich who was on the defensive staff a year ago," Pettine said. "He was able to kind of, as we went through the tape, what was this and what were these guys coached? That really helped us in building it, and then being able to introduce it to the guys that were here before, 'Hey, this is what you ran last year was called this or this is the same technique. Ok, now we might tweak it this way.' Bobby was very helpful for us in bridging that gap."
Old Friend: Former Browns first round draft pick LB Kamerion Wimbley is with the Titans. The Browns drafted him 13th overall in 2006.
Thus far, Wimbley has 17 tackles with no sacks.
In 2013, Wimbley had 24 tackles, three sacks, three hurries and a tackle for loss.
Whistenhunt was asked what he likes about Wimbley.
"Actually I think I was in Arizona when 'Kam' (Wimbley) was in Cleveland, but I remember him being a good player and a good fit for this style of defense," he said. "One of the things that I was pleased about when I came here (after) all those years having watched Kam and knowing about him, (was) having him on the football team.
"He's a good football player, and he's an even better man," he said. "We're very happy to have him with us, and I'm glad that I finally have a chance for him to be on our team -- or to be on a team with him I guess is a better way to say it."
Besides Wimbley, former Browns LB Quentin Groves is with the Titans.
Tabor on Long Snapper: Special Teams coordinator Chris Tabor said he thinks the long snapper competition will sort itself out. He said regardless of who snaps Sunday, he is confident in them.
"The tape tells you is what it is," Tabor said.
Tabor, who was with the Browns when LS Ryan Pontbriand was replaced thinks Yount can get back on track.
"I think it's different in each case," Tabor said. "I'm really hopeful. I'm confident in the young man (Yount) and confident in the other guy (Charley Hughlett) we brought in."
Tough Task: tabor said he's wary of the returners on the Titans with Leon Washington and Dexter McCluster. Washington is one of the all-time top kick returners in the NFL.
"We have or work cut out for us," Tabor said.
Washington is averaging 17.9 yards a return with a long of 29 yards. McCluster, like PR Travis Benjamin, has struggle with just a long of 7 yards.
---