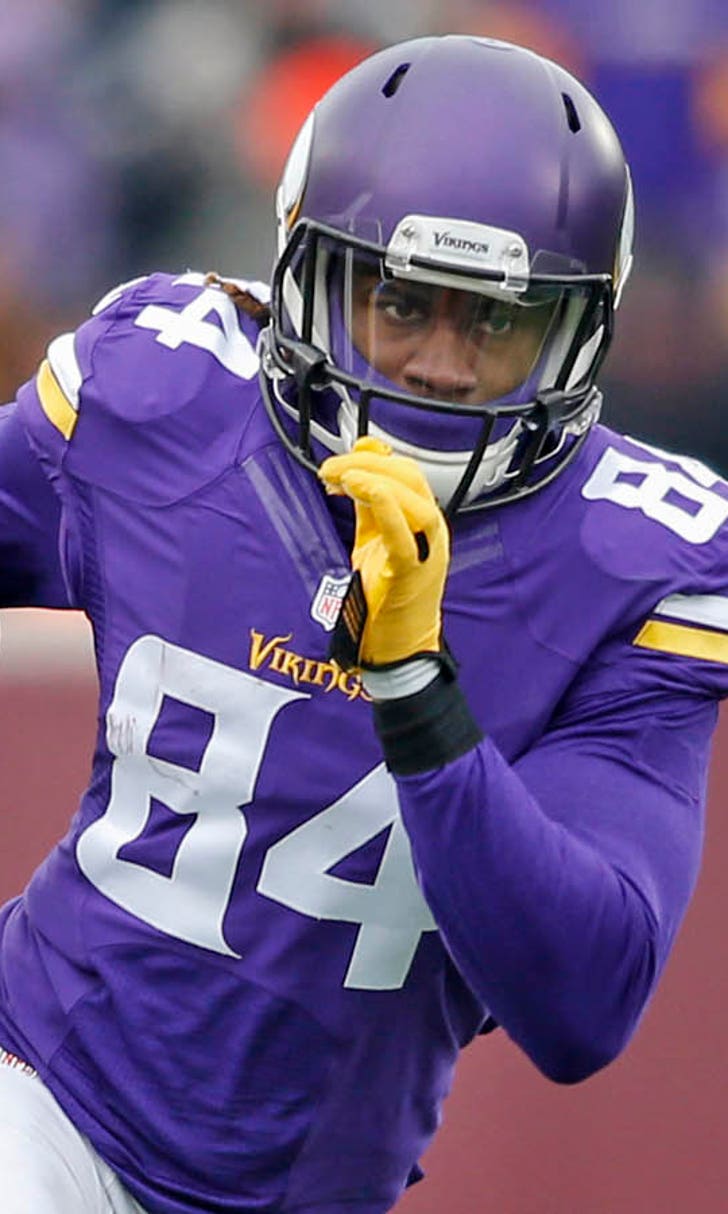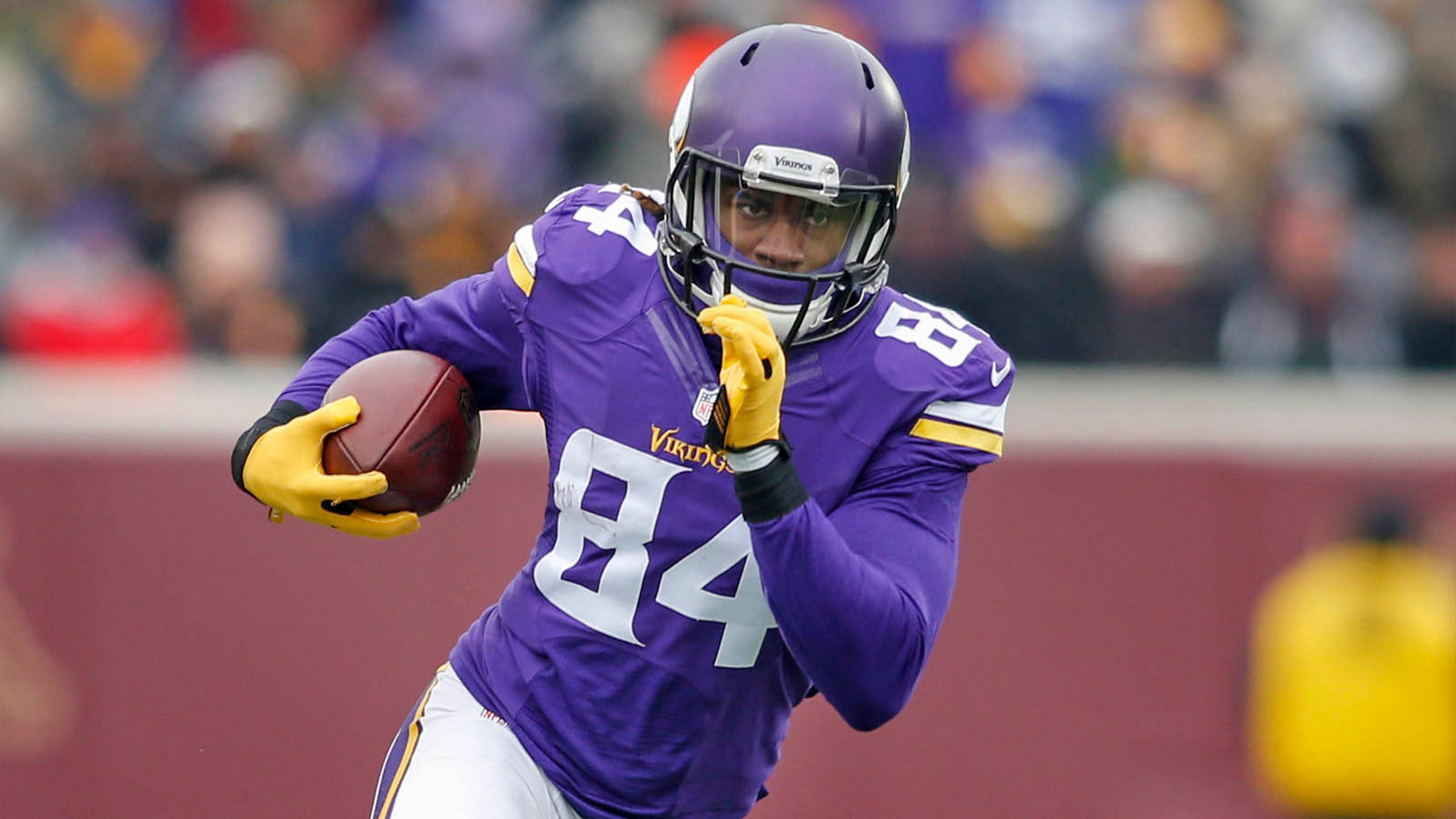 Brian Hall's Dec. 18 Vikings mailbag
BY foxsports • December 18, 2014
The end of the 2015 season is winding down for the Minnesota Vikings.
Minnesota has two games left to continue the progress with first-year head coach Mike Zimmer and rookie quarterback Teddy Bridgewater. The goal is clear. Sitting at 6-8 heading to Miami this week, the Vikings want to finish this season with a .500 record and two wins.
The questions regarding the team have lessened with some answers a bit clearer.
Here's what's on your mind this week:
Question: Is there any consideration to put Patterson at RB? He's not getting much playing time at WR and is very explosive with the ball. -- Dexter Griffin, Niagara Falls
A: An interesting proposal. If there is one way to get Patterson in the game more, without worries of learning routes or precision in routes, could be to use him almost strictly out of the backfield. We haven't seen the same explosiveness from Patterson this year, even as a kickoff returner, since the first game of the season.
I don't believe Minnesota would ever make this kind of move. Patterson in the backfield is probably more gimmick than any consistent approach. But maybe it could be used at times, as long as it doesn't begin to become a tell for the offense.
Instead, the Vikings' coaches likely would prefer to keep Patterson in his spot at receiver and help him to grow at the position in which he is best fit. Adding more running responsibility to his plate might take away from his work as a receiver as he still tries to become more of a technician as a receiver.
Q: I know everyone talks about the chance of drafting Amari Cooper as a play-maker for Bridgewater but what are the chances the Vikings go with DeVante Parker since he and Bridgewater have already played several years together at Louisville? Thanks Matt-- Matt Seitzer, St. Peter MN
A: Familiarity certainly helps in the quarterback-receiver relationship. But I believe talent should outweigh simple familiarity. I believe Amari Cooper is considered by many as the draft's top receiver and would be a great addition to the Vikings' offense.
But to be honest with you Matt, I haven't looked much at the draft possibilities yet. It's too early to look at the different scenarios. Minnesota has two games left in which to set their position. We'll see the players picked through during the pre-draft evaluation process and of course there are possible free-agent signings and trades in the draft.
Q: What do we (fans) expect to see from the Vikings for the remaining 2 games? What was Coach Zimmer's reaction after Vikings could not score for the whole second half (after those 2 TDS?). How worried should we be regarding Blair Walsh and his missed field goals? -- RAJ_Sioux Falls, SDSioux Falls, SD
A: A few questions here Raj, so I'll try and touch on a couple of them quickly. There is still plenty for fans to still watch over the final two games. Credit is due for Minnesota and it's continued fight towards the end of the season and growing under Zimmer despite the playoffs looking like a longshot for much of the second half of the year.
Minnesota has been in games and has had some fun finishes. Only one of the past eight games has been decided by one score. Isn't it fun to watch a competitive team after two of the past three seasons finishing with five wins or fewer?
Of course, there's also continued development to watch with some of the Vikings' young players. Seeing Bridgewater grow into his role as franchise quarterback should be interesting, as is seeing how Charles Johnson continues to emerge.
Defensively, Minnesota has a chance to finish as a top-10 defense after having, perhaps, the league's worst defense last year. Xavier Rhodes is becoming one of the better young cornerbacks in the game. Harrison Smith and Everson Griffen -- and possibly Rhodes -- are potential Pro Bowl players. If they can get back from injury, Sharrif Floyd and Anthony Barr can build on promising seasons.
As for Walsh, he still expresses confidence. Walsh is a very confident player and the type you feel will find his way out of the struggles. Zimmer also has said he is confident in Walsh. Count hoping for improvement from Walsh as something to watch for in the final two games.
Q: Why keep kahil, would be better for the new quarterback. ..why doesnt teddy take off more when they only rushed 4.. he is fast and it would help his confidence.. -- Adam, Wiillmar
A: Matt Kalil has had a tough season, no doubt. But he has also improved as the season has progressed. His mistakes have certainly stood out and penalties remain an issue. But Bridgewater is playing much better in the pocket, getting more comfortable in what he is seeing and feeling the pressure. Bridgewater is also maneuvering in the pocket, which is helping both the young quarterback as well as the offensive line.
Bridgewater has shown a willingness to run and he could do so more often. Bridgewater really is a pocket quarterback, though. He's athletic and can run. But his career is going to be defined by what he does in the pocket. It's best, as long as he isn't getting beat up and losing confidence, if he's able to stay in the pocket and get more comfortable there.
Q: Brian, I am sure that this week will be Blair Walsh intensive, but I am not going to talk about his misses, but with his ability to hit long ones. The Vikings first series brings up this line of thought. The Vikings are 3rd and 10, the play selected was a short gain type of play, not one I would expect to go 10 yards. Does having Blair Walsh cause the Vikings to play it safe and count on a field goal rather than running a play with a good chance of picking up a first down on third and long? -- Gene McDonald, Lawton Ok
A: There does seem to be a trust in Walsh leading to some conservative calling. The coaches still believe in Walsh and Zimmer said Wednesday that he is willing to be aggressive in giving Walsh chances because of his big leg and his previous success on field-goal attempts of 50 yards or more.
Having made 1 of his last 5 attempts, it will be curious to see if the Vikings and Zimmer hold their faith in Walsh and continue to allow him to kick the longer field goals. Stay tuned, I'll be writing more about Walsh on Thursday.
Q: Hodges led the team in tackles Sunday. Was this because of the scheme used or is he ready to be a starter? Who would be odd man out? -- Norskie, Austin
A: Gerald Hodges received his second start in place of Barr and fifth of the season after starting three games for Chad Greenway earlier this season. Hodges is quick and physical and he's certainly shown some ability and potential this season. He led Minnesota with nine tackles in Sunday's game.
Hodges could one day be a starter, but he's a backup right now. If he was to play, the Vikings would be forcing Barr -- the standout rookie -- or Greenway -- a defensive leader -- out of the lineup and I don't see either happening.
I know fans have been on Greenway at times over the past couple of years but he's still a very solid linebacker and one of the leaders on the team. Even missing three games, Greenway is second on the team in tackles and could close in on leader Robert Blanton in the final two weeks to lead Minnesota in tackles for the seventh consecutive season.
Hodges is eighth on the team with 47 tackles this season. He could one day be a starter, maybe when Greenway is done. But all three are outside linebackers and I can't see coaches moving any of the three inside.
Q: Two questions.. our second drive it became 3rd and 19 for the first , we handed the ball off, why don't we try to extend our drives just cuz it's theirs and long I've seen it too many times. Also our blocked field goal if we're so close and it's such a gimmee can't our kicker and ball holder set back a few extra yards to avoid it being blocked? Or is that a set distance they have to kick it from -- adam masseth, fargo nd
A: In regards to the first question, unfortunately I don't have any answers. The Vikings aren't alone, but we've seen it many times. Instead of attacking downfield on third-and-long, the play is usually a dumpoff, a screen, a draw or something intended to be safe and pick up a few yards. Other NFL teams do so, as well, but you'd like to see more of a downfield option in those cases.
As for the blocked field-goal attempt, yes, it's a set distance. The field-goal unit, with snapper Cullen Loeffler, holder Jeff Locke and Walsh are always set up the same distance. It's a matter of precision and timing to allow the field-goal attempts to come off cleanly with little disruption as possible. Eight yards is kind of the standard in the NFL these days, with every team following the same strategy, no matter the length of the field-goal attempt.
Q: What is the answer at RB? It seems like Jerrick is our only hope (besides AP). Is the poor run game due to a practically 2nd string line and rookie QB playing or are Matt, Ben and Joe just subpar at best? -- Adam, Eden Prairie
A: Quite possibly the answer isn't on the roster. The biggest question heading into the offseason will be Adrian Peterson's status. As his case heads to federal court, Peterson isn't eligible for reinstatement until April 15, 2015. If he's reinstated, he'd be available for the entire season.
Of course, Peterson carries a $15.4 million salary cap hit next season. He has three more season left on his contract, but would only count as $2.4 million in dead money if the Vikings chose to release Peterson. Minnesota has some decisions to make regarding its all-time leading rusher.
Rookie Jerick McKinnon certainly showed some ability this season in his time and he possibly will finish as the team's leading rusher this season despite missing the final five games. McKinnon is likely a part-time player or a nice component as part of a split backfield.
Ben Tate is signed through next season if the Vikings want to bring him back. He would hold a $2.95 million cap hit and isn't owed any guaranteed money if Minnesota wanted to release him. If the Vikings released Peterson and Tate, they could look to the draft to bring in another No. 1 running back or a complement to McKinnon.
As for this season, it's been a combination of factors. For much of the season, the Vikings didn't have much of a passing game to keep defenses honest and they were starting a rookie quarterback. The offensive line has had its struggles and has also been without three starters. Meanwhile, Minnesota has been without its star running back for all but one game.
McKinnon was more of a project when he was drafted, having spent his time at Georgia Southern as an option quarterback. But he slowly started to show more. Without McKinnon, Matt Asiata has been exposed as an every-down back a little bit. Asiata is a steady player, but he doesn't have the big-play ability or speed that Peterson and McKinnon brought to the offense.
We've only seen glimpses of what Banyard and Tate can do. Zimmer said Banyard has to improve his pass-blocking. Zimmer said Tate is still learning the offense. Banyard has provided a spark when given chances. I feel he deserves more of a chance in the final two games.
Thank you for your submissions. Unfortunately we couldn't get to all of your questions. We tried to answer a wide range of submissions. I hope we continue to hear from you in the future. Our Vikings' mailbag runs once a week on Thursday mornings during the regular season but will run Tuesday the next two weeks due to the holidays. Be sure to check FOXSportsNorth.com for upcoming mailbags.
Follow Brian Hall on Twitter
---