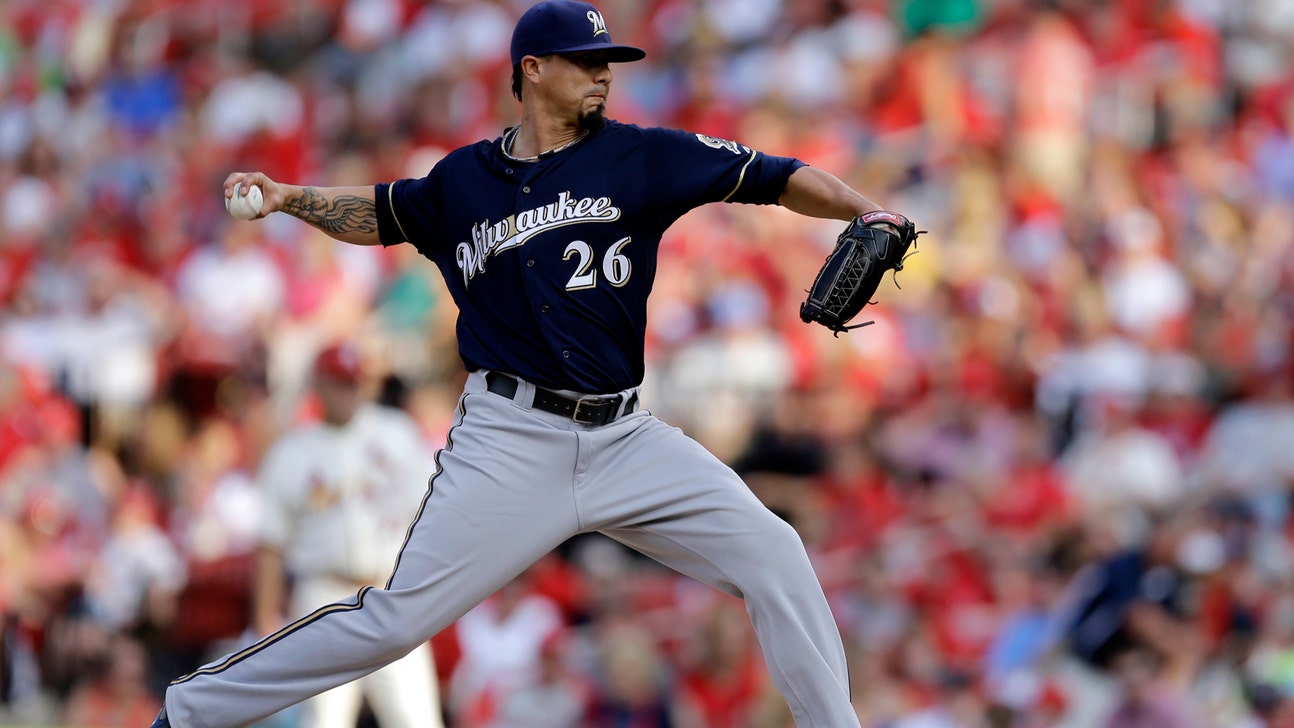 Brewers' Lohse 'out of whack' in road loss to Cardinals
Published
Aug. 2, 2014 11:59 p.m. ET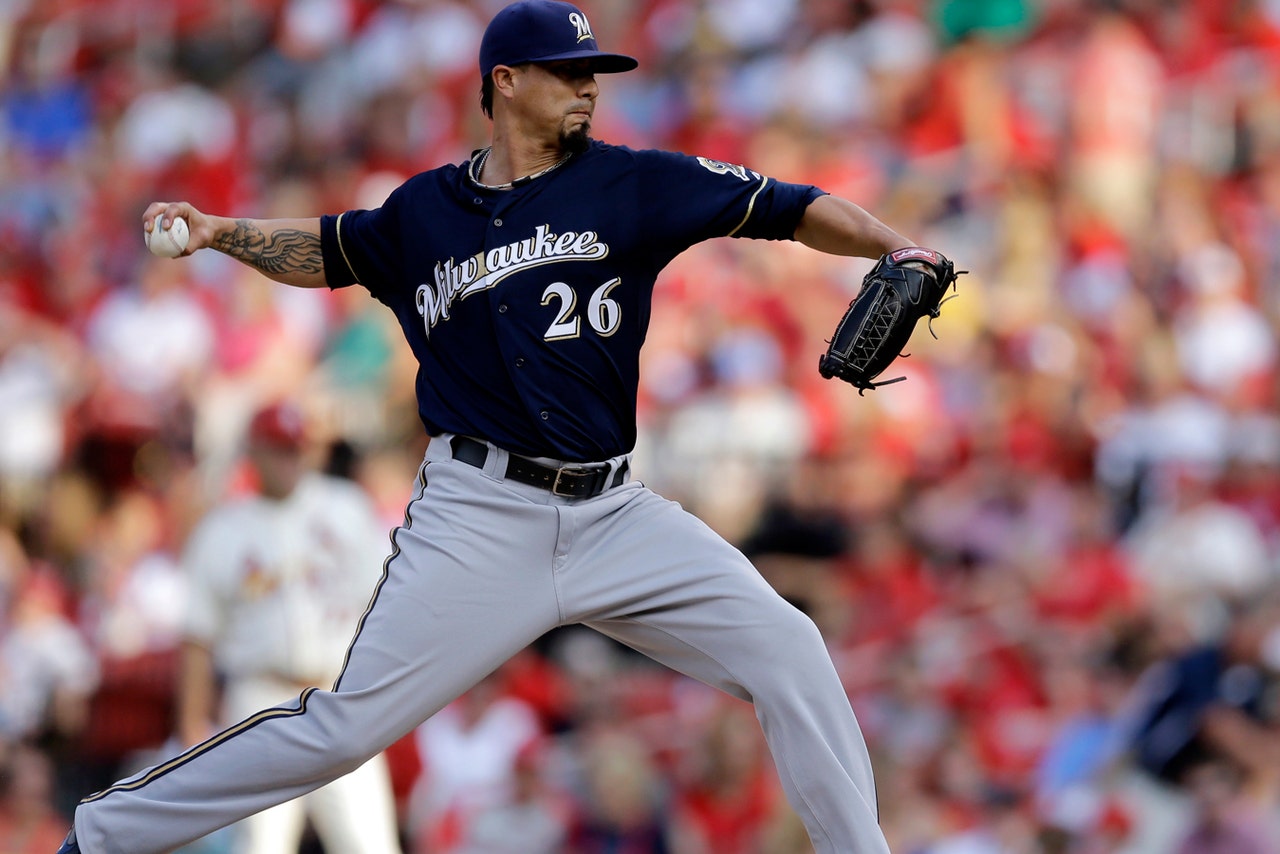 Putting seven runs on the board for Kyle Lohse usually means an easy victory, but the veteran right-hander just did not have it against his former team on Saturday night.
Lohse was tagged for a career-worst nine runs on nine hits in just four innings, as he was allowed to stay in long enough to put the Brewers in too big of a hole to climb out of. Milwaukee's offense fought its way back into the game but fell just short in a 9-7 loss to the St. Louis Cardinals at Busch Stadium, evening the three-game series at a game apiece.
Seven of the nine runs St. Louis scored off Lohse were earned, as Brandon Kintzler escaped a bases-loaded and nobody out jam in the fifth inning to prevent Lohse's line being even worse.
"Command was off," Brewers manager Ron Roenicke said. "He's been so consistent that it surprises you when he is off that much with his command, but he'd get two strikes and then throw one right over the middle of the plate.
"Hard to explain why, but it happens. Guys will have a game where they are just out of whack. Hopefully he will bounce back the next time."
After the Brewers jumped out to a 1-0 lead in the first inning on an Aramis Ramirez two-out RBI single, Kolten Wong tied the game with a solo home run in the bottom of the first. Jhonny Peralta put St. Louis on top with a solo blast to start the second, but it was what happened later in the inning that cost Lohse.
A two-out walk to Tony Cruz kept the inning alive, while pitcher Justin Masterson, who has spent his entire career in the American League prior to being traded to St. Louis on Wednesday, singled. Lohse then walked Matt Carpenter to load the bases before back-to-back two-run singles from Wong and Matt Holliday made it 6-1.
The Brewers scored three runs in the top of the fourth to get back in the game, but Lohse surrendered another run in the bottom of the fourth to put St. Louis up, 7-4.
An RBI groundout from Ryan Braun made it 7-5 in the fifth, but Roenicke allowed Lohse to go back out instead of turning to the bullpen. Matt Holliday took advantage of Lyle Overbay extending his at-bat with a dropped foul popup by singling to center to start the inning.
Lohse then walked Matt Adams and allowed a single to Peralta to load the bases before Oscar Taveras doubled home a pair to put St. Louis up 9-5.
With Marco Estrada fresh in the bullpen, why was Lohse allowed to stay in to give up nine runs? The Brewers were swinging the bats well against Masterson and were down by just two prior to the start of the bottom of the fifth.
"He wasn't ready for that inning," Roenicke said of Estrada. "Marco takes a long time to get loose. (Brandon) Kintzler we were trying to get ready. One batter? I don't know. It could have been a batter earlier.
"Sometimes (Lohse) may have a couple rough innings with his command and then he finds it when he goes into a rhythm. He could throw another four or five innings after that. It's just hard with him. But I could see right off that the command wasn't there."
Roenicke said he would have considered pinch hitting for Lohse back in the fourth inning if the Brewers were in a scoring situation. That almost was the case, as Jean Segura was ahead in the count 3-0 with one out and runners already at second and third.
A walk there would have sent a pinch hitter up for Lohse, but Segura grounded out to score a run and Roenicke let his pitcher hit with two outs, saying after the game he needed the innings from Lohse. Estrada certainly is stretched out enough to have given the Brewers four or five innings, but a relief pitcher is usually pinch hit for in the middle to late innings of a close game.
"You think Estrada can go four innings for you but if you're behind and you have a situation where you have to hit (for the pitcher) and try to score runs, then he can't," Roenicke said. "He'll only go two innings because we've got to hit for him.
"If you want to try to win the game, you can't say he's going to go four or five innings. If you think you're out of it and you have no chance, it's a little bit different."
For the Brewers, the most painful part of Lohse's rough outing was the fact Milwaukee continued to swing the bats well. Including Saturday, the Brewers have now lost just four games this season when they've scored five or more runs.
Starting pitchers are due to have outings to forget, but the timing of this one was tough to swallow.
"I thought we were patient and got some big hits and we kept after them," Roenicke said. "They would go ahead and we would catch up again, but we did a good job offensively."
Gennett exits early: To go along with the loss, the Brewers suffered a blow Saturday when second baseman Scooter Gennett had to leave the game in the sixth inning after re-aggravating his right quadriceps injury.
Gennett missed four games on the last homestand with tightness in his right quad and just had returned to the lineup after sitting out Friday night's game after being hit in the hand while bunting during batting practice.
"Not bad, but he felt it again," Roenicke said of Gennett's quad. "I doubt he'll be in there tomorrow."
Follow Andrew Gruman on Twitter
---