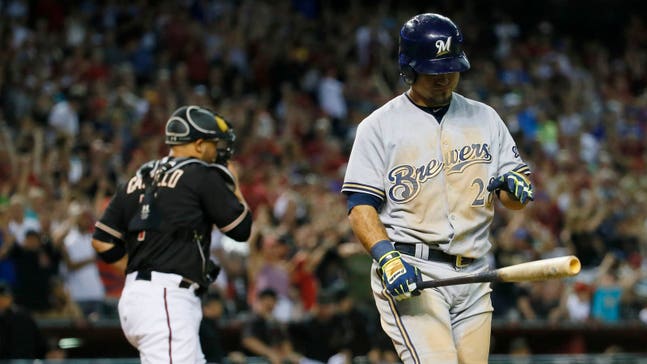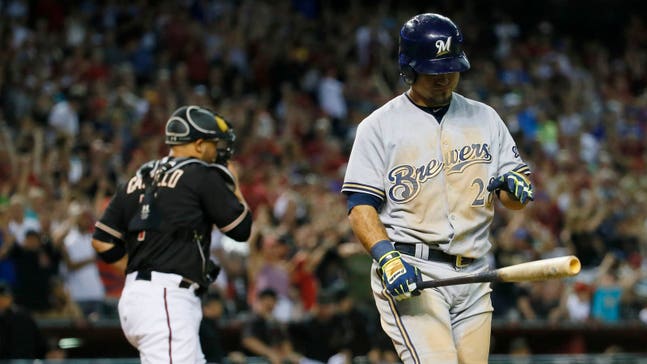 Brewers can't capitalize on chances in shutout loss to Diamondbacks
Published
Jul. 25, 2015 11:14 p.m. ET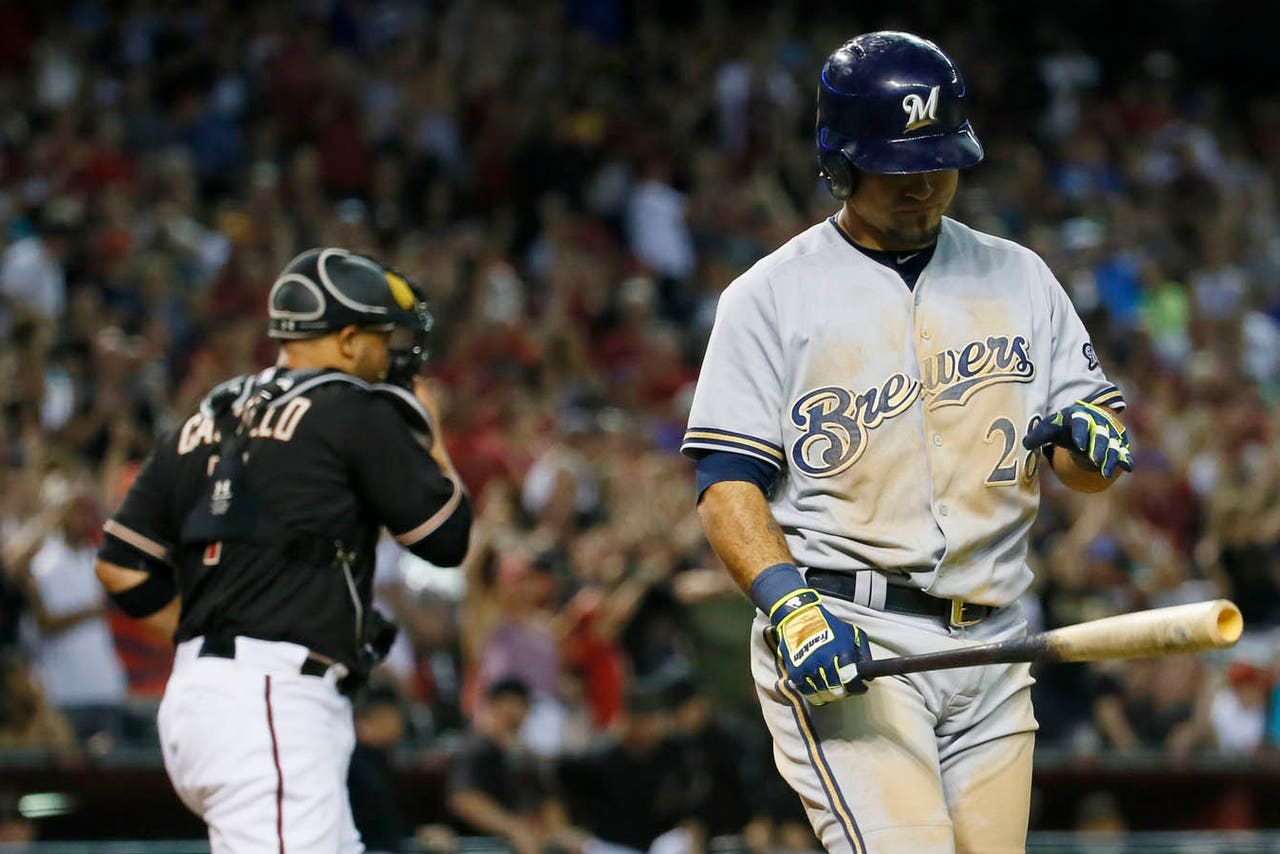 PHOENIX -- Taylor Jungmann made an adjustment after the first inning and pitched well the rest of his outing.
The Milwaukee Brewers failed to make up the ground lost in that opening frame, leaving the right-hander annoyed that he didn't have his best stuff from the start.
Jungmann overcame his sluggish start to pitch six effective innings, but the Brewers were unable to capitalize after loading the bases in the ninth inning of a 2-0 loss to the Arizona Diamondbacks on Saturday night.
"I'm happy with the adjustment I made. I'm not happy with the entire outing because the first inning was a little frustrating," Jungmann said. "It was just a frustrating outing."
Paul Goldschmidt and Jake Lamb both had run-scoring hits in the first inning against Jungmann (5-2) for the Diamondbacks, who had four hits -- two after the opening frame.
That ended up being enough for Rubby De La Rosa (8-5), who gave Arizona its third straight quality start.
Effectively working the ball down in the zone, De La Rosa allowed four hits and struck out six to follow up strong performances by Zack Godley and Patrick Corbin. The three combined to allow one earned run with 23 strikeouts in 21 innings.
"We always talk about things are contagious, hitting, pitching and it seems like when one guy has a good outing, the next guy wants to do better and keep it going," Diamondbacks manager Chip Hale said.
Milwaukee put up a late fight after being limited to four hits the first eight innings.
The Brewers loaded the bases in the ninth after Brad Ziegler gave up two two-out singles and walked a batter, but Arizona's closer struck out Gerardo Parra for his 16th save in 17 chances.
It was Arizona's first shutout since beating the San Francisco Giants 4-0 on June 14, and sixth of the season.
"He threw a nice backdoor slider to Gerardo," Brewers manager Craig Counsell said. "We gave ourselves a chance."
De La Rosa has been sterling at home, going 5-1 at Chase Field to match the NL's best home winning percentage.
The hard-throwing right-hander was sharp again, working around traffic in nearly every inning.
Lamb gave De La Rosa a defensive boost in the fourth inning, diving to snare a ball to his left, jumping up and throwing out Carlos Gomez at first. De La Rosa also overcame errors by Lamb and shortstop Cliff Pennington in the fifth inning.
Hale visited De La Rosa after a one-out walk in the eighth inning, but left him in to the cheers of large home crowd there, in part, to celebrate Randy Johnson's induction into the Hall of Fame. De La Rosa got Ryan Braun to line out to center, then Shane Peterson on a groundout before Ziegler took over in the ninth.
"I feel good in that inning and I want to get these guys, I want to finish my innings and he had confidence in me," said De La Rosa, who is 10-0 with a 1.15 ERA in his last 14 starts when throwing seven or more innings.
Jungmann has pitched well since being called up from Triple-A Colorado Springs on June 9, allowing more than two earned runs once in eight starts.
The Diamondbacks had two against the big right-hander in the first inning, on Goldschmidt's 151st career double -- moving him past Steve Finley for fifth on Arizona's all-time list -- and Lamb's single.
Jungmann shut down the Diamondbacks after that, working around four walks and four hits in six innings. He struck out seven.
"He had a little trouble in the first inning just getting into a groove, but he got into a groove and pitched five really good innings after that," Counsell said.
Brewers: RHP Wily Peralta will return to the rotation Tuesday at San Francisco. He has been on the DL since May 25 with a strained left oblique.  . . . Adam Lind was replaced at first base by Peterson in the second inning after suffering lower back tightness.
Diamondbacks: C Gerald Laird caught his first bullpen (with Robbie Ray) as he rehabilitates from back surgery.  . . . C Welington Castillo returned after missing three games with a tight left hamstring.
Brewers: RHP Matt Garza will make his second start since returning from the DL with a sore shoulder against the Diamondbacks on Sunday. He threw six shutout innings to beat the Cleveland Indians on Tuesday.
Diamondbacks: RHP Jeremy Hellickson is 4-1 with a 2.76 ERA his last five starts at Chase Field heading into Sunday's game against the Brewers.
---
---