Breaking Down the Touchdowns In Kansas City
BY foxsports • September 19, 2013
Since it is Thursday, we have one last day to peel back another layer of the onion looking back at the previous Cowboys' game with our Xs and Os study.  This is simply picking 2 major plays in the game and breaking them down from a purely strategic basis and seeing what we can find.  
Play #1 - 3rd Quarter - 1/10/12 - S12 - Inside pass to Bowe - Touchdown
On Monday, in his "day after" press briefing, Jason Garrett was being quizzed by the media about the wisdom of throwing a pass in the red zone that is well short of the end zone that required to make a number of defenders miss in order to find 6 points.  
They were, of course, looking for reasoning that might explain passing on Dez Bryant in a 1-on-1 for the WR quick screen to rookie Terrence Williams amidst an ambush of Chiefs that turned into a loss of yardage, momentum, and perhaps the game.  
Well, Garrett was ready.  He cited the play we are about to look at as proof that the concept is a sound one.  Observers of play design would agree that the play below worked very well.  Unfortunately, it was Garrett's defense that cooperated and was then subsequently victimized on the play.
Let's check it out.  
On Alex Smith's right, he has Dwayne Bowe out wide near the sideline.  He has TE Sean McGrath in the slot right and TE Anthony Fasano tight to the right tackle.  On the far left he has Donnie Avery and of course, Jamaal Charles next to him as a safety valve.
The Cowboys are countering with a simple red-zone zone defense that is stacked 5-2 with the corners at about same depth as the linebackers across the 5-yard line or so, and Church and Allen in the back grabbing any deeper routes that may threaten the end-zone.
The Chiefs want both tight ends on the right to run out-breaking routes that will then attract attention before heading into the end-zone if coverage does not grab them.  Meanwhile, Bowe will sneak below them as the 1st option underneath to the same side.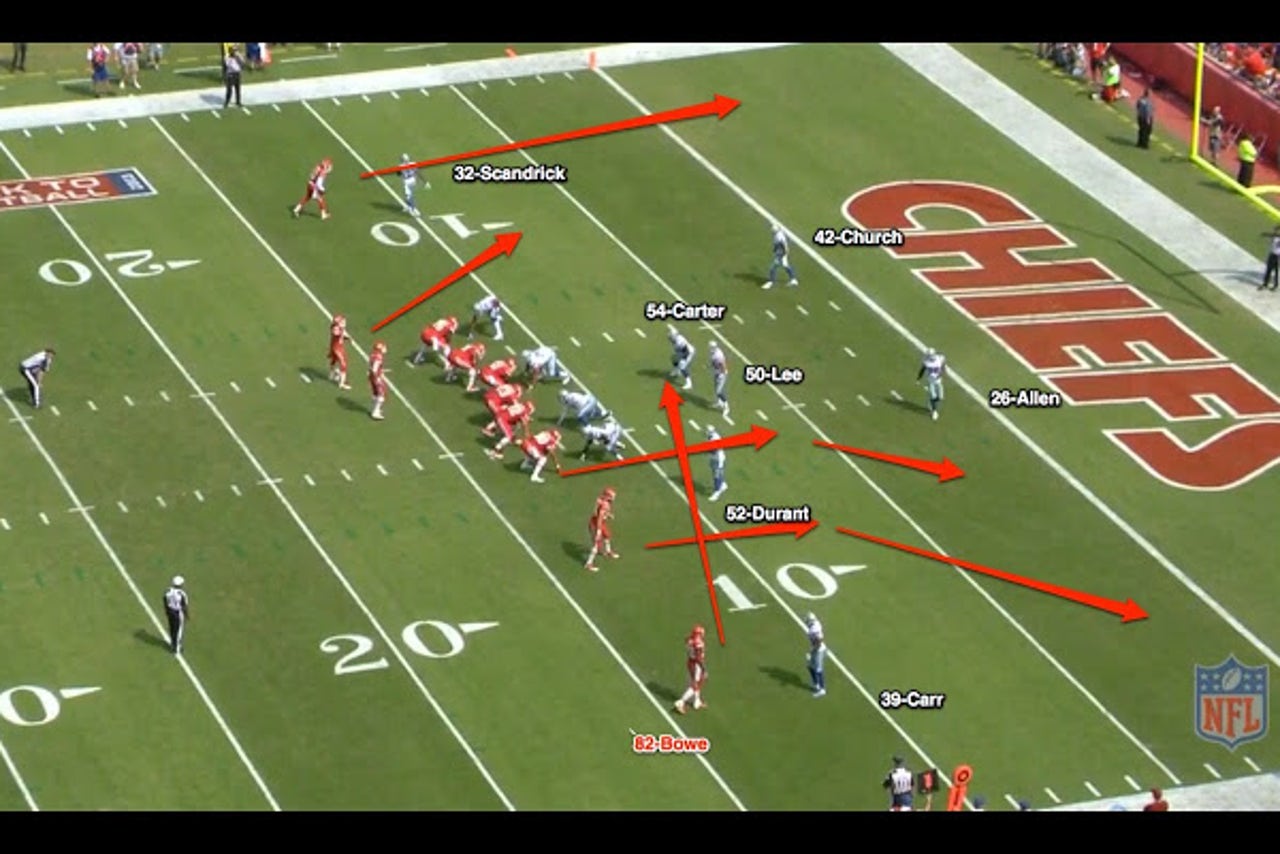 Moments into the play, you can see this all developing.  Church has moved up because it looks like Avery is headed to the post and also he is aware of Charles underneath.  On the near side, the tight ends have taken Durant and Lee outside their normal drop landmarks as they have now headed towards Carr in following the players in their zone.  But, Bruce Carter is right where you want him, between the hash marks and able to handle Charles or Bowe who is headed right at Carter from the far right.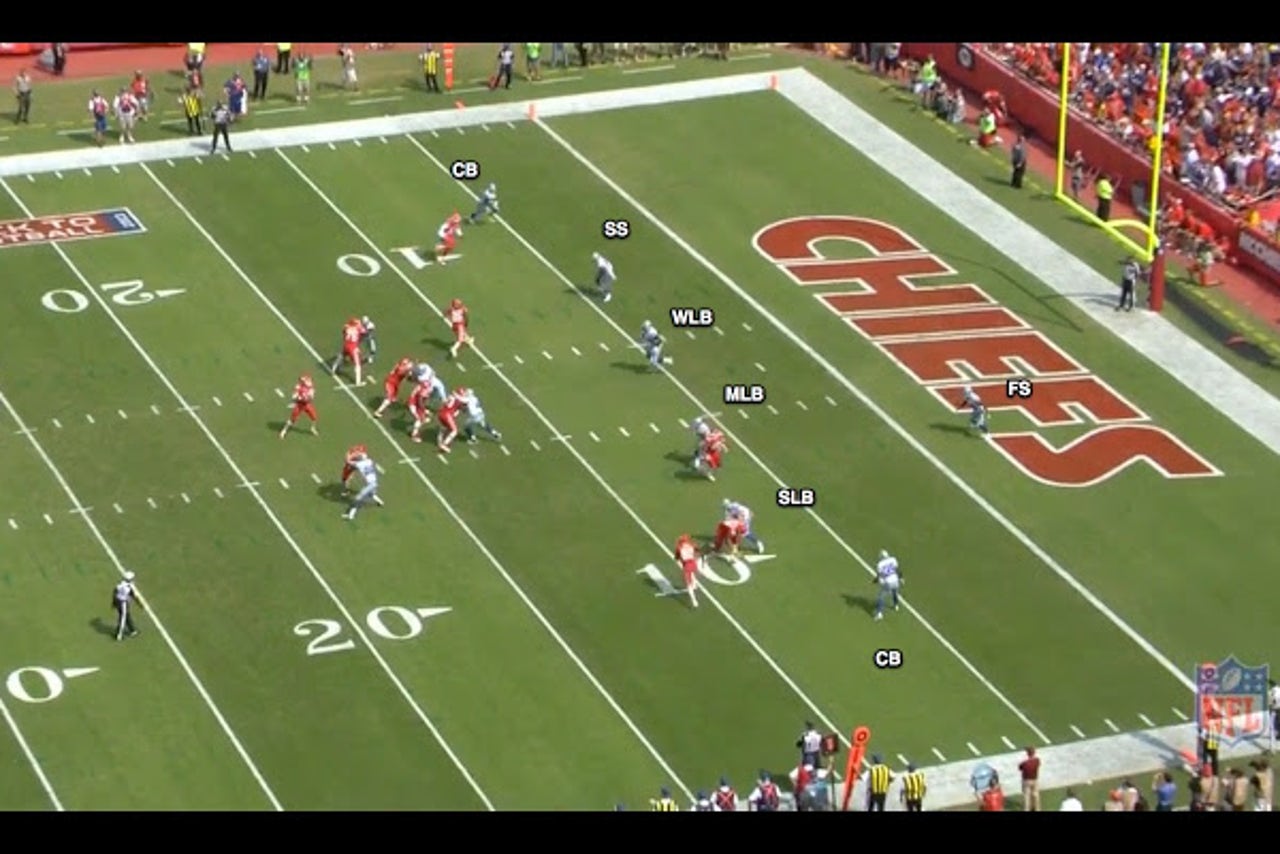 The frame below shows that Lee has now committed to Fasano who is at the goal-line.  So has Allen.  And, now unfortunately, you see, so has Bruce Carter.  In the picture above, you saw Carter in his perfect spot against such a play.  Now, you see him with his hips and body turned towards Fasano behind him.  How did this happen?

In the video below, you will see that Alex Smith moved Carter out of the way.  It was a subtle shoulder fake from the QB, but Carter bit.  And now, Bowe runs underneath to the hole in the zone that is huge - and right where Carter used to be.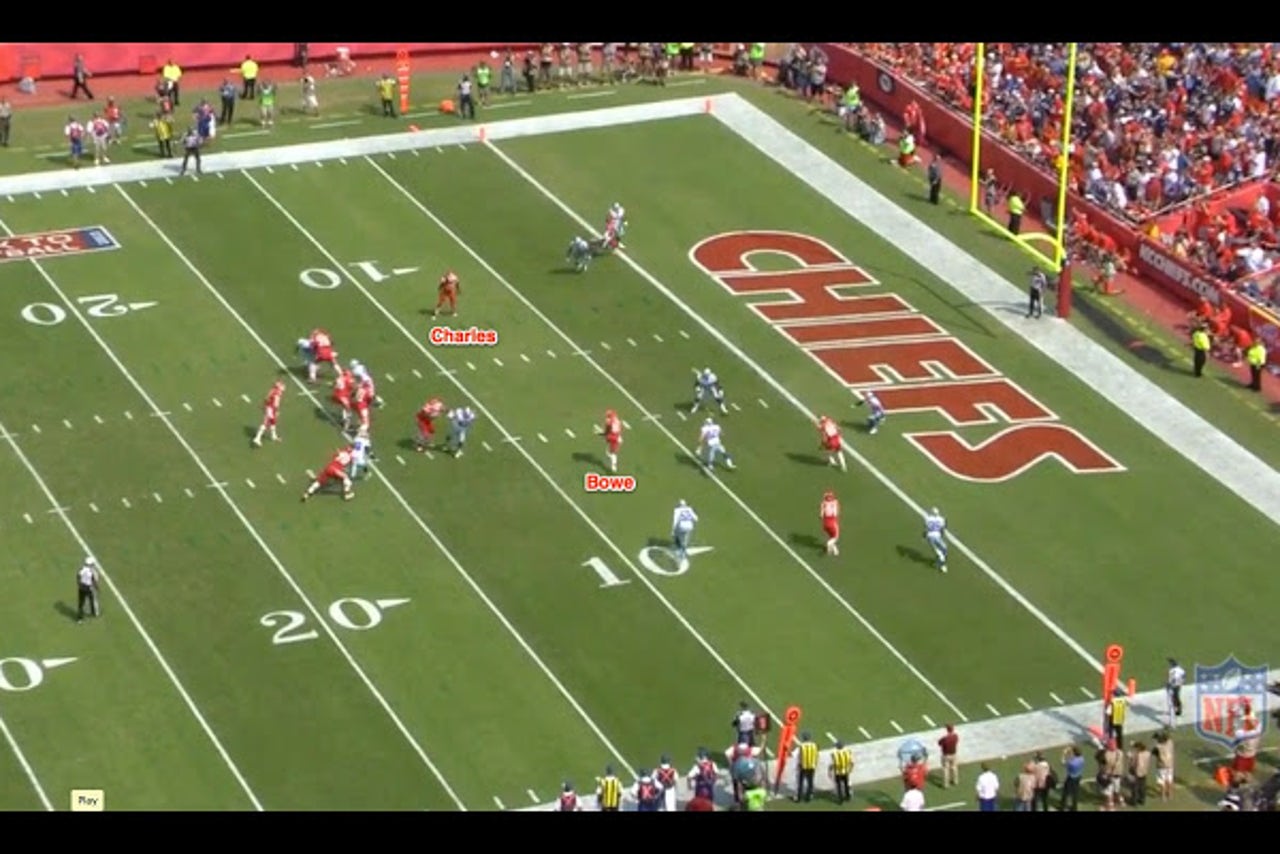 Below is a circled Carter who is now on the grass as he has lost his footing trying to get back to Bowe. This is a good lesson in zone defense.  When you play zone, you are often looking at the QB and watching your zone in the periphery.  But, a QB can manipulate you because he knows this is how you are defending him.  Then, as a zone player is trying to hand off his man to the next man over, you can send someone in the opposite direction to beat the zone.

This zone beater is based completely in convincing the defense that you are going to those tight ends in at the goal-line.  The defense is so convinced that they have 5 defenders on 2 Tight Ends (and neither is Tony Gonzalez or Antonio Gates) and have forgotten that the biggest weapon is running free in the middle of your zone.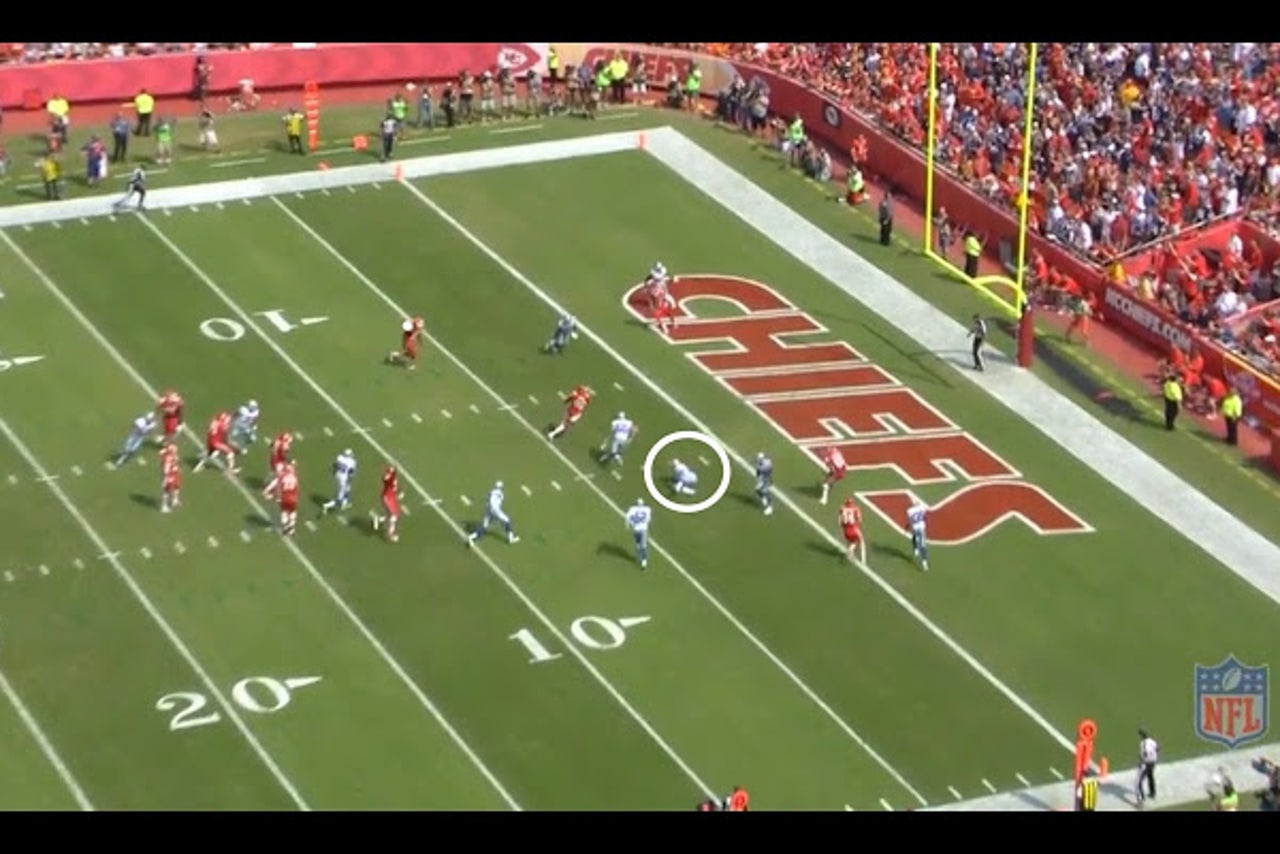 End Zone view.  I hope you can see it.  Smith shows his back numbers to Carter which indicates a throw to the sideline.  Aggressive linebackers know that this means pursuit!  He takes a few false steps and then sees Bowe running in the opposite direction.  From here, I am merely speculating which word Carter then said as he knew he was a victim.  Touchdown Chiefs.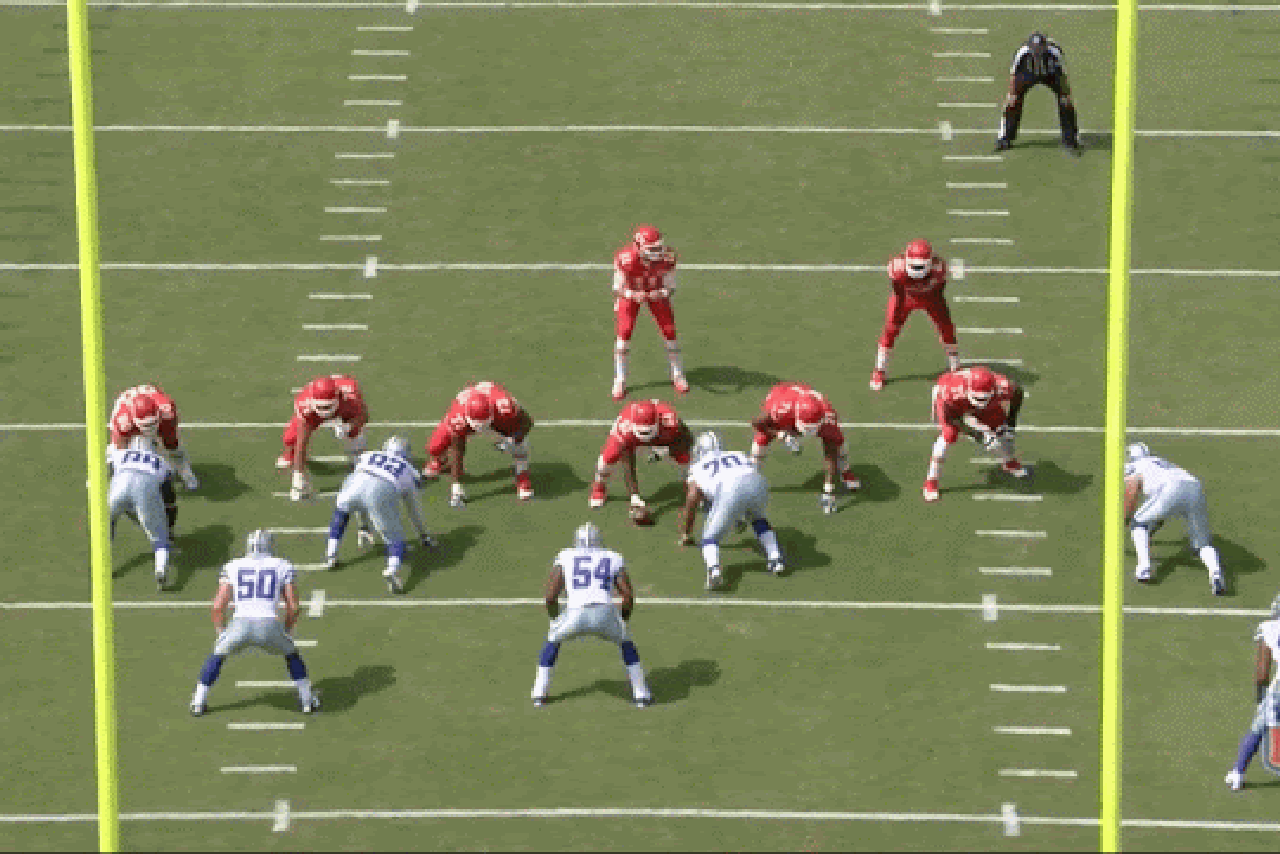 And now the view from up top.  It looks like if Smith wanted to, Charles would have had a nice chance to beat Barry Church to the pylon on the left as well.  
The single biggest question I have after 2 weeks is whether the linebackers - who many said would be perfect for zone concepts (Tampa 2 or otherwise) - are going to be able to defend the middle of the field and not allow big plays there.  We thought it was going to be the safeties and that Lee and Carter will be fine.  But, through 2 weeks, we are seeing the Cowboys LBs are being attacked quite a bit and that the Cowboys defensive coaches are running a lot of man-under coverage to avoid this issue - we assume.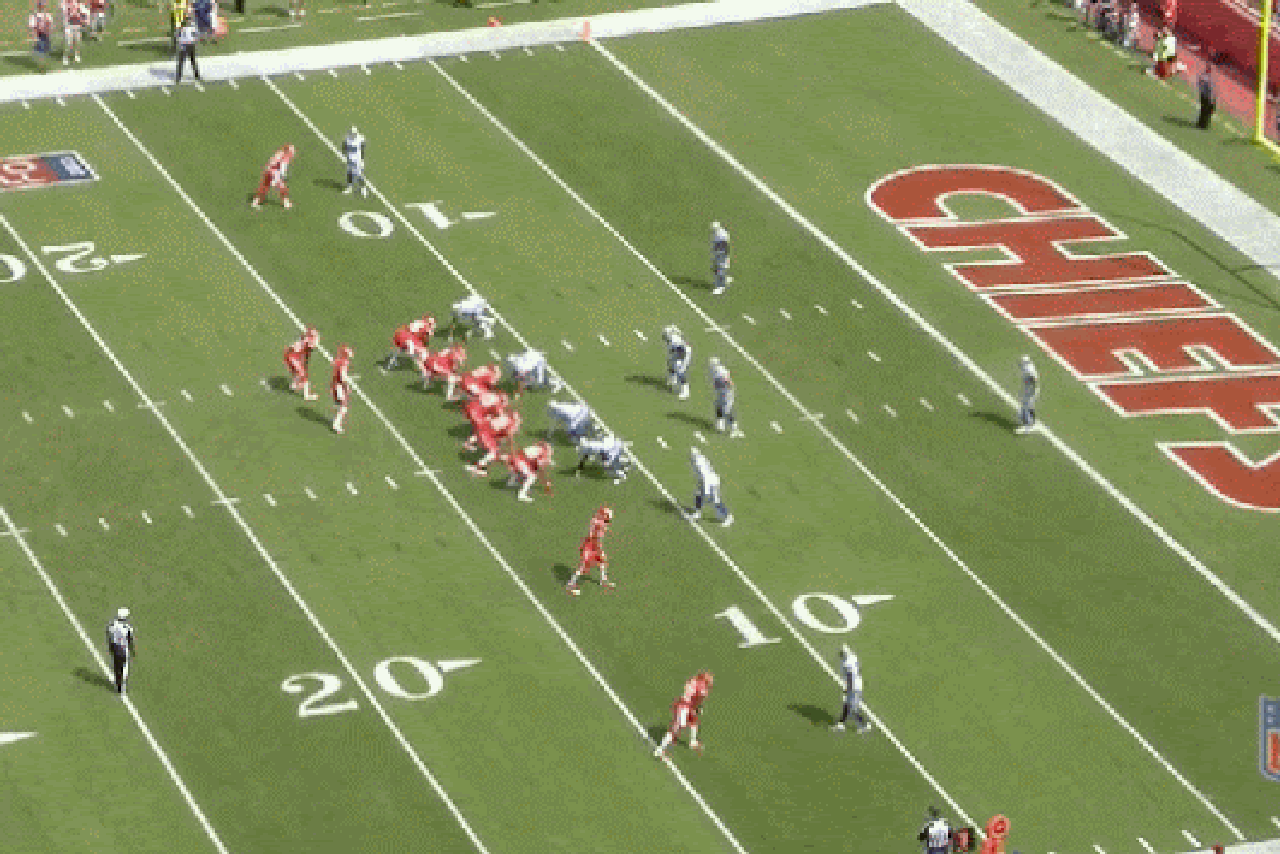 Play #2 - 3/Goal/1 - Romo hits Bryant in the back of the end-zone for a Touchdown

This play is a good play to look at that demonstrates how dangerous Tony Romo can be if you give him time.  I know that many teams will not blitz like Kansas City, and that even the Chiefs did not seem to play on blitzing him all day - until they were burned too many times when they did not bring pressure.

Remember, this is 3rd and Goal from the 1.  You could make the case that this is a great time to show you can run the ball for a yard, right?  Just kidding.  In today's NFL and in Garrett's system, this means shotgun - 11 personnel!

Here we go, Harris wide left, Witten tight (and drawing the entire Chiefs defense), then Austin slot-right and Bryant wide-right.  They say that things happen quicker near the end-zone, and I think this proves that pretty well.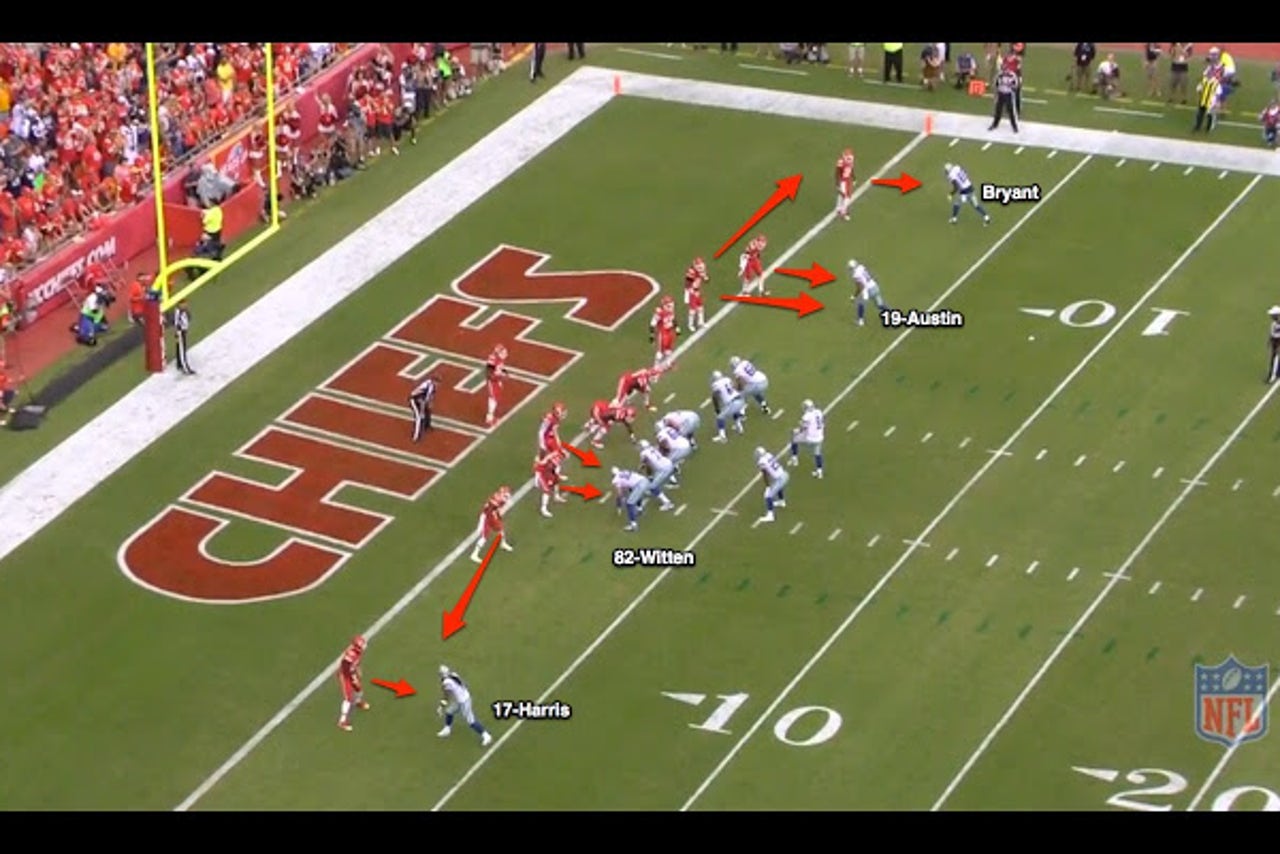 Based on video below, I think the frame below captures the order of Romo's progression.  It has to happen quickly, but he looks wide left first, then to Witten.  I am putting numbers to demonstrate his progression, but it is highly likely that he is bluffing on Harris.  Whether he would ever throw a fade to Harris on 3rd down at the 1 yard line is debatable, but I suggest it is just as likely that he is trying to pull some of the attention off Witten by this bluff.  But, Kansas City, in dime, has a corner and safety (Eric Berry) over Harris and Quintin Demps and Derrick Johnson right on top of Witten the entire time.

No shock here, on a 1-yard play, Romo would really like to free up Witten right over the goal-line.  Lucky for the Chiefs, they have watched football before and aren't falling for the fake out to Harris.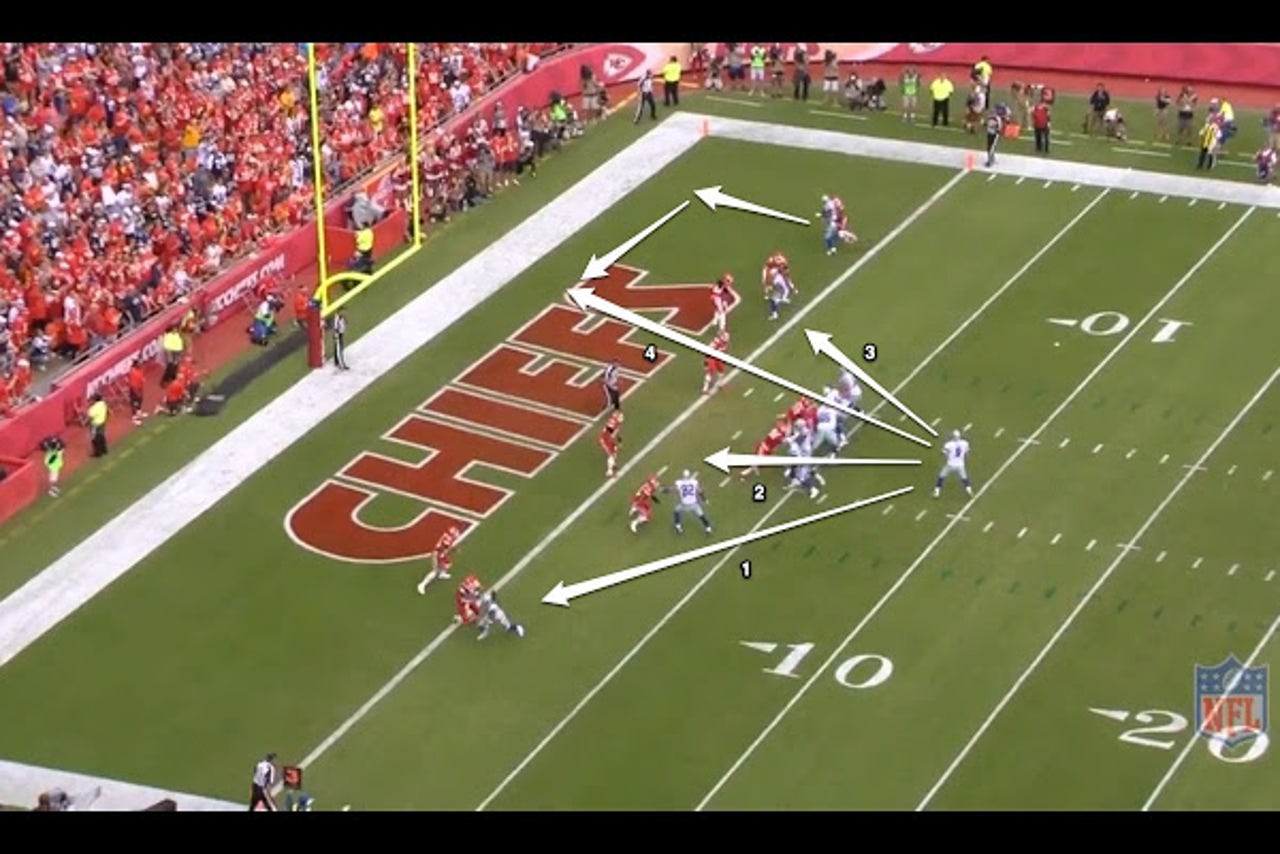 So, as this play is developing, we see that the Chiefs have "3 over 2" on Romo's right with Austin and Bryant.  With safety Kendrick Lewis asked to sort out the "more dangerous threat" and respond accordingly.  He decides on Austin right over the line of scrimmage and trusts that Brandon Flowers has Dez on his own.

The trouble here for the Chiefs happens because Flowers assumes that Lewis is going to help him with this beast he is trying to cover and therefore takes outside leverage.  And, as you can see on the frame below, Dez has an inside advantage and there are no other KC defenders anywhere near the back of the end-zone.

It is possible that Romo was sitting on this the whole time, but it doesn't look that way.  It looks like he diagnosed coverage on the fly - something he is very good at doing.  But, also something he can only do if he has time.  And on this occasion, the Chiefs only rush 3 and drop 8.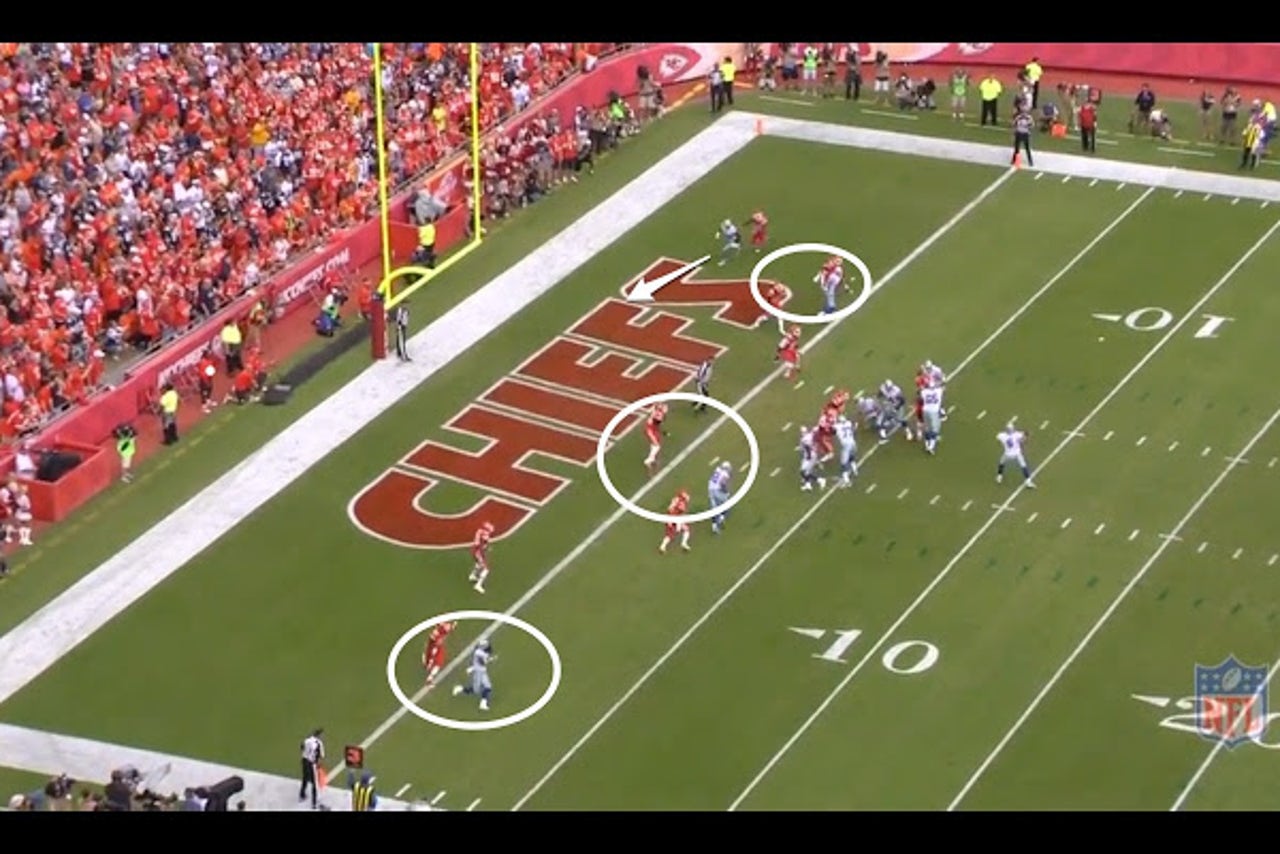 Here is the end-zone view.  Look at Romo's time and his head position where he is reading on the fly.  Also, note that the LB Justin Houston almost got a piece of this ball.  One other thing to observe is that Dontari Poe threw Travis Frederick to the ground (again).  Lucky Ronald Leary was there to clean up the mess.  To call Sunday a learning experience for Frederick is an understatement.  Fortunately, there are very few Poe's kicking around the NFL.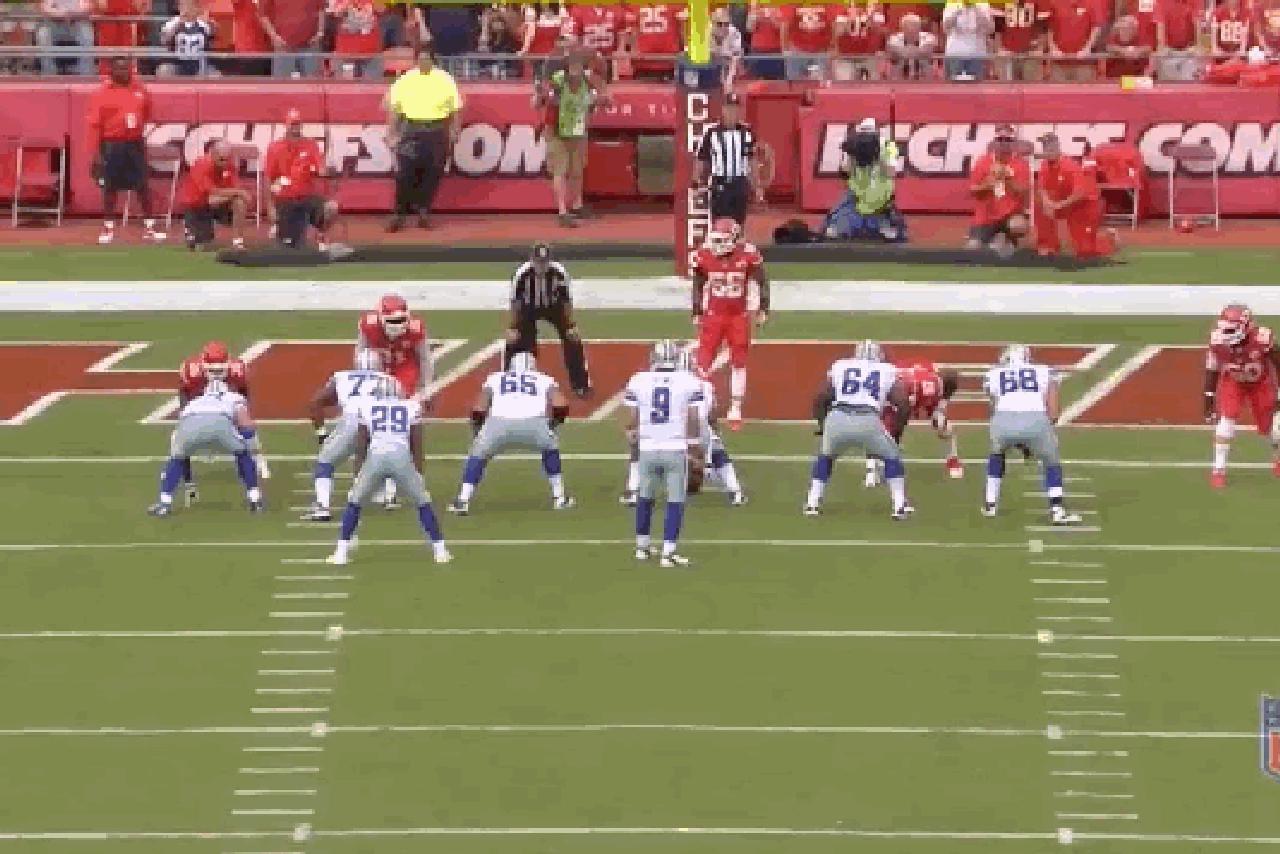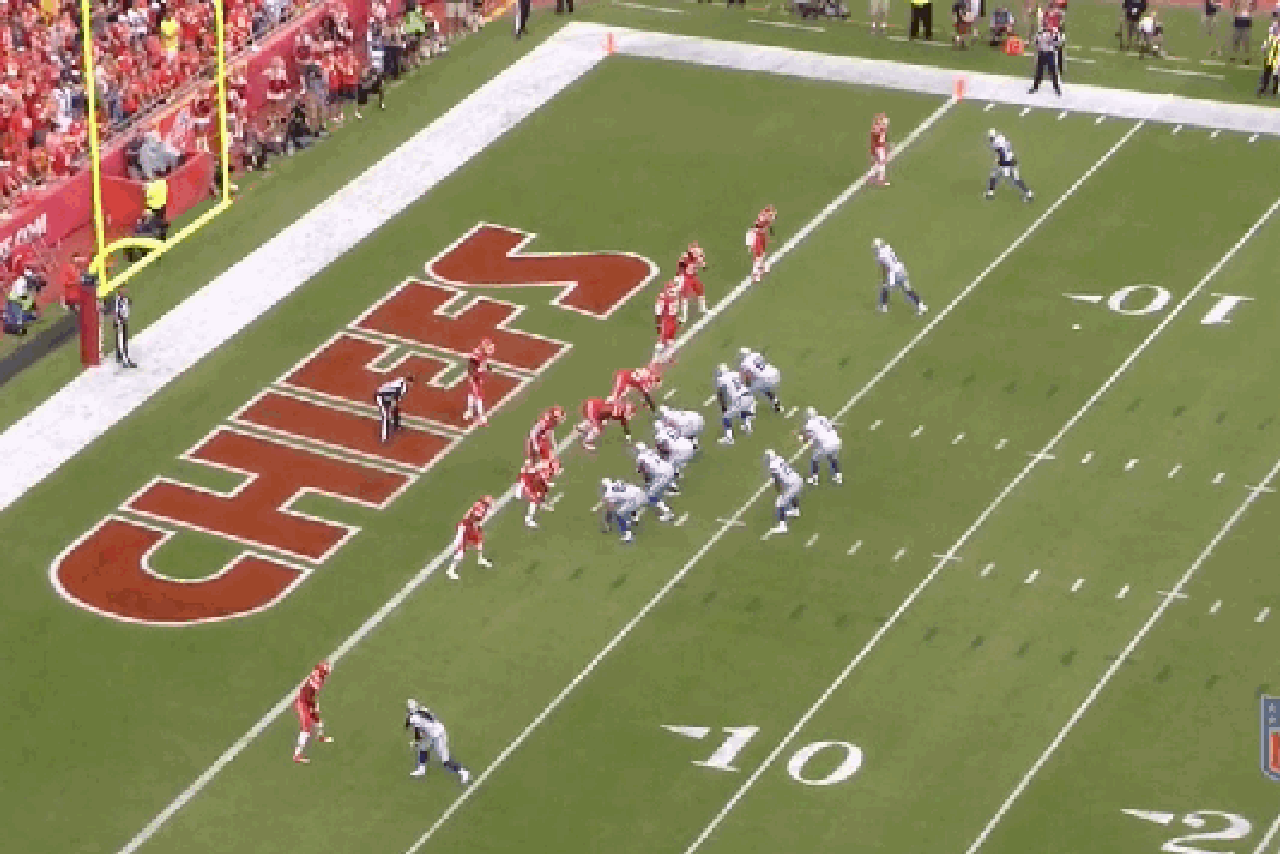 Feel free to leave your comments/questions below on these play breakdowns.  The Friday mailbag is tomorrow.  Sturm1310@me.com is the best way to take part.
---