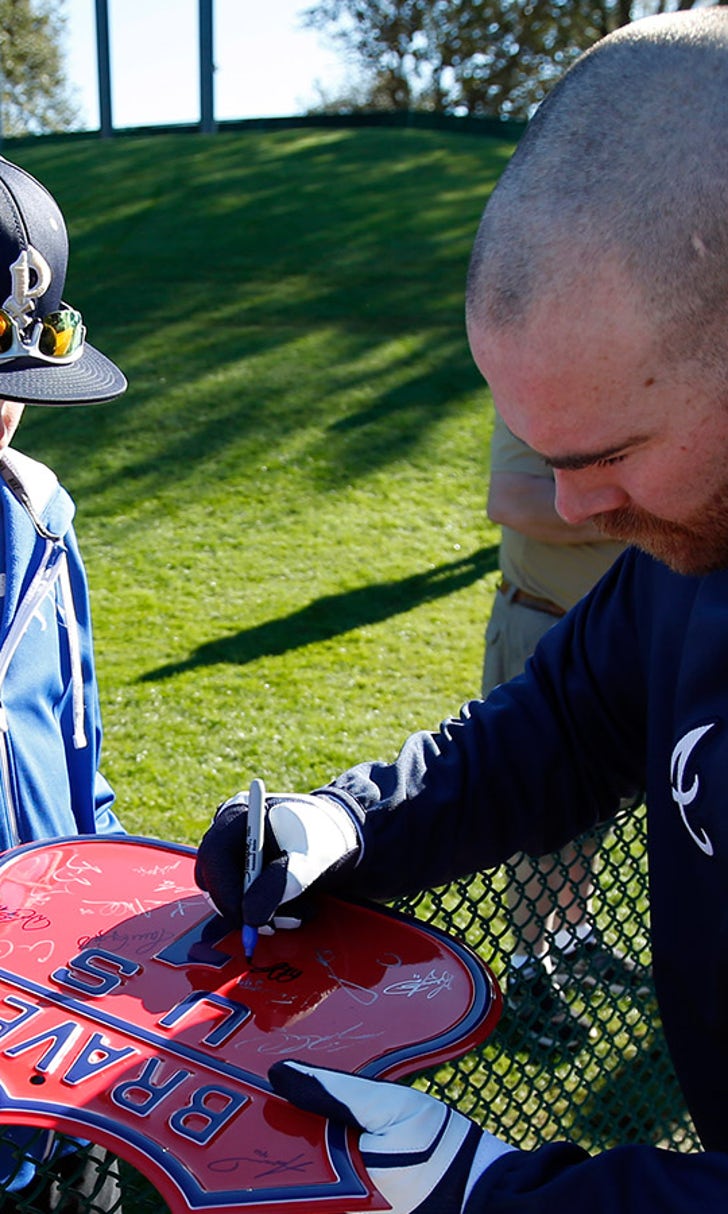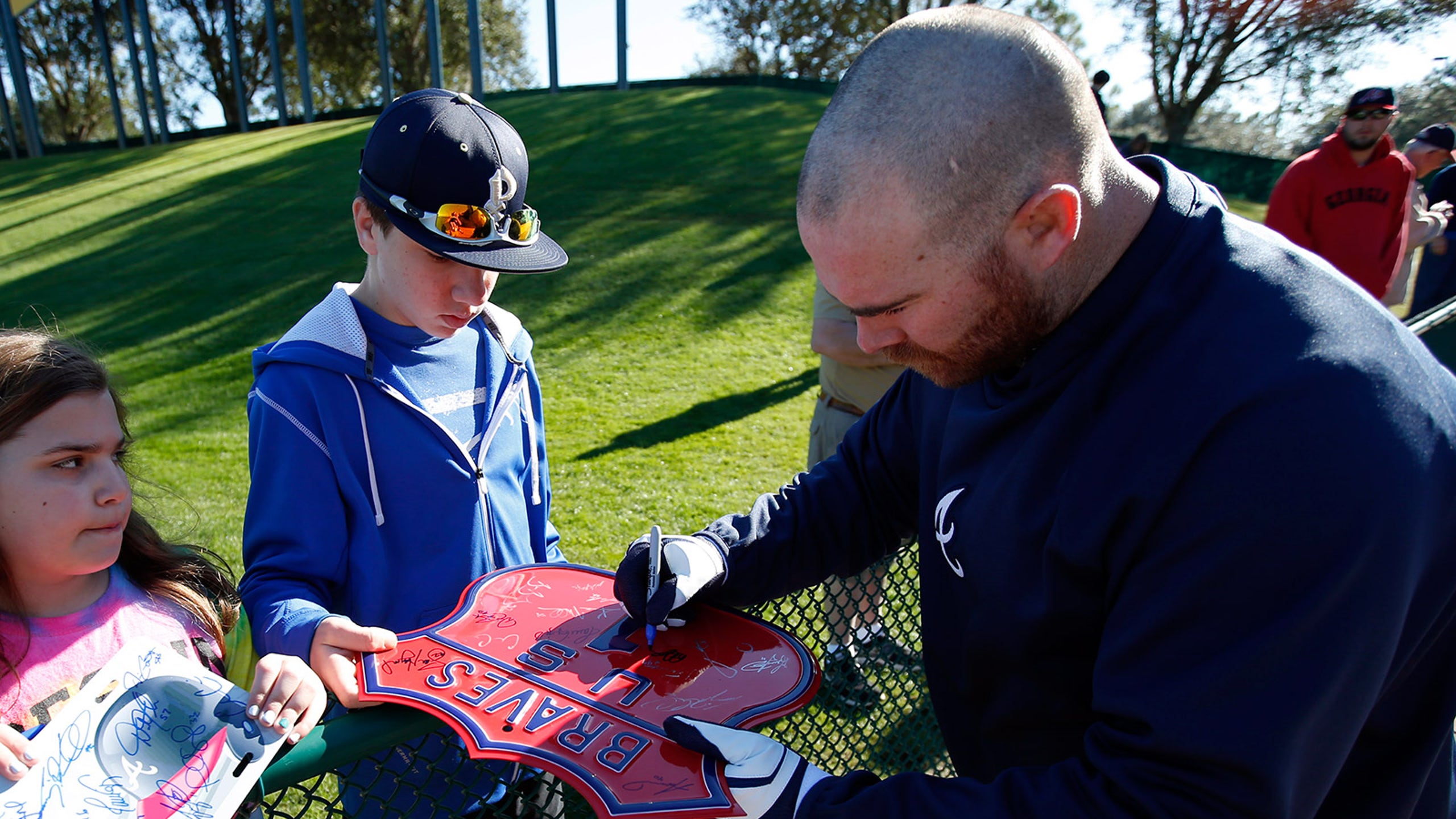 Braves Notebook: Doumit has 'every intention of catching'
BY Cory McCartney • February 19, 2014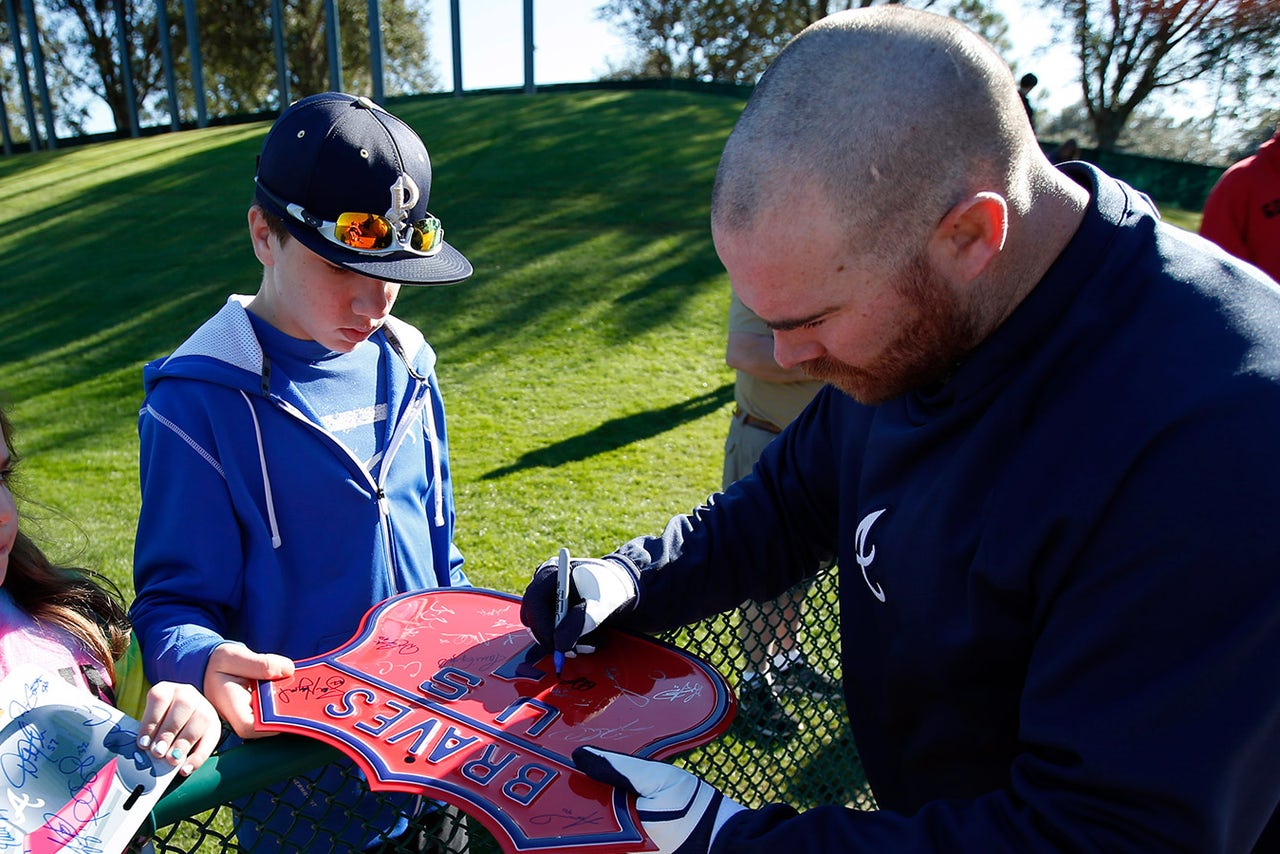 LAKE BUENA VISTA, Fla. -- Ryan Doumit arrived at Braves camp with the intent of making one thing clear: he does intent on catching again.
"That whole thing ... I don't know what happened there," Doumit said before Wednesday's first full-squad workout. "Somebody's wires got crossed or something."
Acquired from the Twins in a trade for left-handed pitching prospect Sean Gilmartin in December because of his versatility -- Doumit has played first base, right field and left field along with catcher over his nine-year career -- that took a hit when his former Minnesota teammate, Brian Dozier, was quoted as saying Doumit's "not catching anymore."
But according to Doumit, Dozier's words were taken out of context. After suffering a concussion in early August against the Astros, Doumit caught sparingly over the six series. He caught his last game Aug. 29, appearing as a right fielder designated hitter and pinch hitter over his final 22 games.
"I didn't catch at all in September and I didn't have any desire to," Doumit said. "At that point we were 15 games out of it or something, so I didn't think it was smart of me to catch. I have every intention of catching."
The mere fact that he was even dealt to Atlanta came as a surprise. Doumit said he immediately tried to figure out how he would fit into the franchise's plans, especially with the Braves promoting Evan Gattis to primary catcher, having Gerald Laird under contract for another year and prospect Christian Bethancourt waiting in the wings.
"I tried to do a quick 'where am I going to fit in?' right after it happened," he said. "But just to be on a team like this, and one that traded for me, they obviously wanted me. So anyway I can contribute."
Doumit worked out with the catchers Wednesday, a spot where he will provide some depth and flexibility as the Braves enter their first season post-Brian McCann.
Should Gattis get the day off and Gerald Laird starts, his bat remains an option off the bench, with the Braves able to use Doumit as a defensive replacement, a luxury they wouldn't have without a third player capable of catching.
Be it behind the plate, as a backup to Freddie Freeman, a fifth outfielder behind top reserve Jordan Schafer or as a power bat off the bench -- Doumit hit 14 home runs last season and has at least 13 in four of the last six years -- he is open to discovering his place on the roster.
"Wherever I can go to help out," he said. "I don't really know what my role is going to be right now, but I'm sure that will be more and more clear as spring goes on."
On Tuesday night, hours after a light team workout at the Braves' spring training complex, Craig Kimbrel did his best to stay up at watch 'The Late Show with David Letterman.'
He couldn't keep up the talk show's near-midnight start, though, falling asleep before his friend Cole Swindell performed at the end of the program. Not that Kimbrel has never seen Swindell, the country singer-songwriter who owned the No. 1 album on iTunes as of Wednesday morning, perform: he was playing Kimbrel's charity event before he ever hit it big.
"It's still pretty cool," Kimbrel said. "I couldn't stay up to watch him, but I texted him yesterday. He's pretty excited about (the new album)."
Kimbrel said he bought the self-titled album on Tuesday, its release date.
Kimbrel and Swindell met through a mutual friend a few years back, and the Braves closer has been tracking his music career, which includes working with fellow Georgia Southern student Luke Bryan and Scotty McCreery, ever since. On multiple occasions in the Braves clubhouse last season, Swindell's song "Chillin' It" could be heard playing from Kimbrel's locker. Now, perhaps with a little boost from Kimbrel's endorsement, Swindell is on top of the charts.
"Good for him, you know? He put the work in," Kimbrel said. "He deserves it."
Maybe Swindell's next national TV appearance will not require an 11:35 p.m. start -- Kimbrell's early-morning spring training regimen isn't structured for late-night TV.
After nine seasons in Atlanta, McCann is now in pinstripes and is going through his first spring training with the Yankees 73 miles away in Tampa. But at least a little piece of the seven-time All-Star remains at Braves camp.
Sitting on the railing in front of the Braves dugout sat a catcher's glove with "Brian McCann" stitched into it. There is word on whether it was just left in the equipment bag or if McCann was actually missing a glove during the Yankees' first workouts.
---