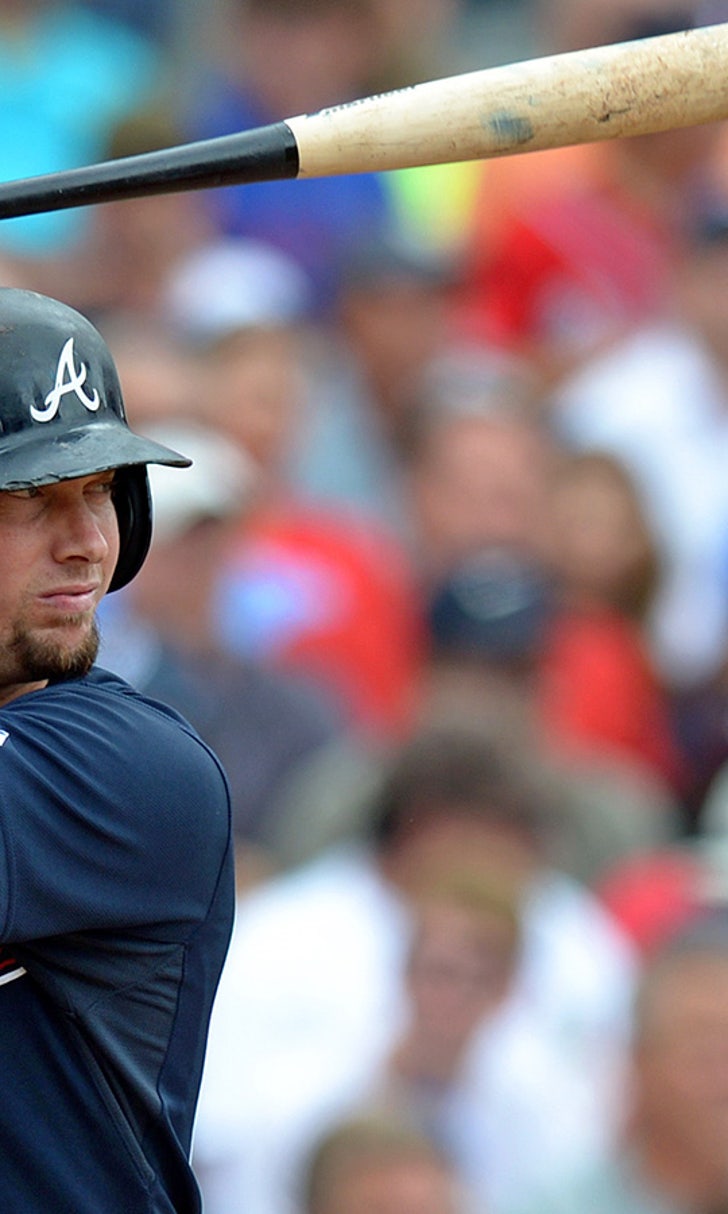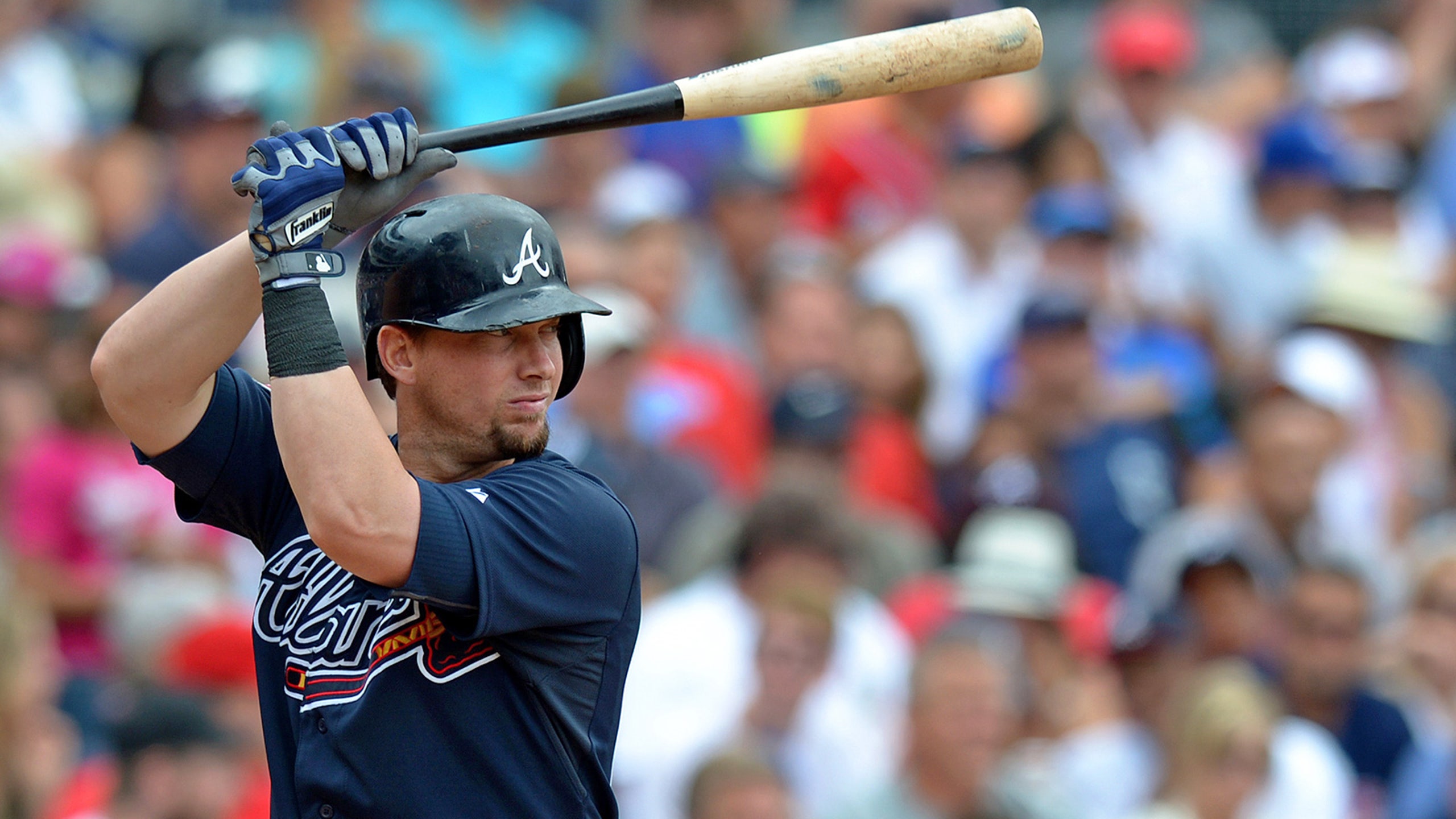 Braves' Johnson focused on recapturing '13 magic with new hitting coach
BY Cory McCartney • February 9, 2015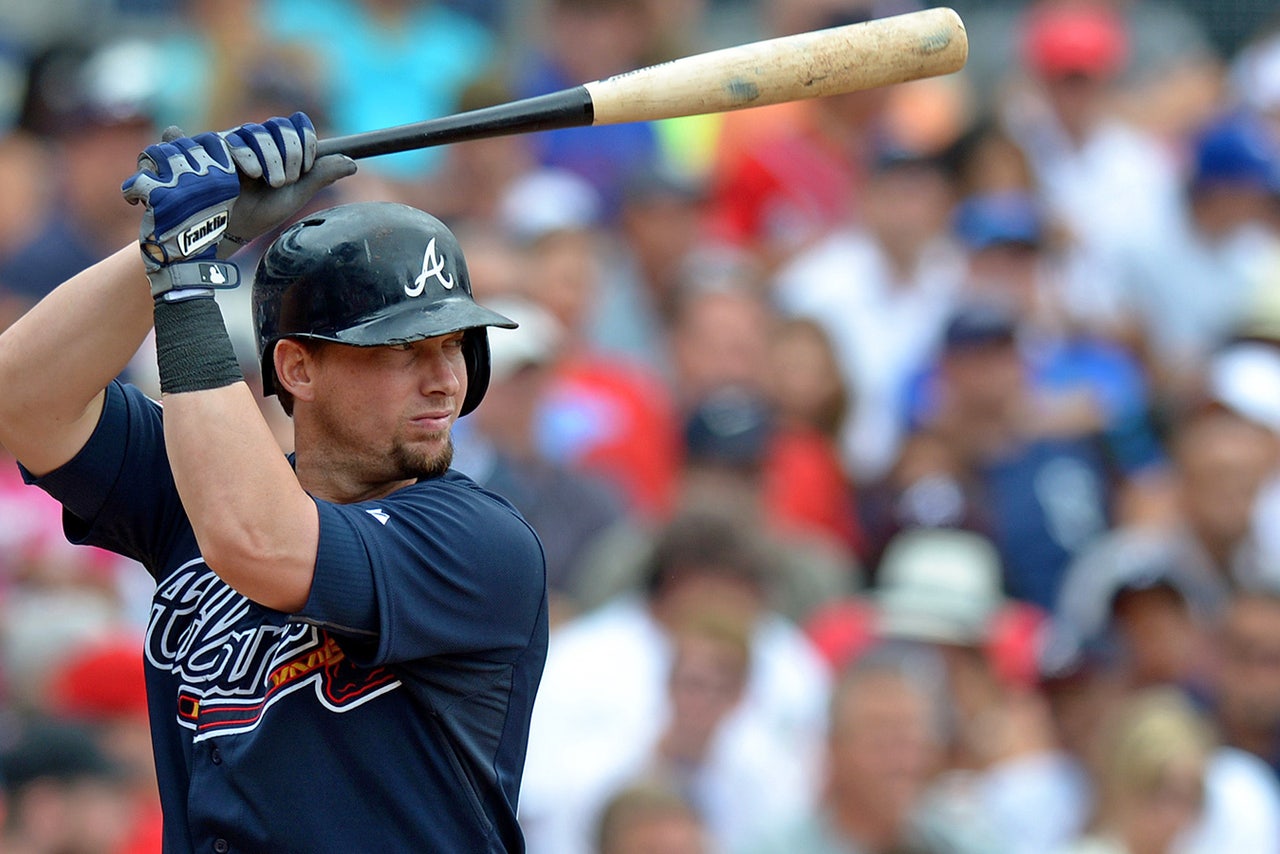 ATLANTA -- He's been a supposed trade throw-in, a surprise batting-title contender and, most recently, one of the biggest reasons for an offense's slide.
Who is Chris Johnson? Ultimately, the Braves are still trying to figure that out.
The third baseman stood at his locker in Turner Field before hitting the batting cage for some pre-spring training work. He surveyed all that has changed around him, empty stalls to his left and right.
"When your boys get traded, guys that you've kind of been in the fox hole with a couple of years and fought through some things and they get traded, it's tough," he said.
Johnson could have joined them.
After hitting finishing second in the National League in the batting chase as he hit .321/.358/.457 in his first season in Atlanta after coming over in the trade that reunited Justin Upton with his brother B.J., Johnson was rewarded with a three-year, $23.5 million contract extension. He then finished 2014 at .263/.292/.361, with the lowest OBP in the NL among qualified third baseman.
While his name was being tossed around in trade rumors wit the Astros, Giants and Padres, he rationalized it by knowing he was far from alone.
"I think everybody on the team, other than our shortstop (Andrelton Simmons) and first baseman (Freddie Freeman), probably heard trade talks this offseason," he said. "That doesn't bother us. We're professionals. We've been in the game a while, it's not the first time and won't be the last time we've heard trade talks."
But Johnson can do his part to quiet them with a rebound season working with new hitting coach Kevin Seitzer.
Johnson, 30, admits that last season he got away from what spawned his breakout '13. He swung at bad pitches, with the majors' third-highest O-Swing (percentage of pitches swung at outside the strike zone) at 44.3 Only Pablo Sandoval (48.1) and Salvador Perez (46.2) were worse.
But it wasn't that Johnson was just swinging at those pitches, he wasn't making contact either, with a O-Contact of 51.6, which was sixth-worst in baseball. By comparison, he had a O-Swing of just 39.4 in 2013 and his O-Contact sat at 51.6.
That drop in plate discipline last season resulted in the highest strikeout rate of his five full seasons in the majors at 26.0 -- he fanned 159 times in 611 plate appearances -- and with 23 walks he had a 3.8 rate, the lowest of his career.
"I think I just tried to do too much [last year]," Johnson said. "I think I was really worried about forcing my numbers back to where they were in 2013. Right now, I'm just focused on the process. I'm focused on getting my swing right, getting my path right and working on this new approach that Seitzer has us working on right now."
Seitzer, who spent last season with the Blue Jays, preaches contact. He wants players to use the whole field and let things sort themselves out, which if Johnson can get more in line with his '13 approach, could prove beneficial.
Even amid last season's struggles he still had a line drive rate of 26.8, which was just a tick below his 27.0 from the previous year, and a number that ranked sixth in MLB. He also had a .345 BABIP, which was down form the franchise-record .394 of '13, but was still tied for 16th overall.
It stands to reason that Johnson, who has a career average 25.3 LD% and last had a BABIP below .354 in 2011, could rebound under Seitzer's tutelage.
"It's a simple approach," Johnson said. "He likes to stay up the middle, stay the other way and take what the pitcher gives you. When you get two strikes, he just wants you to battle your butt off. I'm pretty excited. It's definitely an approach that I like. When I had those good numbers in 2013, I had that approach. I think I realized last year, I should be what I was in 2013 and not anything more."
Johnson and Freeman spent days working with the new hitting coach, and while he has the philosophy down, where the third baseman hits and whether he continues to be the everyday player at that spot are a different story.
Should manager Fredi Gonzalez opt to utilize a platoon at the spot he has options, including offseason acquisition Alberto Callaspo -- a switch hitter -- has 2,095 career plate appearances at third, then there's lefty Kelly Johnson (203 at 3B) and Phil Gosselin (32 PAs), who is also a righty.
But since joining the Braves, Chris Johnson has played just 14 games at a position other than third base and if he rebounds at the plate it's difficult to see him not maintaining his spot.
As for where he hits, Gonzalez has discussed the potential of Johnson hitting fourth behind Freeman, though it's not a place where he's thrived.
In 147 career trips to to the plate in that spot Johnson is hitting .264/.293/.393 with three home runs ant 12 RBI. But regardless of where he is in the lineup, Johnson doesn't expect it to change his mindset.
"I'm going to have the same approach wherever I'm hitting," he said. "That's what I need to stick with -- having that same approach, no matter where I'm at."
Follow Cory McCartney on Twitter @coryjmccartney
---