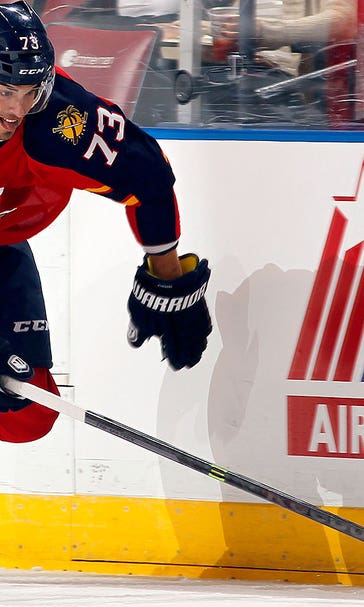 Brandon Pirri Q&A: On playoff push, scoring streak, Jagr & more
March 25, 2015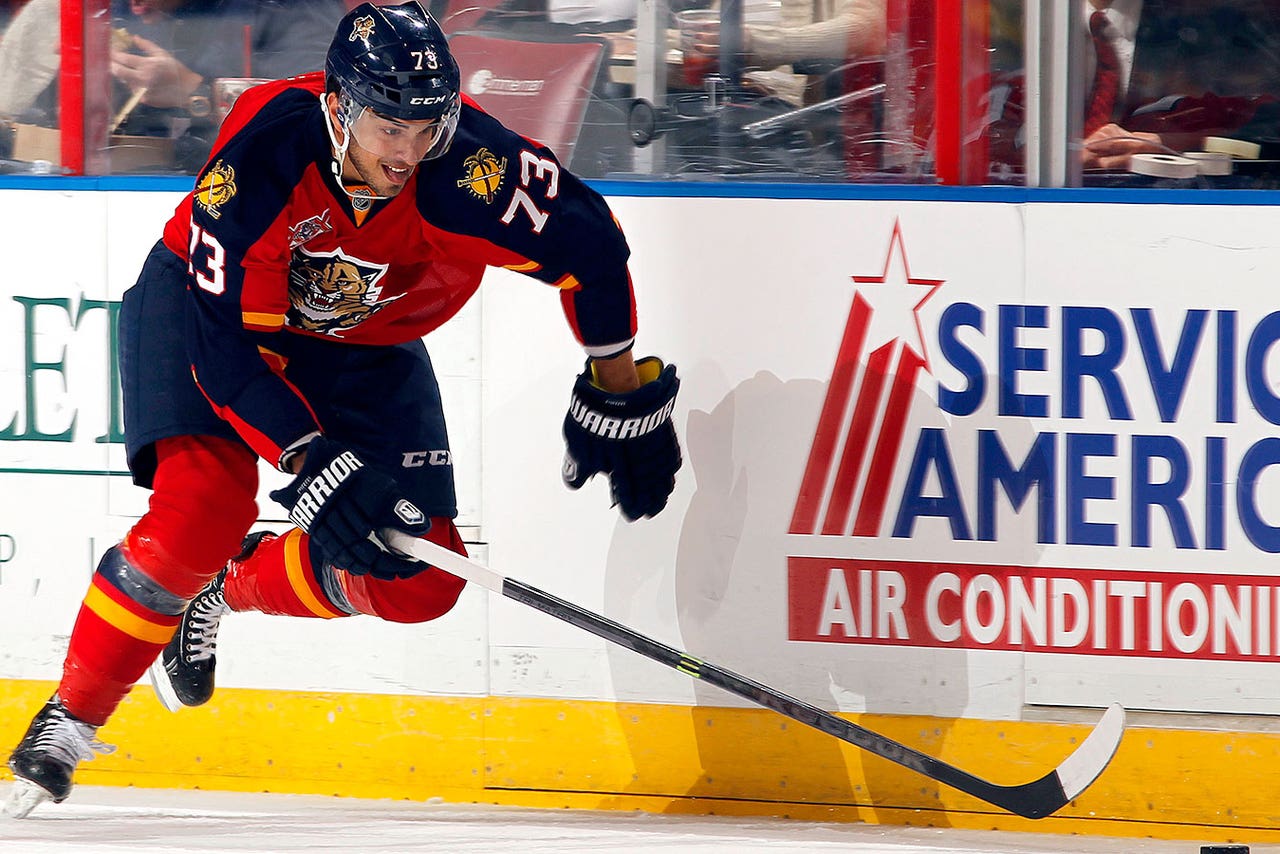 In recent weeks, few players in the NHL have attacked opposing goaltenders with as much consistent ferocity as Florida Panthers winger Brandon Pirri.
Pirri, acquired on March 2, 2014 from the Chicago Blackhawks in exchange for two draft picks, recorded his 18th goal of the season in Florida's 4-3 loss to the Tampa Bay Lightning on Tuesday night, marking the 15th time in his last 21 games that the 23-year-old has found the back of the net.
Nicknamed "Wesley Snipes" by teammate Shawn Thornton for his ability to pick even the tightest corners with extreme precision, Pirri has already notched 18 goals this season despite being limited to just 40 games due to two injuries and earlier healthy scratches.
Since Florida's inaugural season in 1993, there have only been a handful of Panthers to reach the 30-goal plateau in a season, with David Booth in 2008-09 being the most recent. However, armed with a gunslinger mentality and an itchy trigger finger, Pirri certainly looks poised to reach that mark in the coming seasons.
Recently, FOXSportsFlorida.com's Jameson Olive caught up with Pirri to discuss the thrill of a playoff push and the mentality of a streaking scorer.
FOX SPORTS FLORIDA: With only a few weeks remaining in the regular season, the Panthers remain right in the thick of the playoff hunt. After finishing 29th last season, how different does playing in March feel when your postseason hopes are alive?
BRANDON PIRRI: It's a little different from last year. Last year, I think that guys were trying to prove themselves to be on the team this year and now we're trying to extend this year. It's a lot of fun and coming to the rink matters. It's not that last year didn't matter, it's just we weren't in it. Now, we've got to show up or else we're going to be unhappy come April. It's a lot of fun and it's the mentality of trying to push everyone to become better and have a strong finish.
FSF: Your goal-scoring ability has certainly been helping fuel Florida's postseason push in recent weeks. As a player, do you feel any different when you arrive to the rink in the midst of such a torrid streak?
PIRRI: Maybe you sleep a little easier when you're not fighting the puck so much, but the team's winning and that makes for a happy locker room. Winning cures all. The team's winning and that's what important right now and I'm just happy that I can contribute.
FSF: Is there anyone that you model your quick-draw shooting style after?
PIRRI: It's just kind of a shoot-first mentality. It's something that I've worked on through my pro career and now that I'm getting a lot of opportunity it's starting to show a lot more. For me, it's just trying not to do too much and just focusing on trying to help the team win. If that's scoring goals, then it's something I've got to do.
FSF: In professional sports, success is usually accompanied by increased superstition. Have you gained any unique quirks during this most recent hot streak?
PIRRI: You try not to think about that stuff because that's when you overthink it. There's a routine that I go with and, whether or not it works or if it doesn't, I'll stick to that routine. I just try to stay comfortable like that.
FSF: Do you have a certain agenda that you like to stick to on game days as part of that routine?
PIRRI: Not exactly certain, but I like to do stuff around the same time to keep the routine. [I] nap at the same time, wake up at the same time, that kind of stuff -- nothing crazy or Jagr-like. I think a routine that you stick with keeps you mentally ready and you don't have to worry about anything else.
FSF: Speaking of Jaromir Jagr, is there any part of his infamous training regimen that you've picked up yet?
PIRRI: I don't think there's enough time in the day to think about what he's doing (laughing). He's doing stuff all day at the rink. It's a testament to him and how hard he works and why he's still playing at 43.
FSF: It's been over a year since you arrived from Chicago to the Panthers. How unique has the experience of playing in a non-traditional hockey market like South Florida been thus far?
PIRRI: I think [the weather] makes waking up a lot easier for sure, especially now that we're in the race. You could see by the crowd [against Boston] that this has the potential to be a hockey market. It's a lot of fun and I'm sure if we keep winning, people are going to keep coming.
You can follow Jameson Olive on Twitter @JamesonCoop or email him at JamesonOlive@gmail.com.
---