Boudreau has Ducks believing after second straight late comeback
April 19, 2015

"Believe" is the word of the night, and may well be the theme of the series.
It's the word Anaheim Ducks' coach Bruce Boudreau uses to explain the team's remarkable ability to overcome third-period deficits. It's certainly applicable, as the Ducks mounted yet another comeback in the third period of Game 2 on Saturday night in their first round Stanley Cup Playoff series against the Winnipeg Jets.
But more than believing in the team's collective ability to overcome in-game obstacles as a group, there's an inherent belief that each player is capable of changing the game at any moment. In Game 2, that player was Jakob Silfverberg, and he changed it with only a few moments left. And there were a few others as well.
Break out that soccer chant, because the Ducks believed that they would win, and with 19.8 seconds left on the clock, they did. The 2-1 win over the Jets gives Anaheim a 2-0 lead in the series going into Winnipeg and makes the Ducks the first team in NHL history to take a 2-0 series lead after trailing in the third period twice.
"I said it last game, you just believe you can do it," Ducks coach Bruce Boudreau said. "A lot of times that propels you to do it. If you didn't believe you couldn't do it, then you'd never do it. I wish I had an answer, then I'd bottle it up. But I don't think our team quits. Neither does theirs, but that's why you can score goals late, because we didn't quit."
The first period looked more like an MMA match than a hockey game. All the bounces of the second period, that one troubling trend the Ducks can't seem to kill, went to the Jets. Winnipeg blueliner Adam Pardy scored his first goal since 2011, another controversial goal that the officials had to review, but ultimately it stood when it was ruled that Ryan Kesler pushed Lee Stempniak into the net.
But then Kesler took a penalty and the Ducks killed it off. In the absence of puck luck, a strong penalty kill can do wonders to shift the momentum.
Going into the second intermission down 1-0, a rallying cry and a motivational speech wasn't even needed. The theme of believe had already permeated the Ducks' dressing room.
After 19 comeback wins this season, it's become a mindset.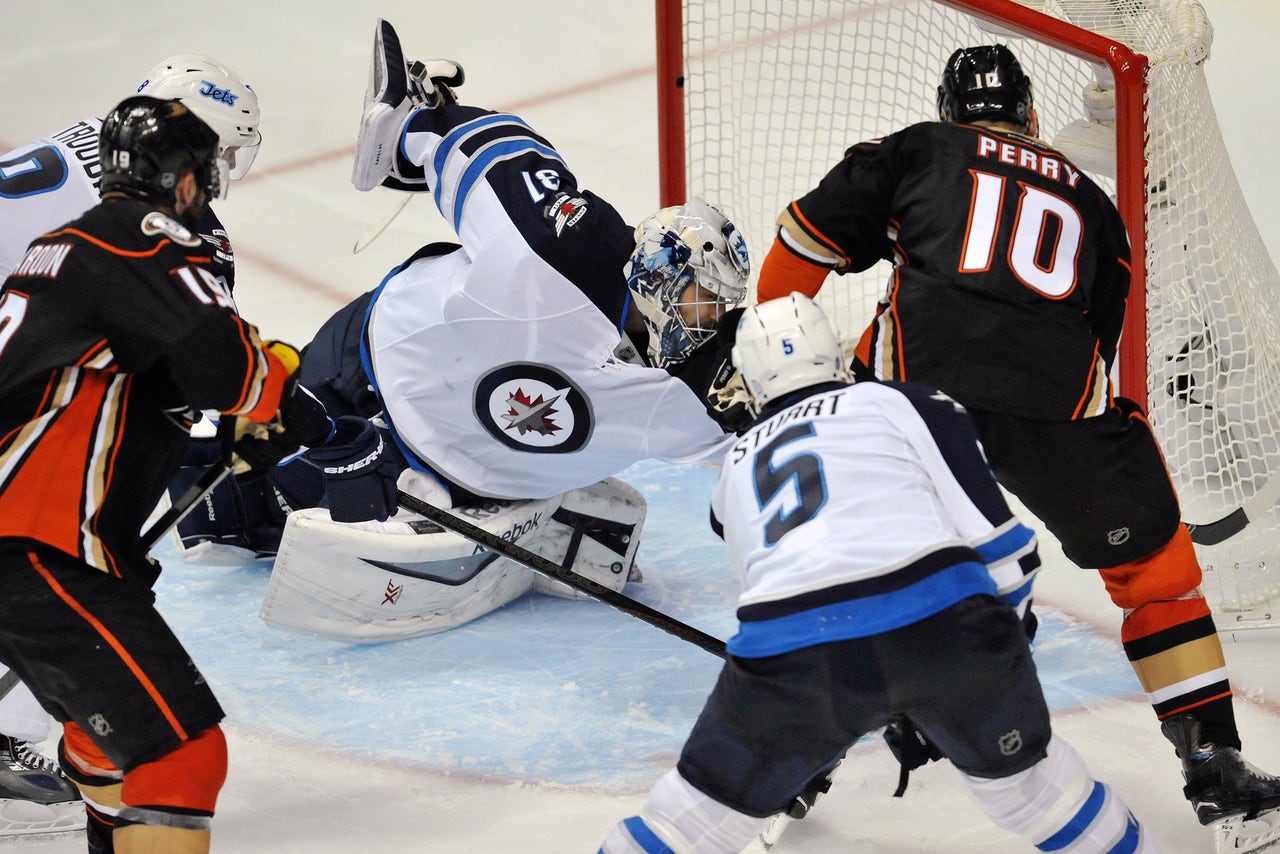 Stanley Cup Playoffs: Jets vs. Ducks series information
"We stick to our game plan and we're able to still be confident and still be loose enough to not press," said defenseman Cam Fowler. "Especially when it gets down to 10 minutes, it gets down to five minutes. You still have to have that belief that you're going to get one and that's something you build over time, that's not something that comes over one game.
"The playoffs is a whole different ballgame, but you have to find yourself in that situation, so you know how to react the next time."
Believe hard enough, and Clayton Stoner, the oft-criticized defenseman that Boudreau has chosen to stick with in the first two games, may bail out his goalie and clear a puck just inches from the goal line out of the crease.
Believe a little harder and Fowler can score a greasy goal off the back of Patrick Maroon to tie the game up -- on the power play, no less, where the Ducks have no choice but to believe that their dismal numbers will turn around. They have so far, with three power play goals in two games.
And finally, always rest your belief in the certainty that the quick release of Silfverberg's shot will zip past an opposing goalie.
"He's got such a quick release that the people around here know him from shootouts. When he gets it off, it's hard to pick up," Boudreau said. "This one, I quickly watched it when I got in the room and still don't know how it went in, but I assume it was shortside."
The concept might seem so simplistic in theory, but in reality, it's a well-honed -- and most importantly, an effective -- mindset that continues to produce victories for the Ducks.
---