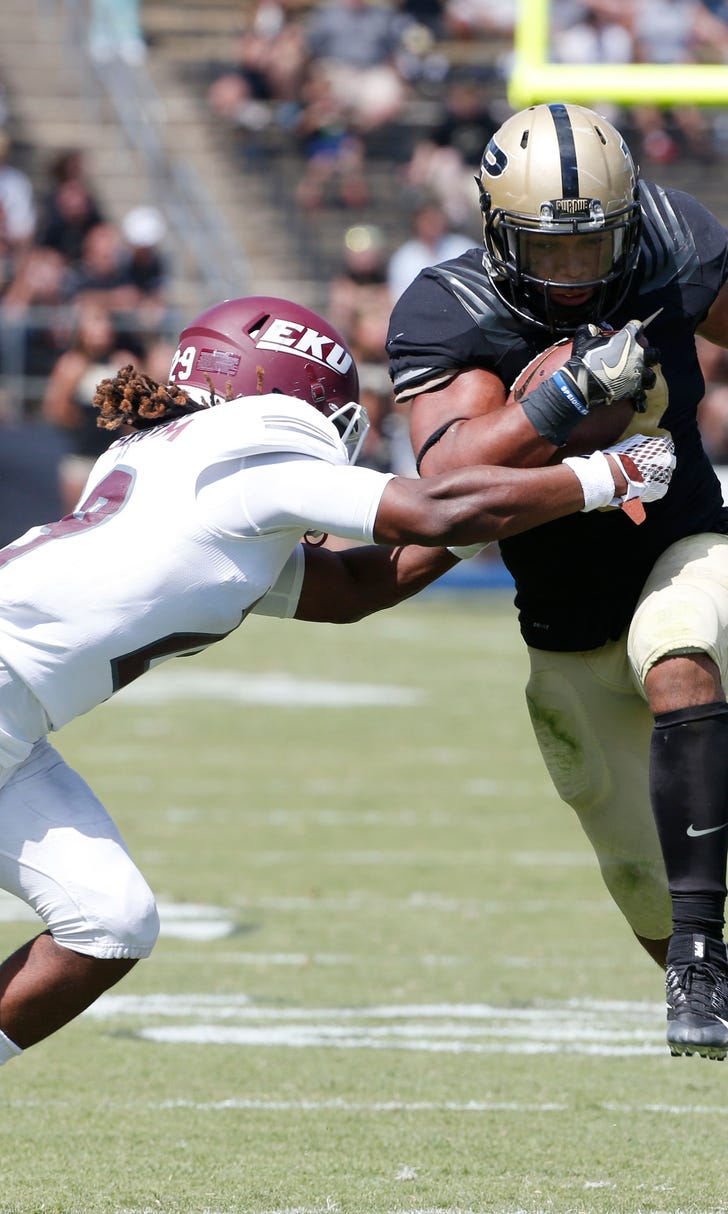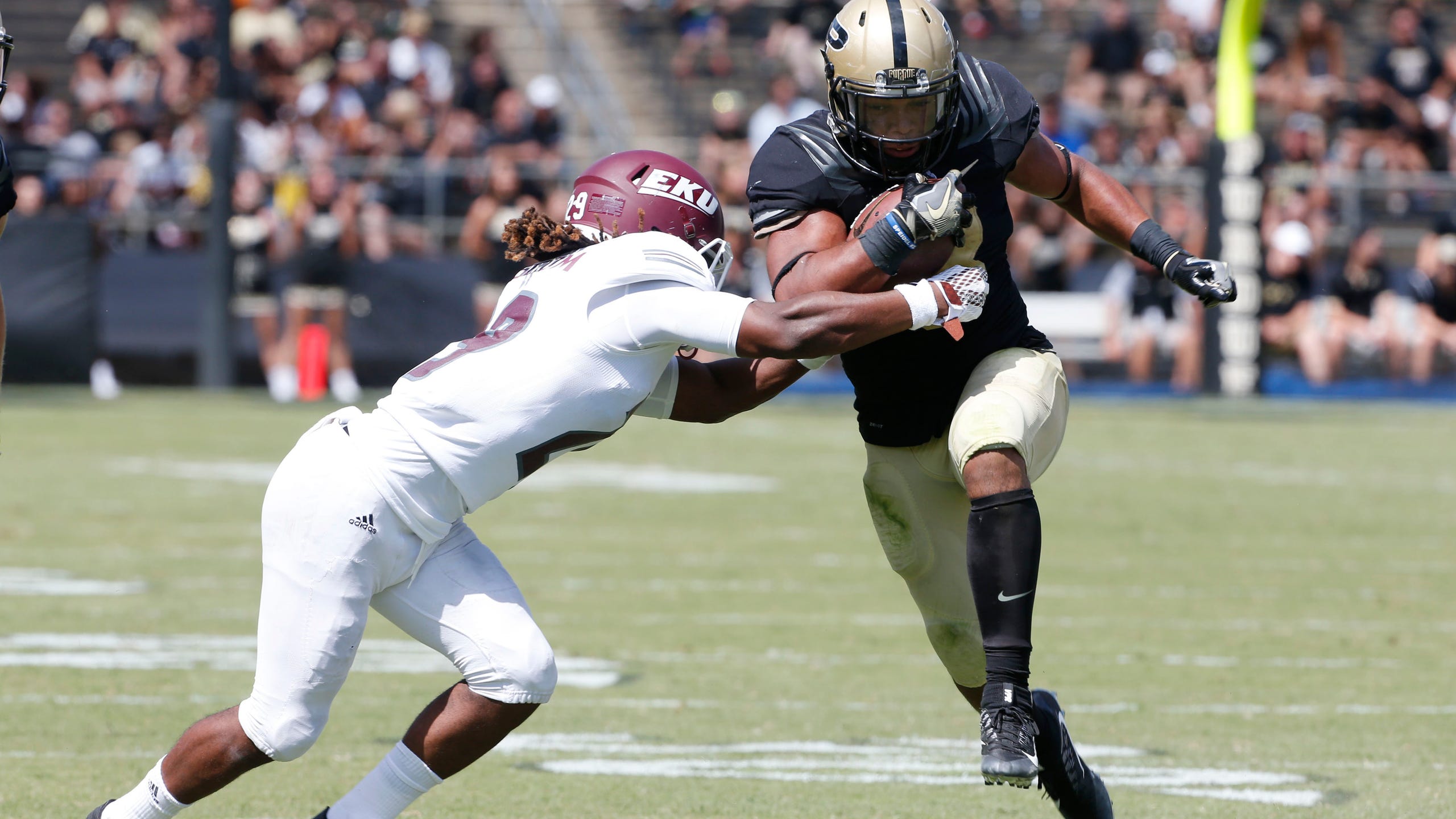 Boilermakers get off to a good start with 45-24 win over EKU
BY foxsports • September 3, 2016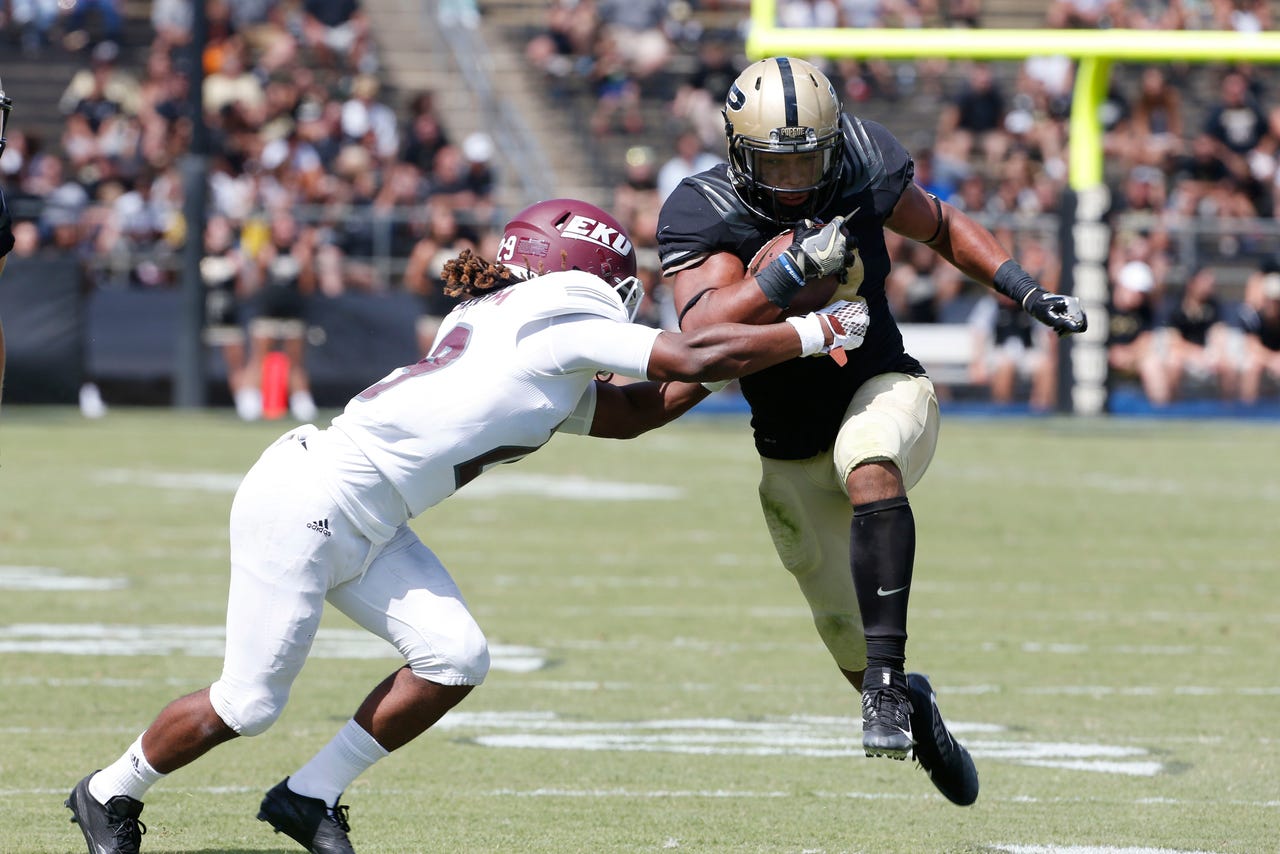 WEST LAFAYETTE, Ind. -- During coach Darrell Hazell's first three seasons at Purdue, defense certainly hasn't been the Boilermakers' forte, explaining in large part why this program entered Saturday's opener with a 6-30 record since 2013.
Seven of last year's 12 opponents scored at least 41 points in a 2-10 season, but defense provided all the momentum Purdue needed against Eastern Kentucky in Ross-Ade Stadium.
Leroy Clark and Gelen Robinson's first-quarter interceptions helped Purdue build an early 21-0 lead, and the Boilermakers outlasted the Football Championship Subdivision Colonels 45-24 in the season opener for both teams.
Clark's interception of Maty Mauk, the fifth-year transfer quarterback from Missouri, set up Purdue's second touchdown and a 14-0 lead, and Robinson's 78-yard interception return for a score pushed the Boilermakers' advantage to 21-0 with 3:31 remaining in the first quarter.
Markell Jones scored on a 3-yard run to cap an efficient opening drive for Purdue.
"Obviously, we like to win the turnover battle, and that was a huge part of our preparation, as it is for every team," said Robinson, the son of former Purdue All-American basketball standout and NBA player Glenn Robinson.
"For me, it was great to do my part to help the defense win that battle. On my interception, as soon as I saw the quarterback flare out, I knew my job. I had help scoring when (cornerback) Myles Norwood blocked the quarterback."
Eastern Kentucky turned the ball over four times. The Boilermakers were guilty of one.
While Eastern Kentucky out gained the Boilermakers 284-243 during the first 30 minutes, Purdue built a led 28-18 at halftime, thanks to the 14 points as a result of interceptions.
"Any time you can play out front like we did, it takes a little bit of stress off you," coach Hazell said, "So it was good for us to get those turnovers and convert those turnovers into points. Then I thought our guys responded well in the second half by playing great defense and penetrating well."
First-year Eastern Kentucky coach Mark Elder said the first-quarter turnovers provided this game's storyline.
"You are not going to have a chance to win many games with three turnovers in the first quarter," Elder said, "We have to do a better job of protecting the ball. Our guys fought and played hard all game, but we got down by too much too early."
Boilermaker redshirt sophomore quarterback David Blough ran for two touchdowns and threw a 35-yard touchdown pass to wide receiver DeAngelo Yancey, giving Purdue a 28-8 lead late in the second quarter.
"I thought we moved the ball really well," said Blough, who was 1-7 as a starter in 2015. "We sustained some drives and picked up some crucial third downs, but there's so many little things that we can do to make it that much better. We didn't score on one drive when we got inside their 10."
Jones carried 24 times for 143 yards for a Purdue team that now has won 13 consecutive home openers, including four straight for fourth-year coach Hazell, now 7-30 with the Boilermakers. Hazell is 4-0 against FCS opponents.
"You have to know that those 143 rushing yards all start up front," Jones said. "Those guys did a good job of imposing their will, which made it pretty easy for me to find holes and seams and hit them."
Each team struggled to generate any third-quarter offense, especially after Colonels quarterback Bennie Coney, who replaced Mauk in the first quarter, took a hard hit while scrambling and was helped to the sideline, prompting Mauk's return.
Purdue finally broke the second-half scoring drought on Blough's second TD run, a 1-yard plunge with 12:48 remaining in the game to extend the lead to 35-18.
J.D. Dellinger's 30-yard field goal with 4:56 to play capped a 13-play, 66-yard drive and gave the Boilermakers a 38-18 lead.
Blough finished 25 of 43 for 245 yards, a touchdown and an interception. Domonique Young caught eight passes for 74 yards.
Purdue capped its scoring with a 48-yard touchdown run from freshman Brian Lankford-Johnson with 4:23 left. The Colonels got a TD with 1:34 remaining to complete the scoring.
TAKEAWAY
Purdue: While the Boilermakers pulled away during the final 12:48, they led their FCS opponent by just 10 points heading into the final quarter in front of only 32,074 fans on a gorgeous September afternoon. Purdue finished with 512 yards of offense and snapped a four-game losing streak to end the 2015 season. The 32,074 was the smallest home crowd for a Purdue home opener since 25,000 watched the Boilermakers defeat Missouri 31-0 on Sept. 25, 1954, almost 62 years ago.
Eastern Kentucky: If Coney is able to play next week after taking a hard hit in the second half, the Colonels' coaching staff will have a difficult decision to make at quarterback. Mauk struggled at Purdue, but he was 17-5 as a starter at Missouri. It was clear Saturday that the Eastern Kentucky offense had a better rhythm with Coney under center.
"Our plan from the get-go was that we were going to put Mauk in for the first two series and Coney was going to play series three and four and we were going to go from there," Elder said. Bennie had a hot hand, so we kept him in there. For the second half, we had the same plan."
KEY NUMBERS
Purdue: The Boilermakers' key to limiting Eastern Kentucky to six second-half points centered on third-down conversions. The Colonels were 10 of 14 in the first half -- when they scored 18 points -- and 0 for 6 in the final 30 minutes when they scored six.
Eastern Kentucky: Coney finished 13 of 23 for 158 yards and a touchdown, while Mauk was only 2 of 7 for 18 yards with two picks. Mauk did rush eight times for 39 yards.
INJURY REPORT
Purdue was without starting cornerback Da'Wan Hunte (sprained ankle) and defensive end Austin Larkin (sprained ankle). Each starter, according to Hazell, should be ready for the Sept. 10 game against Cincinnati.
THE LAST WORD
"We did not come here to play close, and we certainly did not come here to lose by 21. We came here to win the game." --- Eastern Kentucky coach Mark Elder.
UP NEXT
Purdue: The Boilermakers are home again on Sept. 10, hosting Cincinnati at noon. The Bearcats defeated Purdue in September of 2013 in Hazell's first game with the Boilermakers, 42-7 in Cincinnati. The Bearcats opened the season Thursday night with a 28-7 victory against Tennessee-Martin.
Eastern Kentucky: The Colonels will attempt to give coach Mark Elder his first victory at EKU on Thursday when they play Pikeville.
---
---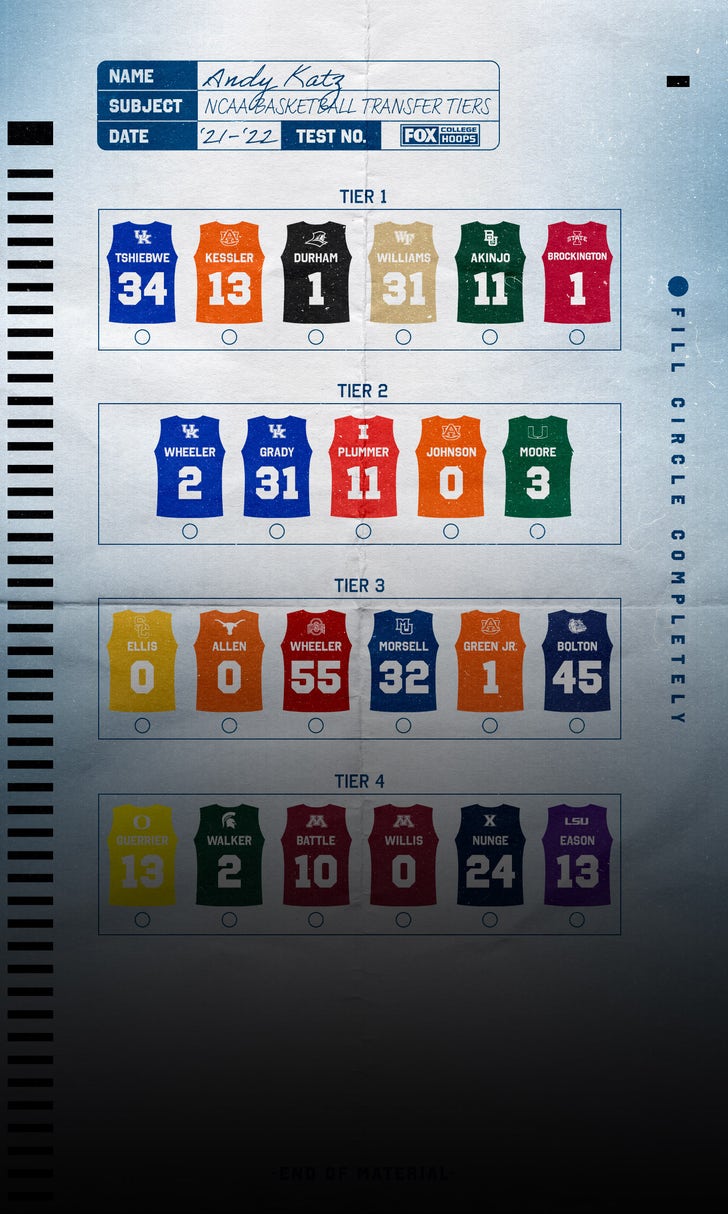 Oscar Tshiebwe, Walker Kessler sit atop Andy Katz's transfer tiers