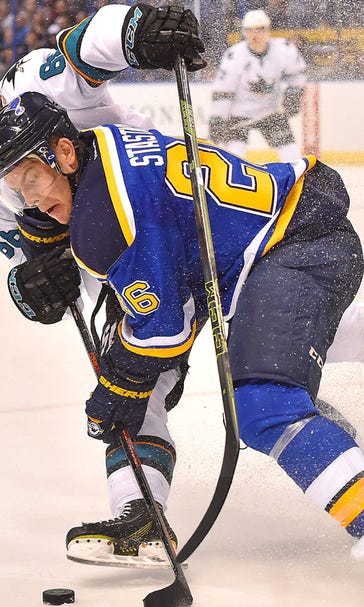 Blues' scoring slump continues in 3-1 loss to Sharks
BY foxsports • February 4, 2016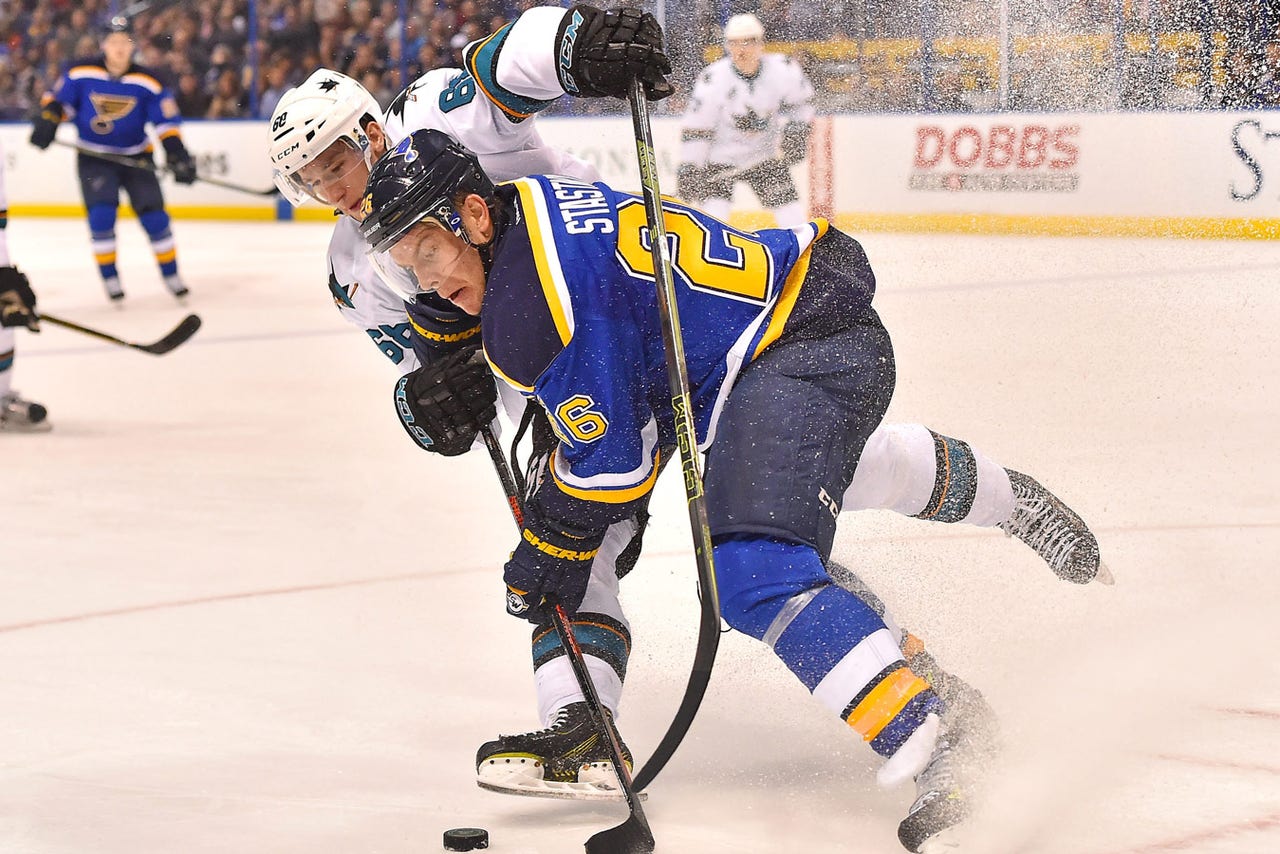 St. Louis -- San Jose Sharks goalie Martin Jones set the tone early Thursday night.
Jones stopped a quick wrist shot from St. Louis Blues forward Vladimir Tarasenko in the game's opening minute. It was the first of 26 saves for Jones, but more importantly, it allowed a sluggish Sharks team to stay even until Joonas Donskoi and Joe Thornton scored in the second period to send San Jose to a 3-1 victory.
"We were a little bit off early in the game. I figured we probably would be a little bit just because of our travel," Sharks coach Peter DeBoer said, referring to the team's flight to St. Louis from Anaheim. "(Jones) was our best player early and then I thought as the game went on we got better."
Matt Nieto added an unassisted goal late in the third to give San Jose insurance. The Sharks, who are 8-1-2 in their last 11 games, improved to 17-7-2 away from home and tied Washington for the most road wins in the NHL.
"It's tough to win, let alone on the road, so it's a good sign," Jones said. "I think the last month we've been playing very well, even at home, so it's good to see things coming together here."
Jay Bouwmeester scored his second goal of the season late in the second period for the Blues.
Donskoi and Thornton's goals for San Jose came during a 4-minute span in the second.
Donskoi banked a shot off the near post to break the scoreless tie at 3:55. He has 10 points, including four goals, in his last 12 games.
"I try to play with the puck. I try to be strong," Donskoi said. "I stayed on the puck in the offensive zone all night, so I think that's my game."
Donskoi's goal snapped a shutout streak of 96 minutes, 59 seconds, for Blues goalie Brian Elliott.
Thornton's goal at 7:15 gave the Sharks a 2-0 lead. It was Thornton's first goal in nine games and his 49th career point against the Blues.
Both teams combined for 29 shots during a scoreless first period.
The Blues' best chance came when Kevin Shattenkirk rang a slap shot off the post during an early power play.
San Jose had several quality chances late in the period, but Elliott turned away all five shots during the flurry.
"We wanted to get traffic in front of him for sure and we knew that we were going to have to get some greasy goals and we ended up getting some nice backdoor goals, too," Nieto said. "You know he's a great goaltender and we just tried to get him out of his comfort zone."
Nieto's goal was a product of San Jose's aggressive third-period philosophy.
"We talk all the time going into the third with a lead about keeping our foot on the gas, staying on the forecheck, the best D-zone for us is playing in the other team's end, and I think that third goal from Nieto showed that," DeBoer said. "We were pushing for a goal as opposed to sitting back and accepting their rush coming at us."
Elliott made 29 saves but fell to 6-3-2 since taking over for injured Jake Allen (lower body).
The Blues have managed only five goals in their last five games. They have not scored on their last 23 power-play chances.
"I don't think we have enough `A' chances, quite frankly," coach Ken Hitchcock said. "You have to decide how long you can stay with it. What we're doing is not having success early enough and then getting off the page and trying to force plays that aren't there."
NOTES: St. Louis entered 8-1-1 against Pacific Division teams. ... San Jose is 22-2-1 when scoring first. ... The Blues assigned forward Ty Rattie to the Chicago Wolves on Wednesday. Rattie had three goals and two assists in 11 games with St. Louis. ... Sharks forward Patrick Marleau played in career game No. 1,379, moving him past Joe Sakic for 10th all-time with one franchise. ... Shattenkirk is one point shy of 200 with the Blues.
---
---