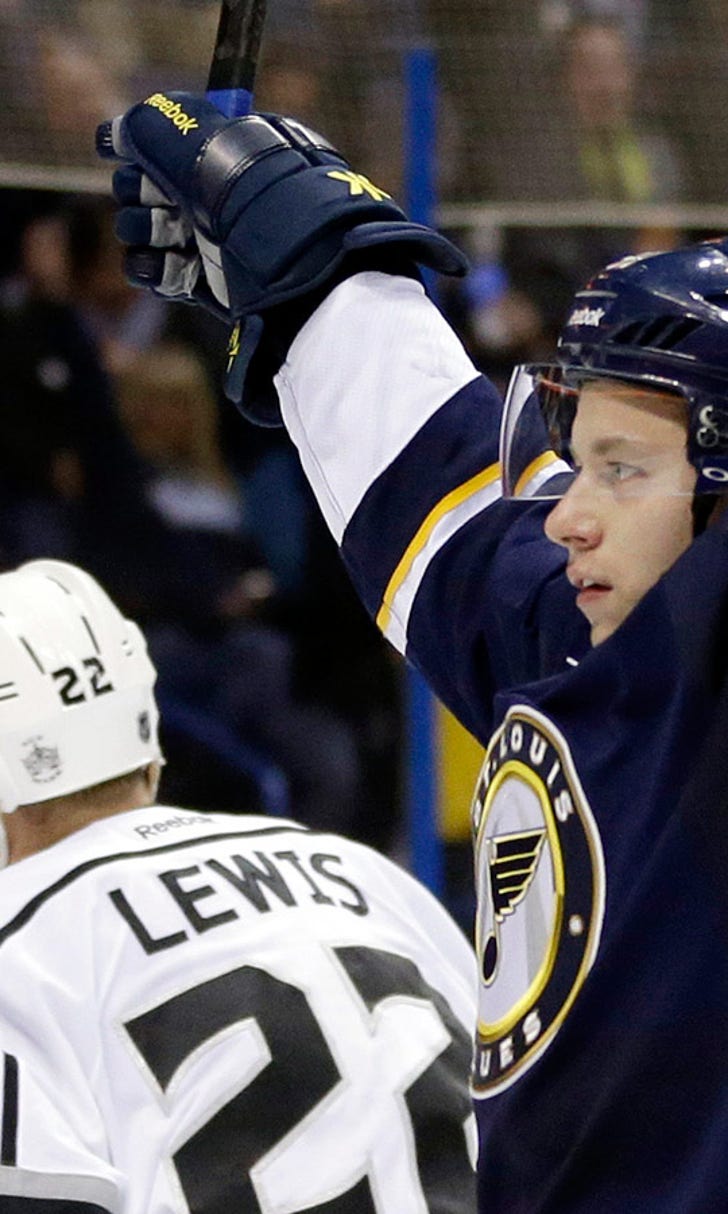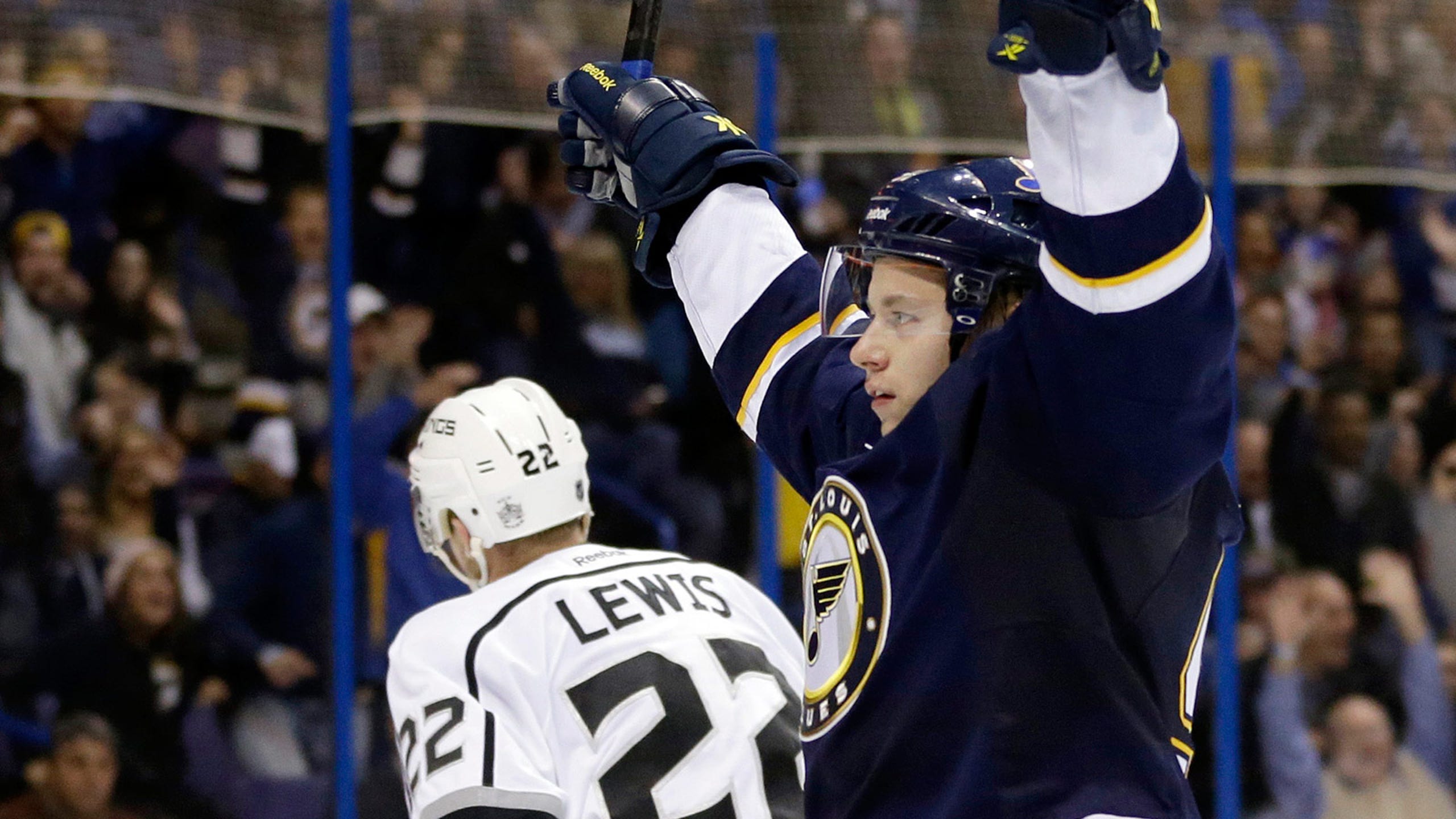 Blues more than happy to kick slumping Kings while they're down
BY foxsports • December 17, 2014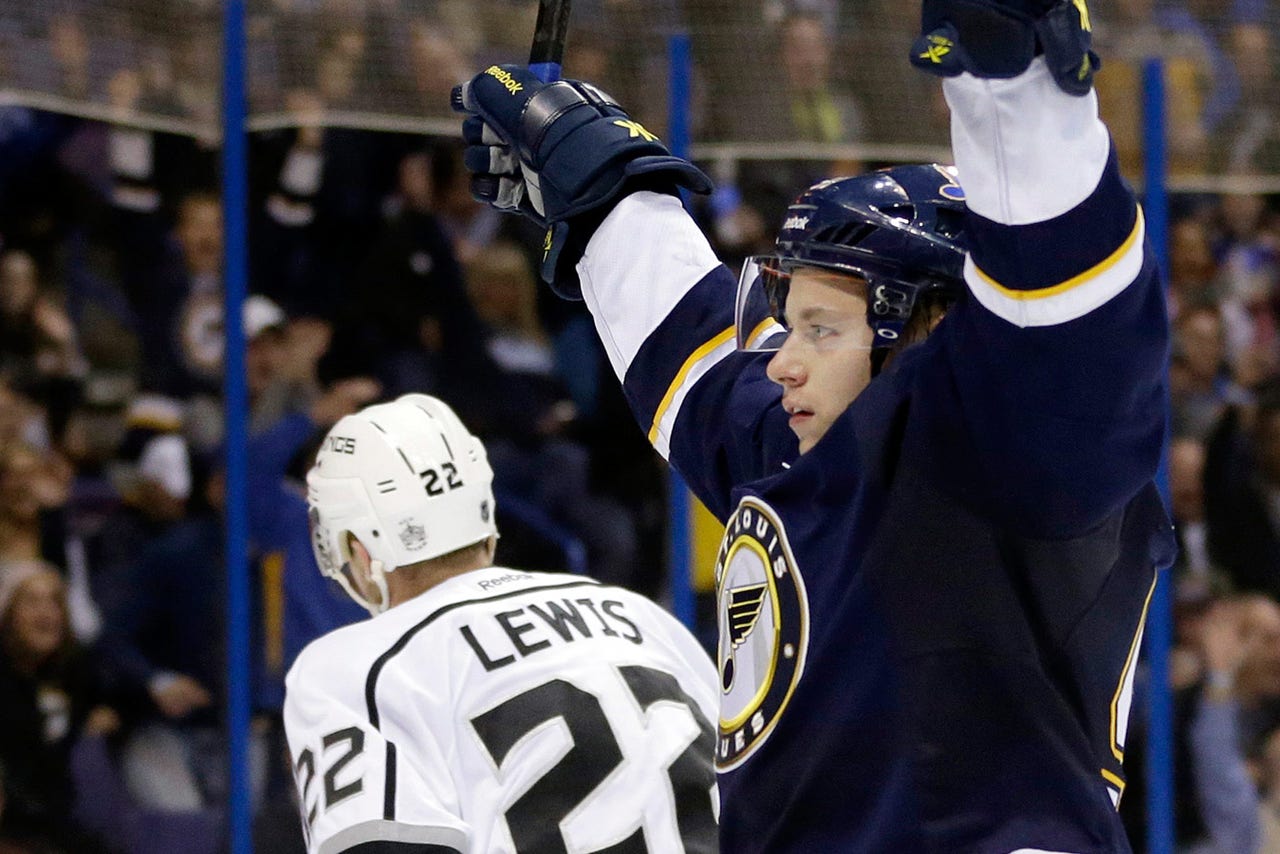 ST. LOUIS --€" If the Blues are to reach new heights this season, breaking out of a slump against the Los Angeles Kings figured to be one of the bars they would need to clear.
The defending Stanley Cup champions have been nearly unbeatable for St. Louis since two straight wins to begin a first-round series in 2013. Even a dominant performance with a season-high 43 shots wasn't enough for the Blues to avoid a 1-0 shootout loss in Los Angeles earlier this season.
That script finally changed in dramatic fashion Tuesday night as the Blues rallied to win 5-2 in front of perhaps the largest crowd of the season at Scottrade Center. True, the slumping Kings had lost five of their last six games heading into the final game of a grueling six-game road trip, but they still made the Blues earn their fifth straight win in the final home game before Christmas.
"They've had our number in the previous years, especially in the big times in the playoffs, which matter most," said Jake Allen, who could only watch from the bench as LA beat Brian Elliott four straight games to end the Blues' season in 2013. "Every time we play a team like that it means a little bit more."
This time the Blues were without the injured Elliott and forward T.J. Oshie, who was a late scratch due to personal family issues. His absence left coach Ken Hitchcock scrambling to make adjustments, which included Jaden Schwartz moving up to the top line with David Backes and Alexander Steen.
A year ago, St. Louis managed to beat LA's backup goalies Martin Jones and Ben Scrivens 5-0 at the Scottrade Center in the middle of an impressive seven-game win streak. But excluding that game, the Blues had lost seven straight to the Kings, including one with Scrivens in net.
Goaltender Jonathan Quick had beaten the Blues six straight times, including two shutouts. Other than an Oshie penalty shot in a 4-1 loss last season, St. Louis hadn't even scored against the goaltender with the NHL's fourth-best save percentage entering Tuesday's game in more than 192 minutes before Vladimir Tarasenko fired another unstoppable wrist shot for his 18th goal of the season.
"The first one brought us back in the game where we thought we had hope," Hitchcock said. "I thought what really turned the energy around from a scoring standpoint was the power-play goal, because it's something that we spent a lot of time on lately and it was a set play and it worked."
That one came barely a minute after Schwartz deflected Kevin Shattenkirk's hard slap shot past Quick just 16 seconds into a five-on-three power play, giving Tarasenko his fourth game-winning goal of the season. He would later finish his second hat trick of the season with an empty-netter, and it may not be much of an exaggeration to say his emergence as an elite scorer provides St. Louis an entirely new dimension.
Depth and effort remain the most critical factors for the Blues, and both Hitchcock and Allen said the game's momentum began to change late in the second period when the Blues -- especially Backes -- turned their physicality up a notch. But another loss still seemed imminent after eight minutes without even a shot for either team before Tarasenko drew the decisive penalty with less than 10 minutes remaining and scored one of his most important goals of the year.
"From there, I think you started to see that glint in our eyes," said Backes, who assisted Steen on an insurance goal less than a minute after Tarasenko's second. "That, 'Enough of taking a backseat to these guys.' We can play with them when we're all in on the effort."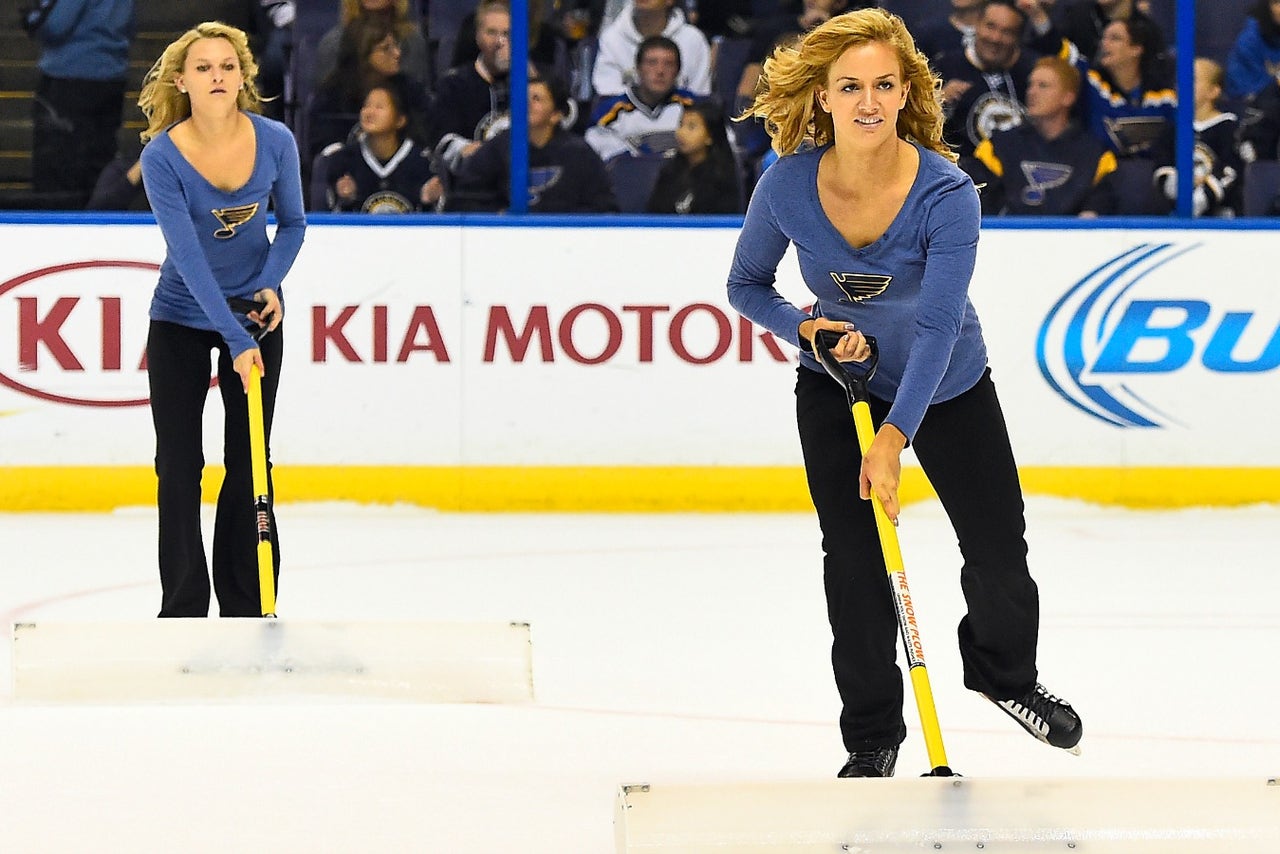 LET'S GO BLUES: Check out these photos of the fans, ice girls and others who support the St. Louis Blues all season long.
This win felt even more important than home triumphs earlier this season over Anaheim, Chicago and Nashville, the three Western Conference teams outside of St. Louis to have already reached 40 points. Hitchcock said it should be a big confidence boost for his players to be rewarded for "playing the right way" and beating another of the league's top teams.
However, the Kings have fallen back into a tie for eighth, and they're just 4-7-5 on the road this season. In his typical humble fashion, Tarasenko said the Blues have no time to celebrate, and Backes said they can't afford to fall behind 2-0 on Thursday.
That's when they'll be on LA's home ice, where the Kings are 11-4-1 and hold a 10-game win streak against St. Louis dating to January 2011 and spanning two playoff series. The Blues have struggled on the road against top competition this season, going 1-4 against the other six teams in the top five of the Western Conference, since three are tied for fifth.
One of those is San Jose, which awaits St. Louis on Saturday in the second game of its road trip. If the Blues really want a confidence boost that would make a statement, they'll certainly have their chances.
You can follow Luke Thompson on Twitter at @FS_LukeT or email him at lukegthompson87@gmail.com.
---