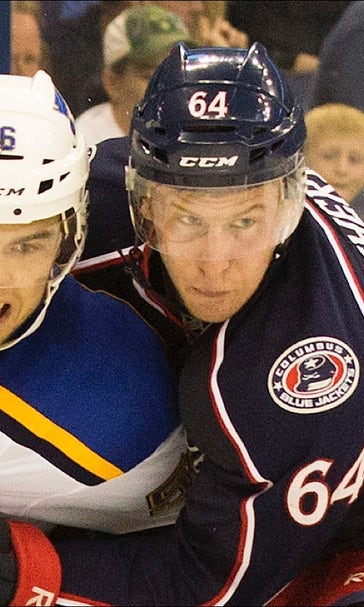 Blue Jackets with chance to make history in St. Louis
March 28, 2015

Brian Elliott's last start was a bit of an embarrassment, and the same goes for his last game against the Columbus Blue Jackets.
He'll get a chance to forget about both Saturday night as the St. Louis Blues begin a three-game homestand while continuing their push for the Presidents' Trophy, and Elliott will have a long-absent defenseman back to try to help contain the streaking Blue Jackets.
The Blues (46-21-7) are one of six teams in the 99- to 101-point range entering the weekend after Tuesday's 3-2 overtime win in Pittsburgh halted a three-game skid.
Alexander Steen scored the winner for his fifth goal in six games after going 13 without one, and he can now get to work on snapping a seven-game goal drought against the Blue Jackets (35-35-4).
Elliott ceded responsibility to Jake Allen for a second straight game since Elliott allowed four goals in a little over a period of last Saturday's 6-3 defeat in Minnesota. Elliott also was pulled in a 7-1 loss in Columbus on Feb. 6 after giving up four goals in roughly the same amount of time, though he's 6-1-1 with a 2.38 goals-against average in his career against the Blue Jackets.
He'll also have Kevin Shattenkirk in front of him after a 25-game absence due to an abdominal injury. Fellow defenseman Carl Gunnarsson is also set to return after missing two games.
"It's kind of that time now," Shattenkirk told the team's official website. "The only way to get back into game shape is to start playing games. I had a really good practice today. I felt good out there and it was nice to be out there with the team, get the speed of the game back a little bit. Tomorrow will be notched up even more playing in a game. I'm excited about it."
He might have a nice challenge on his hand considering Columbus has won eight of nine and five straight, and the streak has come mostly on the road and against impressive competition.
Friday's 5-2 win in Chicago established a franchise record with a seventh straight road win, also giving the Blue Jackets six consecutive wins against the West. It followed a home win against Anaheim and road wins in Calgary, Vancouver and Edmonton, the only team in the bunch without a shot at the postseason.
They'll now try to win 22 road games in a season for the first time in franchise history.
Offensively, they've taken off with 4.40 goals per game in the last five. Prior to that, they ranked 24th with 2.52.
Cam Atkinson topped that on his own against Chicago with three goals, his second career hat trick, while Ryan Johansen extended his point streak to six games with a goal and an assist for a second straight game.
"Obviously, a lot of people say it's hard to get motivated especially since we're not going to make the playoffs," Atkinson said. "But we're playing for pride, for each other and our fans back in Columbus."
All the offense has taken pressure off Sergei Bobrovsky, who has won four straight starts and is 8-1-0 with a 2.33 GAA in his last 10 games. Against St. Louis, he's 1-3-0 with a 2.51 GAA but didn't face them last month.
In that meeting, Nick Foligno had two goals and an assist, and Johansen had a goal and two assists for the Blue Jackets' top scoring effort since also scoring seven on April 7, 2012.
There's been nothing like that in St. Louis, where the Blues are 16-2-1 in the series dating to 2007-08.
---