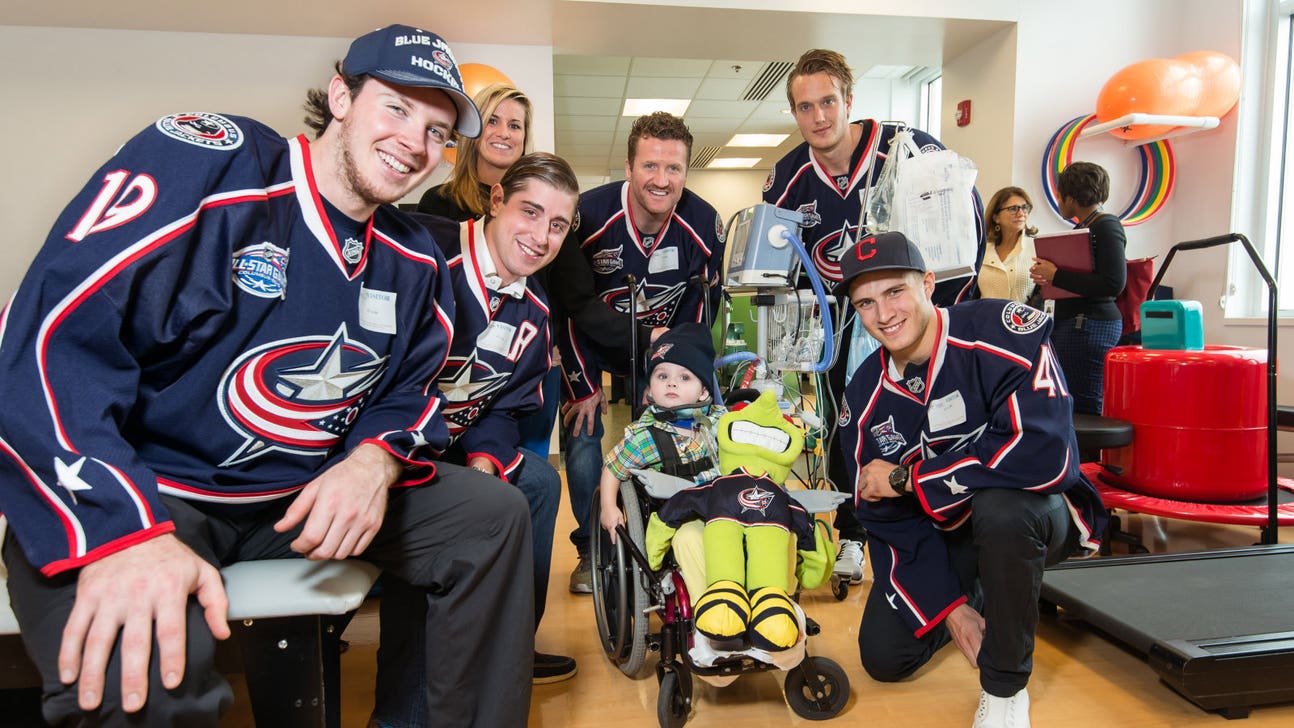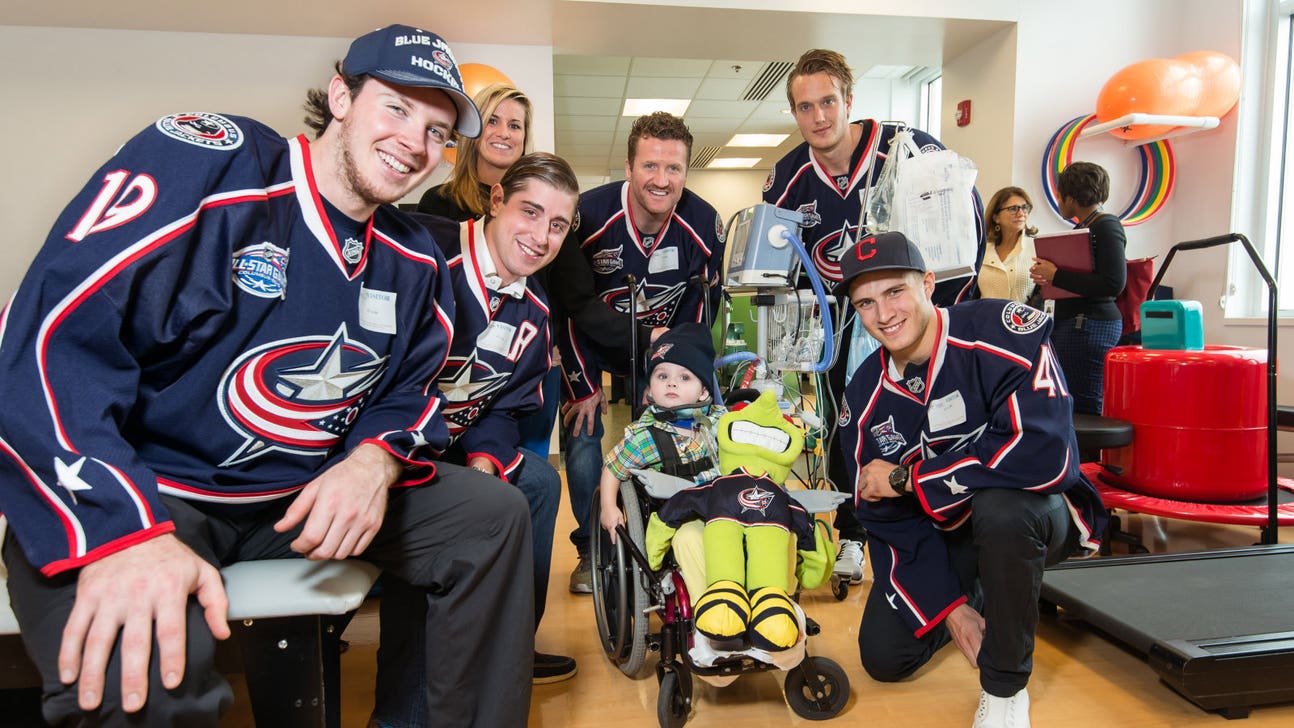 Blue Jackets score smiles visiting local hospital
Published
Nov. 1, 2014 9:54 a.m. ET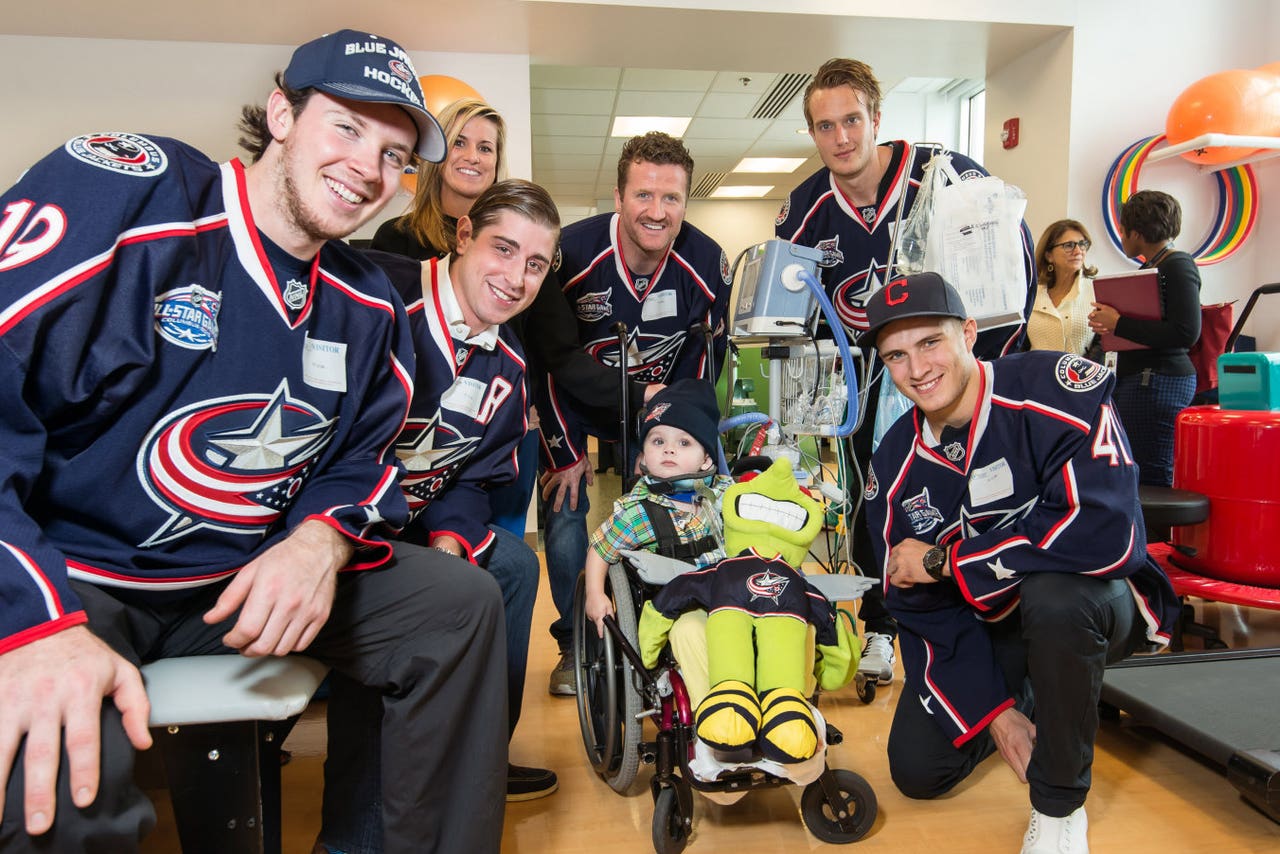 Blue Jackets center Ryan Johansen is riding a ten-game point streak, but earlier this week, he was more focused on scoring points with some special fans off the ice. Johansen and his fellow teammates took time to visit Nationwide Children's Hospital and bring some happiness to patients and their families.
"Seeing all the kids with the smiles on their faces is my favorite part," Johansen said. "When I go back home after the visit is done, knowing we made someone's days brighter is a great feeling."
The Blue Jackets made an impression the minute they arrived at the hospital. With Jackets mascot Stinger leading the way, families gathered at the hospital entrance to watch the team pull in on the Fox Sports Ohio Fan Express, a custom luxury bus that bears the images of Jackets players including Nick Foligno, Artem Anisimov and Brandon Dubinsky.
The team then broke into smaller groups to visit patients on different floors of the hospital including the surgery, cancer, rehabilitation and burn, trauma and orthopedic units.
Packs of players wearing Blue Jacket jerseys in the hospital halls were a welcome sight and a departure from previous years where the team gathered in one of the community rooms for children to visit.
"It's cool to play with a group but it's also cool to go around to go each room and spend time with patients," Johansen said. "A few of the kids aren't able to get out of their beds right now, or they're going through treatments so it's exciting for them that we can go up to their rooms instead of them not being able to come down and see us."
In addition to dedicating time with children, the one-on-one visits gave the Jackets time to bring some happiness to the patients' parents. The smiles on their faces were often as large as those on the faces of their sons or daughters.
"I don't remember there being as many parents last year in the party room," Johansen said. "It was cool to interact with them as well."
And the Jackets didn't show up empty handed either. The players handed out "Blue Jackets Courage Kits" -- gift bags that contained a Stinger doll and a Jackets knit hat. The kits were provided by one of the team's corporate partners, Boich Companies.
Johansen, who visited patients with fellow Jackets Dubinsky, Alexander Wennberg, Scott Hartnell and Anton Forsberg happily gave the kits to the children they met. One of their recipients, two year-old Max, happily donned his hat and clutched his Stinger doll as he gave fist bumps to the players and blew kisses to them as they left.
"The fist bumps and high fives were great," Johansen said.
According to Alison Pegg, Manager of the Columbus Blue Jackets Foundation, about 150 kits were put together and 75 were handed out during the hospital visit. The remainder await future recipients whenever a Jackets player wants to visit Nationwide Children's. Johansen, who made visits to the hospital over the summer, plans to go back, kits in tow.
"I try to go for a visit if I ever have some free time," Johansen said. "We try to get a group of the guys to come over or just get the whole team to go a couple times a year. Our next group visit will be around Christmas and we'll bring gifts then too."
Each of the player groups made some special connections. Russian-born players Sergei Bobrovsky and Fedor Tyutin met a Russian family currently staying at the hospital and they were able to spend time together. Scott Hartnell handed out Courage Kits as he walked through the halls and met an excited young boy who ran up to the Jackets forward to share positive test results.
"It's really an awesome event that we do - coming over and spending some time with the kids," Johansen said. "It's awesome just to be able to put smiles on the kids faces."
The Fox Sports Ohio Blue Jackets Fan Express can be reserved to transport groups of fans to home Blue Jackets games through Dec 31. For more information, visit bluejackets.nhl.com or call 614-246-PUCK.
Follow Alison on twitter at @AlisonL
---