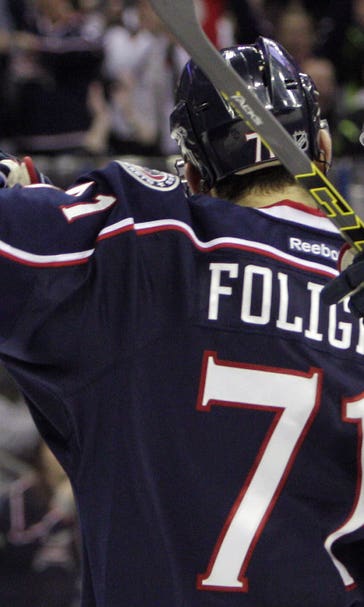 Blue Jackets resilient while facing adversity
March 26, 2015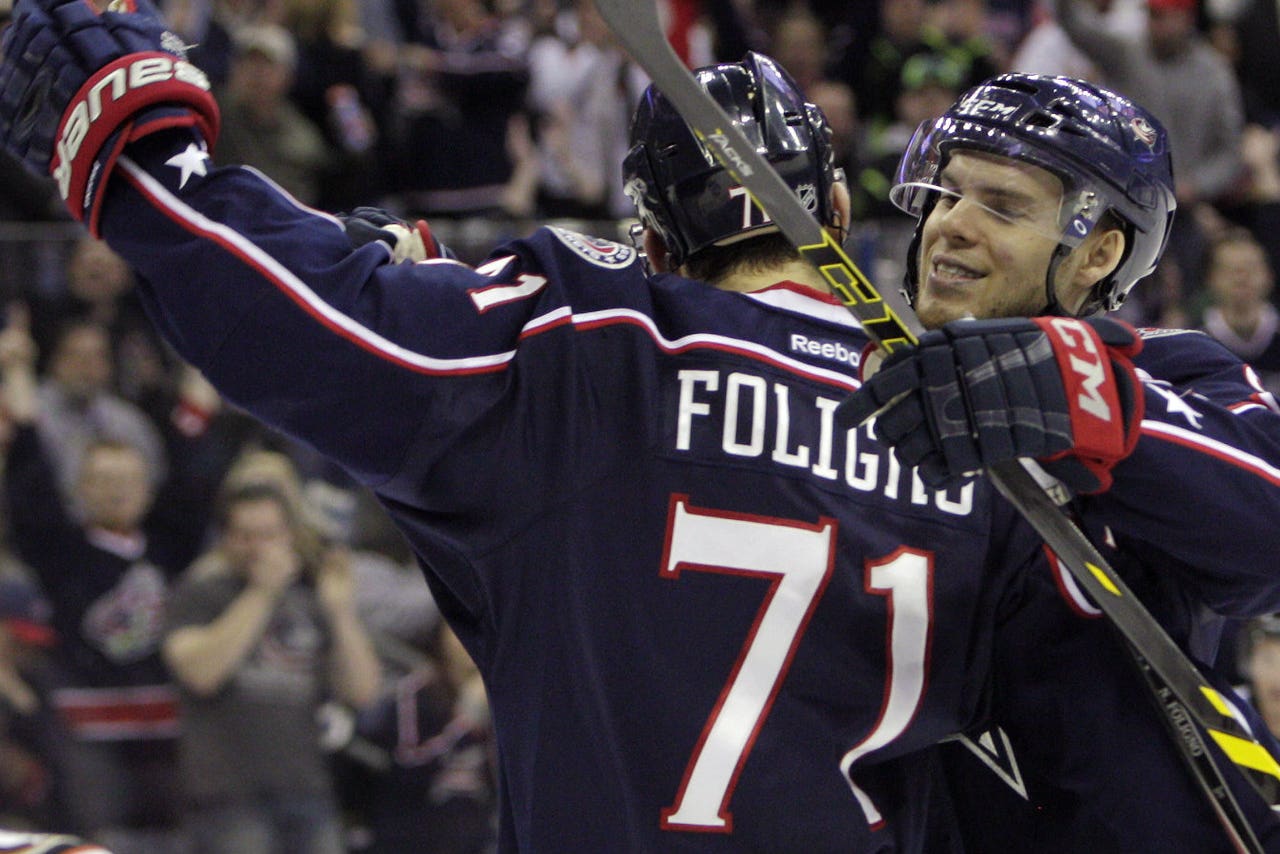 The odds were stacked against the Blue Jackets Tuesday when they hosted the Anaheim Ducks after coming off a road trip.
They had returned Saturday evening from the annual Western Canada road trip, sweeping the Edmonton Oilers, Vancouver Canucks and Calgary Flames, respectively. That trip covered approximately 5,267 miles. And they were missing from the lineup center Brandon Dubinsky, center Alex Wennberg and right wing Rene Bourque due to injuries.
Tired from a long trip, the recipe for a loss against one of the best teams in the league was sitting prominently front and center. But, they took to the ice and clipped the Ducks' wings 5-3, fueled by left wing Scott Hartnell's eighth career hat trick.
"Obviously, hat tricks are cool and I've had a couple of them," said Hartnell after the game. "It's been a good year for me, but you want success for the team. Unfortunately, it wasn't our year that way."
Indeed, their home record leaves much to be desired this season. In 36 games played within Nationwide Arena, the Blue Jackets are a paltry 14-20-2.
Eight times this season, they have returned from a road trip and have won more than they have lost. They have a record of 5-3-0 in the first home game after an extended road trip of two or more games, with their victories usually coming against better teams. Four of those five wins came against the San Jose Sharks, New York Islanders, Washington Capitals and most recently the Anaheim Ducks.
"I think we've played the top teams pretty well," said right wing Jared Boll. "It's been a tough year for everyone, especially here at home. We want to finish on a good note and finish with a good effort. That's what we're looking for. Our crowd is here and we really want to put forth our best effort at home."
Traditionally, they have seemed to have a hard time 'getting up' for the first game after a road trip. That doesn't appear to be the case this year.
"It's a big one for us," center Boone Jenner said of beating Anaheim. "Out west, we were down a goal or two in the last couple of games and we were down (Tuesday). We were able to battle back and that shows some good resiliency. We want to play the same way whether it's two-nothing for us or two-nothing against us. They (Anaheim) were able to get off to a quick start, but we pushed back."
The man games lost due to injury has been a problem for the team this season. With so many players going in and out of the lineup, chemistry has been slow to form.
"I think we've kind of learned to do that this year," said Boll. "It seems like guys have been in and out so much and guys have gone down with tough injuries. Every single guy was ready to go (against Anaheim). I think we built a lot of momentum coming off that trip and brought it here at home."
Whether they've waded into games or wound up chasing the score, as they did Tuesday against Anaheim, they have shown a resiliency to bear down, focus their mindset and come out with a victory. At this point of the season, with the playoffs out of the picture, their focus is on getting better and finishing strong. This modest four-game winning streak is a step in the right direction, having not won four consecutive games since their 10-1-1 run in December.
"At this point of the year," Jenner said, "we want to play the best hockey that we can. I guess we're kind of playing the spoiler for teams that are pushing for the playoffs. Coming back from the road trip, in the past we haven't been sharp. We wanted to focus on that."
With just nine games remaining before the team hangs up their skates, working on the fundamentals that have paved the way for success in the past is a recipe for success in the future. The win on Tuesday was much more than a moral victory for the Blue Jackets. It proved to them that they can compete and play the right way.
"It means a lot to our guys," said Blue Jackets head coach Todd Richards. "We got contributions from a lot of different guys. We talked about we're going to see a hungry team, a motivated team (Anaheim). They made their pushes and their goalie made some saves, but it leaves you with a good feeling after this one."
"With where we're at in the season, to go out and beat a really good hockey team leaves you with a good feeling."
The Blue Jackets return to action Friday in Chicago as they take on the Blackhawks at 8:30 p.m., with the FOX Sports Ohio pregame show "Blue Jackets LIVE" beginning at 8:00 p.m.
---