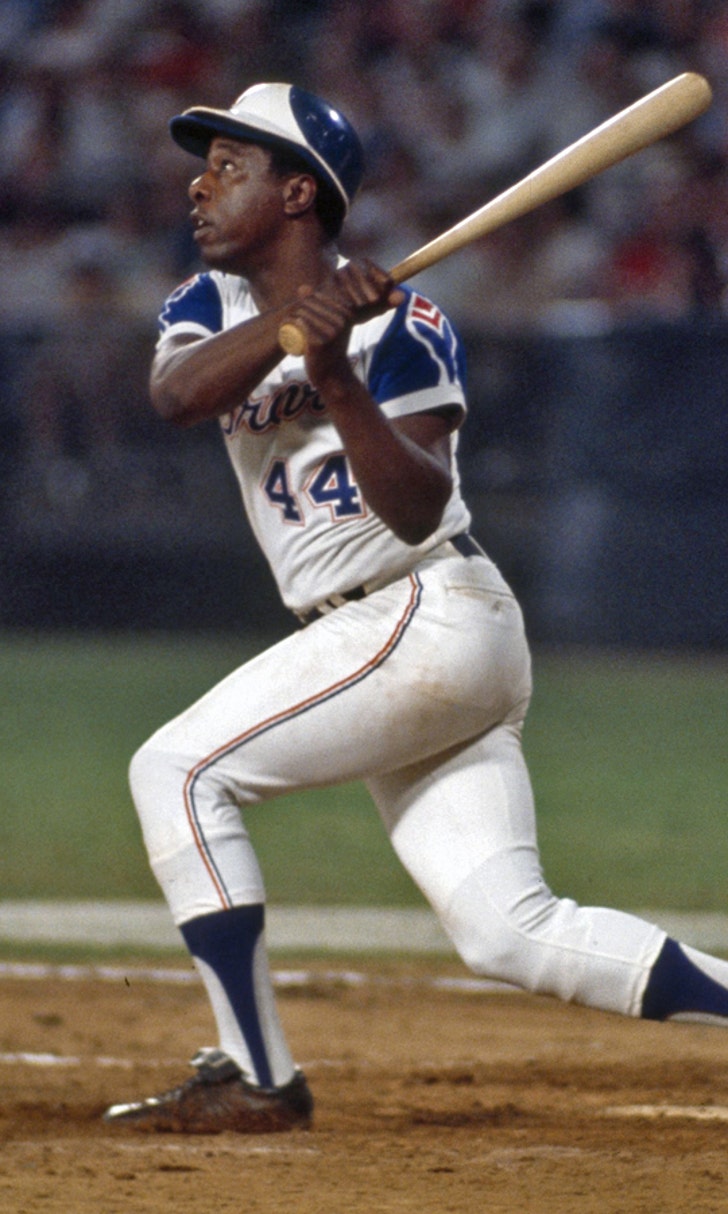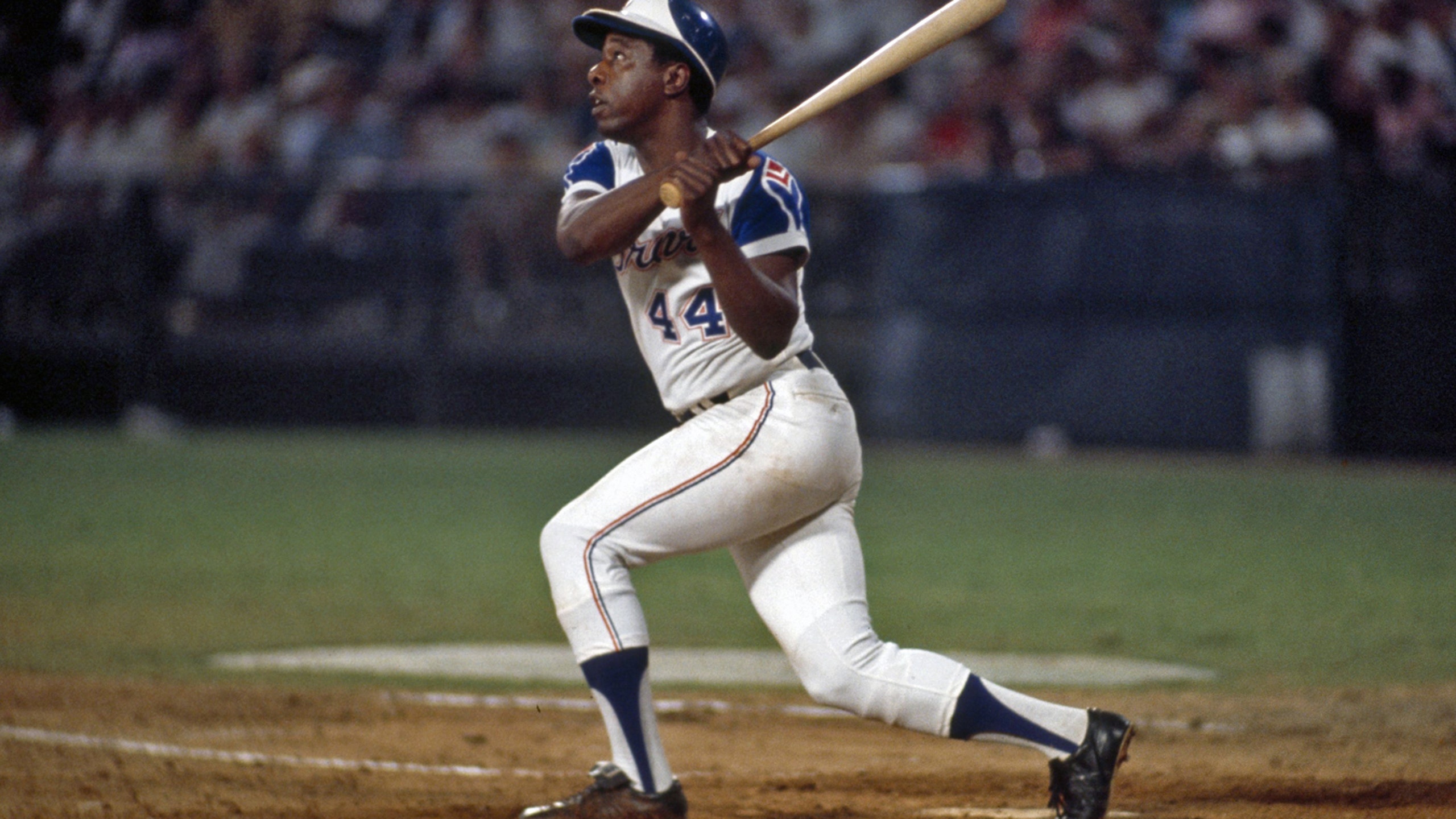 Bloop Hits: Move Over Babe (Here Comes Henry)
BY foxsports • February 5, 2015
The great Henry Aaron turns 81 this week, a minor milestone that got me thinking about a major milestone: his 715th home run.
Hank's assault on Babe Ruth's hallowed 714 was huge news in 1973, a season that saw Aaron launch 40 homers, bringing him within one tater of tying the Babe's 38-year-old mark. The awful deluge of virulently racist hate mail that Aaron received for having the temerity to surpass Ruth is a well-known (and deeply unfortunate) part of the saga. Less well remembered, however, are the many musical tributes written and recorded in celebration of Aaron's pursuit of Ruth.
Albert Coleman, founder of the Atlanta Pops Orchestra — which would later receive Grammy nominations for the 1982 album "Just Hooked On Country" — penned an orchestral march titled "Hank's 715." Atlanta radio personality Elmo Ellis recorded "Hammerin' Hank," a novelty song encouraging Aaron to break the record. And Texas funk ensemble The Blast Furnace Band and the Grapevine Singers waxed "Hammering Hank (Parts 1 & 2)," which was co-written and –produced by Southern soul legend Sam Dees.
Unfortunately, none of these songs is available on YouTube; neither is Nelson Briles' amusing "Hey, Hank," which was released on Capitol Records in early 1974. Briles was a veteran right-hander who'd won World Series rings with the '67 Cardinals and the '71 Pirates; he was also a singer-songwriter, guitarist and nightclub performer who won raves from the entertainment media for his month-long stand at Chicago's renowned Mister Kelly's nightclub in the winter of 1972. Briles' song acknowledged that Aaron was going to break Ruth's record, but begged him not to do it on one of his pitches. Briles, in fact, had ample reason to worry; at the time of the recording, Aaron had a .333/.375/.745 line in 56 plate appearances against Briles, including five homers; only Willie McCovey hit more round-trippers off Briles. But by the time Briles' song was released, he'd already been traded from Pittsburgh to Kansas City, which meant he'd be pitching in a different league from Aaron during 1974. (Hank would tag him once more, though, hitting home run number 746 off Briles — then pitching for the Rangers — on May 4, 1976, when Aaron was playing out his final season as the Brewers' DH.)
The most famous Aaron tribute from the era was the work of a pitcher who had never actually faced him: Tigers hurler Bill Slayback. A self-described "dreamer" who had initially set his sights on becoming a musician or artist, Slayback wound up in the Tigers' farm system after inadvertently impressing a visiting scout while pitching for Cal State Northridge in 1968. Slayback (who actually served up a couple of gopher balls to Aaron's brother Tommie while pitching for the Toledo Mud Hens) finally made it to the bigs in 1972, pitching seven innings of no-hit ball against the Yankees in his major-league debut on June 26, and eventually racking up a 5-6 record with a 3.20 ERA in 81 2/3 innings for the AL East champs. That season, he told The Sporting News that he enjoyed painting, and also wrote music and lyrics for The Sandpipers, "an easy-listening singing group."
Though the arm injuries Slayback sustained while pitching for Billy Martin that season would prematurely sabotage his pitching career, the songwriting partnership he established that year with Tigers broadcaster Ernie Harwell would lead to his lasting fame.
Justly famous for his play-by-play work, Harwell also had an active sideline as a lyricist; more than 60 of his songs were recorded by a variety of artists, including pop crooner B.J. Thomas, Detroit rocker Mitch Ryder, soul chanteuse Barbara Lewis, and country comedy duo Homer & Jethro. (None of the songs was particularly successful, however, leading Harwell to quip that he had "more no-hitters than Nolan Ryan.") Upon learning that Slayback was a songwriter, Harwell approached him to write some music to accompany lyrics he'd written about Aaron's home-run chase. The result was "Move Over Babe (Here Comes Henry)," a song tuneful and topical enough to pique the interest of Detroit record producer Ollie McLaughlin.
McLaughlin -- a former Ann Arbor DJ who'd made his name in the Motor City record biz producing hits by the Capitols ("Cool Jerk"), Deon Jackson ("Love Makes the World Go Round"), Barbara Lewis ("Hello Stranger") and the Fabulous Counts ("Jan Jan") -- was already familiar with Harwell's songwriting work, having previously produced "You'll Wake Up Wiser, Baby" (a 1969 b-side for Jackson) and "Why Did It Take So Long? (a 1970 b-side for Lewis), both of which Harwell co-wrote with songwriter Chuck Boris. McLaughlin produced a Slayback-sung version of the song — which bore more than a passing resemblance to Lobo's 1971 soft-pop smash "Me and You and a Dog Named Boo" ...
… and then tried to stretch the single into a double by also producing a soul-oriented version, featuring former Motown recording artist Richard "Popcorn" Wylie on vocals:
McLaughlin released "Move Over Babe" simultaneously on two different labels — Slayback's on the Karen imprint, Wylie's on Carla — though they came packaged in near-identical picture sleeves. (Interestingly, the serial number of Slayback's single was 714, while Wylie's bore No. 715; this might or might not have been a sly nod to the notion that the lofty latter figure would soon belong to a black man.) Aaron, who doubtless appreciated the song's positivity in the midst of all the hate mail and death threats, gave the song his blessing, posing for a photo with Harwell while holding a copy of Wylie's single.
Though neither single wound up charting, Slayback's version did become the "official" theme of Aaron's chase, receiving regular airplay on NBC's "Game of the Week" and other TV baseball broadcasts throughout the 1973 season and into April '74, when the Braves slugger finally broke Ruth's record. 1974 would also mark Slayback's final appearance in the majors; after two subsequent seasons with the Tigers' Evansville farm club (where he briefly roomed with a young prospect named Mark Fidrych), Slayback left baseball to concentrate on music, working with Sergio Mendes and José Feliciano, and doing jingle work for Budweiser, Miller, and Nike. In recent years, Slayback has released a self-produced CD ("Lady Dancing On Fire") and done national anthem duty at Comerica Park and Dodger Stadium. Still, his and Harwell's sunny ode to one of the greatest players who ever swung a bat remains his best-remembered — and best-loved — work.  
Dan Epstein's wares may be sampled and purchased on the Internet.
---
---