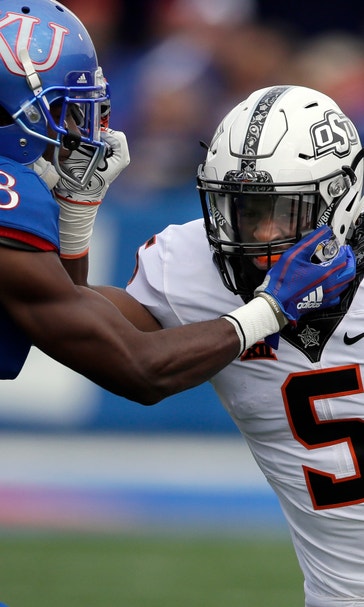 Big workload leads to big production for OSU's Justice Hill
October 2, 2018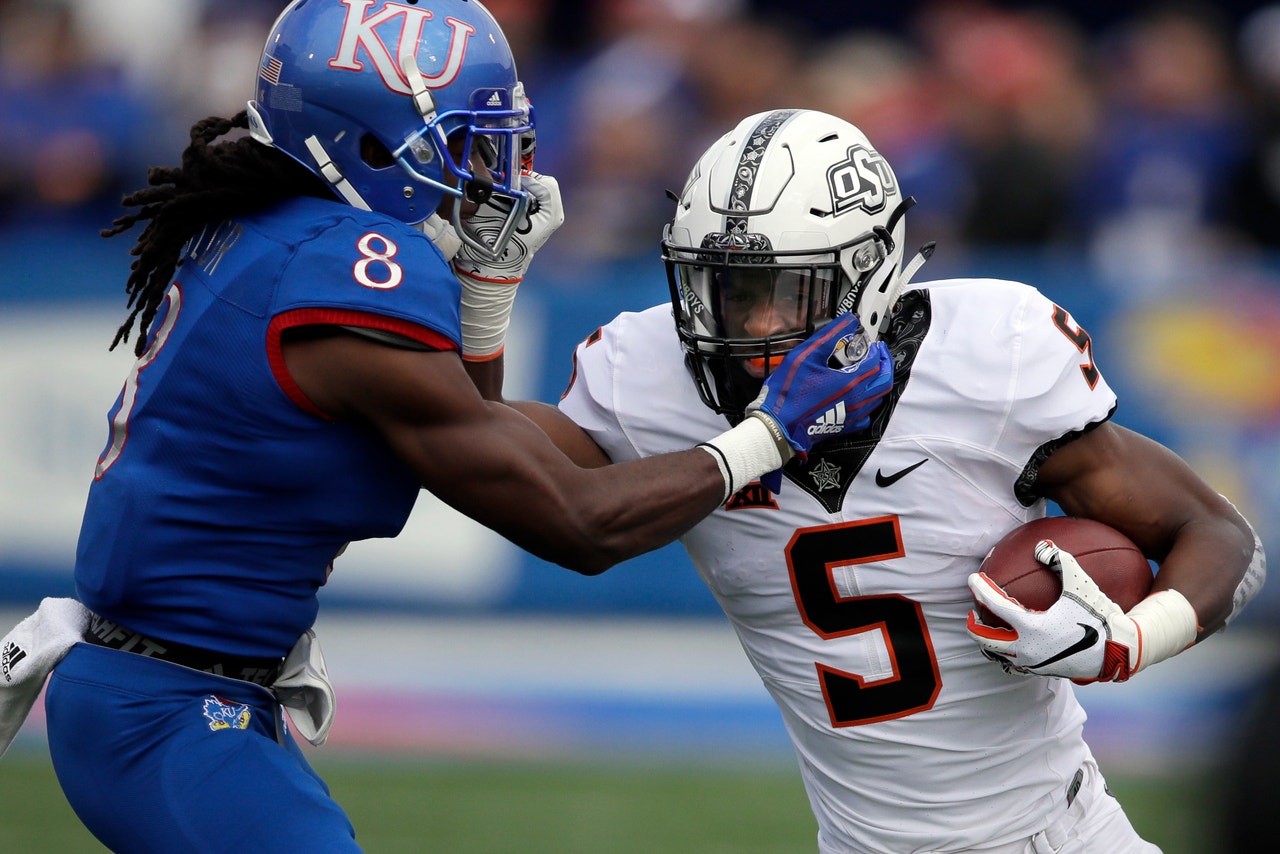 STILLWATER, Okla. (AP) — Oklahoma State coach Mike Gundy limited running back Justice Hill's workload during the first four games to keep the dynamic playmaker fresh for the heart of the Big 12 schedule.

Hill had just 46 carries before Saturday's 48-28 victory over Kansas, when his workload increased significantly. He responded with a season-high 189 yards and a touchdown on 31 attempts.

Hill leads the Big 12 and ranks ninth in the nation with 577 yards on 77 carries. His average of 7.49 yards per carry ranks seventh.

A day after his big game, Gundy said Hill appeared to weather the additional physical stress just fine.

"He was good (Sunday in practice). He ran well," Gundy said Monday. "I have concerns about him carrying the ball 30 times. I wanted him at about 15 a game, so that's exactly what he's at, (15.4) a game now, so he's right where we want him to be. That's why we conserve him early in the year. The hits are all the same. Because when he carries the ball 75 times up to this point, he's getting hit 70 of those 75, so it doesn't matter when those hits occur."

Against Kansas, Hill had his second-highest totals in both carries and rushing yards. The junior also tied a Big 12 record by scoring a rushing touchdown in his 11th consecutive game. He'll get a chance to break the mark this week when No. 25 Oklahoma State (4-1, 1-1 Big 12) hosts Iowa State (1-3, 0-2).

Gundy said he doesn't expect Hill to get the ball 31 times again.

"I'm concerned about him toting the rock 30 times a game. It's a lot of wear and tear on him. Those guys take more direct shots than any other position," Gundy said. "So we'd like to keep those to around 20 times a game, from this point moving forward, if we have that luxury."

Gundy said he was comfortable relying on Hill's backups, J. D. King and Chuba Hubbard, when necessary. Against Kansas, King gained 2 yards on three carries and Hubbard had five attempts, piling up 57 yards and a touchdown.

"It just didn't work out in this game that they were in there as much," Gundy said. "But we like them. We have confidence in them."

Hill got going immediately, rushing six times for 48 yards on the opening drive. Gundy said the Cowboys' run blocking has improved, especially since OSU's 41-17 loss to Texas Tech on Sept. 22.

"The offensive line blocked better. Still got a long ways to go, but it was better," he said. "I think just reps, just understanding, maybe coming together as a unit even though the unit got broken up throughout the game (because of injuries). I think they just improved a little bit, just did a better job of covering guys up and not turning guys loose, and allowed our backs to make some plays."

 


---
---